My Daily Cash Machine claims to provide you with a great way to earn from the internet. Allegedly, all you need to do is buy a few ad packs, surf a few websites & you can get paid hourly every single day.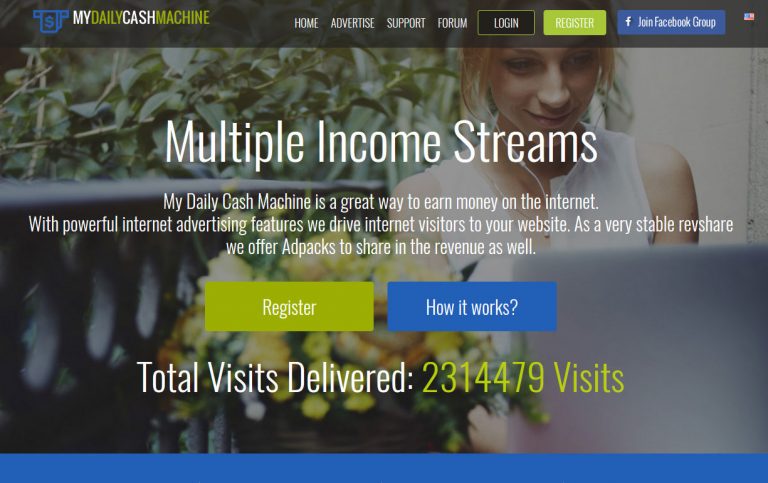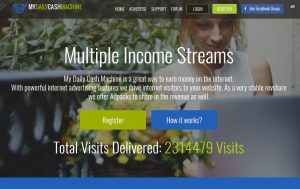 The company even claims to have generated over a whopping 2 million dollars since it's launch just a few months ago, but is it actually legit?
Or is My Daily Cash Machine a scam?
I've taken a closer look & I'll be uncovering the truth in this review.
What Is My Daily Cash Machine?   |   How Does My Daily Cash Machine Work?   |   Can You Really Make Money With It?   |   Is My Daily Cash Machine a Scam?   |   A Better Alternative
What Is My Daily Cash Machine?
My Daily Cash Machine is what's known throughout the online marketing industry as a rev-share program which basically means you're given the opportunity to invest in the company & you'll earn a share of the revenue that the site makes on a daily basis.
The difference with these types of companies is that they claim to offer guaranteed profits and whilst you can potentially earn money through these programs unfortunately there is a LOT of risks involved.
For example, not so long ago a similar company named My Advertising Pays which worked in exactly the same way collapsed & parted thousands of people around the world with their investments.
The reality is that these business models are nothing more than covered-up Ponzi schemes & they are completely unsustainable – the "ad packs" are merely a disguise for what's really going on.
Yet despite this, they still remain popular & many people get drawn become they come across as an easy way to earn money – just the other week I saw another similar company launch named The Advert Platform which again is also completely unsustainable.
How Does My Daily Cash Machine Work?
Essentially My Daily Cash Machine claims to be an advertising company through which advertisers can purchase $35 ad packs which will help them get more visitors to their websites.
But the reality is that these ad packs are being sold as investment packages – because if you purchase an ad pack you are promised an ROI of up to 120% providing you click on 15 other ads each day.
I mean it's clear by the name alone that the real focus here is on the money-making opportunity & that 99% of the people purchasing ad packs are purchasing them to make money, not to promote their website.
But say you did genuinely want to promote your website – in reality, these ad packs would be almost totally useless because the only people clicking on your ads are the others members of the My Daily Cash Machine program, and they're not clicking them because they're interested in them they're only clicking them to qualify to earn on their own ad pack investments.
It's clear that they are using the money coming in from new investors to pay out the older investors in the program & that's why the program is unsustainable because it will eventually reach a number of investors where there isn't enough money coming in to pay people out.
Yes, admittedly they do also run CPA offers which is where they claim the majority of their income comes from that is paid out to members, but ultimately this still does not make it legitimate.
The reason for that is because the CPA offers are completely optional – so what if nobody completes them? Where is the money coming from them?
It's clear as day that the money paid out is coming from ad pack investments paid in…
And that's bad news.
Can You Really Make Money With My Daily Cash Machine?
I'll be completely honest here and say the answer is yes you can but as I mentioned earlier in this review it certainly doesn't come without risk – the chances are you will eventually lose your money.
That's because to make any sort of substantial revenue from this company you will need to purchase several ad packs, not just the one & you will be actively encouraged to re-invest the money you make.
This means that ultimately you could end up with thousands of dollars invested in this program & with it being completely unsustainable you could find that the company just disappears overnight.
That's exactly what happened with My Advertising Pays – no warning, nothing, the company just disappeared and many people lost their whole life savings as a result.
The other big problem is that you can't make regular withdrawals, well you can but the less money you have in the program the less money you will be making so you're encouraged to keep all your earnings invested in ad packs…
This means that when you do lose your money sadly you lose it all.
You Might Also Like:
Is My Daily Cash Machine a Scam?
Whilst you can potentially make money with My Daily Cash Machine ultimately the business model is not sustainable & therefore I will be saying that yes, in my opinion, this company is a scam.
The truth is that because of the way this company operates you will be much more likely to lose money in the long run than you will to make any money & for that reason I won't be recommending it.
There are many legitimate ways that you can make money online without putting your funds at risk in this way so I just don't see why you would want to become a part of something like this.
The way I personally make money is through something called affiliate marketing & that doesn't require any startup investment at all – if you like you can learn more about that for free at Commission Academy.
I personally believe it's one of the best ways to make money online & it will certainly make for a better long term solution than the My Daily Cash Machine system will.
A Better Alternative
The sad truth is that unfortunately most of the programs promising to help you make money online are scams. I can say that confidently after exposing over 500+ of them here on this blog.
But the good news is that even though most of them are indeed scams, there are actually some very good programs in amongst them - some programs that can truly help you to earn money.
And out of all of the legit programs I've seen, the one I would recommend the most to anybody looking to get started online is Commission Academy. In my own opinion, that's the best place to start.
At Commission Academy, you'll be provided with everything you need (including the training & tools) to begin earning real money by promoting products or services for companies like Amazon online.
The best part is that there's literally no limit on the amount you can earn with it & the process is pretty simple which means that it's absolutely perfect for people that don't have much experience.
Some wealthy affiliates even earn as much as 5-figures per month... Or more!

I mean don't get me wrong, that kind of money won't just fall into your lap without doing any work... But the harder you're willing to work at it, the more you stand to earn with it.
So if you're looking to get started but don't know which route you should go down or which program you should join (and don't want to waste money on bogus things that don't actually work), then I'd highly recommend checking out Commission Academy first. You can learn more about it here.