In this review, I'm going to be taking a closer look at The Advert Platform program which claims to be able to provide you with both a huge passive income & more visitors to your website (if you happen to have one).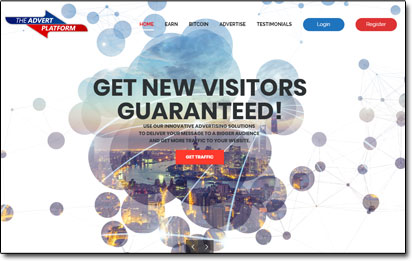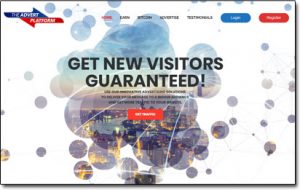 It also claims that you can literally get paid every 20 minutes just by completing 12 simple actions each day, but is it actually legit? Or is The Advert Platform a scam that's just out to take your money?
Well, you can rest assured that you've landed in the right place to find out as I've personally taken a closer look into it & in this review, I'll be uncovering everything you need to know.
What Is The Advert Platform?   |   How Does The Advert Platform Work?   |   Is The Advert Platform a Scam?   |   A Better Alternative
What Is The Advert Platform?
The Advert Platform or TAP as it's known among its members isn't actually really anything new – it's just a relaunch of an old revenue share company (aka Ponzi scheme) named My Advertising Pays which previously went bust – with a few small changes.
The main man behind the program is a guy named Simon Stepsys & you might have actually already heard of him because he's been behind a whole bunch of get-rich-quick type schemes over the years.
He was also the main man behind the My Advertising Pays program through which you could invest in $50 ad packs which later could be redeemed for $55 providing you logged in & clicked on adverts each day.
Essentially these ad packs were supposed to be able to provide you with passive income since you could purchase as many as you like and all you had to do was keep clicking on the ads each day inside of My Advertising Pays to earn $5 per ad pack which could be withdrawn when they later expired.
You were heavily encouraged to invest in a whopping 1,200 ad packs because it was at this point that you would be earning $600 per day of passive income so everyone would strive for that number of packs.
But to reach that number of packs you would have had to invest $60,000 into the program so it's clear to see that people were pumping a lot of cash into this thing – and you can probably imagine how they felt when it went bust.
All of the members claimed that the scheme wasn't a Ponzi and that the ad packs were actually designed to provide you with visitors to your website.
However, the only people who were clicking on these ads were other members inside the program & the only reason they were clicking on them was so that they could qualify to earn money on their investments.
Therefore in reality the advertising was useless because the people clicking on the ads weren't really interested in the websites, which means in reality people were only buying the ad packs to make money.
So the old investors were making money from the new investors coming into the program – there was no real outside source of income & that's why the company inevitably went bust not so long ago.
Now surprise surprise we have The Advert Platform…
Same game, different name…
How Does The Advert Platform Work?
The Advert Platform works in a very similar way to My Advertising Pays & in my opinion, it is ultimately doomed, it's just a matter of time before this scheme inevitably collapses like the last one.
Through The Advert Platform, you will find yourself investing in credit packs & these credit packs will increase in value providing you log in each day & complete 12 tasks from within your dashboard.
These tasks will see you doing things like sharing links on Facebook, Twitter & adding banners to your website etc. Basically each day you need to get a certain amount of people to click your unique link.
You're supposedly generating traffic (visitors) for people who are purchasing adverts through the system, so when people click on the links you share they'll be redirected to random websites.
But again like we seen with My Advertising Pays this is useless traffic because the people who are clicking on these websites are not interested in the actual websites, they're just clicking because you shared it.
It's clear to see that the reality is people are only purchasing these credit packs so that they can earn money from the program and that money is coming from other people who are also purchasing credit packs.
Ultimately somebody is going to find themselves at the bottom of the chain & when people stop purchasing the packs then the money will stop coming in & the company will go bust just like My Advertising Pays.
On top of that, they run a network-marketing style affiliate program (or should I say pyramid style) through which you can recruit people into the program & earn a percentage on the money they invest.
But then if they refer people like you then in this pyramid style fashion you'll also get a percentage of those people's investments too & this carries on throughout multiple levels.
You Might Also Like:
Is The Advert Platform a Scam?
Yes, in my opinion, it is a scam & it will eventually collapse once again parting people with their hard-earned cash (and potentially their whole life savings) just like the My Advertising Pays program did.
It's clear to me that this is just a relaunch of the old program with a few tweaks to make it appear more legitimate so that the creators can still keep making money whilst they dodge the active legal battles.
I mean yes, in reality, you could make money with this program but it is very risky because to make anything substantial you would have to invest a LOT of money & it could go bust at any time like My Advertising Pays.
Plus in order to be eligible to make money on the credit packs sold through The Advert Platform, you have to complete 12 tasks each day which involves basically spamming links on social media.
Do you really want to be doing that?
There is just absolutely no need to get involved with a program like this because there are plenty of legitimate ways to make money online that don't require huge risky investments as TAP does.
So for that reason, I'll be giving this a huge thumbs down because it's obvious that The Advert Platform scam rumours are clearly true & I won't be recommending it to you because it's definitely not legitimate.
A Better Alternative
The sad truth is that unfortunately most of the programs promising to help you make money online are scams. I can say that confidently after exposing over 500+ of them here on this blog.
But the good news is that even though most of them are indeed scams, there are actually some very good programs in amongst them - some programs that can truly help you to earn money.
And out of all of the legit programs I've seen, the one I would recommend the most to anybody looking to get started online is Commission Academy. In my own opinion, that's the best place to start.
At Commission Academy, you'll be provided with everything you need (including the training & tools) to begin earning real money by promoting products or services for companies like Amazon online.
The best part is that there's literally no limit on the amount you can earn with it & the process is pretty simple which means that it's absolutely perfect for people that don't have much experience.
Some wealthy affiliates even earn as much as 5-figures per month... Or more!

I mean don't get me wrong, that kind of money won't just fall into your lap without doing any work... But the harder you're willing to work at it, the more you stand to earn with it.
So if you're looking to get started but don't know which route you should go down or which program you should join (and don't want to waste money on bogus things that don't actually work), then I'd highly recommend checking out Commission Academy first. You can learn more about it here.