The Daily Cash Siphon system which has allegedly been put together by a lady named Kate Shallard promises that it will give you access to a "weird trick" which can allegedly exploit a $480 million loophole & enable you to earn a passive income of £296 per day.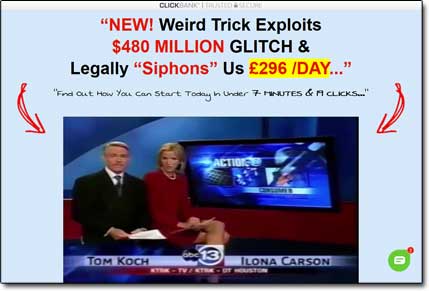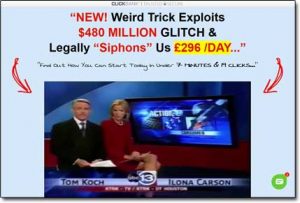 You're led to believe that within just a mere 7 minutes & 19 clicks you'll be able to begin making money even if you have absolutely no technical experience…
But is it really true, or will the Day Cash Siphon system scam you & just leave you out of pocket instead?
Thankfully you've landed in exactly the right place to find out as I've taken a closer look into it to see exactly how it all works & in this honest review I'll be uncovering the real truth about it as well as outlining whether or not there's actually any chance you can make money with it.
What Is Daily Cash Siphon?   |   How Does Daily Cash Siphon Work?   |   The True Costs   |   Trickery Uncovered   |   Is Daily Cash Siphon a Scam?   |   A Better Alternative
What Is Daily Cash Siphon?
Okay so the Daily Cash Siphon system is a brand new product that's being sold through ClickBank & it promises that it's going to enable you (as the name suggests) to "siphon" money out of a $480 million "glitch".

And allegedly the whole thing is legal (according to their website anyway)…
But can you really legally siphon money that isn't yours? I mean if they give you permission to do so then maybe… But in the instance of the Daily Cash Siphon system, they claim to be exploiting a glitch which implies that whoever's money it is your siphoning doesn't actually know about it…
So what's the deal? How's it all work? And can you really make money with it? Let's take a look…
How Does Daily Cash Siphon Work?
After doing some digging I was able to find out how the whole thing actually works, and whilst there is a "method" behind it – I can tell you right from the off that whole thing is pretty much just a get-rich-quick scam.
You see basically the headline on the website is totally misleading, you are NOT going to be siphoning any money & there is no glitch or legal loophole like the creator of the system makes out.
Instead, the whole thing revolves around promoting ClickBank products as an affiliate…
So basically ClickBank is an online marketplace for digital products. Sellers can sign up & list their products, and people can sign up as affiliates then promote the products & earn commissions on any sales they generate.
The process kinda looks like this: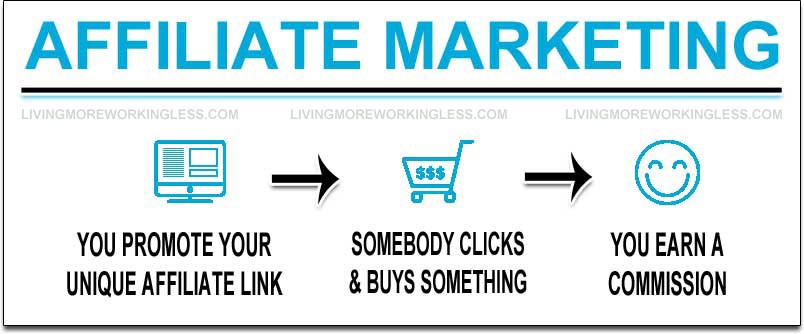 However, in order to successfully make sales as an affiliate, you need a proper marketing strategy. You can't just expect to share links on social media or send them in emails & make a ton of commissions… Instead, you need to start a blog or website if you really want to make it work.
And that's exactly what the Daily Cash Siphon system claims to help you with – its creator, Kate Shallard, claims to know a "secret" that can see you easily setting up a website & earning cash almost right away.
But in reality, it's just not true – it's just a trick to get you to hand over your cash & try the system out so that the people behind it can earn some commissions at your expense. Meanwhile, you'll just be left to find out the hard way that the whole thing doesn't really work as promised.
I mean sure, you do indeed get shown how to set up a website & how to find products on ClickBank, but the training is SO poor that it won't help you find success at all. It'll just leave you frustrated & confused.
If you really want to find success with affiliate marketing you need a legitimate & proven platform like Commission Academy… Not some mumbo jumbo that is built upon lies & deceit like the Daily Cash Siphon program.
It Costs Way More Than $37 Too..
At the seemingly low price of $37 you might still be thinking "oh what the heck, I'll just try it out anyway"… And that's exactly what the creators are hoping for, but I can tell you that the whole thing actually costs WAY more than a mere $37.
Take a look at this screenshot from the affiliate promotion page:

After spending $37 on the front-end you'll then be pushed into 3 upsells – one costing $197, one costing $187 & finally one costing $97!
That's a whopping $518 in total! And it doesn't end there either because you also have to purchase third-party hosting for when you start your blog which will set you back even more money.
So don't be fooled by the seemingly low price of $37 – it's just another trick!
You Might Also Like:
New Website – Old Scam
The Daily Cash Siphon website might be brand new, but I felt that the whole thing sounded extremely familiar & that's when it came upon me… It's actually just a re-hashed version of the Profit With Alex & Five Minute Profit Sites scams that launched earlier in the year.
The creator (who by the way isn't really named Kate Shallard) has just changed the name & switched the design around a little bit to try & escape the negative reviews so that he/she can continue conning people out of their hard-earned cash.
And yeah, like I just said the real creator is NOT Kate Shallard. I don't know who it is as they remain anonymous, but the very well hidden disclaimer on the Daily Cash Siphon website states that the name Kate Shallard is just a pen name (as shown below):

Which brings me onto…
Is Daily Cash Siphon a Scam?
In my opinion, yes – it is a scam. I mean sure, you do get access to some training after you hand over your cash but as far as I'm concerned the whole thing is built upon pure lies & deceit.
The training won't really help you at all & after handing over your money you'll just be pressured into spending even more & more. It's clear to me that rather than being set out to help you as it claims, it's really just set out to make its creators wealthy at your expense instead.
So if you sign up to the Daily Cash Siphon system you are likely just going to feel disappointed & you could end up out of pocket by an awful lot of money so there's absolutely no way I will be recommending it to you.
Instead, if you really want to learn how to make good money with affiliate marketing then like I mentioned earlier in this review you should just check out Wealthy Affiliate which is a legitimate place that's been proven to help people find success.
There's also a whole bunch of other ways you can make money online too – but what you should be aware of is that none of them are going to make you money quickly & easily as the Daily Cash Siphon site claims… They all will take some work. The internet is great, but it's not magical – if you could really make lots of money without doing much then everybody would be doing it.
But anyway, I hope you found my review here insightful & hopefully it helped prevent you from losing your hard earned cash to the people behind the Daily Cash Siphon program. If you do still happen to have any further questions of course don't hesitate to leave them below & I'll get back to you as quickly as I can.
A Better Alternative
The sad truth is that unfortunately most of the programs promising to help you make money online are scams. I can say that confidently after exposing over 500+ of them here on this blog.
But the good news is that even though most of them are indeed scams, there are actually some very good programs in amongst them - some programs that can truly help you to earn money.
And out of all of the legit programs I've seen, the one I would recommend the most to anybody looking to get started online is Commission Academy. In my own opinion, that's the best place to start.
At Commission Academy, you'll be provided with everything you need (including the training & tools) to begin earning real money by promoting products or services for companies like Amazon online.
The best part is that there's literally no limit on the amount you can earn with it & the process is pretty simple which means that it's absolutely perfect for people that don't have much experience.
Some wealthy affiliates even earn as much as 5-figures per month... Or more!

I mean don't get me wrong, that kind of money won't just fall into your lap without doing any work... But the harder you're willing to work at it, the more you stand to earn with it.
So if you're looking to get started but don't know which route you should go down or which program you should join (and don't want to waste money on bogus things that don't actually work), then I'd highly recommend checking out Commission Academy first. You can learn more about it here.