I'm always on the lookout for new legitimate platforms to earn extra money online and the quest often leads to the discovery of promising advertisements similar to the likes of 5 Minute Profit Sites.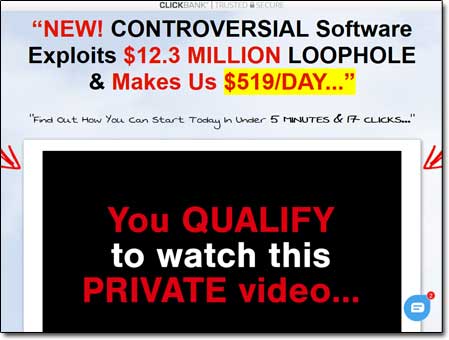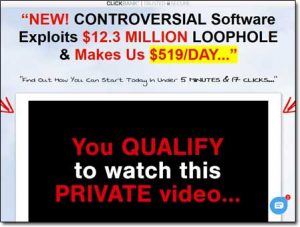 A few days ago, I heard about this website from one of my friends which lead me to search for the facts so that I could put together a realistic 5 Minute Profit Sites review. The offer is impressive but it doesn't make an impact unless there is actually some value behind it. If you're looking to join this platform then you need to definitely need to stick around & read this until the end to get the truth about how it really works.
Is 5 Minute Profit Sites a scam? You'll soon find out after reading through this review as I'm going to do my best to present you with the important points and factors to consider. To begin with though, as usual, we'll first have a look at the website itself & what it claims to put on offer.
What Is 5 Minute Profit Sites?   |   How Does 5 Minute Profit Sites Work?   |   The Problems   |   Is 5 Minute Profit Sites a Scam?   |   A Better Alternative
What Is 5 Minute Profit Sites?
As most of the money-making websites, 5 Minute Profit Sites also features a single-page presentation which mainly puts focus on a promo-video. The bold statement at the top claims the provision of an opportunity to earn $500+ a day.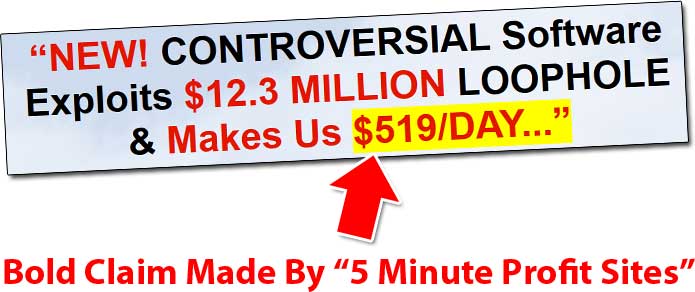 The software is said to be able to exploit loopholes in various systems which means it can allegedly generate over $12 million per year. Well, up until now there is nothing new – it just sounds like a typical get-rich-quick scam, but let's take a closer look to see what the demonstration video reveals!
The Private Video…
As soon as you hit the play button, Sam Smith, the spokesperson, congratulates you on qualifying to watch the so-called "private video". However, in reality, the video isn't private at all… It's just a marketing strategy that's supposed to trick you into thinking you're someone special or somewhat lucky or have been selected from 100's of visitors to gain access to the video. In reality, like I say it's total BS – the video plays for everyone who reaches the website.
Highly Confidential?
Sam then tells you that the Five Minute Profit Sites concept is highly confidential and shockingly profitable and advises you not to share the video with anybody else. She further claims that the system doesn't require any experience. It's supposedly easy to use and you're told you can earn weekly income from it on a consistent basis. Once again though there is nothing confidential at all. It is just another way to trick visitors.
Sam reveals that this software allegedly generates money from affiliate marketing & you're told that a mere 17 clicks in five minutes will earn you a lot. Well, I haven't heard of anything like in ever in my life! I mean don't get me wrong I've heard of affiliate marketing (that's actually the way I personally make money online), but earning $519 per day just from clicking 17 times in 5 minutes… I've never heard of anything legitimate that's really as easy as that.
She then further states that the system actually creates websites for you and that you'll earn money by promoting products through these websites.
It certainly sounds too good to be true in my opinion but for the purpose of this review, I'll give her the benefit of the doubt & I'll take a closer look into it to see if it really works or not…
How Does 5 Minute Profit Sites Work?
The video presentation makes it seem like the system could be quite lucrative and it also tries to make you feel that you're someone special selected from thousands of visitors to get access to the free license. In reality, this type of pitch is no different to the other pitches put together by dozens of online scams! In fact, the video actually very closely resembles that of the Earn Easy Commissions & Covert Commissions systems. It's possible they've been created by the same people.
The Risk Element
As far as I'm concerned the 5 Minute Profit Sites system is highly risky because of the fact that you'll have zero control over the pages you'll create using the software. You'll have no access to the hosting and no decision making power – you'll just be provided with random single-page websites & these exact same websites will be getting provided to the other members of the system too so essentially all you're getting is low-quality duplicated websites.
Will It Really Earn Money For You?
I don't think so! The reason is, Google (and other search engines) don't highly rank single-page websites with content as little as you get on these quick-launch pages which are created for you through such programs. It, therefore, becomes extremely hard to drive traffic. It means that this system will never work for itself. You'll have to work hard in an attempt to get traffic through to the page, and without the traffic, you won't make any money
So basically yes the 5 Minute Profit Sites system will indeed create websites for you that you could earn money from but it makes out like it will all happen automatically which it won't. Instead of getting "automated profitable websites" you'll just be getting duplicated websites that you'll be left to promote yourself which you'll struggle to make money from.
In my opinion, if you really want to learn how to make good money from affiliate marketing then rather than wasting your money on an overly-hyped-up program like 5 Minute Profit Sites you should just join a legitimate & proven program like Commission Academy instead.
It Requires a LOT of Investment
Yep, you read that right – whilst the 5 Minute Profit Sites system claims that "everything is done-for-you", in reality, it's not & as a result, you'll have to spend a lot more money to try to see any results.
You see if you want to succeed with affiliate marketing you'll first have to generate enough traffic & in the case of single-page websites (like those created for you by the 5 Minute Profit Sites system), SEO strategies hardly work. This means that you'll have to pay for advertising and social media marketing. As far as the training is concerned, this platform doesn't offer anything in this regard. So without investment in paid advertisement, you're not going to earn anything as a member of this particular system.
Not So Impressive
Ultimately the 5 Minute Profit Sites system will do nothing but waste your time and effort. The reason is, you don't have control over the pages you create. Secondly, it doesn't drive traffic for you. There is nothing really done-for-you other than a merely duplicated webpage. The claim that it doesn't require prior experience is also an absolute bluff.
Affiliate marketing does require experience (unless the system comes with step by step training like Commission Academy) and in most cases, you need to set a budget aside for paid advertising. Affiliate marketing is a legitimate business model & just like a real business it generally doesn't reward you without you firstly spending some money or putting in some work. I mean yes, if you already own some popular websites then you can generate reasonable income right off the bat but in the case of new websites, you'll have to first fill them with quality content, spend time for SEO, and advertise them via Facebook, AdWords or Instagram etc.
I know that might sound disheartening but it's just the honest truth. If it was super easy to make money with it like the 5 Minute Profit Sites system claims then everybody would be doing it… The truth is that yes, you can make VERY good money with affiliate marketing… But it takes work. If you're willing to put in the work then you can certainly achieve good results, but if you're just expecting to make money without doing anything then you need to step back & take a bit of a reality check because unfortunately, things don't work like that.
Anything promising that you can make lot's of money with little to no work being required is likely trying to scam you, just like I previously talked about in this post I published about getting rich quick.
Is 5 Minute Profit Sites a Scam?
In my opinion, the 5 Minute Profit Sites system is a scam because it's overhyped & it doesn't really deliver on its promises. As far as I'm concerned rather than being designed to help you as it claims, it's just been designed to make it's creators rich at your expense instead.
I mean sure you do indeed get a "done-for-you" website provided to you but this is just a duplicated website & all of the other members of the system will be getting the exact same page. On top of that, the claims don't hold true either because money will not just start coming in like they promise it will… Instead, you'll be required to spend money advertising the page & even if you do there is no guarantee that you'll make anything back.
And guess what? They give you no training whatsoever on how to actually advertise the "done-for-you" website so even if you do have a budget to spend on advertising you'll likely still just be left feeling stuck and disappointed.
Therefore overall I am not going to be recommending the 5 Minute Profit Sites system because I don't think you'll find any real value from it whatsoever. Instead, you'll just lose money & feel disappointed at what you actually receive.
Like I said earlier in this review if you really want to make money with affiliate marketing then you should just join a legitimate & proven platform like Commission Academy instead, there is no need to waste money on hyped-up junk.
But anyway whatever you decide to do I hope this review gave you a good insight into how it all really works & more importantly I hope it helped you save some of your hard-earned cash. If you do happen to still have any further questions or comments though then don't hesitate to leave them below & I'll get back to you as soon as possible.
A Better Alternative
The sad truth is that unfortunately most of the programs promising to help you make money online are scams. I can say that confidently after exposing over 500+ of them here on this blog.
But the good news is that even though most of them are indeed scams, there are actually some very good programs in amongst them - some programs that can truly help you to earn money.
And out of all of the legit programs I've seen, the one I would recommend the most to anybody looking to get started online is Commission Academy. In my own opinion, that's the best place to start.
At Commission Academy, you'll be provided with everything you need (including the training & tools) to begin earning real money by promoting products or services for companies like Amazon online.
The best part is that there's literally no limit on the amount you can earn with it & the process is pretty simple which means that it's absolutely perfect for people that don't have much experience.
Some wealthy affiliates even earn as much as 5-figures per month... Or more!

I mean don't get me wrong, that kind of money won't just fall into your lap without doing any work... But the harder you're willing to work at it, the more you stand to earn with it.
So if you're looking to get started but don't know which route you should go down or which program you should join (and don't want to waste money on bogus things that don't actually work), then I'd highly recommend checking out Commission Academy first. You can learn more about it here.