Going through the website of Covert Commissions, you'll see a lot of sentences including the phrase "make a list". Yes, the system claims that the key to earning a lot of money online is to make a list and almost makes out as no one has ever made a list before.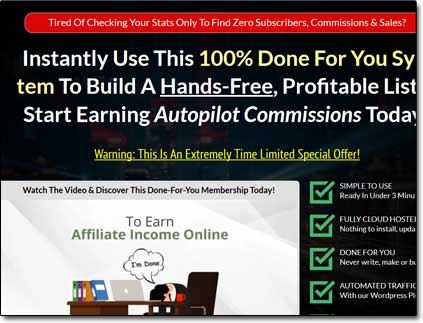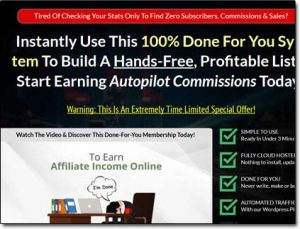 The page says that it will take a lot of your time if you don't hire others to do the work for you and then the system tells you that it can do all the work for you and make list-making fun and gainful.
But before you sign up for anything on the internet that involves money, make sure you investigate everything about the system and look deeper into its details. Many of the systems that make similar claims on the internet are scams that fool people into signing up with them.
In this Covert Commissions review, I'll tell you details about what the system is, how it works and if it should be trusted or not. Let's see if the Covert Commissions scam rumours are actually true.
What Is Covert Commissions?   |   How Does Covert Commissions Work?   |   The Process   |   The Good   |   The Bad   |   Is Covert Commissions a Scam?   |   A Better Alternative
What Is Covert Commissions?
Covert Commissions claims to be a done-for-you affiliate marketing platform which includes a pre-setup sales funnel. You're led to believe that the only thing you have to do to make money with the program is to attract an audience… However, don't rush into signing up just yet because the whole thing isn't quite as great as it sounds. The reason I say that is because the training provided is very outdated so attracting that audience is much more difficult than it may initially seem.
History
Covert Commissions was initially created by IM Wealth Builders in 2015. The founders include Soren Joransen, John Merrick, and Cindy Donovan. Sometime after 2015, Cindy Donovan left the company to build one of her own, named Wildfire Concepts. She bought Covert Commissions back in 2017 from IM Wealthy Builders when the other two founders had left. Currently, Cindy is the only owner of Covert Commissions, which was relaunched in May 2018 with some additional services to make it more interesting.
The Claims
As you'll see on the website, Cindy claims that Covert Commissions is a 100% done-for-you affiliate marketing system that helps you build a profitable list and earn affiliate autopilot commissions. It claims that all you need to do is drive traffic and that when you do you'll begin earning a huge amount of commissions.
The Hyped-Up Sales Page
After looking at their sales page, I personally was not satisfied with all the claims and promises made on it. It just seems as if the system is using this hyped-up sales page to attract more and more users and get them to sign up. Also, a lot of scam websites on the internet use similar techniques to bring more users to their system so it definitely made me pretty darn sceptical.
How Does Covert Commissions Work?
Covert Commissions is a system similar to many others, where everything is allegedly done for you, & you're told that you just need to attract traffic.
Done-For-You Affiliate Marketing System
It includes:
Your landing page
Confirmation page
Thank you page
Download page
Email follow-up sequence
Users are also provided with training on how to attract an audience and drive traffic to their pages, but this training is outdated. So whilst you can technically make money by sending people through to the Covert Commissions sales funnel, you'll be left struggling to figure out how to actually do it effectively…
I mean yeah sure, you could just share your referral link on social media & hope that people will sign up – but the problem is that you'll be unlikely to make money with this method of promotion. In order to generate anywhere near a decent level of income through affiliate marketing, you need hundreds if not thousands of people clicking through to your offer every single day.
Traffic is the lifeblood of online business & it doesn't matter how good of a sales funnel you have if you can't generate traffic effectively you won't make any money. The low quality of training provided by Covert Commissions is a real let down & no doubt if you signed up to it you'd just be left feeling disappointed.
In my opinion, the Wealthy Affiliate program (which is free) is a much better alternative – especially if you're brand new to affiliate/online marketing. It's there that you'll get all the proper tools & legitimate step-by-step training that you need to begin making money properly.
The Whole Process
1. Buying Covert Commissions
Covert Commissions initially costs $27 but comes with many more upsells so that cost could quickly run into hundreds (if not thousands) of dollars.
2. Applying To Affiliate Networks
The affiliate networks that you can choose from include ClickBank, WarriorPlus, PayKickSstart, and JVZoo. These are systems from where you can get digital affiliate products to promote and earn commission on every sale.
3. Adding Affiliate Links Into Covert Commissions System
Inside the members' area of Covert Commissions, you'll find a page where you can add your links from the 4 affiliate networks listed in the second step. With this, the system will help you insert your affiliate links into their ready-made email auto-responder and many other resources inside Covert Commissions that help you promote your links.
4. Getting Credits
The Covert Commissions sales funnels have ready-made landing pages, email autoresponders, and many other tools for promotional purposes. In this system, credits are used as tokens to exchange for sales funnels. There are a number of ready-to-use sales funnels for you, but they're not free. Not even if you've purchased the system by paying the initial cost.
At first, when you join as a member, you will be given 5 credits. 1 credit can be exchanged for 1 sales funnel. If you run out of credit, you can get more by purchasing it.
5. Selecting a Mission
The "mission" in the system means the sales funnels. A funnel represents an affiliate product. In this step, you choose the product that you would like to promote.
6. Driving Traffic
What you have to do now is drive traffic to the landing page provided to you in the sales funnel. After this, your job is done and the sales funnel will do the rest. It will help you follow up with your leads and assist you in converting them into buyers. When a person purchases the product through your link, you'll earn a commission for that sale.
Convert Commissions also has a WordPress plug-in for those who wish to integrate it with their WordPress website.
You Might Also Like:
The Good Part
Everything promised via the Covert Commissions system is indeed actually provided to you. Even though the sales page looks hyped up with a number of claims about making commissions with a done-for-you set up, the Covert Commissions system does not make use of fake testimonials to get more people to sign up like many of the other bogus systems I've exposed on this blog.
This system is also relatively cheaper when compared to other similar systems. Although it has a few upsells, it's fairly cost-effective. There are costs involved in affiliate marketing and to build a profitable website. These costs include web hosting, domain names, email service providers and content creation.
They also offer you a 30-day money-back guarantee, so your money can be refunded if you are not satisfied with the system. But sometimes you may not "meet their criteria" of getting a refund so I would only recommend spending money on it if it's money you can truly afford to lose.
The Bad Part
The bad part about this system is that they have so many claims saying that it is 100% done-for-you when everyone knows nothing is ever 100% done for you. I agree that they have pre-built sales funnels but in order to make money, you have to put in a lot of effort. You can not make money without doing anything. The likelihood is that you will end up spending more money trying to earn with Covert Commissions than you will actually make back in commissions (unless you're already an expert at marketing).
For those looking to start their own business, this is not the right platform. This system doesn't allow you to start your own business, instead, you are merely forced to promote the sales funnels inside of the Covert Commissions system.
The training given by the system is also outdated as I mentioned earlier in this review. It includes techniques that were used long ago and that are now ineffective. Plus since the landing pages you get are ready-made, everybody that's using the system are promoting the same things which typically leads to lower conversion rates (meaning you'll be earning less money).
Is Covert Commissions a Scam?
Covert Commissions is not a scam as such. After signing up you are indeed provided with several done-for-you sales funnels as promised & you can potentially make money by promoting them, the big problem though is that in reality, it's much harder to make money with the program than you're initially led to believe.
As I mentioned above in this review the training is outdated & so the likelihood is that you will end up spending more money on the Covert Commissions system than you ever actually manage to make back. As far as I'm concerned if you sign up to this program then you'll just find disappointed & you'll probably just end up trying to get your money back.
The other issue is that there a lot of upsells inside, so whilst it only costs $27 to "get in", you should expect to have to spend a whole lot more if you really want to get access to the full program & sales materials.
In my opinion, there are much better proven & legitimate alternatives such as Commission Academy. You can get started there for free & it's there that you'll get the up-to-date training & tools to properly see success online.
So overall I am not going to be recommending the Covert Commissions system as like I mentioned above I just feel like if you sign up to it you will end up feeling disappointed because of how hyped up it is. Hopefully, though this review has given you a good insight into it & helped you decide whether or not you really want to join.
Also if you happen to have any further questions or comments about it then don't hesitate to leave them below & I'll do my best to get back to you as quickly as possible.
A Better Alternative
The sad truth is that unfortunately most of the programs promising to help you make money online are scams. I can say that confidently after exposing over 500+ of them here on this blog.
But the good news is that even though most of them are indeed scams, there are actually some very good programs in amongst them - some programs that can truly help you to earn money.
And out of all of the legit programs I've seen, the one I would recommend the most to anybody looking to get started online is Commission Academy. In my own opinion, that's the best place to start.
At Commission Academy, you'll be provided with everything you need (including the training & tools) to begin earning real money by promoting products or services for companies like Amazon online.
The best part is that there's literally no limit on the amount you can earn with it & the process is pretty simple which means that it's absolutely perfect for people that don't have much experience.
Some wealthy affiliates even earn as much as 5-figures per month... Or more!


I mean don't get me wrong, that kind of money won't just fall into your lap without doing any work... But the harder you're willing to work at it, the more you stand to earn with it.
So if you're looking to get started but don't know which route you should go down or which program you should join (and don't want to waste money on bogus things that don't actually work), then I'd highly recommend checking out Commission Academy first. You can learn more about it here.