The Digital Profit Course is a three-month training program for people who want to get into the world of digital marketing.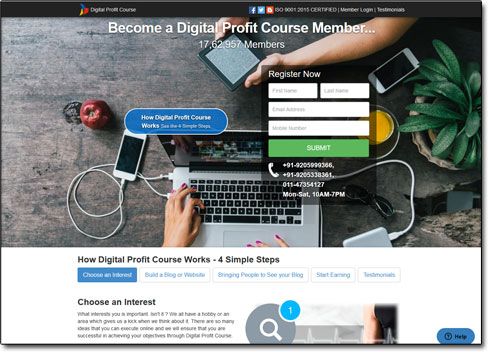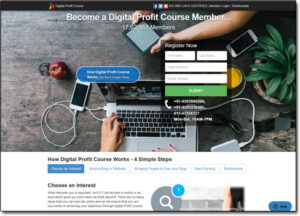 It claims to have been made by some of the top experts in internet marketing and educates users on how to start making money online using a blog and website.
However, there is one important question…
Is the Digital Profit Course legit?
Or is it just another scam that you need to steer clear of?
This Digital Profit Course review will tell you everything you need to know about how it works, whether you should put your money into it, and whether it is worth your time.
Keep reading as we unveil the truth about this course.
What Is The Digital Profit Course?
The Digital Profit Course, which started in 2014, is a three-month online course that teaches students what they need to know about internet marketing.
It's not a get-rich-quick scheme, job, or investment opportunity; it's just practical training anyone can take online, and as far as we can tell, the course is a property of Service Magic InfoJobs Pvt. Ltd. in Delhi, India.
Once joined, students have lifetime access to the Digital Profit Course's modules, which cover topics including getting started with digital marketing, building a website or blog, promoting it online, and making money from it.
Who Is Behind The Digital Profit Course?
There isn't much information on the Digital Profit Course website, making it difficult to figure out who is behind it and what their background is.
Despite discovering the parent company, Service Magic InfoJobs Pvt. Ltd., we were unable to find out who started the company.
For starters, the About Us page doesn't give much information beyond the fact that it was "developed by some leading internet marketing experts" without providing any names or faces to go along with that claim.
According to the data we gathered from the whois.com database, the website went live in October 2014 and was registered to an address in Delhi, India.
The parent company's domain, "smsfi.com," has been temporarily disabled, raising doubts about its legitimacy. In addition, its LinkedIn page isn't exactly polished, which leads one to draw a less-than-positive conclusion.
This course's lack of ownership details should raise red flags. However, let's keep going to uncover more facts about this course.
How Does Digital Profit Course Work?
The Digital Profit Course lays out four simple steps that are, in essence, the same ones anyone would take to launch a successful affiliate marketing business.
I'll run through each individual step in more detail below.
Choose an Interest
In affiliate marketing, the first and most important step is to find a specific market to target. This can be about anything that piques your interest; popular examples include health and fitness, making money online, pets, and so on.
It helps if it's something you're truly interested in, but it also needs to be something people are willing to pay for.
Build a Blog or a Website
The second step of the Digital Profit Course is to make a website to share niche-related content and attract readers and followers.
To do well in business today, you need a website that is all about your speciality and where you can give potential customers useful information.
Bring People to See Your Blog
Before worrying about making money from a blog or website, it's important to get people to see and read it.
In this section, their first few lessons will focus on techniques to increase traffic to the user's blog or website.
Start Earning
If the user has completed the first three steps, they can then use their site to promote a product in their niche and earn affiliate commissions.
Using platforms like Amazon, Google Adsense, ClickBank, eBay, and many more, they can promote items and services through specific programs called affiliate programs, most of which are free to join.
The Digital Profit Course provides valid instructions on how to carry out these four steps, and on paper, they appear to be quite easy to accomplish. In actuality, though, this is a lengthy procedure.
Unfortunately, the duration of the course is only three months, and based on my experience, more time is needed to fully grasp the concepts. This means you could be looking at months, if not years, before seeing any significant or note-worthy earnings.
But we've also learned that after the three months are up, users won't be able to get any of the help or support they got during the course.
At Commission Academy, assistance and support are not a problem. Even if you're just starting out, you'll be guided step-by-step through the process of creating and growing your own online business and given the tools you need to start earning affiliate commissions.
However, let's keep reading to find out more about the Digital Profit Course.
Who is Digital Profit Course For?
The Digital Profit Course is only available to Indian citizens, as it is not available anywhere else.
This course is designed for those who have zero knowledge of the make-money-online sector but would like to start a blog and participate in affiliate networks to generate income.
How Much Does It Cost?
To gain access to the Digital Profit Course, you'll need to shell out Rs. 4980 (about $60) for a three-month membership. However, there are no recurring fees.
Unlike a membership site, this payment is one-time and non-recurring. Although, after reading customer reviews, we discovered that some people who paid for the course discovered that it was not as advertised.
Additionally, they claim to offer a 30-day money-back guarantee. But we saw a lot of issues and complaints when customers tried to use this guarantee and were not given their money back.
You Might Also Like:
Is Digital Profit Course a Scam?
Given how many people have had bad experiences with the Digital Profit Course, we might have to label it a scam.
This is because the program has been met with a lot of complaints, has been found to be lacking in transparency, and looks sketchy in other ways.
Concerns are raised by the fact that the company doesn't give out essential information about its training until after payment has been made. Clearly, the lack of openness is a major warning sign.
You should be wary of any business that asks for key details before providing essential information about their course. Also, if the owners have nothing to hide, their names should be in a prominent place on the website.
If Digital Profit Course was what it says it is, there would be more positive feedback, and the company would be more willing to cooperate with its users and follow its refund policy.
Even though the Digital Profit Course might not be a complete scam, we can't say for sure that it's a good idea to venture into it. It would be wise to avoid this program.
My Final Thoughts
If you want to make money online, affiliate marketing is a great place to begin. However, you should not believe websites that claim it's simple.
Affiliate marketing is a great way to learn about passive income and is one of the easiest and most cost-effective ways to run a business, but it takes time and hard work to be successful in any field.
While it is true that good money can be made online, it is important to remember that doing so will not happen overnight. If claims are made that you can make a lot of money online quickly and simply, you can assume it is a scam.
To be successful at affiliate marketing, you need to invest time, energy, and money. It's unfortunate that many courses present a different narrative in an effort to make a sale.
The simple truth is that if you want to get ahead financially, you have to put in the effort to make it happen. There are a lot of products on the market that claim to teach affiliate marketing, but in actual fact, they do not deliver.
The good news is that there are legitimate methods, products, and courses that you can start with minimal investment if you're willing to put in the time and effort.
If you're looking for an alternative and you want to learn about affiliate marketing, where you get continuous support, complete transparency, and a cost-free entry to get started, then keep reading…
A Better Alternative
The sad truth is that unfortunately most of the programs promising to help you make money online are scams. I can say that confidently after exposing over 500+ of them here on this blog.
But the good news is that even though most of them are indeed scams, there are actually some very good programs in amongst them - some programs that can truly help you to earn money.
And out of all of the legit programs I've seen, the one I would recommend the most to anybody looking to get started online is Commission Academy. In my own opinion, that's the best place to start.
At Commission Academy, you'll be provided with everything you need (including the training & tools) to begin earning real money by promoting products or services for companies like Amazon online.
The best part is that there's literally no limit on the amount you can earn with it & the process is pretty simple which means that it's absolutely perfect for people that don't have much experience.
Some wealthy affiliates even earn as much as 5-figures per month... Or more!

I mean don't get me wrong, that kind of money won't just fall into your lap without doing any work... But the harder you're willing to work at it, the more you stand to earn with it.
So if you're looking to get started but don't know which route you should go down or which program you should join (and don't want to waste money on bogus things that don't actually work), then I'd highly recommend checking out Commission Academy first. You can learn more about it here.