Easy eCash is the name of a new online training program that promises to teach you an easy method for making a strangely specific sum of $1,245 per month in your spare time using nothing but the internet.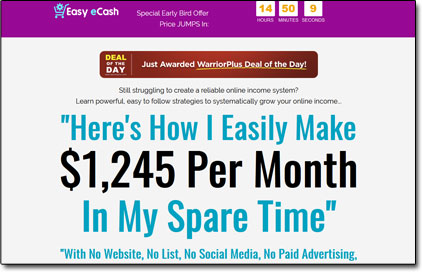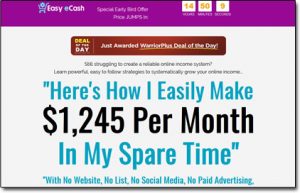 The creators of Easy eCash claim that you don't need experience, technical knowledge & they also claim that it doesn't involve any form of marketing.
Plus on top of that, they even claim that you can simply sign up & begin making your first profits within just a mere 24 hours of joining.
But is it really legit, or is Easy eCash a scam that you should just avoid?
Well, I'm really glad that you came here to my Easy eCash review before you handed over your own cash & signed up because I can immediately tell you right from the off that it's nowhere near as great as it's made out to be.
What Is Easy eCash?   |   How Does Easy eCash Work?   |   The True Costs   |   Is Easy eCash a Scam?   |   A Better Alternative
What Exactly Is The Easy eCash Program?
Easy eCash is a program which essentially promises to provide you with access to a super-easy way for making a handsome amount of money each month from the internet using a "little-known" method.
The program's creators claim that they use the exact same method to earn $1,245 per month in their spare time & they claim that upon getting access to the method you'll be able to do the same.
They even claim that you'll be able to generate your first profits within just a mere 24 hours (as shown below):

But I can tell you right from the off as somebody who is experienced in making money online that those claims are extremely bold.
You see yes the internet certainly does provide many legitimate ways to make money but what you must understand is that it is not magical & none of those methods are going to see you earning lots of money in a short space of time.
If it was truly possible to do that (as a newcomer) then everybody would be doing it…
The truth is that you can indeed make good money online but it typically takes some time before you start seeing a good income… So when I see programs promising "fast money" I immediately get suspicious.
And I was right to be suspicious about the Easy eCash program because whilst it is technically "legit" after looking closer into how it works I can tell you that it's unlikely you'll find yourself making good money with it.
Especially not if you're just doing it in your spare time like the sales page boasts…
You'll see why as I explain in finer detail exactly how it all works & how you're supposed to make money with it below…
How Does Easy eCash Work?
The sales page promoting the Easy eCash program almost leads you towards believing that you'll be getting access to some sort of "little-known" or secret method for generating income online but that's simply not true.
Instead, if you were to hand over your cash (which I don't recommend doing) then you'd just find out that the Easy eCash program only actually tells you to buy products & then resell them on eBay.
Buy low, sell high… That's the course summed up in 4 words.
And yes I admit that you could technically make money the same day you get started by buying something & then selling it for cheap on eBay – but it's not quite as easy as the creators claim.
You see eBay is a huge marketplace & many people have the same idea so the competition is ridiculously high.
So not only could you see yourself not making money, but if you invest in a load of products which you struggle to sell at a higher price then you could actually find yourself simply losing money instead.
It's not quite as "guaranteed" or easy as the Easy eCash creators make out.
But if you're still interested, here's a summary of what you get inside:
Training on how to set up your eBay account (you don't really need training for that though – it's easy to do)
Some recommended websites where you might be able to find products to sell for profit
Training on how to create product listings
Some case studies from others who've supposedly made good money doing this
You Might Also Like:
The True Cost Might Make You Think Twice Though…
Personally I wouldn't even pay the $12.15 for the course because as far as I'm concerned it doesn't provide you with anything that you can't actually find elsewhere online for free…
But $12.15 isn't really the true cost – that's just the "entry fee".
And to be honest they even lied to us about that cost because as shown below they literally state on the sales page that you can get started for free (which you clearly can't as it costs $12.15 to get access):

That's just the start of the lies though because after paying the $12.15 which you're led to believe will get you full access to the course you're then just presented with a whole bunch of further upsells.
These upsells would set you back hundreds of dollars if you purchased them all & without them, you're not getting access to the entire program so you'll simply be left to feel disappointed.
Which brings me onto…
My Verdict – Is Easy eCash a Scam?
It's not a scam as such since you do actually get some training on a method which could potentially see you earning money, however, it's unlikely that you will actually earn money with the method & most of the training you can easily find elsewhere for free.
So basically even though it's not technically a scam it's still something I won't be recommending because it's misleading & it'll likely just result in you spending money rather than actually earning it.
Instead, if you truly want to make good money online I would steer clear of methods like buying & reselling products (which is risky) and pursue something like affiliate marketing instead which is much easier.
With affiliate marketing you don't need to purchase any products to resell, instead, you just promote existing ones & then get paid commissions on any of the sales that you happen to generate. This means that it's also much easier to scale up & the amount you can earn with it is completely uncapped.
It's the same way I personally make most of my own money & if you'd like to learn more or get started with it yourself then I'd recommend you check out the Wealthy Affiliate training program.
Or alternatively, there are also these other ways to make money online.
But whatever you decide to do I just sincerely hope that my review of Easy eCash here has given you a good insight into what the program actually involves & I hope it's helped you to save your cash.
Feel free to leave any comments or questions below if you happen to have any. 🙂
A Better Alternative
The sad truth is that unfortunately most of the programs promising to help you make money online are scams. I can say that confidently after exposing over 500+ of them here on this blog.
But the good news is that even though most of them are indeed scams, there are actually some very good programs in amongst them - some programs that can truly help you to earn money.
And out of all of the legit programs I've seen, the one I would recommend the most to anybody looking to get started online is Commission Academy. In my own opinion, that's the best place to start.
At Commission Academy, you'll be provided with everything you need (including the training & tools) to begin earning real money by promoting products or services for companies like Amazon online.
The best part is that there's literally no limit on the amount you can earn with it & the process is pretty simple which means that it's absolutely perfect for people that don't have much experience.
Some wealthy affiliates even earn as much as 5-figures per month... Or more!

I mean don't get me wrong, that kind of money won't just fall into your lap without doing any work... But the harder you're willing to work at it, the more you stand to earn with it.
So if you're looking to get started but don't know which route you should go down or which program you should join (and don't want to waste money on bogus things that don't actually work), then I'd highly recommend checking out Commission Academy first. You can learn more about it here.