The El Bandito system has just recently gone live via WarriorPlus & it's a new program that promises to provide you with an easy way to generate as much as $419 per hour online, even with no prior experience.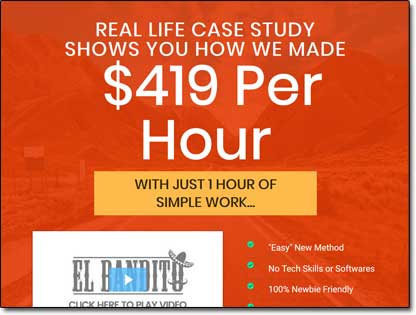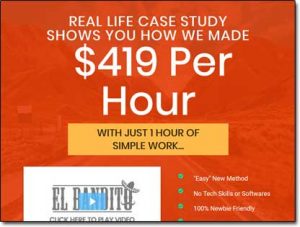 You're led to believe that you can just sign up, follow 3 simple steps & begin making money with just 1 hour of work…
But is it actually legit or is El Bandito a scam that'll just end up costing you money instead of helping you make it?
Luckily you've landed in exactly the right place to find out as I've taken a closer look into the whole thing & in this honest review I'm going to be uncovering everything you need to know including how it all really works & whether or not you can actually make any money with it.
What Is El Bandito?   |   How Does El Bandito Work?   |   The True Costs   |   Is El Bandito a Scam?   |   A Better Alternative
What Is El Bandito?
I'm not gonna lie, being that I'm English the name El Bandito seemed like a bit of a peculiar name for a money-making system, however, it apparently means "the bandit" in Spanish & according to Google it's definition is "an outlaw especially of Mexican extraction or origin".
So does this mean that the El Bandito method is illegal? I don't know (we'll soon find out) but it sure seems strange to name your system after an outlaw.

Anyway, the two guys behind the whole thing that come up with the name are Brendan Mace & Anthony Mancuso. The good news here is that I can verify these guys are actually real people…
However, the not so good news is that they have previously been associated with some pretty junk programs such as The Banger Method & Incognito which made a lot of bold promises but failed to deliver on any of them.
The even worse news is the fact that the El Bandito system looks almost identical to those 2 previous ones…
But has anything changed? Have they finally improved it & can you now make money with the El Bandito program?
I doubt it, but let's take a closer look into exactly how it all works to find out for certain… After all, I wouldn't want to just skip over it & end up missing out on a legitimate opportunity to earn $410 per hour (if it's true)…
How Does El Bandito Work?
Well, the short truth is that the El Bandito system really isn't much different to any of Brendan's previous programs at all. Surprise surprise the "method" is kept totally secret until you hand over $12.95 – and if you do (which I don't recommend) then you'll likely find yourself pretty darn disappointed.

There is absolutely no way that you'll be able to earn $410/hour through the El Bandito system – in fact you'll be lucky if you manage to make any money whatsoever. That's because in reality the whole thing is geared towards making Brendan & Anthony wealthy, not you.
It's a classic case of being overhyped & under-delivering… Just like a typical get-rich-quick scam.
As far as I'm concerned you're basically just been tricked out of handing over $12.95, and the spending doesn't end there either – oh no, in order to actually get access to the "method" you'll have to battle your way through FIVE additional upsells.
These upsells could set you back a further $2,500 – yes $2,500!
So what initially seems cheap at just $12.95 to start out with could quickly end up totally running down your bank balance, and even if you were to spend the full $2,500 there's absolutely no guarantee you'll make any money.
But What's The Actual Method?
I know I hear ya – you want to know the actual meat & bones… What is this "secret" method that these guys are going to reveal to you that'll allegedly see you earning as much as $410 per hour?
Well, in short, it's just affiliate marketing – and that's something you can learn for free over at Commission Academy.
After handing over your cash & buying into the El Bandito program (which again, I don't recommend you do) all you get access to is some pretty basic training on how to promote things for commissions online.
I mean don't get me wrong there's quite a lot of training, but none of it really goes into detail… It's a lot more concept-based, for example, it explains what you need to do or should do, but it doesn't really show you how to actually do it.
If you're a newbie then you're probably gonna struggle with it – and if you're already experienced then you'll probably already know all of it.
Through the training Brendan basically talks about setting up a capture page (to collect people's emails), paying for traffic (visitors) & sending them to the page, then emailing them with various affiliate offers.
The idea is that you'll be able to earn commissions each time you send out an email but in reality, it won't work out like that. Brendan makes it sound really easy & as a newcomer, his theories might sound plausible but trust me there's a lot more to it than what he touches on.
If it was as easy as he makes out then everybody online would be rich.
Sadly it's not so easy, but the good news is that like I mentioned above there are indeed legitimate programs like Commission Academy which do actually give you all of the training you need… So if you do really want to make it work, then you most certainly can do – just not with the El Bandito program.
You Might Also Like:
The True Costs
I touched on it earlier in this review but the true cost of the El Bandito program is insane. What starts out as a seemingly small investment of $12.95 could quickly end up costing you as much as $2,500!
The reason for that is because as you progress through the system you're constantly bombarded with upsells trying to sell you the "missing components" for your success… So basically $12.95 doesn't get you access to everything, it just gets you in.
Upsell number 1 costs $37 & through it you're given access to "done-for-you campaigns". You're led to believe this will make your life easier since you can just copy everything, but because near enough everybody else in the program will be copying the same thing these done-for-you campaigns won't be all that effective.
Upsell number 2 costs $195 & it's said to provide you with 365 days of "limitless traffic". Basically, they put a tracking pixel on their website & retarget visitors through to members links, but this means you must be promoting the El Bandito system if you wish to utilize it. Also there's no guarantee as to exactly how much traffic you'll get… So you could end up getting none at all.
Upsell number 3 costs $197 & gives you access to what they call "lifetime affiliate templates". This basically means they'll give you "done-for-you campaigns" for each of the new products they release in the future. It's a bit crazy that you have to pay for this though as most other affiliate programs provide you with access to all of their promotional material for free.
Upsell number 4 costs $97 & this is for the "licensing rights". This basically means that the percentage you earn per sale will be boosted to 100% – you'll earn the full amount rather than just a share.
Upsell number 5 costs $2,000 & this is for 1-on-1 coaching with Brendan. If the program is so easy why is Brendan having to offer 1-on-1 coaching? This is where alarm bells should start ringing.
Is El Bandito a Scam?
It would be wrong of me to call it a scam, it's not a scam, it's just an overhyped program that will likely disappoint you & potentially end up costing you a whole bunch of money with no guarantee of making any back.
You can always kinda get a sense that's gonna be the case when systems or programs hold back on their methods until you've actually handed over your cash which is exactly what the El Bandito program does.
Like I said earlier in this review though the method it's actually based on is sound – it's just the quality of the training that lets it down… Therefore if you do still want to make good money you certainly can, you just need a legitimate & proven training program like Commission Academy instead.
But anyway overall hopefully my review has helped you out & provided you with the insight into this new program that you were looking for. If you do still happen to have any further questions then don't hesitate to leave them below & I'll get back to you as soon as I can.
A Better Alternative
The sad truth is that unfortunately most of the programs promising to help you make money online are scams. I can say that confidently after exposing over 500+ of them here on this blog.
But the good news is that even though most of them are indeed scams, there are actually some very good programs in amongst them - some programs that can truly help you to earn money.
And out of all of the legit programs I've seen, the one I would recommend the most to anybody looking to get started online is Commission Academy. In my own opinion, that's the best place to start.
At Commission Academy, you'll be provided with everything you need (including the training & tools) to begin earning real money by promoting products or services for companies like Amazon online.
The best part is that there's literally no limit on the amount you can earn with it & the process is pretty simple which means that it's absolutely perfect for people that don't have much experience.
Some wealthy affiliates even earn as much as 5-figures per month... Or more!

I mean don't get me wrong, that kind of money won't just fall into your lap without doing any work... But the harder you're willing to work at it, the more you stand to earn with it.
So if you're looking to get started but don't know which route you should go down or which program you should join (and don't want to waste money on bogus things that don't actually work), then I'd highly recommend checking out Commission Academy first. You can learn more about it here.