Envelope Work promises to offer an interesting job from home which supposedly helps you generate over $3,000 a week. These are the claims advertised on this website. One of my followers recently told me about this website so I had a look. into it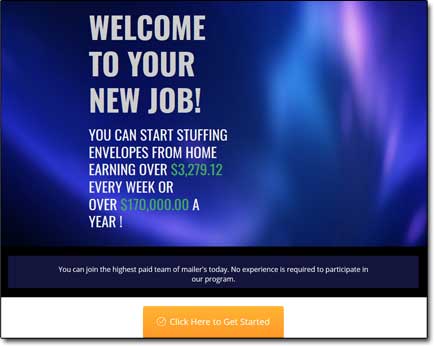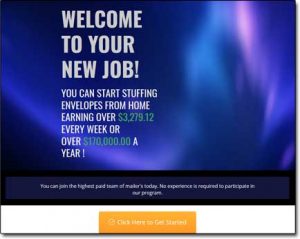 I was not surprised by the income-generating claims but of course, the overall idea is amazing and unique. We don't often hear about envelope collection jobs. After spending a couple of days looking into it all, I've come to a conclusion about this system. Be sure to carefully read this Envelope Work review to find out what it is.
Does this platform carry any value? Are the Envelope Work scam rumours justified or does it really offer such a wonderful opportunity? To know the answers to your questions, make sure you look at the facts I am going to reveal.
What Is Envelope Work?   |   How Does It Work?   |   Is Envelope Work a Scam?   |   A Better Alternative
What Is Envelope Work?
The website doesn't exactly look malicious, however, the claims are simply too good to be true. The advertisement states that the Envelope Work job will generate you over $3,000 a week and that you don't require any experience to achieve success. It then further claims that you can start earning money straight away by using this program. Amazing but not very convincing!
Moreover, the content on the website also reveals the suggested payment mode and schedule. It says that you'll receive weekly pay-checks & regarding the workload, the website claims that just a few hours day would serve the cause. According to them, the workload isn't too much. On a weekly basis, you'll be dispatching an average of 300 envelopes.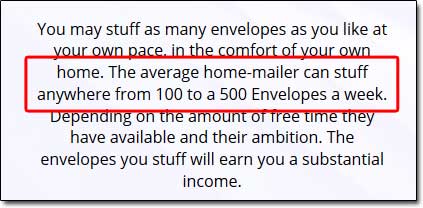 The Home Mailer Program
The Home Mailer Program – which is what they call it – apparently doesn't limit your earning potential. You can supposedly earn as much as you like by working extra hours. The content of the website is repetitive and keeps beating around the bush. In my opinion, it's no different to a typical online make-money scam.
How Does "Envelope Work" Work?
Let's first have a look at what the website says about the working of Envelope Work system.
Mailing companies are looking for expansion and this is what drives them to use this system. Companies actually hate hiring more employees as it increases their fixed cost. The supervision of more employees in itself is a tough ask. This is why Mailer companies are looking to outsource individuals – Home Mailers – who'll receive stamped and envelopes with addresses. There is no compulsion about the number of mails per week. It is totally up to you to decide the workload and the number of envelopes you want to take.
One-Time Processing Fee
"You'll have to submit one-time processing fee to become our trusted Home Mailer".
And the whole content is filled with the claims that the offer is genuine and you'll actually be compensated well for your services.
Does It Really Work That Way?
The above-mentioned story is a bluff because the website doesn't really work that way. This is a conventional trap that most of the malicious make-money systems use these days. You don't need to get excited after reading the promotional material… It works exactly the same work as the worksheet processor job scam… Only this time around they're calling it "Envelope Work" instead.
The content says that mailer companies don't want to hire more employees just to avoid fixed cost… So if this is the case then why are they paying so much money to the home mailers?
I mean, they are paying way more than the average salary of an employee serving a mailer company…
Obviously the answer to that is because the whole thing is just a fake. It's a scam that's been put together merely to make the creator wealthy at your expense & after paying the "processing fee" you'll be left to find out the hard way that the whole job has just been a lie.
The Registration Process
Upon hitting the Get Started button you are directed to a page which asks for some information. But proceeding further confuses you because the new page is something completely different than what has been talked about on the main page. There is nothing about mailer companies or home mailers. This new page simply takes you to another equally unreliable system – the infamous Secret Society of Millionaires – which is a notorious scam.
It begins a chain of malicious misdirection. There are scores of such unreliable programs which also claim earnings of $1,000s per week but don't actually materialize a penny. The Envelope Work website is basically just a bunch of scams all gathered at one place. Each of these programs offers free sign up. So it is clear that Envelope Work is indeed trying to encourage its visitors to register with different programs through referral links so that the creator can earn money at their expense.
When you fill in the information during the registration phase, your information is also shared across various networks. This information is used by marketers for promotional activities to serve e-commerce businesses. Most of the online businesses pay marketers to purchase contacts such as emails, social media profile links, and even contact numbers. Once you fall victim, you'll start receiving scores of emails, most of them being complete junk.
Is Envelope Work a Scam?
I can safely say that the Envelope Work scam rumours are absolutely true because this program carries ZERO value and it exposes your personal data. It also attempts to rob your money in the name of processing fee. This is unacceptable and I would suggest you completely avoid the Envelope Work program.
Ultimately rather than being set out to help you make money as it claims, it's just been set out to the creator wealthy at your expense instead. Basically the person behind it has affiliated themselves with several scam programs & they are getting paid commissions for each person they get to sign up to them… The Envelope Work website is just the trick to get you to sign up… It misleads you with false promises & then redirects you off to random scam websites.
The truth is that you can actually make good money online, but it is not going to come as easy as the Envelope Work program makes out. Heck if you could really make that much money so easy then everybody would be doing it.
Like I say it's possible, but it's going to take some real work. The good news though is that if you are prepared to put in the work to make money online then there are legitimate programs out there like Commission Academy for example where you can get started for free. All you need to do is sign up there, follow the step-by-step training & you will be on your way to building a real income online.
But yeah anyway, just to reiterate I absolutely do not recommend the Envelope Work system – it's nothing but bad news. Hopefully, this review gave you a good insight into it & hopefully you can see why I've arrived at that conclusion.
I also hope this review helped save you some money! If you do happen to have any further questions or comments about it though then don't hesitate to leave them below & I'll get back to you as quickly as possible.
A Better Alternative
The sad truth is that unfortunately most of the programs promising to help you make money online are scams. I can say that confidently after exposing over 500+ of them here on this blog.
But the good news is that even though most of them are indeed scams, there are actually some very good programs in amongst them - some programs that can truly help you to earn money.
And out of all of the legit programs I've seen, the one I would recommend the most to anybody looking to get started online is Commission Academy. In my own opinion, that's the best place to start.
At Commission Academy, you'll be provided with everything you need (including the training & tools) to begin earning real money by promoting products or services for companies like Amazon online.
The best part is that there's literally no limit on the amount you can earn with it & the process is pretty simple which means that it's absolutely perfect for people that don't have much experience.
Some wealthy affiliates even earn as much as 5-figures per month... Or more!

I mean don't get me wrong, that kind of money won't just fall into your lap without doing any work... But the harder you're willing to work at it, the more you stand to earn with it.
So if you're looking to get started but don't know which route you should go down or which program you should join (and don't want to waste money on bogus things that don't actually work), then I'd highly recommend checking out Commission Academy first. You can learn more about it here.