The Ethereum Code claims to be a free automated trading system that can literally makes its members over $3,000 within their first 24 hours of signing up – but is it legit or The Ethereum Code a scam?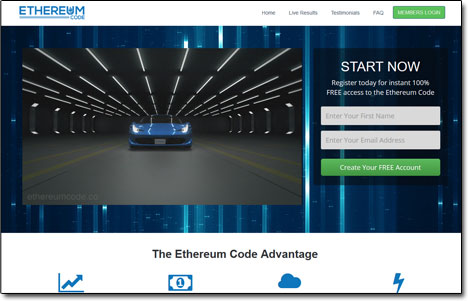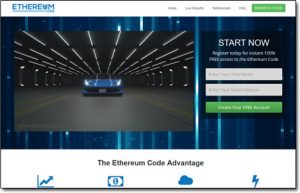 That's exactly what I'm going to be getting to the bottom of right here in this Ethereum code review where I'll be taking a closer look at the system to find out what it's all about, how it works & whether or not you can really make any money with it.
So basically if you've been thinking about joining this system then you can rest assured that you've landed in the right place to find out absolutely everything you need to know about it before you do.
What Is The Ethereum Code?   |   The Truth   |   How The Ethereum Code Really Works   |   Is The Ethereum Code a Scam?   |   A Better Alternative
What Is The Ethereum Code?
As I briefly touched on above the Ethereum Code claims to be an automated trading system that enables people to generate substantial profits from the cryptocurrency Ethereum without them having to do anything.
The system itself runs on the web so there's no need to download anything & it even claims to be completely free, though as I found out it's not quite as free as it makes out (more on that in a mo).
Whilst the promotional video for the Ethereum Code claims that you can make around $3,000 in your first 24 hours, many of the testimonials claim profits of around $9,000 or more in their first day.
As you'll probably agree these are both extremely bold claims, especially considering the fact that the system is supposedly free & doesn't require you to do anything – I mean what's the catch?
Well after a little bit of digging I was able to find the catch…
The Truth About The Ethereum Code
Whilst the promises made by the Ethereum Code system would be nice if they were true, unfortunately, they're not – in fact, it's actually just a re-named version of the Bitcoin Code scam I recently exposed.
As you're probably aware there's a lot of hype surrounding the money people are managing to make from cryptocurrency investments at the moment & these scams are trying to jump on the back of that.
The creators of these systems are aware that there are quite a lot of people hearing about these cryptocurrencies & the profits that people are making, but aren't really sure how it all works.
Basically they're trying to take advantage of that.
Unfortunately, there are no "automated trading systems" that actually work – I mean think about it, if there was then everybody would be using them, nobody would be working a job anymore.
The internet is a great tool & there are certainly ways to make money online but it's not magical & you can't make thousands of dollars overnight without doing anything – it takes both time & work.
You Might Also Like:
How The Ethereum Code Scam Works…
You're led to believe that the Ethereum Code has been developed by an expert trader who's come up with a proven formula to determine profitable trades on the cryptocurrency market.
However none of this is true, in fact, it's nothing but total BS. The actual creator of this system is an online marketer who surprise surprise has decided to keep himself anonymous.
Just to prove some of the BS dished out by this system, take a look at the image below: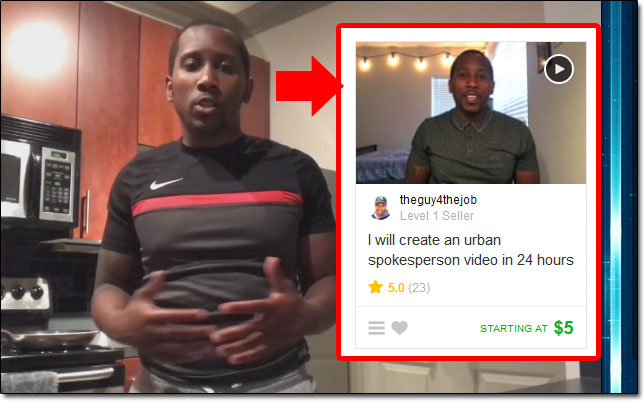 It turns out that our man from the Ethereum Code video who claims to have generated over $15,000 on autopilot is actually a paid actor on Fiverr selling testimonials for $5 – coincidence? I think not!
Anyway basically the online marketer who has created this system has affiliated himself with a cryptocurrency broker, and this means he's able to earn commissions whenever he refers people to them & gets them to deposit funds.
The commissions he's able to earn by doing this are quite substantial & so in an effort to get more people to sign up & deposit with this particular broker he's created the Ethereum Code.
This program is ultimately nothing more than a ploy to make you think you'll be able to be guaranteed to make money because the creator of this knows that if he can make you believe that you'll be able to make money then you'll be much more likely to sign up with the broker that he recommends & deposit some funds with them to try it out.
Only when you do try it out that's when you'll realize that it doesn't actually work as promised and that in fact, the Ethereum Code is nothing more than a scam to part you with your hard-earned cash.
Take a look at the image below:

This a screenshot taken from the Ethereum Code FAQ & as you can see the creator of this system claims that the broker he (or she) is recommending is the one that supposedly "works best with their software".
The truth is they're recommending that broker because that's the one that's paying them the big hefty commission for getting you to sign up – and that's the one that will make it very difficult for you to get your money back.
Is The Ethereum Code a Scam?
Yes, in my opinion, it is a scam & it's actually very similar to the Bitcoin Code scam that I recently exposed so I wouldn't be too surprised if both programs had been launched by the same person.
It's clear to me that this program is just jumping on the hype of people making money from cryptocurrencies in an attempt to part you with your cash & make the creator rich at your expense.
At a glance, the program looks fairly genuine, especially since that it makes out that it is free but as I mentioned above in actual fact it's not free, you're paying for it via the broker who's paying the creator a commission.
They also lead you into believing that you can simply try it out & withdraw your money if it doesn't work out for you but in reality, the brokers make it almost impossible to get your funds back out of your account.
Therefore as you can probably guess I will be giving this program a huge thumbs down & I certainly won't be recommending it to you as it's clearly nothing but a scam looking to part you with your cash.
A Better Alternative
The sad truth is that unfortunately most of the programs promising to help you make money online are scams. I can say that confidently after exposing over 500+ of them here on this blog.
But the good news is that even though most of them are indeed scams, there are actually some very good programs in amongst them - some programs that can truly help you to earn money.
And out of all of the legit programs I've seen, the one I would recommend the most to anybody looking to get started online is Commission Academy. In my own opinion, that's the best place to start.
At Commission Academy, you'll be provided with everything you need (including the training & tools) to begin earning real money by promoting products or services for companies like Amazon online.
The best part is that there's literally no limit on the amount you can earn with it & the process is pretty simple which means that it's absolutely perfect for people that don't have much experience.
Some wealthy affiliates even earn as much as 5-figures per month... Or more!

I mean don't get me wrong, that kind of money won't just fall into your lap without doing any work... But the harder you're willing to work at it, the more you stand to earn with it.
So if you're looking to get started but don't know which route you should go down or which program you should join (and don't want to waste money on bogus things that don't actually work), then I'd highly recommend checking out Commission Academy first. You can learn more about it here.