Fap Turbo is a Forex trading robot that claims to exploit various loopholes to generate you profitable trades on complete autopilot & unlike other similar systems this one allegedly shows live "proof" of it generating over $400k from an initial $10k investment.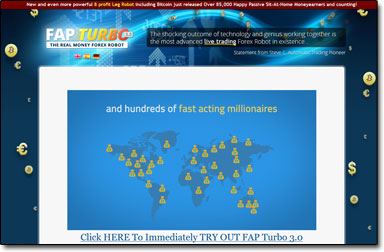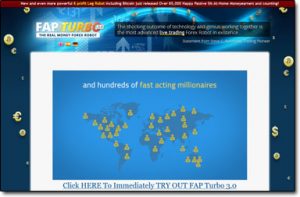 The creators of the robot claim that its high-frequency method of trading means that it can almost guarantee you profits, but is it actually legit? Or is Fap Turbo a scam that's out to take your cash?
Well, thankfully you've landed in the right place to find out as I've personally taken a closer look into it & in this honest Fap Turbo review I'll be uncovering everything you need to know.
What Is Fap Turbo?   |   How Does Fap Turbo Work?   |   Why It's Useless   |   A Red Flag   |   Is Fap Turbo a Scam?   |   A Better Alternative
What Is Fap Turbo?
As I briefly mentioned above Fap Turbo is an automated Forex trading robot that's apparently been created by a guy named Steve Carletti who claims that it's "the most accurate and profitable Forex robot in today's market" (his words, not mine).
Steve who supposedly developed the algorithm that the robot runs on, says that it works by making high-frequency trades whilst also exploiting various loopholes within the Forex market to determine trends.
Allegedly, all you need to do to make money through Fap Turbo is sign up with a broker, deposit some funds, install the software & then hit the "start trading" button.
From there Fap Turbo supposedly handles the rest.
So essentially the concept is that you sign up to a $39.95 monthly subscription & the Fap Turbo Forex robot will generate you unlimited amounts of cash on complete auto-pilot.
Sounds a bit fishy don't you think?
Sadly that's because it is a bit fishy…
How Does Fap Turbo Work?
Over the years I've seen a lot of Forex & binary options scams, but this is a bit of a new one on me. The scams I've seen in the past (like TAI Robotic) claimed to be completely free systems that would generate you profits on auto-pilot, kinda like Fap Turbo – only Fap Turbo isn't free.
The free systems that I've seen before would trick you into signing up with a broker (who they were affiliated with), meaning they'd earn a commission when you deposited & you'd be left to find out that the system didn't really work as promised but you'd also find yourself unable to get your money back…
Those scams were pretty good at catching people out who didn't really know a great deal about trading, but those that were in the know were aware that they should avoid those "free" systems.
Now we have Fap Turbo, which is essentially just another one of those scams (kinda) – only this time to make it seem more legit they're charging you a monthly fee to gain access to the software.
The lure in this instance is the 7-day free trial – in reality, the robot doesn't work as promised but they're hoping that you'll take the trial to "try it", forget about it & then end up getting billed $39.95 each month from there on…
Even if you only get caught out by the first months billing cycle, if they catch a thousand people out like that then there's $39,950 in their pocket – easy cash right? For them at least…
The Fap Turbo Robot Is Useless…
A few years ago I tried my hand at Forex trading & I happened to come across the first Fap Turbo robot that was released – I decided to try it out & unfortunately the trading robot didn't help me at all.
Then around a year later Fap Turbo 2.0 came out, so whilst I was a little warier this time around I decided to give it go. They claimed they'd re-vamped it & that this time it 100% worked…
Same story again, the robot was complete BS.
Now here we are with the launch of Fap Turbo 3.0 & they are claiming the exact same thing again. They are basically saying "no this time it really works", and whilst I admit I haven't tried it this time, I know it's just a con.
I fell for it initially, I stupidly fell for it a second time – I will certainly not be falling for it again!
Especially not since there are so many complaints about it online already – it's clear to me that Fap Turbo 3.0 is just yet another scam that's out to part people with their hard-earned cash.
I mean don't get me wrong, they do give you a trading robot as promised & it is simple to use – but the whole thing about it being profitable is complete nonsense, it won't help you make money at all.
You Might Also Like:
Here's a Huge Red Flag…
If you know anything about Forex & binary options trading you will know that the brokers only make money when you lose money, and because of that, there's a reason I'm able to tell that Fap Turbo is complete BS.
Basically, if you take a look at the Fap Turbo website you will see that they have affiliated themselves with 2 brokers named MyFxChoice & Tallinex – if you sign up with those brokers then you don't actually need to install Fap Turbo because the brokers have already preconfigured it.

So think about this for a moment – why would brokers want to give you easy access to a piece of software that essentially stops them from making money?
They wouldn't! Which just proves Fap Turbo is fake.
Is Fap Turbo a Scam?
In my opinion yes, it is a scam. Whilst you do get an automated Forex trading robot in return for your money as promised sadly the robot is not profitable like they make out & it won't see you making any money.
The claims on the website are complete nonsense & the whole thing has been put together simply to part you with your hard-earned cash – they just want to catch you out with the $39.95 monthly billing.
I'll admit that the website for this robot looks very convincing & that's why I personally fell for it the first two times when they launched Fap Turbo & Fap Turbo 2.0 but I certainly won't be falling for it a third time.
I am going to be giving this robot a huge thumbs down & I'll advise that you avoid it because I know for a fact that it's only out to part you with your cash – I certainly won't be recommending it.
A Better Alternative
The sad truth is that unfortunately most of the programs promising to help you make money online are scams. I can say that confidently after exposing over 500+ of them here on this blog.
But the good news is that even though most of them are indeed scams, there are actually some very good programs in amongst them - some programs that can truly help you to earn money.
And out of all of the legit programs I've seen, the one I would recommend the most to anybody looking to get started online is Commission Academy. In my own opinion, that's the best place to start.
At Commission Academy, you'll be provided with everything you need (including the training & tools) to begin earning real money by promoting products or services for companies like Amazon online.
The best part is that there's literally no limit on the amount you can earn with it & the process is pretty simple which means that it's absolutely perfect for people that don't have much experience.
Some wealthy affiliates even earn as much as 5-figures per month... Or more!

I mean don't get me wrong, that kind of money won't just fall into your lap without doing any work... But the harder you're willing to work at it, the more you stand to earn with it.
So if you're looking to get started but don't know which route you should go down or which program you should join (and don't want to waste money on bogus things that don't actually work), then I'd highly recommend checking out Commission Academy first. You can learn more about it here.