The Flipped program which has been put together by Art Flair promises that it's going to provide you with a "secret" 5-minute copy & paste trick which will allegedly enable you to make good money online and you're even told that you can start earning within your very first 24 hours of getting started.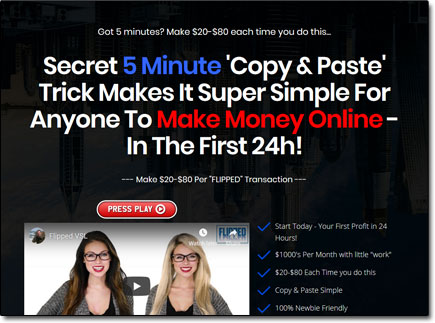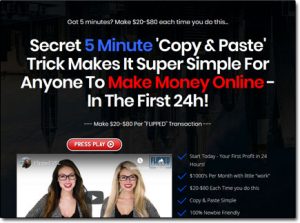 But is it really true? I mean the promise of being able to make $1,000's per month with next to no work is pretty bold & the promise of being able to start earning so soon is even bolder.
So what's the deal – is Art Flair's new program legit or will the Flipped program scam you & just part you with your cash instead of helping you make it?
Thankfully you've landed in exactly the right place to find out as I've decided to take a closer look into it myself to see how it all works & in this honest review I'll be uncovering the truth so that you can see what's really going (and whether or not you can really make money).
What Is Flipped?   |   How Does Flipped Work?   |   Why The Odds Will Be Stacked Against You   |   Is Flipped a Scam?   |   A Better Alternative
What Is Flipped?
The Flipped program is a new money-making program that's just been launched through the Warrior Plus platform & it's been put together by 2 guys named Art Flair and Pallab Ghosal.
The Flipped program is actually hosted on the Traffic Trigger website, so you may see it in some places being called the Flipped Traffic Trigger system but it's not – they're actually 2 different systems.

The Traffic Trigger system was Art Flair's previous product which was put together prior to the launch of his new Flipped program – it just so happens that he's selling them both through the same site.
Now, the Flipped program seems to have gained massive attention over the past couple of weeks since it's launch & the reason for that is likely down to the bold claims that are made about it on it's sale page.
I've seen literally thousands of people searching for more info on this program, and it's hardly surprising given that it claims it can enable people to make thousands of dollars per month & also claims that it can enable them to start earning within their very first 24 hours…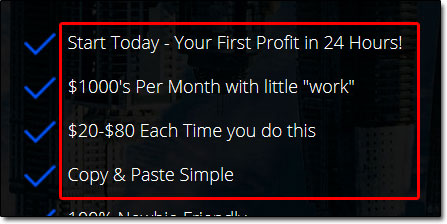 But naturally, you're probably sceptical about those claims & rightly so – after all when something sounds too good to be true, it's generally because it is!
In fact, right here on this blog I regularly expose scams & I'm not gonna lie, at a glance the Flipped system seems to share a lot of common traits with many of the scams that I've come across…
However Art Flair has a fairly decent reputation at providing relatively decent products, so what's going on? Has he really brought out a program that can actually make us so much money so easily?
Let's take a look…
How Does Flipped Work?
The whole Flipped program is allegedly built around a new & powerful arbitrage formula which can supposedly see you making lots of money online just by simply copying & pasting various listings.
You're told that it doesn't involve building a website, buying hosting, creating products or anything like that – and you're also told that you don't need any money whatsoever to start profiting from the method.

The 2 girls in the video (who are actors from Fiverr) explain it to you in a little bit of detail – but they don't give you the full story. Instead, they push you towards handing over your cash & signing up to the program to find out more.
Again though that's another common trick of a get-rich-quick scam (keeping things secret until you hand over your cash) but thankfully I managed to find the truth & right now in this review I'm going to show you how it really works…
How Art Flair's Flipped Program Really Works…
So the 2 ladies in the sales video promoting his system tell you that all you need to do to make money through the program is copy a listing from place A, and then head on over & paste it in place B…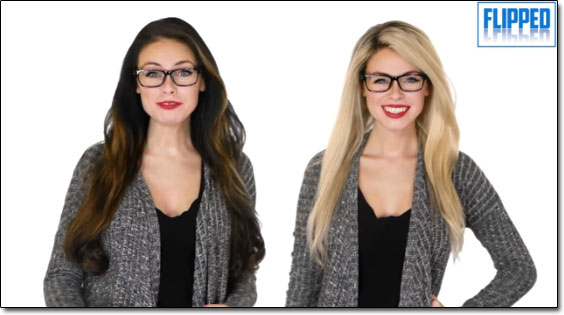 But what are the listings they are talking about? And how can you make money just by copying & pasting "listings" like this?
Well, the truth is that the whole Flipped program actually revolves around setting up your own business buying & selling solo ads for profit – which I'm not gonna lie is a pretty unique type of concept for this type of program.
I was expecting that the program was just going to sell you some bogus information on affiliate marketing or something like that (like most of the other hyped up make-money programs end up doing)…
But nope – the method discussed through the Flipped program is pretty unique… However whilst it could work, in reality, it's not going to be anywhere near as easy as you're led to believe it will.
You'll soon see why in a moment but firstly…
What Are Solo Ads?
Since the whole thing is based around teaching you how you can start your own online business buying & selling solo ads (or flipping solo ads as Art Flair refers to it) then you'll probably want to know what solo ads actually are (if you don't know already)…
So basically a solo ad is just when you pay somebody to send an email out to their email list on your behalf, promoting whatever it is you have to offer…
As an example, let's say you have a blog about fishing & you have a whole bunch of people interested in fishing that have subscribed to your blog's newsletter. You could offer out a solo ad as a potential way for people to advertise to your readers…
So let's say Bob comes along and he owns a fishing tackle shop but he doesn't get many customers… He could reach out to you & ask you to promote his fishing tackle shop to your email list – which would be classed as a solo ad.
He'd pay you a one-off fee & you'd send a one-off email out to your list on his behalf, advertising his shop…
The problem with solo ads is that whilst it all sounds fair and well, in theory, the people who are often selling these types of ads tend to have really low-quality email lists – meaning you could pay for the email to be sent, but it doesn't mean anybody will open it, click it, or buy anything from it…
And more often not people don't… In fact, I've never bothered with solo ads because I personally see them as a pure waste of money.
For newcomers, though they can be tempting because having an email blasted out to a whole bunch of people seems like a great way to kick-start their business (but they often find out the hard way that it's not).
So it's mainly newcomers who keep the solo ad business in business…
Now Back Onto How The Flipped Program Works…
Rather than telling you to buy solo ads yourself and promote something (like many low-quality make-money products do), Art Flair's Flipped program is actually geared towards teaching you how you can actually sell solo ads to other people instead.
And the reason he claims "you won't need to invest any money" is that you're told to firstly get paid from the buyers before then investing the money into the solo ads that you're going to provide them.
So the idea is you find a cheap solo ad provider, and you sell the service onto others for more money.
Art and Palla (the 2 guys behind the program) do give you tips on finding cheaper solo ad providers, and they do also give you tips on finding buyers as well – so you're not left completely "in the dark" on that front.
However one of the primary marketing methods you're taught through the program is to promote "your solo ad business" using social media – by sending direct messages to people who appear to be promoting things online…
And I'm not gonna lie, a few years ago when I used to use Facebook I remember getting approached by a LOT of people selling solo ads… So I guess looking back they were probably using the same method.
However social media sites (especially Facebook) have tightened things up and if you get reported, your account will get banned. Plus many people are now warier about buying solo ads over social media due to the poor results they often provide.
But anyway the concept here is to find a cheap solo ads provider, then sell the solo ads onto others for more… It's not rocket science, and like I say it could work…
You Might Also Like:
But The Odds Are Stacked Against You…
Like I said earlier in this review, solo ads are renowned for being crappy – and the cheaper you buy them, the crappier they get… So this puts you in a bit of a bad position if you're wanting to make money through the Flipped program's method.
You see, you need to buy the solo ads as cheap as you can in order to turn a profit – but this means that you're going to be providing a crappier service to your buyers… And if you want to provide a good service, you're going to find it hard to get buyers because those willing to pay the higher prices for solo ads generally know about the risks associated with buying from an "unknown" or new seller.
It's a good method in theory, but the solo industry isn't the best industry to apply such a method due to the nature of the low-quality services provided by MANY of the solo ad sellers online.
You may as well find something else to buy low & sell high, something that you can actually build a good reputation on (which will help you increase your prices as you grow the business).
Or alternatively, you could just check out one of the EASIER ways to make money instead.
Is Flipped a Scam?
Well, the Flipped program is definitely not a scam as it does indeed provide legitimate training & the method could actually work, however, I've got to say that in my opinion it is overly hyped up and making money with it will NOT be as easy as the creators claim it will.
I mean in general, the whole solo ads game is just a bit of a shady business, and it has a bad reputation of being a crappy means of advertising… So, in my opinion, it's not the best industry to break into as you'll find it very difficult to build a good reputation & make good money.
Plus, if you're selling solo ads to people then essentially you'll be responsible for making the sale (even though you're not the provider of the solo ads) which means the buyers could get a refund from you, and then you'd be left out of pocket.
I mean just imagine if somebody placed a $2,000 order, you went ahead & bought the ads, and then they got a refund? You'd be left thousands of dollars out of pocket – so for those reasons, I'm not going to be recommending this program to you.
If you really want to learn how to make money online properly then I suggest you just go through a legitimate training program that's actually proven to work like Wealthy Affiliate for example.
It's there that you'll learn about the exact same way that I personally make money online which currently makes me over $10,000 per month – and I know if you follow their training you'll definitely see success.
But anyway whatever you decide to end up doing is up to you – I just hope that my review here has helped you out & if you do happen to have any further questions or comments then don't hesitate to leave them below.
A Better Alternative
The sad truth is that unfortunately most of the programs promising to help you make money online are scams. I can say that confidently after exposing over 500+ of them here on this blog.
But the good news is that even though most of them are indeed scams, there are actually some very good programs in amongst them - some programs that can truly help you to earn money.
And out of all of the legit programs I've seen, the one I would recommend the most to anybody looking to get started online is Commission Academy. In my own opinion, that's the best place to start.
At Commission Academy, you'll be provided with everything you need (including the training & tools) to begin earning real money by promoting products or services for companies like Amazon online.
The best part is that there's literally no limit on the amount you can earn with it & the process is pretty simple which means that it's absolutely perfect for people that don't have much experience.
Some wealthy affiliates even earn as much as 5-figures per month... Or more!

I mean don't get me wrong, that kind of money won't just fall into your lap without doing any work... But the harder you're willing to work at it, the more you stand to earn with it.
So if you're looking to get started but don't know which route you should go down or which program you should join (and don't want to waste money on bogus things that don't actually work), then I'd highly recommend checking out Commission Academy first. You can learn more about it here.