Fortune Builders is one of those rare websites which offers different online courses dealing with real estate investment. I've already gone through many promising reviews about this platform but today I've decided to write my own Fortune Builders review from a more neutral perspective.
If you are thinking about taking a course through Fortune Builders, you first need to see some important information that's been published by various members and online experts. Let me make things easier for you so that you don't have to go anywhere else.
Is Fortune Builders a scam? This is the biggest question which is justified to some extent because, with so many malicious platforms, everybody needs to first confirm the legitimacy of any website that asks for paid services. This is going to be a comprehensive review which will include various important aspects about this popular real estate education platform & will ultimately provide an answer to that very question.
What Exactly Is Fortune Builders?
The Fortune Builders website is pretty professional looking and the top-bar signifies the presence of the platform on social media. There is also a legitimate phone contact in addition to the support icon which also works fine (a surprisingly rare occurrence when it comes to many online money-making platforms).
The main slogan on the home page "Passive Income Turns Couple's Retirement Dreams into Reality" is suggestive of the fact the Fortune Builders promises the generation of handsome passive income. Well, does it really turn dreams into reality? We'll have to know more before concluding the answer to this question.
The video on the right side of the screen features Craig and Connors – a retired couple – telling their success story (a snapshot of which is shown below). The video is all about real estate's potential to generate passive income.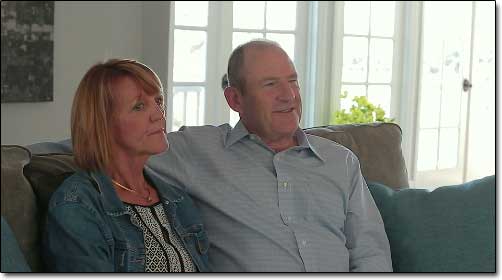 Basically, Fortune Builders is an education company which serves the people looking to make a mark in the industry while earning handsome passive income. Established back in 2006, Fortune Builders has now started to bear fruit by attracting thousands of members/subscribers across the globe.
The training courses facilitate the students with the provision of education dealing with wholesale, house flipping, and renovations. The cost of each course depends on its level. The basic courses cost less but the advanced courses can disturb your budget. The good thing about the expensive courses is that you can get one-to-one coaching which can help you practically implement different strategies to maximize your passive income.
How Does Fortune Builders Work?
One of the immediate downsides in my opinion is that it's difficult to find any sort of detailed explanation on the Fortune Builders website with regards to the type of education and course content they offer. I did however do some external research at my end so I'm going to share what I found:
3-Day Workshop
Depending on the member's location and who is doing the teaching, the 3-Day Workshop varies. The prices also vary depending on the same couple of factors and this variation is significant. I've found that these workshops are basically for the individuals already working in this industry. The workshops are held during the weekends. For the beginners, these workshops don't promise anything because they don't offer basic training. The training simply features the some tips to help already established businesses.
Seminars
They also don't offer the level of education you are likely looking for. A typical seminar lasts for a couple of hours and addresses advanced issues.
Online Course
You don't have to leave your home if you opt for an online course. These courses teach you about taxation, deeds, and wholesale etc. The fee varies in accordance with the level of the course, but there are some courses here that are more suited to beginners/those considering getting started.
Mastery Program
This is what you call the gemstone! The program features one-on-one coaching. It can't get better than this. This program helps you to start right from the scratch and walks you through setting up of your business and guides you during your business' operations. The course content is customized as per the student's requirements – but as you can imagine, it comes with a pretty hefty price-tag (more on that below).
How Much Does The Fortune Builders Course Cost?
As I briefly mentioned above, the cost depends on the selection of course type, course level, and your location. Strangely the website doesn't disclose the cost and there is no package infographic (which is when you can begin assuming that the cost is going to be pretty high).
Based on my personal research, some students have paid anything between $200 and $300 for 3-Day Workshop. The Mastery Program costs the highest which – according to the reviewers – ranges from a whopping $10k to $30k. The online courses are also priced on identical lines. These courses charge the students from $2k to $5k. This information is based on the reviews from the people who claim to have purchased these packages. I obviously therefore can't guarantee if these prices are accurate but it is the best I can do to give an idea of what to expect.
The quality of the courses is said to be "good enough". People who claim to have attended these classes talk positive about the education they received. Considering the prices, it seems as if the company's employees are getting a handsome share. The problem is, why doesn't the Fortune Builders website reflect the prices and packages? What stops them from being transparent in this regard?
Generally, you start smelling a rat whenever things are unexpectedly hidden – especially cost. I mean, if an online store is trying to sell software or anything else, nobody will purchase until the price is mentioned. This is something pretty strange and I can think of no reason which could justify this strategy.
My Verdict – Is Fortune Builders a Scam?
The scale on which the company operates convinces me avoid calling Fortune Builders a scam. Apart from hiding the prices, nothing seems malicious. From what I've seen people have advocated the quality of education they received… However as you'll soon see below that alone doesn't necessarily mean I'll be recommending you join – in fact I'll actually be doing the opposite.
You see I personally think that this website is good for those who have already established their business and who really understand how real estate works. The courses provided by Fortune Builders simply polish their skills and update them about some exceptional tips and tricks to maximize the earning potential (though in my opinion the prices are still a little steep).
If however you don't have any exposure to the real estate industry just yet, I would advise staying away from paying such huge fees for courses that have been intentionally hidden from the website visitors. I mean yes the website may technically be legit, but without pricing you simply can't compare and calculate the profit and loss… So how can you anticipate the potential return when you don't even know the price of getting started?
Overall in my opinion I feel that there are much better ways to generate passive income – such as affiliate marketing. Don't get me wrong, real estate can certainly provide such income I'm not arguing against that… However as you have seen from the costs associated with the Fortune Builders program, real estate can involve a pretty hefty outlay to get started.
Programs like Wealthy Affiliate on the other hand (which is actually free to join) can teach you how to use the internet instead to generate passive income through something called affiliate marketing which in comparison requires MUCH less outlay & yet can provide the same if not even better results… So in my opinion you be much better off investing your time into something like that because as far as I'm concerned that's the way forward.
But anyway whatever you decide to do, I hope my review here helped you out & provided you with the insight that you were looking for into this program. If you do happen to have any further questions or comments then don't hesitate to leave them below & as always I'll do my best to get back to you as soon as possible. 🙂