Freelance Marketing Secrets is a free eBook download that's offered out by Keala Kanae through the AWOL Academy program & it claims to be able to teach you how you can start a freelancing career & earn an income from anywhere in the world.
The book also goes under the name of Freelance Digital Secrets & Freelance Secrets Download but ultimately they're all the same thing – so is it actually legit or is Freelance Marketing Secrets a scam?
Let's take a look…
What Is Freelance Marketing Secrets?   |   What Is AWOL Academy?   |   How Does AWOL Academy Work?   |   Is Freelance Marketing Secrets a Scam?   |   The Bottom Line   |   A Better Alternative
What Is Freelance Marketing Secrets?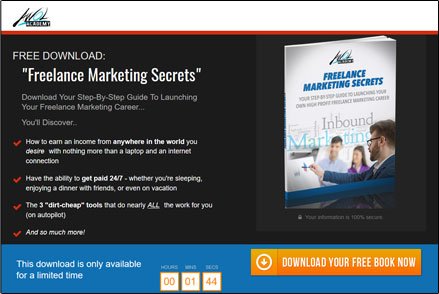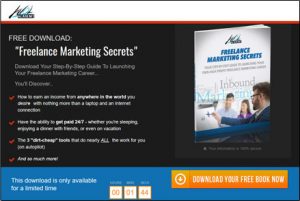 As I briefly touched on above Freelance Marketing Secrets is an eBook that's been put together by a guy named Keala Kanae & it's free to download as part of his AWOL Academy program.
Keala Kanae is a very successful online marketer & he claims to have jam-packed the eBook with tips that will help you too to launch your own freelance marketing career & earn an income online.
The reason he's giving the eBook away for free is because the idea is that you'll then become interested in his AWOL Academy program & sign up as a paying member, but ultimately you don't have to.
You could just download the book & be on your way if you wanted to. 🙂
What Does Freelance Marketing Secrets Teach You?
The Freelance Marketing Secrets eBook teaches you how you can generate an income online through something called affiliate marketing, which is basically where you promote other peoples products online.
The good thing about affiliate marketing is that if you do right there's no selling involved – you're just connecting people with the products they're looking for & getting paid commissions on every successful purchase.
Whilst the eBook in itself is actually quite detailed (especially since it's free), it doesn't really teach you everything – instead if you want the real goodies you'll be nudged towards purchasing the AWOL Academy program.
But don't get me wrong there's definitely some good value given away in the eBook.
It's definitely worth a download!
So What Is The AWOL Academy Program?
The AWOL Academy program is an internet marketing training program that has also been put together by Keala Kanae & it's aim is to teach you step-by-step how to start your own successful affiliate marketing business online.
In my opinion it's a pretty good program.
Whilst it is pretty hyped up in the sense that Keala claims you can make a lot of money (which is something I don't really like), in this particular & very rare instance Keala's training does live up to the claims.
Don't get me wrong you're not going to be able to sign up & make a ton of money without doing anything, but if you're really dedicated & ready to build a successful affiliate marketing business then the training provided through AWOL Academy can certainly help you do it.
And I can say that confidently because I've had the luxury of personally going through it.
You can read my full review of AWOL Academy here.
How Does AWOL Academy Work?
As a member of AWOL Academy you'll get access to a whole bunch of step-by-step training videos – each video will teach you something, then it will show you how you can implement it into your business.
The training teaches you all the advanced parts of online marketing but it's been broken down in a way so that it's pretty easy to understand even if you're completely new & have never heard of affiliate marketing before.
You'll start out learning how to think like an entrepreneur, then you'll gradually begin building your business up as you progress through & by the end of the training you'll have a website, sales funnel & the knowledge of how to advertise it through various platforms online.
You might initially think "there's no way I could do all that", but the training really has been laid out in a way that makes it very easy to follow. It's literally a case of learning, then copying & implementing…
That's why I personally think it's a pretty cool program.
Is Freelance Marketing Secrets a Scam?
Whenever somebody claims that something can help them make money online most people are immediately skeptical – often because sometimes they don't even realize that it's actually possible to make money online.
So you might be wondering whether Freelance Marketing Secrets is a scam…
It's good to question things & do your due diligence because yes, sadly there are an awful lot of scams online but I can confirm that Freelance Marketing Secrets isn't one of them – neither is AWOL Academy.
The Freelance Marketing Secrets is just a free eBook – so if you hand over your email address you'll get access to the book for nothing, no payment information or person details are required.
Sure, you'll probably end up getting pitched into the AWOL Academy program via email but you're under no obligation to join – you can just unsubscribe from the newsletter, the book really is free (no catches).
However to be honest AWOL Academy is actually a pretty darn good program so getting pitched into it isn't the worst thing that could happen – who knows, it could lead you onto to creating a successful online business.
But yeah I just wanted to clear it up that there certainly not scams because I know sometimes misinformation gets spread online which lead to people questioning the legitimacy of things.
You Might Also Like:
The Bottom Line
For free, the Freelance Marketing Secrets eBook is a pretty darn good eBook & I'm confident it will give you some solid value even if you've already managed to find success in the online marketing industry.
Keala Kanae is a very successful marketer & he's a guy with solid integrity who really cares about helping you find success, not just somebody who's out to take your cash like many of the other guys.
In my opinion it's definitely worth a read & after all since it's completely free you can't really fall off – sure you have to enter your email but you can easily unsubscribe if you don't want to be pitched AWOL Academy.
Though to be honest out of all the mailing lists on the internet Keala Kanae's is one I'd probably recommend staying on as he often gives some solid value away & I personally find his emails pretty motivational.
So yeah, thumbs up for Freelance Marketing Secrets & AWOL Academy!
A Better Alternative
The sad truth is that unfortunately most of the programs promising to help you make money online are scams. I can say that confidently after exposing over 500+ of them here on this blog.
But the good news is that even though most of them are indeed scams, there are actually some very good programs in amongst them - some programs that can truly help you to earn money.
And out of all of the legit programs I've seen, the one I would recommend the most to anybody looking to get started online is Commission Academy. In my own opinion, that's the best place to start.
At Commission Academy, you'll be provided with everything you need (including the training & tools) to begin earning real money by promoting products or services for companies like Amazon online.
The best part is that there's literally no limit on the amount you can earn with it & the process is pretty simple which means that it's absolutely perfect for people that don't have much experience.
Some wealthy affiliates even earn as much as 5-figures per month... Or more!

I mean don't get me wrong, that kind of money won't just fall into your lap without doing any work... But the harder you're willing to work at it, the more you stand to earn with it.
So if you're looking to get started but don't know which route you should go down or which program you should join (and don't want to waste money on bogus things that don't actually work), then I'd highly recommend checking out Commission Academy first. You can learn more about it here.