The world of online marketing is constantly evolving and expanding, and it can be overwhelming to keep up with the latest trends and tools. One such tool that has been creating quite a buzz in the industry is FunnelFlix by Russell Brunson.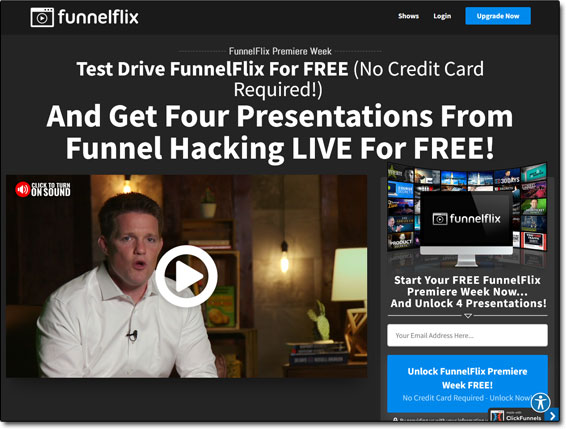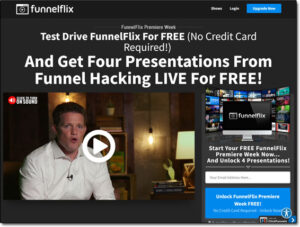 FunnelFlix is a comprehensive training platform that offers a variety of courses, resources, and support for individuals and businesses seeking to improve their online marketing game.
In this FunnelFlix review, we will dive deep into it and explore its various features, benefits, and drawbacks. We will analyze the training material provided, assess the quality of the instructors, and highlight any unique features that set FunnelFlix apart from other similar platforms.
By the end of this review, you will have a clear understanding of whether FunnelFlix is the right fit for your online marketing needs.
What Is FunnelFlix?
FunnelFlix is an online platform that provides entrepreneurs with everything they need to grow and succeed in their business ventures.
It is often referred to as "Netflix For Entrepreneurs" because of its vast collection of premium courses on various topics such as marketing, sales, business strategy, mindset, peak performance, and sales funnels.
The mastermind behind this platform is Russell Brunson, who is considered an expert in the field of sales funnels & is also the creator of many other popular products, such as Expert Secrets.
This platform is a massive collection of straightforward tutorials and marketing materials with exclusive training by expert coaches.
The training is designed in such a way that entrepreneurs can start with basic tutorials and gradually move towards advanced lectures.
The training inside FunnelFlix is available in the ClickFunnels member area. Entrepreneurs can upgrade their membership to the Platinum plan to access more advanced and better resources of training content, which are all made available on ClickFunnels FunnelFlix.
The History of FunnelFlix: Why Was It Created?
Russell Brunson, the founder of FunnelFlix, is a well-known figure in the online marketing world.
He has authored several best-selling books on the subject, including "DotCom Secrets" and "Expert Secrets", and is the co-founder of ClickFunnels, a popular landing page and sales funnel builder.
FunnelFlix is a natural extension of his mission to empower individuals and businesses with the knowledge and tools needed to succeed in the digital age.
FunnelFlix can be appreciated for being more than just a video course library, as it offers a wide range of courses geared towards boosting a user's online marketing experience in general, not just focusing on funnels.
Experts in various facets of digital marketing provide the courses, creating a one-stop shop where all necessary resources and information are available. It is no wonder that FunnelFlix has been successful in generating enthusiasm among ClickFunnels users.
The history of FunnelFlix can be traced back to the humble beginnings of ClickFunnels in 2014. To commemorate ClickFunnels' fifth birthday, FunnelFlix was developed. The primary goal was to provide more training tools and resources for ClickFunnels users so they could run effective funnels.
Russell Brunson created the funnel-building platform to make online marketing more accessible and lucrative for people. ClickFunnels' reputation slowly grew, and it became a popular platform for entrepreneurs and marketers who desired to build funnels to generate more leads, sales, and revenue. It is this reason that drove Russell to create FunnelFlix as a way of providing ClickFunnels users with as much information and training as possible to help them succeed.
The platform offers a variety of content, including tutorials on how to use ClickFunnels, expert tips on digital marketing, and business coaching. The courses are structured in a way that is easy to understand, making them accessible to users with varying levels of digital marketing experience.
The creation of FunnelFlix was an essential milestone in the growth of ClickFunnels as a funnel-building platform, and it continues to impact entrepreneurs around the world looking to expand their online businesses.
FunnelFlix Courses
The FunnelFlix courses cover a wide range of topics, including funnel building, success paths, personal development, copywriting and sales, documentaries, traffic, and business strategy. Let's take a closer look at each of these training categories.
This is perhaps the most important aspect of FunnelFlix, as it covers the core component of the ClickFunnels platform: building successful sales funnels. This training teaches users how to create funnels that are designed to convert by optimizing the design, structure, and content of the funnel. It also teaches users how to use A/B testing and analytics to fine-tune their funnels for maximum performance.
This training is designed to help users identify the best paths for success in their chosen industries. It provides guidance on how to identify the right products and services to offer, how to develop a roadmap for success, and how to build a solid foundation for future growth and expansion.
Personal Development Training
This training focuses on personal development and is designed to help users develop the skills and mindset needed to succeed in their chosen fields. It covers topics such as mindset, productivity, goal-setting, and time management.
Copywriting/Sales Training
This training focuses on developing strong copywriting and sales skills, which are essential for building successful sales funnels. It covers topics such as persuasive writing, sales psychology, and effective sales strategies.
This training category provides users with a unique perspective on successful businesses and entrepreneurs. It features documentaries on some of the most successful industry leaders, providing inspiration and insight into their success stories.
This training category focuses on helping users drive traffic to their sales funnels. It covers topics such as search engine optimization (SEO), pay-per-click (PPC) advertising, and social media marketing.
Business Strategy Training
This training category is designed to help users develop effective business strategies for long-term success. It covers topics such as business planning, financial management, and risk management.
These courses are an excellent resource for anyone as they cover various aspects of marketing, from creating successful sales funnels to developing personal and business skills.
Who Is FunnelFlix for?
Russell Brunson has designed FunnelFlix to meet the needs of a wide target audience, enabling this audience to learn the techniques for creating profitable marketing funnels that would help boost their businesses and succeed in the digital market.
Business owners, entrepreneurs, marketers, and those interested in digital marketing can significantly benefit from the training and tools provided by the platform.
The platform is particularly useful for those who wish to specialize in online marketing, automate and streamline their marketing, and create effective sales funnels, as it provides a valuable resource for anyone who wishes to learn, improve their skills, or stay up-to-date with the latest trends in the industry.
With its vast wealth of information and valuable resources, FunnelFlix can also help those seeking personal development and growth, regardless of their industry or background.
Ultimately, FunnelFlix is a platform that provides immense value and supports users' success in the online marketing space.
What Do You Get With FunnelFlix?
FunnelFlix provides users with a wide range of resources to help grow and expand their businesses. This in-depth look will provide an overview of what users get with FunnelFlix and how each resource can benefit their business.
Daily Virtual Hack-A-Thon (FHAT) Event
One of the primary reasons why FunnelFlix has become so popular is its daily Virtual Hack-A-Thon (FHAT) event.
As a subscriber, you can participate in this event where Russell Brunson and other experts in the field of digital marketing share their experiences, insights, and the latest trends in the industry.
The FHAT event is valuable for beginners and advanced marketers alike, as it helps to keep one abreast of the latest developments in the field.
You will learn how to develop your own significant Epiphany Bridge story as you progress through these lectures, how to attract a sizable community of followers, and how to communicate profound ideas to the target audiences.
Additionally, the course will show you how to spread a message you agree with most persuasively by pitching your service or product, making an appearance on webinars, and going live on Facebook.
Tony Robbins' Private Collection
Another reason why FunnelFlix is gaining popularity is its Tony Robbins Private Collection. If you are a fan of Tony Robbins or just a lover of personal growth and development materials, this collection provides everything you need.
Tony Robbins is a well-known business specialist in the field. Russell Brunson has Tony Robbins as a coach and buddy.
The Tony Robbins Private Collection seeks to provide users with an exceptional boost to create great improvements in their finances, energy, relationships, and health.
One Funnel Away Challenge
FunnelFlix also includes the One Funnel Away Challenge, which is a 30-day boot camp that teaches subscribers how to build a successful marketing campaign.
The "One Funnel Away Challenge" is designed to assist marketers in setting up and running a sales funnel in 30 days.
This FunnelFlix training assists in putting marketers in the right frame of mind so they can concentrate on the tasks that really matter.
The various components of a funnel, such as squeeze pages, sales pages, how to test your content, and how to use ClickFunnels efficiently, will be covered in this FunnelFlix course.
This boot camp is perfect for both newcomers and seasoned marketers who need to restart and reorient themselves and is designed to help even beginners get a solid start and build their marketing campaigns using proven and effective strategies.
Affiliate Bootcamp
Affiliate Bootcamp is another resource available on FunnelFlix that teaches subscribers how to generate revenue through affiliate marketing.
It includes insightful lessons on how to select the right products to sell and how to advertise them effectively.
You are given everything you require to get things moving and will receive amazing insights from some of the most seasoned ClickFunnels affiliate marketers in the world.
AdSkills
With Ad Skills, you can learn the best practices for advertising on various platforms, including Google Adwords, Facebook, and Instagram.
This online program covers all the essential aspects of advertising, including setting up campaigns, analyzing data, and more.
Funnel U
Funnel University, or "Funnel U" for short, is a complete training program that educates subscribers on how to build funnels that convert visitors into paying customers.
There is a lot to learn and put into practice from this Funnel U course, including how to persuade customers to take action, the best way to split-test for improved results, etc.
From designing landing pages to analyzing user behaviour, Funnel U covers everything you need to know to create effective sales funnels.
Additionally, you can access the majority of Brunson's resources, such as cheat sheets, swipe files, blueprints, and scripts.
10X Secrets
The 10X Secrets program, available only to subscribers of FunnelFlix, provides invaluable insights into whatever is ahead on your path to mastering digital marketing.
You'll discover how Brunson creates captivating content, in addition to getting a preview of how to close like a pro and make amazing sales from any live presentation.
Additionally, users of ClickFunnels FunnelFlix who enrol in this course will receive access to 16 of Russell's most popular webinars, which will help you improve the performance of your business as a whole.
With the help of the program, users can learn powerful techniques for engaging their audience and tips for closing sales successfully.
Traffic Secrets
Another valuable resource is Traffic Secrets, which provides users with insights into how to drive traffic to their websites.
The program covers a wide range of traffic-generation strategies, including search engine optimization, paid traffic, social media marketing, and more.
With the help of Traffic Secrets, users can effectively increase their online visibility and attract more visitors to their website.
John Reese originally created Traffic Secrets, but Russell Brunson has since acquired all ownership rights to the program.
The Warrior's Way Doctrine (Director's Cut)
The Warrior's Way Doctrine is an extended version of an interview Russell Brunson had with Garrett J. White.
Making money, staying healthy, forming relationships, and finding happiness are challenges for many people. Even if you don't, you can still benefit from Garrette J. White's teaching in a variety of ways.
The four-course pillars (the stack, the code, the foundation, and the core) give you the ability to deal with deprivation, limiting beliefs, and behaviours that prevent you from taking advantage of marriage, your body, your being, and especially your business.
The director's cut involves a unique approach to building a business without losing your sanity while doing it.
The program shares strategies for creating a business that aligns with your passion, vision, and values.
The 30-Day Summit
Can you imagine if you suddenly lost everything—your business, email list, and reputation?
With just a ClickFunnels account, some of the top-selling business owners in this exciting course demonstrate how they would restart their operations in 30 days.
You'll see exactly where they'd start, their overall strategy, and how they would carry it out.
This course covers using ClickFunnels to launch and succeed with a new business in 30 days.
The 10X: A ClickFunnels Story
In 2018, Russell Brunson became the first person to sell $3.2 million worth of merchandise in under 90 minutes while on stage.
The following time Russell spoke at the 10X Conference in 2019, which was organized by Grant Cardone, he planned to beat his previous record and sell $12 million.
When will this occur? Can Russell and the ClickFunnels team pull it off? You will discover this in 10X: A ClickFunnels Story.
Selling from the stage is just one application of this tactic; it can also be used successfully on other channels. Simply by following Russell's lead, you can learn a lot from this clip.
Operation Underground Railroad
If improving the world is something you're interested in doing, then this inspiring documentary sheds light on a mission that helps accomplish that.
This program focuses on the efforts of the non-profit organization Operation Underground Railroad, which aims to end human trafficking worldwide.
Nearly two million people, both adults and children, were saved from sexual slavery thanks to Operation Underground Railroad.
Keep in mind that after you've made a lot of money in business, you should do everything you can to give back to society, such as funding efforts to curb the frightening growth of the underground sex-crime sector.
The program provides insights into how entrepreneurs can leverage their businesses to create social impact and change communities.
Funnel Hacker TV
Smart business owners from a variety of fields share their strategies for creating a profitable business from the ground up on Funnel Hacker TV.
Furthermore, while it would be ideal to have investors finance your work, you can get by just fine without any thanks to the inspiring stories of smart entrepreneurs on Funnel Hacker TV.
Throughout the episodes, Funnel Hackers will discuss the difficulties they overcame, their immediate successes and setbacks, and how they ultimately came to dominate their respective fields.
Funnel Builder Secrets
Funnel Builder Secrets is a comprehensive funnel-building training program. The course covers everything from crafting a compelling offer to creating high-converting landing pages and sales funnels, all structured in a way that helps entrepreneurs achieve rapid growth and profitability.
With the help of Funnel Builder Secrets, you can quickly go from having no sales system at all to having a pipeline that is wildly effective.
In this course, you'll see the methods that have helped ClickFunnels attract more than 100,000 users and generate $2.6 billion in revenue.
Funnel Hack-A-Thon
The Funnel Hack-A-Thon course is a three-day live mastermind event designed to help participants gain a deeper understanding of funnel hacking, the process of modelling successful sales funnels and adapting them to fit your business.
The goal of the Funnel Hackathon is to help you become an expert funnel builder. Here, you'll learn the tried-and-true strategies proven to build customer loyalty and attract repeat business.
Many different types of "funnels" are discussed, from "lead" to "survey" to "webinar." This is included in the three-day live training session in addition to a recorded training session.
As an added bonus, you pick up cutting-edge knowledge on how to corner the market in your chosen speciality. For instance, it teaches you how to write, package, and deliver your message most effectively to your intended audience.
Unlock the Secrets (Collective Plan Only)
Unlock the Secrets is available only to members of the Collective Plan, and it provides access to exclusive courses and trainings delivered by top industry experts.
Discover the best-performing funnels and learn how to transform your business into a market leader.
Get everything you need to take your online lifestyle business to the next level, including tools, tactics, and swipe files for every type of funnel.
Agora Copywriting (Collective Plan Only)
Agora Copywriting is also available exclusively to members of the Collective Plan and was developed with the aim of honing your direct response copywriting skills.
Your campaign's potential for mind-blowing conversion rates can be realized with only the right copy. Having well-written copy is crucial to the success of any advertising effort.
This is a unique opportunity to study with some of the industry's most accomplished copywriters in this comprehensive course.
Every year, Agora Publishing sells more than $1 billion worth of financial newsletters. Rather than starting from scratch, learning the technique is essential for making a million-dollar copy.
Agora Media Buying (Collective Plan Only)
Agora Media Buying was created with the goal of perfecting media purchasing tactics and is also available exclusively to users of the Collective Plan.
In this hands-on course, you'll learn Agora Publishing's trade secrets for making smarter media purchases, conducting more effective research, writing more detailed reports, planning more effective campaigns, and carrying them out with greater success.
These media buying tactics are applicable regardless of whether or not you publish financial newsletters.
Outsource Force (John Reese)
Outsource Force is a training platform that helps entrepreneurs harness the power of outsourcing to overcome the challenges of running a business.
John Reese created the course, which offers a step-by-step manual for selecting the best task to outsource, hiring and managing skills, and streamlining workflow to increase efficiency.
When it comes to running a successful company, John Reese believes that having a staff of virtual assistants is crucial. He goes into greater detail about this in his Outsource Force course.
Reese emphasizes the difficulty of expanding a firm alone, as assistants are there to help lighten your load by taking care of the most difficult or time-consuming tasks.
Evidence shows that a single person is incapable of driving significant growth, expansion, or scalability in a business. For this reason, behind every prosperous business owner are hardworking virtual assistants.
Inside the Outsource Force, industry expert John Reese will show you how to find the best people for the job, how to pay them fairly, and how to utilize their skills to the fullest extent possible for the benefit of your business.
Therefore, it is essential for a successful business owner to have a committed staff behind them.
Product Secrets
Product Secrets is yet another excellent course available from FunnelFlix that is aimed at helping entrepreneurs develop and launch profitable products.
Product Secrets is a course that teaches people how to commercialize their ideas successfully. It teaches ClickFunnels users critical lessons, such as how to generate demand for a product among interested parties even before it's released to the public.
Product Secrets will provide step-by-step guidance for developing your ideas into a marketable product.
Jay Abraham: The Anthology
The anthology by Jay Abraham aids business owners in improving company performance by revealing previously unnoticed assets and opportunities.
One of the most prominent features of FunnelFlix is Jay Abraham's Anthology, an exceptional collection of marketing and business concepts that have been tried and tested over the years and collated into an anthology course.
Jay Abraham's training program is a gold mine of fresh approaches to marketing, as business management, organizational effectiveness, and business strategy are all areas in which he excels.
Money Mindset (John Reese)
Apart from Jay Abraham's Anthology, FunnelFlix also offers a course aimed at tackling one of the most significant barriers to success: the money mindset.
John Reese, a renowned marketer and successful businessman who has built several million-dollar businesses, developed the curriculum.
You need to have a specific frame of mind before you can achieve financial success. A "money mindset," as John Reese puts it, is essential. That is exactly what he covers in this course.
The Money Mindset course is designed to restructure your thought process and transform your mindset about wealth in a way that sets you up for successful financial management, therefore fostering productivity and practical business decisions.
His message is that one's mindset is the first step toward achieving success in life and business. In this way, he instructs you in the fundamentals of acquiring, allocating, and optimizing monetary resources.
Upcoming FunnelFlix Courses
FunnelFlix's included training courses are far from complete. ClickFunnels is continuously improving this deal by incorporating new training materials into the existing FunnelFlix library.
As a FunnelFlix subscriber, you won't have to pay anything extra for this. More importantly, you should be kept up-to-date as to when, on FunnelFlix, you have access to these excellent online marketing and business courses.
The following courses are expected to be added to the expanding collection in the near future:
OfferMind (Steve Larsen)
Course Secrets
Funnel Hacking Live Documentary
High-Ticket Secrets
Funnel Agency Secrets
YouTube Traffic Secrets
FunnelFlix Plans & Pricing
In order to meet the needs of various users, FunnelFlix offers three different subscription packages.
However, signing up for a 14-day free trial of ClickFunnels here is the best way to get started and gain full access to FunnelFlix.
Depending on the type of subscription, you can access various sorts of FunnelFlix courses. These plans consist of:
ClickFunnels Standard Plan
The Clickfunnels Standard package will give you restricted access to some FunnelFlix content in addition to some ClickFunnels tools. This package, which costs $97 per month, is only perfect for those who are just starting out in digital marketing.
Customers or users who sign up for this package will have access to the FunnelFlix area and the following FunnelFlix material:
Affiliate Bootcamp
Money Mindset
AdSkill
30 Days
Tony Robbins' Private Collection
Brick and Mortar
Products Secrets
Funnel Builder Secrets
Funnel Hacker TV
High Ticket Secrets, List Building Secrets, The One Funnel Away Challenge, The Machine, Book Funnel Blueprint, Funnel University, 10x Secrets, and other courses are just a few of the numerous ones that are not covered by the standard package.
ClickFunnels Platinum Plan
As might be expected, the Platinum plan includes all of the Standard plan's features in addition to some added bonuses.
You can access more FunnelFlix classes, as well as more ClickFunnels tools if you subscribe to the Platinum subscription.
The best prospects for this plan are individuals who are already established and still eager to learn more about the marketing industry. The Platinum plan costs $297 per month.
The following resources are available to customers who subscribe to this plan:
All courses available in the Standard plan
Funnel Hackathon
Funnel U (Funnel University)
Agora Financial Media Buying
10X Secrets
One Funnel Away Challenge
Traffic Secrets
Outsource Force
Jay Abraham: The Anthology
The Warriors' Way Doctrine
And more are coming soon…
2CCX Coaching Program
The highest-tiered ClickFunnels package, the TwoCommaClubX, gives you access to all the courses discussed in this review. This plan is part of the ClickFunnels Mastermind Coaching package, which also offers many additional benefits.
For serious business owners and entrepreneurs wishing to grow their company, the 2CCX Coaching Program is the best option. Additional access to FunnelFlix content is provided.
Membership is limited, though, to those who have generated more than $1 million in revenue using ClickFunnels. Additionally, membership costs $2,497 per month.
The Secrets Masterclass will provide you with the knowledge you need to succeed if you want to join the exclusive Two Comma Club.
The Virtual Hackathon area, the Two Comma Club X, and all FunnelFlix courses are accessible to customers that subscribe to this subscription. You will also receive VIP phone support in addition to priority customer service.
Consequently, this program is a good option if you have interests other than ClickFunnels Funnelflix courses.
Overall, FunnelFlix is a cost-effective and comprehensive option for anyone wishing to advance their marketing abilities thanks to its extensive library of videos and courses, as well as the various membership plans. FunnelFlix has something for every level of marketer, from novice to expert.
You Might Also Like:
FunnelFlix: Pros and Cons
Pros
Firstly, FunnelFlix provides exclusive lessons from industry masters in business and marketing, such as John Reese, Jay Abraham, and Russell Brunson. This gives users access to the experience and expertise of these industry leaders, which can be immensely valuable for those looking to develop their knowledge and succeed in the world of business.
Secondly, affordability is a significant advantage of FunnelFlix. Separate courses from these industry leaders could cost a fortune to obtain, but the whole collection on FunnelFlix is accessible for just $297. This provides a great value proposition for users.
Thirdly, FunnelFlix is free to access with a ClickFunnels account for Standard Package users. This can be a great incentive for people who use ClickFunnels and want to stay updated on the latest marketing trends.
Fourthly, the platform sees constant improvements, with new lectures added to quickly catch up with changing global trends and movements in the market. This ensures that users have access to the latest and most relevant information.
Finally, FunnelFlix has dedicated coaches who are renowned coaches and marketers whose teaching concepts relate to real-life applications. Unlike people looking to make a fortune from education, these instructors are focused on helping users achieve their goals and succeed in business.
Cons
On the other hand, one of the most significant disadvantages of FunnelFlix is that some of their courses can be time-consuming. Users may have to spend months to complete certain courses, which can be discouraging for those who need to learn quickly. This may not be suitable for individuals who are looking for short-term solutions to their marketing problems.
In addition, the platform's training is primarily designed for Platinum members. Basic plan users may not have access to most of its training programs. As a result, if you're a basic plan user, you may not be able to benefit much from the platform.
At present, FunnelFlix provides only video tutorials. While this may work well for some users who prefer a visual approach to learning, other users who prefer researching to implement faster may not benefit as much. Adding additional support in the form of downloadable PDFs or worksheets would give users a more rounded learning approach.
Lastly, another drawback that may discourage some potential users is the monthly fee of $297 for ClickFunnels. This amount may be high for early-stage lifestyle entrepreneurs or ClickFunnels beginners, and it may be a considerable financial burden.
However, one can try the free 14-day trial in advance to evaluate the platform's training materials better before deciding to commit to a paid plan.
FunnelFlix is an excellent learning platform for entrepreneurs and marketers, but, like any platform, it has its limitations. The lengthy course duration, exclusive training programs for Platinum members, video-only tutorials, and high monthly cost of ClickFunnels may deter some users. However, FunnelFlix's potential benefits far outweigh these disadvantages.
Final Thoughts
After exploring the platform and its contents, it is safe to say that FunnelFlix is more than just another online learning platform. It offers a comprehensive collection of marketing funnels, business strategies, and courses that can help users propel their businesses to new heights.
FunnelFlix has become a popular platform for entrepreneurs because it provides them with access to various courses and training materials in one place. Members can access training on a wide range of topics that are essential for success in business.
This platform allows entrepreneurs to learn at their pace and access all the resources they need without having to invest in multiple courses or programs. The content on FunnelFlix is designed in such a way that it caters to the needs of entrepreneurs at all levels.
From beginners to advanced marketers, the courses are tailored to provide relevant and practical insights. The platform also conducts regular live events featuring successful entrepreneurs from various industries.
Overall, FunnelFlix is a one-of-a-kind resource when it comes to online business education. Its vast array of courses, live events, and community features make it one of the most comprehensive online learning platforms available today.
Anyone looking to advance their digital marketing and business skills should definitely consider giving FunnelFlix a try, as it's definitely worth the hype.
A Better Alternative
The sad truth is that unfortunately most of the programs promising to help you make money online are scams. I can say that confidently after exposing over 500+ of them here on this blog.
But the good news is that even though most of them are indeed scams, there are actually some very good programs in amongst them - some programs that can truly help you to earn money.
And out of all of the legit programs I've seen, the one I would recommend the most to anybody looking to get started online is Commission Academy. In my own opinion, that's the best place to start.
At Commission Academy, you'll be provided with everything you need (including the training & tools) to begin earning real money by promoting products or services for companies like Amazon online.
The best part is that there's literally no limit on the amount you can earn with it & the process is pretty simple which means that it's absolutely perfect for people that don't have much experience.
Some wealthy affiliates even earn as much as 5-figures per month... Or more!

I mean don't get me wrong, that kind of money won't just fall into your lap without doing any work... But the harder you're willing to work at it, the more you stand to earn with it.
So if you're looking to get started but don't know which route you should go down or which program you should join (and don't want to waste money on bogus things that don't actually work), then I'd highly recommend checking out Commission Academy first. You can learn more about it here.