Expert Secrets is a book written by Russell Brunson that has been making waves in the online marketing industry since its release.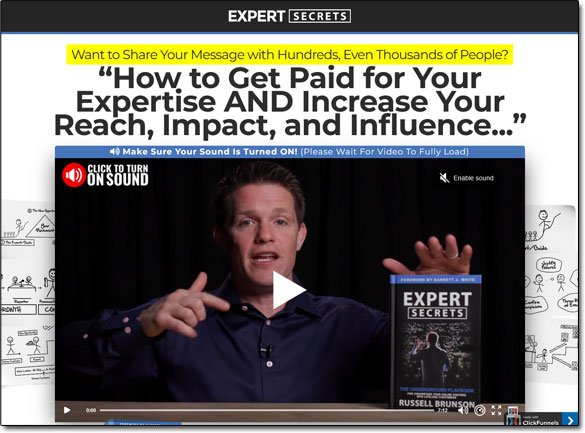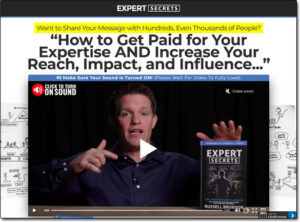 With a focus on helping readers become experts in their field and leveraging their knowledge to build successful businesses, this book has been hailed as a game-changer for anyone looking to make money online.
But as with any successful book, the question remains: is it still worth reading in 2023?
In this deep dive into Expert Secrets, we will explore the key themes and takeaways from the book and examine whether it still holds up as a must-read for anyone looking to build a successful online business.
We will dive into Brunson's strategies for identifying your ideal customer, creating a compelling message, and building a loyal following—all crucial elements of any successful online business.
Ultimately, this article aims to provide readers with a comprehensive analysis of Expert Secrets and help them decide whether it is still a must-read in 2023.
Whether you're an experienced online marketer or just starting out on your journey, this deep dive into Brunson's bestselling book is sure to have something valuable for you.
Who Is Russell Brunson?
Russell Brunson is a well-known entrepreneur, marketer, and author. He is known for creating various digital marketing tools that have transformed the way businesses operate online.
He is the creator of "Expert Secrets: The Underground Playbook for Creating a Mass Movement of People Who Will Pay for Your Advice," which was published in 2017. A popular book that has helped several people transform their knowledge into a profitable online business.
Born and raised in the United States, Brunson graduated from Boise State University with a degree in computer science. He started his career as a marketer and quickly became known for his innovative marketing strategies.
He is the co-founder of ClickFunnels, a popular online sales funnel builder that has helped businesses increase their conversion rates. In 2014, he created ClickFunnels, and since then, this software has become one of the most widely used tools in the field of online marketing. It has helped thousands of entrepreneurs and businesses increase their online sales.
Russell Brunson is also known for his mastery of direct-response marketing. He has worked with several high-profile clients, including Tony Robbins, and has been featured in Forbes, Entrepreneur, and other leading publications.
He is a sought-after speaker who has spoken at several conferences around the world. His online marketing courses and webinars have helped thousands of entrepreneurs transform their businesses and increase their profits.
Apart from Expert Secrets, Brunson has authored other books such as DotCom Secrets, Traffic Secrets, and Funnel Hacker's Cookbook. All of his books, webinars, and courses teach entrepreneurs how to use effective online marketing strategies to grow their businesses.
Russell Brunson is an experienced marketer and business owner who has made a huge difference in the online marketing industry. His knowledge has helped a number of online businesses succeed, and his books, courses, and webinars have helped entrepreneurs grow their businesses.
What Is Expert Secrets?
Expert Secrets is a book by Russell Brunson that is dedicated to helping entrepreneurs and online marketers uncover their expertise and utilize it to succeed in their business ventures.
It is a practical guide that is designed to help individuals unlock their hidden potential and leverage their knowledge in a way that maximizes profits.
This book provides a comprehensive guide to building a loyal following of customers who will not only pay for your products or services but will also advocate for you and help you spread your message.
The book is divided into five sections, each of which covers a different aspect of creating a successful and profitable business.
One of the key messages of the book is that everyone has a unique area of expertise that can be leveraged to become a successful entrepreneur.
Brunson shows, with the help of examples, stories, and step-by-step instructions, how to find and develop this expertise to create profitable business opportunities.
Who's Expert Secrets For?
The Expert Secrets book is a must-read for anyone who aspires to be an expert in their field and wants to monetize that expertise. This book is particularly useful for entrepreneurs, coaches, consultants, and other professionals who want to establish themselves as authorities in their respective fields.
Brunson has a unique perspective on the process of becoming an expert, having built multiple successful businesses from the ground up. He understands the challenges that individuals face when trying to establish themselves as experts, and he offers practical advice and insights on how to overcome these challenges.
Brunson's book is also helpful for those who have already achieved a certain level of expertise but are struggling to monetize it effectively. He provides strategies and techniques for building a business around your expertise, including developing a personal brand, creating high-converting sales funnels, and building a loyal customer base.
The Expert Secrets book is written in a straightforward and engaging style, making it accessible to readers of all levels of expertise. Brunson uses real-life examples and case studies to illustrate his points, making it easy for readers to apply his advice to their own businesses.
Brunson's insights and strategies are invaluable for entrepreneurs and professionals alike, and his book provides a roadmap for anyone looking to become a real expert.
What's Inside The Expert Secrets Book?
The Expert Secrets book by Russell Brunson is divided into five sections, each focusing on a different aspect of entrepreneurship.
Section 1: Creating Your Mass Movement
Building a community of followers who are enthusiastic about your message is the focus of the first section, "Creating Your Mass Movement." Brunson stresses how important it is to figure out who your ideal customer is and create a message that will appeal to them.
He advises using storytelling to engage your audience emotionally and motivate them to take action. He makes the argument that all mass movements share three elements: a charismatic leader or attractive lead character; a future-oriented cause; and a new opportunity for the audience.
But before that, choosing a market that interests you and in which you want to establish yourself as an authority is essential. The idea is to specialize as much as possible in that market.
There are three main markets to choose from: relationships, health, and wealth. Yet you should select a niche market and focus on a smaller audience. You'll be better capable of tailoring your message for the audience because you'll be aware of their wants and pain points.
You can continue to cultivate your attractive character after choosing your niche. Instead of making one up, Russell shows how to make a character that fits your personality and looks good.
You can get an overview of the components that go into creating each attractive character's identity in this section as well. These components will help you establish a solid rapport with your audience.
Russell also outlines the distinction between an improvement offer and a new opportunity, as well as how to present the latter to your audience in a way that will make them want to take advantage of it.
Section 2: Creating a Belief
Creating a Belief, Section 2 of Brunson's book, delves more deeply into the psychology of marketing. He says that strong beliefs that move people to act are what make businesses successful.
He advises forming a tribe of followers that hold the same beliefs as you and developing a belief system that your audience can rally around.
Everything comes down to one's set of beliefs. And, according to Russell, if you can sway a person's viewpoint, you can convince them to follow your preferred course if you are the leader.
Russell shows how to figure out what your target market thinks and how to get them to buy from you. The five sections of "creating belief" are listed here in the order they appear in Expert Secrets:
Big Domino
You have to convince prospects that you have the one thing they need to be successful. The one crucial element that individuals must accept in order to dispel any other doubts they may have about your offer.
They have no choice but to accept your offer if your customer genuinely feels that it holds the secret to achieving their greatest desires and that working with you is the only way to do it.
Epiphany Bridge
Because an emotional response sells more than a logical one, you must develop a story that inspires an emotional response to your product.
Brunson discovered that emotion sells more often than reasoning, and between emotion and logic is a bridge called the Epiphany Bridge.
You must utilize a story to guide your audience along the same path and let them experience that emotional "a-ha" moment for themselves if you want them to be as enthusiastic about your offer as you are.
The purpose of "The Epiphany Bridge" is to share with your audience an epiphany or "aha" moment you had at some point. With "The Epiphany Bridge," you'll discover how to construct your story and engage your audience on an emotional level.
Hero's Two Journeys
With two distinct approaches you can take, Russell delves deeper into developing your story that would aid leads in becoming customers:
The Journey of Achievement: As a leader, you've accomplished a task that is visible to your followers. Because they also desire to embark on a successful journey, your clients may connect with the story. You can interact with those that desire the same route to success thanks to this.
The Journey of Transformation: By demonstrating how it can be done, this path aims to influence someone's views and transform them into your method of doing things.
This framework will help you create your Epiphany Bridge stories and will provide context for what makes a good story. You can use this tested format to tell whatever kind of story you like. And when properly done, you can be certain that your audience will be attentive and interested.
Here, Brunson elaborates a little bit on the importance of storytelling and its application. He shows the reader how to use the story's plot, characters, and conflicts to make a gripping story that will help followers cross the Epiphany Bridge.
Epiphany Bridge Script
The actual script needed to convert leads into customers is built in this section. It's a hands-on strategy that demonstrates how to follow leads along both of the epiphany bridge's paths, which were covered in earlier sections.
This section combines the chapters on the Hero's Two Journeys and the Epiphany Bridge to produce a script that can be used for nearly any business operation.
False Belief Patterns
Here, Russell demonstrates how to dispel the myths held by your customers while embracing your own. You'll discover how to replace false beliefs with new ones through an epiphany bridge.
The key ideas in this section include how to recognize potential objections people might have to your proposal, the origins of such objections and beliefs, and how to use the Epiphany Bridge to dispel those objections and instil new beliefs in people.
Section 3: Your Moral Obligation
In Section 3, "Your Moral Obligation," the importance of using your skills to help people is emphasized. Brunson emphasizes that entrepreneurs have a moral duty to use their skills and resources for the good of others.
To accomplish this, the section is broken into "the stack slide" and "the perfect webinar" chapters.
You'll discover how to organize your webinar so that it moves prospects from a state of initial interest to one in which they are prepared to pay for the value you offer.
Because you can host several of them each day, webinars are undoubtedly one of the finest ways to market your product.
Also, you'll learn how to design the ideal webinar to persuade them to buy your product and establish you as an authority in the market you're targeting.
Each of these 4 chapters is equally covered as part of the perfect webinar:
Introduction and Building Rapport
The One Thing
The 3 Secrets
The Stack
Russell also demonstrates how to use a "Stack Slide," which heightens the perception of the worth of your offering.
The stack slides are where you outline everything your customer will receive, explain how it will benefit their work, and convince them that they need it.
You'll discover how to construct your own stack slide and use it as an irresistible offer. There's no guesswork required since you are provided with precisely what to add to your stack slide.
Brunson gives a detailed list of exactly what you need to put on your stack slide to make it the best:
By educating clients about the opportunity, you can give them a masterclass.
The resources/tools they can employ to succeed.
Tangible 1: To assist in dispelling any doubt your buyer may have regarding the offer.
Tangible 2: To assist in removing self-doubts that your customer may be experiencing.
Tangible 3: To assist in resolving any other concerns.
Special bonus to instil a sense of urgency in your clients' purchasing decisions.
A customer is more likely to make a purchase from you after they clearly understand the value you add.
Section 4: The Funnels
Brunson describes his step-by-step procedure for developing successful sales funnels in Section 4, Funnels.
He describes the various kinds of funnels and how to leverage them to turn leads into consumers. He also discusses how to optimize funnels to generate the most revenue.
This section focuses entirely on the various kinds of sales funnels and how to use them. You are shown how to use the different sales funnels that the ClickFunnels service provides, including the best ways to do so.
Brunson examines five funnels in further depth:
The Perfect Webinar Model
To construct the ideal webinar, there are seven phases that Brunson walks the reader through. He also demonstrates to the reader how to increase traffic to a weekly webinar to boost sales.
Four Question Close
Here, Brunson addresses the four questions to ask your customer to help them realize what they want, what's holding them back, how to get past that obstacle, and how to make them realize they need your help.
The Perfect Webinar Hack
If you're short on time, Brunson demonstrates how to streamline the Perfect Webinar model to produce an excellent webinar in a lot less time.
Email Epiphany Funnels
The Epiphany Bridge is a crucial idea that Brunson frequently refers to. Here, he shows the reader how to apply the Epiphany Bridge story and the Perfect Webinar model to an email campaign.
Epiphany Product Launch Funnels
Last but not least, Brunson demonstrates to his audience how to implement the webinar and Epiphany Bridge frameworks within a product launch funnel.
Section 5: What's Next?
You get to fill your funnel in the final section. Taking action and putting the book's recommended ideas into practice are the key themes of the final section.
You need to figure out how to drive traffic to your sales funnels so that people will purchase your products and services after you've chosen your niche and established your sales.
In this section, Brunson talks about how to find potential customers and work with other people in your specialized field to grow your business.
This part will explain how to fill your funnels and how to launch your professional success. Here, you can discover more tried-and-true strategies for launching your expert success, such as how to direct focused visitors to your sales funnels.
You get to put what you've studied into practice to see how it all works together.
Expert Secrets Book Pricing
The book itself is offered for free on the ClickFunnels website, but customers are required to pay $9.95 for shipping within the US and $19.95 for shipping internationally.
This pricing method is a classic "lead magnet," which is a way to get potential customers' attention by giving something of value away for free.
Once customers have the book in their hands, they are likely to be more open to purchasing other products and services from ClickFunnels.
The paperback edition of the book is now available for $34.98 on Amazon.com (this price may vary from country to country).
That's why it's best to purchase from Russell Brunson's official Expert Secrets sales page so you can avoid any hidden fees and gain access to all of the bonus materials, instructional videos, and resources.
Additionally, those who would rather listen to a book than read one can also obtain an audiobook version of Expert Secrets.
You Might Also Like:
Expert Secrets Pros and Cons
Pros
You can get a copy of the book for free.
The book gives you direction and guidance on how to build a successful online business.
Both novice and seasoned marketers can benefit from the material presented here.
Cons
Be prepared for upsells since the book is a significant part of the ClickFunnels sales funnel.
There is a shipping cost, which is fine if you live in the United States but may be costly for individuals in other countries.
Is It Still a Must-Read In 2023?
Russell Brunson's book Expert Secrets was first published in 2017, and since then, it has become a must-read for entrepreneurs and business owners all over the world who want to grow their businesses.
The book follows the success of Brunson's previous publication, Dotcom Secrets, and is written with his signature style of passion, excitement, and energy.
Expert Secrets is more than just a book; it's a strategy for building a successful online business. Brunson starts by explaining that we all have a story to tell, and it's our story that can help us become authorities in our chosen field.
He introduces the concept of "expert business," where a person becomes an expert in their field and uses that expertise to generate income.
The book is divided into five sections, each focusing on a specific aspect of building an expert business. Brunson gives actionable steps and strategies for each of these sections. This makes Expert Secrets a practical guide to building a successful online business.
One of the best things about Expert Secrets is that it's not just theory; Brunson has successfully implemented these strategies himself. He shares his own journey of becoming an expert in the online marketing world, starting from scratch and building a multimillion-dollar business.
Now, in 2023, the question remains: Is Brunson's "Expert Secrets" still a must-read for entrepreneurs and marketers? The answer is a resounding yes.
The principles outlined in the book are still as relevant today as they were when the book was first published. In fact, with the rise of social media and the increasing need for online businesses, the strategies in Expert Secrets are even more critical today.
Technology and digital marketing strategies may evolve, but the fundamental principles of finding your message, building a tribe, and creating a mass movement are timeless. Expert Secrets also provides tips and strategies for staying ahead of the curve and adapting to changes in the market.
In conclusion, Expert Secrets by Russell Brunson is still a must-read in 2023. It's a practical guide for anyone looking to build a successful online business and become an authority in their field.
Final Thoughts
Overall, the Expert Secrets book is an invaluable resource for entrepreneurs who want to build a successful business.
Whether you're just starting out or looking to take your business to the next level, Brunson's insights and strategies can help you achieve your goals.
By focusing on creating a mass movement, building a belief system, fulfilling your moral obligation, optimizing your funnels, and taking action, you can become a true expert in your field and build a thriving business.
As businesses continue to evolve and adapt, the knowledge provided in this book will remain crucial in achieving success.
However, if you're looking for something more actionable, that you can get started with today, then we do have a better alternative for you…
A Better Alternative
The sad truth is that unfortunately most of the programs promising to help you make money online are scams. I can say that confidently after exposing over 500+ of them here on this blog.
But the good news is that even though most of them are indeed scams, there are actually some very good programs in amongst them - some programs that can truly help you to earn money.
And out of all of the legit programs I've seen, the one I would recommend the most to anybody looking to get started online is Commission Academy. In my own opinion, that's the best place to start.
At Commission Academy, you'll be provided with everything you need (including the training & tools) to begin earning real money by promoting products or services for companies like Amazon online.
The best part is that there's literally no limit on the amount you can earn with it & the process is pretty simple which means that it's absolutely perfect for people that don't have much experience.
Some wealthy affiliates even earn as much as 5-figures per month... Or more!

I mean don't get me wrong, that kind of money won't just fall into your lap without doing any work... But the harder you're willing to work at it, the more you stand to earn with it.
So if you're looking to get started but don't know which route you should go down or which program you should join (and don't want to waste money on bogus things that don't actually work), then I'd highly recommend checking out Commission Academy first. You can learn more about it here.