Russell Brunson's ClickFunnels Affiliate Bootcamp training program promises to teach you the art of promoting ClickFunnels with the help of their funnel-builder.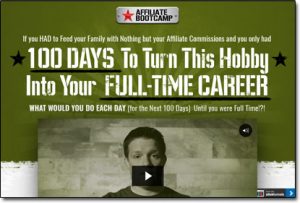 He tells you that with the help of this program you could retire in less than 4 months. Plus, on top of that, he also says that the ClickFunnels Affiliate Bootcamp is free training. That's impressive!
In this ClickFunnels Affiliate Bootcamp review, we are going to discuss the ins and outs of Russell Brunson's training program.
Our Affiliate Bootcamp review will help you get to know what this program actually is, how it works, and how much of an online income you'll actually find yourself generating, if any, with the help of the knowledge that Russell Brunson is allegedly sharing for free.
What Is ClickFunnels Affiliate Bootcamp?   |   How Does It Work?   |   Is ClickFunnels Affiliate Bootcamp a Scam?   |   A Better Alternative
What Is ClickFunnels Affiliate Bootcamp?
It is important to point out that promoting the ClickFunnels program as an affiliate doesn't require you to have an active subscription. The objective, as they claim, is to help the beginners to make the most of the internet marketing simply by promoting ClickFunnels to others (which is the creation of Russell Brunson himself).
However, here comes the real part; time and again they claim that this is a free training program but the truth is that in order to participate in the training you must purchase ClickFunnels which comes with a couple of price tags.
Option 1 – $97/month
Option 2 – $297/month
Those are not cheap by any means, especially if you're a beginner who's not yet making money. Even the $97 per month option could quickly add up to $1,164 per year & that doesn't even give you access to everything.
It is much more costly than other proven & legitimate affiliate training programs, such as Commission Academy for example where you can get started for free or get full access to everything for a mere $349 per year in comparison.
But anyway let's put price aside for a moment & take a look at what's actually provided…
Based On Assumptions
Well, most of the income-generating schemes I come across want you to stay in the fool's paradise. Russell, no doubt a successful internet marketer, wishes the same…
He tells you that if you bring one subscriber a day for 100 days ($97 x 40/100 = $38.8) you are going to make $38.8×100, i.e. $3,880 per month. And that you get 100 active funnels, which will award you with an additional $500. And this is just the beginning! There are more supposedly lucrative offers…
The Sticky Cookie
This thing takes you deeper into your lucrative dreams. This is the commission you earn on each purchase made by any of your referrals. Russell Brunson's Affiliate Bootcamp is not his only adventure. He is also offering other products including eBooks. All you have to do is to promote his products.
So the idea is that if somebody signs up to ClickFunnels via your link you will then earn additional commissions if they go on to purchase Russell's other things as well… So you are essentially referring & earning for customers rather than stand-alone sales.
Elevated Claims
The landing page of the website welcomes you with a promotional video telling you that this program is going to let you retire in the coming 100 days. But this promotional video lacks substance. It doesn't explain anything significant.

But the good thing is that you can sign up for free to access more videos where the presenter explains how the program really works. There are 5 long videos, one hour each, introducing you to the basics of funnels and affiliation. Till this point, you don't have to pay anything.
Russell Brunson's Affiliate Bootcamp Payment Schedule
You could either opt to be paid on either the 1st of each month or 15th of each month. They pay you once every 30 days. Please note that the minimum withdrawal limit is $100, so you'll need to earn at least $100 in order to get anything out.
But will you actually be able to earn anything at all with the help of his training? After all, on his own sales page he states the following:

Let's take a look…
How Does The ClickFunnels Affiliate Bootcamp Work?
They offer multiple products. Russell is the kind of guy who doesn't like to stick with just one or two things. Apart from his Affiliate Bootcamp training, he also teaches you how to properly use ClickFunnels. In addition, he also guides you about building your first online business.
The thing is, whatever you teach and whoever is the student, you can generate affiliate sales without paid traffic. Here, Facebook ads play a significant role. This is actually the make or breakpoint. Sorry to say, but most of the marketers, even the ones with experience, fail to properly implement the strategy.
Facebook ads (or any paid ads for that matter) is a very risky business. It requires a lot of trial & error & that trial & error costs money… So unless you have a huge budget to start out with (which you can afford to lose) you may find yourself struggling a lot.
That's why I personally prefer programs like Commission Academy which focus more on the free methods of generating traffic. I believe this is even more so important if you are new to affiliate marketing. Start out with free traffic, then later once you have gained momentum you can potentially look into using your profits to get into paid ads.
Aside from that though the basic purpose of Russell Brunson's Affiliate Bootcamp training isn't actually the educational part. He is basically inviting you to sell his products. This is why his training videos, in my opinion, don't offer valuable content. He just uses a smart technique, you could call it a distraction.
He is basically "tricking" you into signing up to his Bootcamp which turns you into one of his customers (since you need to purchase ClickFunnels) and then he is pushing you towards promoting ClickFunnels to others which is just a complete win-win for him.
Therefore you have to ask, is the ClickFunnels Affiliate Bootcamp really geared with YOU in mind? Or is it geared with Russell himself in mind? I'll let you answer that question for yourself, but it brings me nicely onto…
Is ClickFunnels Affiliate Bootcamp a Scam?
To conclude this ClickFunnels Affiliate Bootcamp review, we want to tell you that Russel Brunson is not a scam artist. His Affiliate Bootcamp is legitimate but the problem is that in my opinion, it isn't what he tells you. This really is a far cry from a training program…
They simply use training videos to keep you interested by telling you about the amount of money you could earn quickly. The truth is, Russell presents his products and wants you to sell for him so that you could earn commissions…
There is nothing wrong with it. But the problem is that you are not going to retire in 100 days. Being realistic, affiliate marketing is a full-time job. The amount of hard work, time, and money are still required to generate sales online.
I mean sure, you can certainly work towards building up a passive income but it is not going to happen fast & nor is it going to happen as easily as you're led to believe via the ClickFunnels Affiliate Bootcamp website.
Plus there's also the fact that like I mentioned earlier in this review the whole training primarily revolves around paid advertising which can be exceptionally risky especially if you're just starting out. That could just see you losing a lot of money, rather than actually making it.
For those reasons I am going to be making the decision not to recommend Russell's Affiliate Bootcamp course because I believe there are better places to get started, like Commission Academy where you will learn about free methods of generating traffic first rather than having to throw money into paid ads.
Or alternatively, there are also other good methods for making money aside from affiliate marketing too which you can check out on my top picks page here (but I will say affiliate marketing is hands-down my favourite).
Whatever you decide to do though I just hope that my honest review of the ClickFunnels Affiliate Bootcamp here has given you a good insight into how it really works & helped you to make a decision as to whether it's really right for you or not. If you still have any questions or comments then feel free to leave them below. 🙂
A Better Alternative
The sad truth is that unfortunately most of the programs promising to help you make money online are scams. I can say that confidently after exposing over 500+ of them here on this blog.
But the good news is that even though most of them are indeed scams, there are actually some very good programs in amongst them - some programs that can truly help you to earn money.
And out of all of the legit programs I've seen, the one I would recommend the most to anybody looking to get started online is Commission Academy. In my own opinion, that's the best place to start.
At Commission Academy, you'll be provided with everything you need (including the training & tools) to begin earning real money by promoting products or services for companies like Amazon online.
The best part is that there's literally no limit on the amount you can earn with it & the process is pretty simple which means that it's absolutely perfect for people that don't have much experience.
Some wealthy affiliates even earn as much as 5-figures per month... Or more!

I mean don't get me wrong, that kind of money won't just fall into your lap without doing any work... But the harder you're willing to work at it, the more you stand to earn with it.
So if you're looking to get started but don't know which route you should go down or which program you should join (and don't want to waste money on bogus things that don't actually work), then I'd highly recommend checking out Commission Academy first. You can learn more about it here.