Global Domains International is a company that I happened to stumble across around a week ago after taking a closer look into a system named Multiple Streams Machine.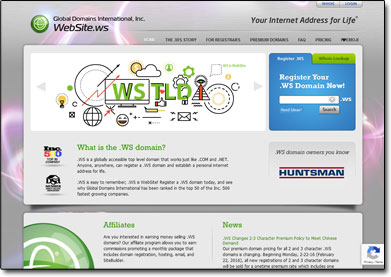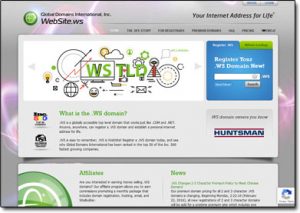 Multiple Streams Machine promised it could help people earn easy money by acting as an "umbrella" for business opportunities, and Global Domains International was one of the biz-ops listed inside.
A business opportunity based around domains?
That's something I'd never previously heard of, so naturally, I was pretty intrigued by it.
I therefore decided to take a closer look into Global Domains International itself & determine whether or not there was any realistic chance of earning good money through their business opportunity.
Are you also wondering if you can earn good money through the Global Domains International business opportunity?
Well, you've landed in the right place because in this Global Domains International review I'm going to be uncovering everything you need to know, including the full compensation plan & of course, whether or not it's actually worth your time.
What Is Global Domains International?   |   The Business Opportunity   |   The Compensation Plan   |   The Problems   |   Is Global Domains International a Scam?   |   A Better Alternative
What Exactly Is Global Domains International?
Launched way back in the mid-back 1990s, Global Domains International is a domain registrar founded by two guys named Michael Starr & Alan Ezeir.
Unlike other domain registrars though (such as Godaddy & the like), Global Domains International only registers domains with the ".ws" extension.
Odd, right?
Who would want a ".ws" domain?
Well after reading up on the co-founder's stories I found out that there was actually a logical explanation as to why they set up in the business of only registering ".ws" domains.
You see back in 1998 the dot com craze was really firing up & at the time the only available top-level domains were things like ".com", ".org", ".gov" etc and country coded domains (like ".co.uk", ".us" etc), Michael & Alan believed the ".com" domains might run out.
What would new companies do if all of the ".com" domains ran out?
So Michael & Alan wanted to find a new top-level domain name that companies could use.
They began looking through all of the countries to find a code that would be most relevant for a company & that's when they came across the ".ws" extension, which belonged to the tiny island nation of Samoa.
They figured "ws" could stand for website…
Makes sense.
So they flew over to Samoa, shook some hands & bought the rights to the extension then launched Global Domains International.
They also came up with the idea of adding a business opportunity to their website in order to help boost the sales of their domains, and so the Global Domains International business opportunity "Income For Life" was launched.
We'll take a closer look at how the business opportunity works next…
The Global Domains International Business Opportunity
I want to point out here that most other domain registrars do indeed have affiliate programs through which you can promote their domain services in return for commissions, but the difference here is that the Global Domains International affiliate program is run as a biz-op.
That basically means it operates over multiple levels.
So whereas with an affiliate program you only earn for the sales you personally make, with the Global Domains International business opportunity you can also earn from the sales the people you refer make too.
They call it the "Income For Life" program & taken from their animated explainer video, here's a visual of how it looks: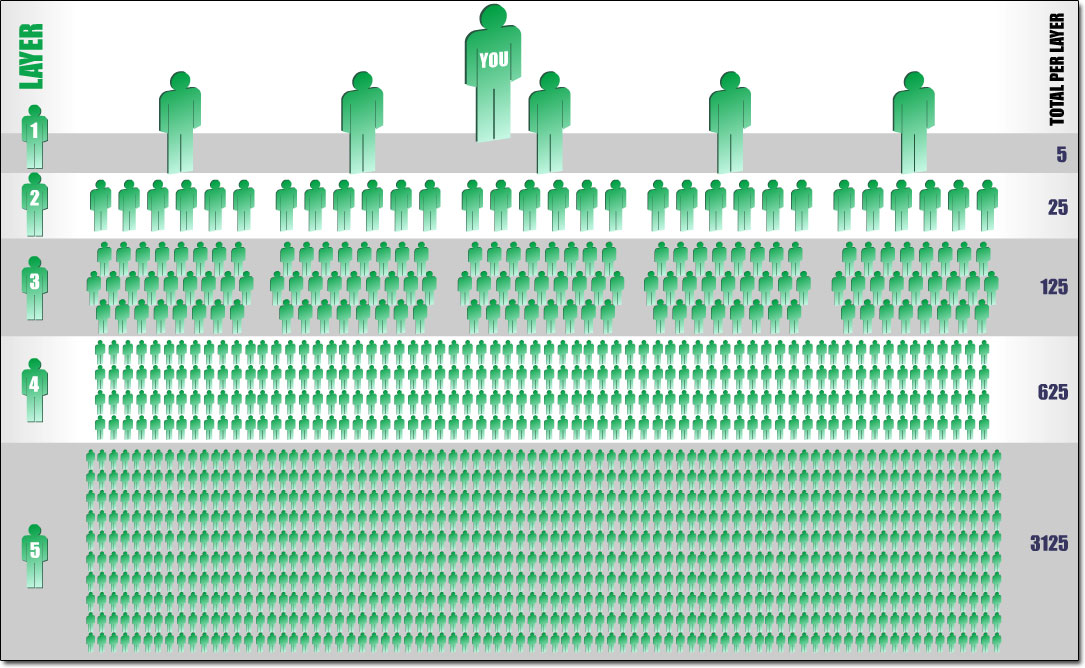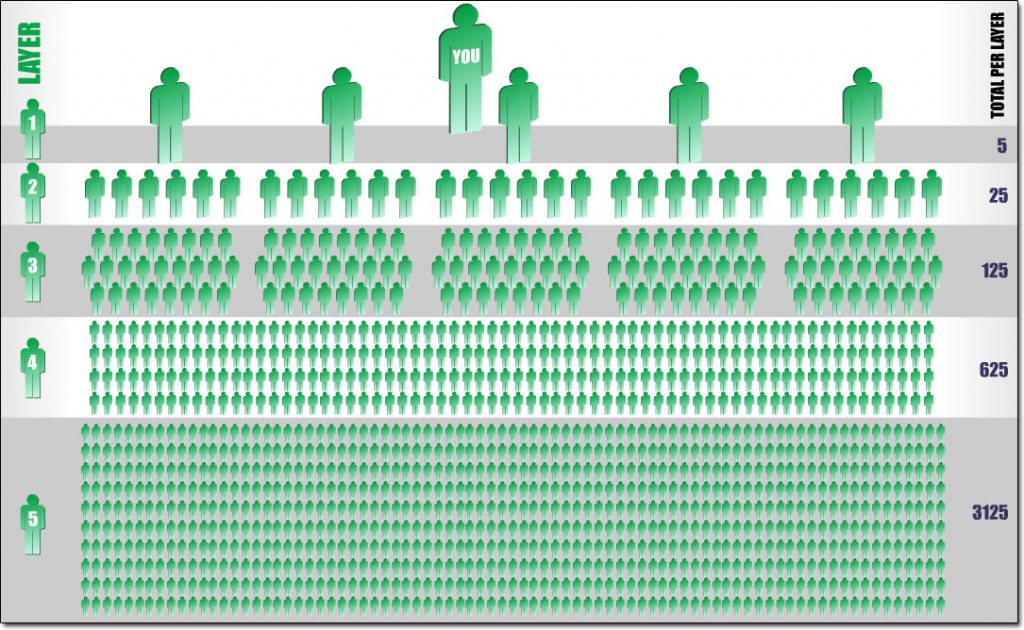 The idea is that you refer people, who refer people, who refer people & so on. In an ideal world, this then enables you to build up a passive income as you'll find yourself earning from the efforts of others.
Unfortunately though as you probably know, the world is not ideal.
So whilst Michael Starr might tell you to "just get 5, who get 5" in the business opportunity pitch, in reality, it's not quite so easy to "just get 5 who get 5".
In fact, because of the Global Domains International's pricing (and other problems which I'll mention shortly), you'd be lucky to just get 5…
Before that though, let's take a look at the compensation plan.
Global Domains International Compensation Plan
First thing's first, the Global Domains International business opportunity only applies to the "Complete Website Package" product.
This means that individual domain sales etc aren't included.
The Complete Website Package product, however, costs $10 per month & provides the purchasers with a ".ws" domain name, a basic website & up to 10 email addresses.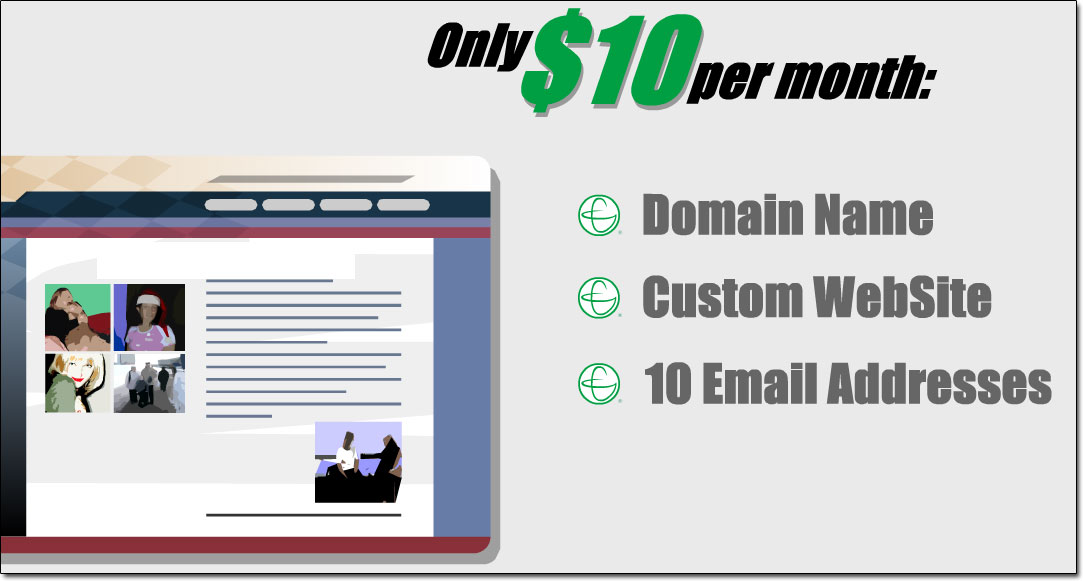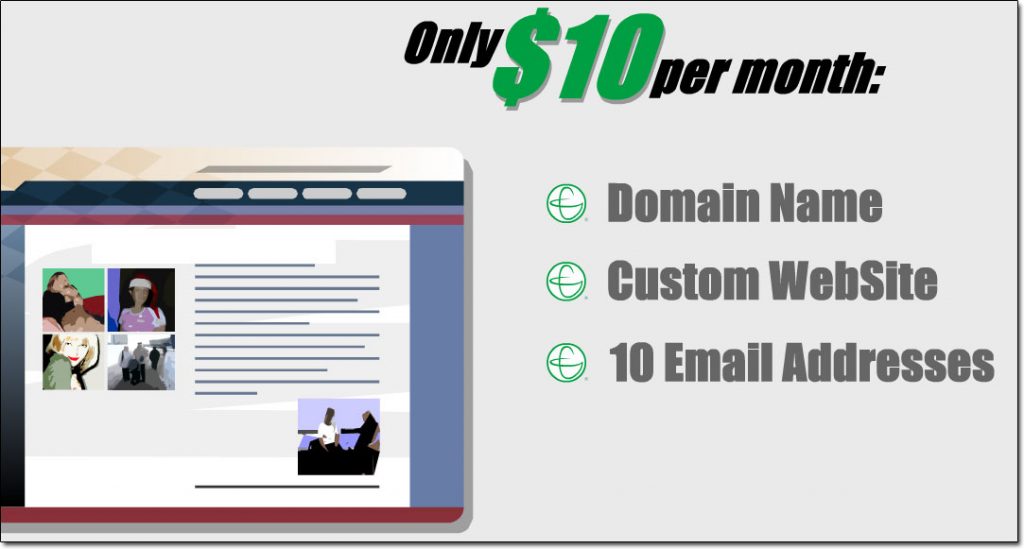 So that's what you'll be promoting if you wish to participate in the business opportunity & if you do manage to successfully get a referral, guess how much you'll earn on the sale?
$1.
Yep, just a dollar.
I mean sure, that dollar recurs every month for as long as your referral keeps their subscription active but still, it's not much at all.
As discussed though, the plan does operate over multiple levels – 5 levels to be precise – and you'll also earn a $1 per month commission from any sales generated on the levels below you.
So if you refer somebody, you'll earn $1 per month – then if they also refer somebody, you'll now be earning $2 per month (for as long as the members keep their subscriptions active).
Still, though, you'd need literally thousands of referrals to begin making good money – especially if you're trying to run it as a business in the hope of potentially leaving your job.
My personal take? There are better alternatives in my opinion.
You Might Also Like:
The Problems With Global Domains International
Problem number 1 is that as we've just mentioned, the commission payout is super low.
Sure, the compensation plan runs over multiple levels – but at just a dollar per signup, you're going to be working hard to earn anything decent even with the additional leverage of multiple levels.
Problem number 2 though is that whilst the ".ws" domain idea might have been a good idea back in the 1990's, through 2013 to 2015 a whopping 617 new TLDs were launched.
And these included lots of fancy new concepts such as:
coffee
.tech
.pizza
.toys
.photography
.luxury
So whilst the ".ws" might have been a good idea & attractive back in the day, nowadays… Not so much.
And problem 3 is that in my opinion, for what you get in the "Complete Website Package" it's freaking expensive.
A domain, a basic website & up to 10 emails for $10 per month? Elsewhere you can buy a domain for $15/year & hosting for <$5 per month that enables you to create unlimited emails.
But anyway, it is what it is I guess, and that brings me onto…
Is Global Domains International a Scam?
It's natural, whenever the words "business opportunity" are mentioned people always ask the question – is it a scam? Especially when images of sports cars are flashed around like they are in the Global Domains International business opportunity explainer video.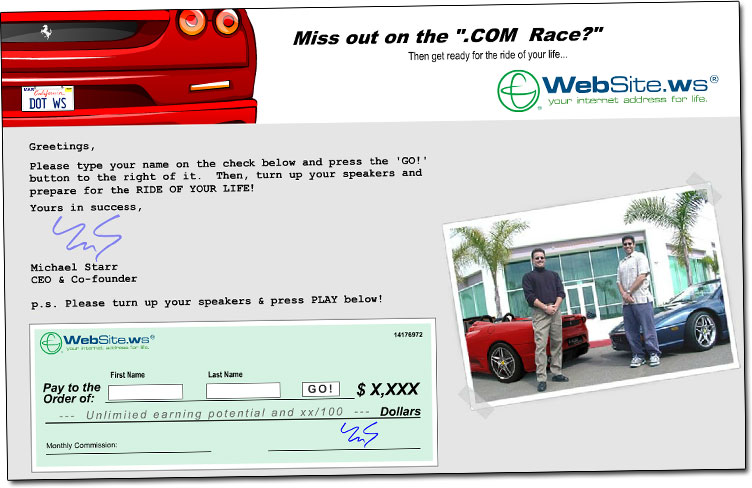 But nope, Global Domains International isn't a scam, it's legit.
I mean you might not earn much, but it is legit. They sell domains, you get people to buy domains (or sell domains) and you earn money off the back of your own efforts & the efforts of the people below you.
Payouts are 5 levels deep & each sale on every level pays $1.
However, since the introduction of over 600 new TLDs, I just don't think the Global Domains International offering is very attractive anymore.
If you go to Global Domains International you can only purchase ".ws" domains, if you go to any other registrar you can pretty much purchase just about any domain you like.
With that in mind, it's safe to say you'd have a hard time selling domains through Global Domains International that's for sure.
So if you're looking to earn good money online I'd recommend an alternative – and rather than biz-ops I'd also recommend that you just stick with affiliate marketing because biz-ops come very close to being pyramid schemes.
It can be very hard to tell what's legit & what's not when it comes to business opportunities.
With affiliate marketing though you can promote products from almost any company, including companies like Amazon & Best Buy, etc… And you'll get paid handsome commissions in return.
You can learn more about that (and get everything you need to get started) over at Commission Academy if it interests you.
Or you can also check out these other cool ways to earn money online.
Whatever you decide to do though I just sincerely hope that my honest review of Global Domains International here has given you a good insight into how the program really works & whether or not it's really worth your time. 🙂
A Better Alternative
The sad truth is that unfortunately most of the programs promising to help you make money online are scams. I can say that confidently after exposing over 500+ of them here on this blog.
But the good news is that even though most of them are indeed scams, there are actually some very good programs in amongst them - some programs that can truly help you to earn money.
And out of all of the legit programs I've seen, the one I would recommend the most to anybody looking to get started online is Commission Academy. In my own opinion, that's the best place to start.
At Commission Academy, you'll be provided with everything you need (including the training & tools) to begin earning real money by promoting products or services for companies like Amazon online.
The best part is that there's literally no limit on the amount you can earn with it & the process is pretty simple which means that it's absolutely perfect for people that don't have much experience.
Some wealthy affiliates even earn as much as 5-figures per month... Or more!

I mean don't get me wrong, that kind of money won't just fall into your lap without doing any work... But the harder you're willing to work at it, the more you stand to earn with it.
So if you're looking to get started but don't know which route you should go down or which program you should join (and don't want to waste money on bogus things that don't actually work), then I'd highly recommend checking out Commission Academy first. You can learn more about it here.