There's no denying that eCommerce is continuing to grow rapidly as more & more people are choosing to shop online, so as a result, it's only natural than an increasing number of people want to learn how they can set up their own profitable eCommerce businesses.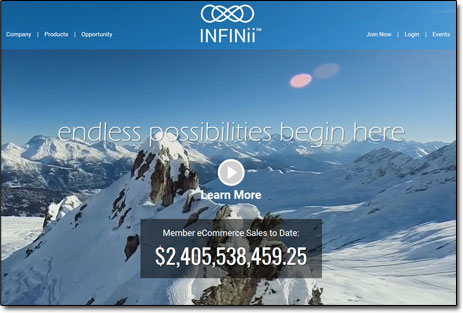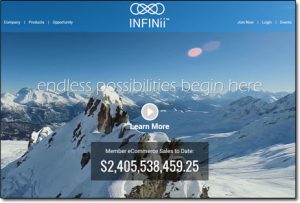 With the increasing number of people wanting to learn about eCommerce, there's also been an increasing number of companies claiming to teach people how to become successful with it – some good, some on the other hand not so good (and some outright scams).
One particular company that's generated an awful lot of interest in this space is a company named INFINii, which I'm going to be taking a closer look at today here in this INFINii review. I aim to find out if INFINii is legit, if it's worth the money & most importantly if it can help YOU make money.
So if you've come across INFINii & you have been thinking about joining but you're a little undecided then you can rest assured that you've landed in the right place to find out everything you need to know about the company prior to joining.
What Is INFINii?   |   What Are The Products?   |   My Opinion on The Products   |   My Final Verdict   |   A Better Alternative
What Is INFINii?
INFINii is a network marketing company that has a product line consisting of educational courses that teach people how to build a successful eCommerce business through dropshipping.
If you don't already know what dropshipping is, it's basically where you act as a middleman between manufacturers & consumers. So, for example, you will list items for sale but you will not physically hold those items – you will place the order with the manufacturer once you receive a sale.
As a dropshipper you do not handle stock, but this business model has it's pros & cons (though in my opinion mainly cons).
Alongside the opportunity to learn dropshipping they also have a business opportunity through which you can promote INFINii itself & earn commissions on the sales of their memberships. Being a network marketing company you will also earn commissions from your referrals if they then go on to promote INFINii themselves & these commissions are paid out on infinite levels.
If you are already an experienced/successful network marketer then the business opportunity has the potential to be quite lucrative, however, if you're not then there are a few problems which I'll be talking about in just a moment.
First, let's take a closer look at the products…
What Are INFINii's Products?
Firstly let me make it clear that the 1 thing that separates a network marketing company from being classed as a pyramid scheme is the fact that it has products, and that the products are primarily being sold for their retail value – not for people to simple qualify to earn commissions through the opportunity.
Basically, it has to have products and the products have to provide genuine value to the marketplace – so whenever you are considering joining a network marketing company you must always ask yourself would you be buying these products at these prices if it were not for the attached opportunity?
If the answer is NO then there's a big problem.
In the case of INFINii, there are no physical products, only digital e-courses & there are 3 of these in total.
Product #1 is the INFINii Prime Membership
This consists of a video course which gives you an introduction to dropshipping & teaches you how you can leverage companies like Amazon, eBay & Google to begin making money (right from creating your accounts to finding products to sell & creating your listings).
Whilst this course does go into some detail on Amazon & Google it primarily focuses on eBay dropshipping & it costs $49.95 per month.
Product #2 is the INFINii Surge Membership
The Surge training is basically a more advanced module that teaches you how you can begin to grow your dropshipping business & increase your sales. It focuses heavily on teaching you how to get ranked higher in eBay search but it also goes into detail on various other methods such as pay-per-click advertising & promoting your products via Facebook.
You'll also get to learn about other eCommerce platforms such as Shopify & Woo Commerce – plus you'll learn more about analytics & how you can track your sales to know which campaigns are performing for you and which ones aren't. This level of membership costs $149.95 per month.
It's also important to note that you will get the features of the Prime membership included with the additional features mentioned above if you subscribe to Surge.
Product #3 is the INFINii Excel Membership
The Excel membership is INFINii's highest level of membership – as an INFINii Excel member you will get access to the 2 other training packages (Prime & Surge) but you will also get some additional training that is again aimed to help you increase your profits.
The training included in the Excel membership consists of additional Amazon training, showing you how to begin actually building your own Amazon brand & then there is also some other training which goes over how you can use cashback/discount schemes to increase revenue.
The INFINii Excel membership costs $399.95 per month – but as mentioned above this cost does include both the Prime & Surge levels too.
My Opinion On The Products
To be honest, I actually think the quality of INFINii's products is pretty good, the only downside for me is the pricing. If they were charged as a one-off fee then I'd actually recommend them, but I don't think the number of updates offered can justify a recurring monthly fee.
Personally, I feel that the products have been priced with the business opportunity in mind so that they can sell the idea of recurring commissions as opposed to one-time commissions as this will clearly be more of interest to affiliates considering promoting INFINii.
You Might Also Like:
Should You Join INFINii? My Final Verdict
Well firstly I want to say that I don't think INFINii is a scam – whilst the business model is questionable (as it is with all network marketing companies), I do feel the company offers genuine products that could assist you in getting started with dropshipping.
However, I feel that the products are just way too overpriced. As mentioned above I feel that the products have been priced with the opportunity in mind which potentially makes the company borderline legit (as it touches on becoming a pyramid scheme by focusing on the opportunity).
So if INFINii didn't have a network marketing opportunity attached, and if it only charged a one-off fee as opposed to a recurring subscription for the products then I would potentially recommend it… But because they don't, I won't be recommending INFINii to you.
I simply feel that if you are looking to start building an income online then there are several better alternatives for you to get started with first – some which in my opinion provide much better training & are very fairly priced in comparison, like this one for example.
Also just FYI – taken directly from INFINii's earning disclaimer, if you plan on generating $5,000 per month through INFINii's eCommerce platform then that would mean you'd to be within the top 5% of the worlds eCommerce sellers generating around $40,000 to $60,000 per month.
A Better Alternative
The sad truth is that unfortunately most of the programs promising to help you make money online are scams. I can say that confidently after exposing over 500+ of them here on this blog.
But the good news is that even though most of them are indeed scams, there are actually some very good programs in amongst them - some programs that can truly help you to earn money.
And out of all of the legit programs I've seen, the one I would recommend the most to anybody looking to get started online is Commission Academy. In my own opinion, that's the best place to start.
At Commission Academy, you'll be provided with everything you need (including the training & tools) to begin earning real money by promoting products or services for companies like Amazon online.
The best part is that there's literally no limit on the amount you can earn with it & the process is pretty simple which means that it's absolutely perfect for people that don't have much experience.
Some wealthy affiliates even earn as much as 5-figures per month... Or more!


I mean don't get me wrong, that kind of money won't just fall into your lap without doing any work... But the harder you're willing to work at it, the more you stand to earn with it.
So if you're looking to get started but don't know which route you should go down or which program you should join (and don't want to waste money on bogus things that don't actually work), then I'd highly recommend checking out Commission Academy first. You can learn more about it here.