There's a lot of products popping up in the digital marketplace lately claiming that they can help people generate easy, passive profits by creating & promoting what's known as "info products".
In fact yesterday I literally reviewed Mark Ling's latest system named Learn Build Earn which does exactly that – and here I am today seeing the launch of yet another system named the Info Profits Academy.
Now as a result of the sudden push on these types of products I've been getting asked a lot of questions about them, with the two main ones being:
Can you really make good money creating these "info products" as these guys claim?
And if you can make money then which of the courses should you choose to learn how to get started?
No doubt you'll agree that there very valid questions and, to be honest, you personally might be wondering the exact same things – which is the exact reason I've decided to create this blog post today.
I'm going to give you a full rundown on this new Info Profits Academy system (ran by Sorin Constantin), discussing the effectiveness of the methods & helping you decide which course may be the right fit for you depending on your what you personally want to achieve.
So basically if you've come across the Info Profits Academy system & you're looking to figure out if you can really make money with it then you've landed in the right place. It's also worth mentioning that I'm not an affiliate of IPA which means you can rest assured that the information you'll be getting will be completely unbiased (unlike many of the other reviews that are floating about online).
What Is Info Profits Academy?   |   A Few Important Points   |   What Will You Learn?   |   What Makes It Different?   |   Is It Really a Proven Method?   |   How Much Does It Cost?   |   My Final Verdict   |   A Better Alternative
What Is Info Profits Academy?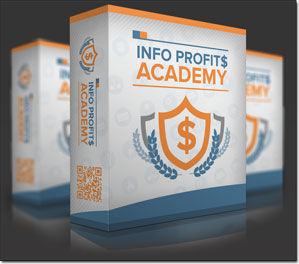 Upon landing on the homepage of Info Profits Academy you're told that you can "finally bank an easy, passive $3k per month by creating simple money machines"…
And just to make it clear those are their words, not mine.
Now the website doesn't directly tell you exactly what these so-called "money machines" are – but after doing a little bit of digging you can piece together that they are referring to creating & promoting small educational courses online.
So in essence you're "money machine" will be an educational course that you will need to create & promote.
I appreciate that this doesn't sound quite so passive off the bat, but like with anything if you want to create a passive income you're going to need to sow the seeds initially & then reap the harvest later.
Don't worry – I'll be touching on just how passive it actually is & how much work it will actually take to get going a little bit deeper in this review.
A Few Important Points…
As I just mentioned above in order to make money using the Info Profits Academy method you're going to be required to create short educational style courses online.
Due to the way this system is being marketed (the whole "money machines" thing) people are getting a little bit confused & expecting to receive some sort of auto-pilot software that generates them profits without them needing to do anything. This isn't the case.
Whilst the income you generate as a result of using the Info Profits Academy methods does have the potential to become passive, it certainly requires work (and in my opinion quite a lot of it) to get the ball rolling.
One of the main things you'll be expected to do in order to profit from the method they provide is to create & upload videos. Whilst you don't need to get your face on camera (you can simply use screen capture software) I do feel this a little bit technical so it may be a little bit "tech-heavy" if you're a complete newbie.
Also if you're a little shy when it comes to putting yourself (or your voice) "out there" on the web then this may not be the best starting point for you. Don't let that dishearten you though because there are certainly plenty of other ways you can make money online.
However, if you're looking specifically to break the info product marketplace then this could be a pretty cool method for you to try out, so without further ado let me get into the meat & bones of the methods they teach…
What Will You Learn?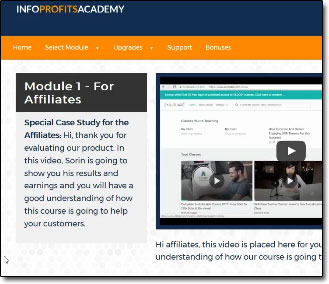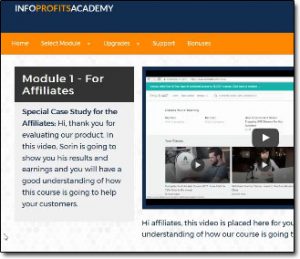 The training inside Info Profits Academy is led by Sorin Constantin, a guy who's had massive success promoting info products on various networks such as Skillshare & Udemy. He's actually listed as one of the top instructors at both those networks so it's evident he knows what he's doing.
He specializes in making money by publishing short educational courses (around 15-30 minutes long) & through Info Profits Academy he's going to be teaching you the method he uses, so essentially you'll be learning how to do the same thing.
You'll learn how to pick a profitable topic, how to create a video, how to upload it & then how to promote it via the same various networks Sorin uses.
Sorin personally uses 4 networks but it's completely up to you as to how many you decide to promote your own courses on. Of course the more networks you publish them on the more money you'll be able to generate, and the benefit of this method is that Sorin claims you can use the exact same video on each network (saving you time by ultimately being able to "copy & paste").
What Makes It Different From Other Courses?
As I mentioned at the start of this review there are several other courses teaching people how to make money by publishing their own info products online, so you're probably wondering what separates Info Profits Academy from the others…
Well, in my opinion, the main difference is that with this particular method there is no need to find affiliates to promote your products.
You see most of the other courses that teach you how to make money with info products focus heavily on publishing your product on affiliate networks & then finding affiliates to promote them for you.
Don't get me wrong it's a proven method to do that & you can leverage affiliates to make a lot of money, but sometimes it can be quite challenging. With Sorin's method, there is no requirement to source affiliates – you literally list your course on the networks shown throughout the train & the networks themselves handle the sales.
Of course, you will need to learn how to efficiently promote your products on the networks to increase their reach but this is incorporated into a module inside Sorin's training.
Is It Really A Proven Method?
Sorin has undoubtedly had success with this method & since he is showing you the exact same method he personally uses you should be able to see the same level of success right?…. Unfortunately not quite.
I'm not knocking Sorin's method but one thing I will say is that a heavy part of your success lies in the quality of the courses that you create. If you're not able to put together high-quality info products then you may struggle to see results, even if you thoroughly follow the training.
On the other hand though if you happen to create awesome info products then who knows, maybe you could even surpass Sorin's results.
So whilst it's a proven method there are actually a few variables that will determine your success.
You Might Also Like:
How Much Does It Cost?
The front-end product is $47 which will grab you most of the basic training & give you enough to gain some initial momentum, however, there are a couple more upsells involved too.
If you wish to purchase Sorin's collection of case studies then this will cost you an additional $37.
You'll then be offered "done-for-you" package which consists of things like sales templates & niche ideas. This one would probably make for a good purchase as it'll help you speed up your results since you won't need to waste time on "figuring things out".
And lastly, there is a "more profits" package offered for $27 which consists of additional methods to squeeze more income out of your customers. Some of the methods include things like upselling them into coaching services & launching promo periods.
My Final Verdict
I personally feel that this product does provide quite a lot of value for money, and certainly provides a workable method that could prove to be quite profitable for some.
But notice that I've bolded the word "some" in the sentence above, and that's because I feel that this despite being offered out as a general "make money method" I don't feel that it's a good fit for everybody.
If you have a moderate level of tech-knowledge, have a subject you are knowledgeable about, willing to make videos & interested in profiting by creating your own short courses then yes, this could make for a pretty sweet purchase.
However, if you're not – then I just don't feel that this product would be a good fit. I mean sure, the training is fairly easy to follow & with some serious dedication you could probably "make it work" but if you fall into this category I just feel there are better starting points out there.
I'm not knocking the product by any means as I do want to stress that it does contain solid training & a proven method – I just don't feel that it's the most newbie-friendly option when you line it up against the other stuff that works.
Hopefully, that makes sense?
But of course, if it doesn't or you're still left with questions about Info Profits Academy don't hesitate to leave them below & as always I'll do my best to respond as quickly as I can.
A Better Alternative
The sad truth is that unfortunately most of the programs promising to help you make money online are scams. I can say that confidently after exposing over 500+ of them here on this blog.
But the good news is that even though most of them are indeed scams, there are actually some very good programs in amongst them - some programs that can truly help you to earn money.
And out of all of the legit programs I've seen, the one I would recommend the most to anybody looking to get started online is Commission Academy. In my own opinion, that's the best place to start.
At Commission Academy, you'll be provided with everything you need (including the training & tools) to begin earning real money by promoting products or services for companies like Amazon online.
The best part is that there's literally no limit on the amount you can earn with it & the process is pretty simple which means that it's absolutely perfect for people that don't have much experience.
Some wealthy affiliates even earn as much as 5-figures per month... Or more!

I mean don't get me wrong, that kind of money won't just fall into your lap without doing any work... But the harder you're willing to work at it, the more you stand to earn with it.
So if you're looking to get started but don't know which route you should go down or which program you should join (and don't want to waste money on bogus things that don't actually work), then I'd highly recommend checking out Commission Academy first. You can learn more about it here.