The Insta Profit Hack system has just been launched by a man allegedly named Joseph Paul & in return for a mere $7 it claims to provide you with access a "hack" that supposedly exploits a $2.5 billion dollar loophole in Instagram that you can profit from…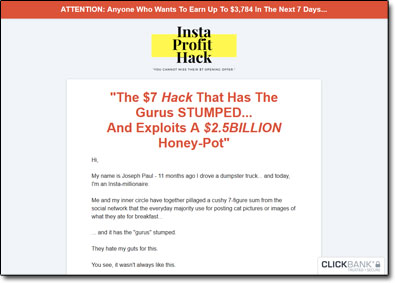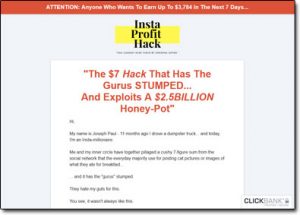 He claims that by working just 15 minutes per day members of his system will be able to see profits of over $3,000 per week all by publishing simple posts on Instagram… But is it really legit or will the Insta Profit Hack system scam you instead & just see you spending more than you ever actually manage to make?
Well right from the off I can tell you it is likely going to be the latter but nevertheless rest assured that in this honest review I'll be taking a closer look into exactly how it all works & uncovering the truth as to whether or not you can really make any money with the so-called Insta Profit Hack system.
What Is Insta Profit Hack?   |   How Does Insta Profit Hack Work?   |   The Hidden Costs   |   Fake Testimonials   |   Is Insta Profit Hack a Scam?   |   A Better Alternative
What Is Insta Profit Hack?
The Insta Profit Hack system isn't really a system at all – it's actually just a guide that supposedly reveals a "hack" for leveraging a multi-billion loophole on Instagram & it's allegedly been put together by a guy named Joseph Paul.
However, the first thing I can tell you is that Joseph Paul doesn't actually exist & the reason I can say that so confidently is because at the very bottom of the Insta Profit Hack website there's a disclaimer that reads "This letter features the use of a "pen name" to protect the privacy of the creator"…
So, in short, the whole thing has been put together by a guy who provides NO proof of any of the money he's made which is a little odd, don't you think?
I mean why can't he just share one of these Instagram accounts he's making money from if it's truly legit like he claims? And why has he chosen to hide his name (which is the common trait of a scammer)?
Things don't look good already, to say the least…
But anyway, basically "Joseph" claims that the guide will show you how you can make money on Instagram in just 15 minutes per day by posting other peoples content & leveraging this so-called "hack".

He claims his brother made $780 the very same day he got started & he says you too will be able to get started within just 30 minutes of signing up…
But if you haven't already signed up already then here's a word of warning – don't! The reason I say that is because the whole thing is essentially just a re-hashed version of the Easy Insta Profits scam that I exposed last year.
The funny thing in this instance though is that "Joseph" tells you on the Insta Profit Hack website about how he hates the gurus that throw junk products together promising people easy riches but then charging money for them & not giving anything in return… Yet that's exactly what he's doing…
You'll see what I mean when I explain how it all works below…
How Does Insta Profit Hack Work?
In short, the Insta Profit Hack system is just your typical get-rich-quick scam. It promises the world, offers access for a seemingly low fee & then doesn't live up to any of its claims on the other side but then instead tries to get you to spend even more money to get access to the "secrets" which don't actually exist.
That's the reason the creator has chosen to hide his name – because he knows if he didn't he'd likely have a torch & pitchfork crowd trying to hunt him down to get their money back after being scammed.
But don't get me wrong, you do actually get something in return for your money – which is some extremely basic training on something called affiliate marketing.
In case you don't know, affiliate marketing is where you promote products online in return for commissions – and I'll admit here that in itself it's actually a GREAT way to make good money online, and it's the same way I personally make money too.
Below is a visual rundown of how it works: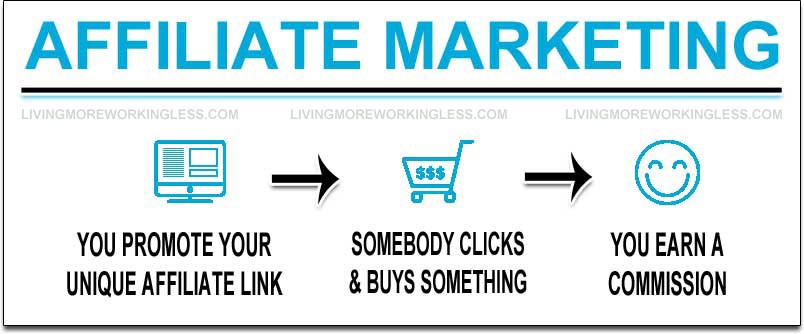 However, the problem is that the Insta Profit Hack system doesn't really give you any solid training on what to do. Instead you're merely told to create an Instagram account, join an affiliate program, add the link to your profile & then start posting…
And whilst that's the "bare bones" of how it works, that alone won't really help you find any success. Instead, if you truly want to find success through affiliate marketing then you need a legitimate proven platform like Wealthy Affiliate.
But that isn't the only problem with the Insta Profit Hack website…
For $7 you might be thinking "what the heck, I'll try it out" but that's exactly what the creator of the system is hoping for because the "true" scam actually starts on the inside when the upsells begin.
You see the $7 is merely an entry fee (even though the main website makes it look like the whole thing costs $7). After paying that $7 you'll be asked to pay more & more – and you guessed it, more & more!
Honestly, the guy behind this thing is just trying to squeeze as much cash out of all of the members as possible & no matter how much you spend on it your chances of making money with it will sadly still remain slim to none.
You Might Also Like:
And The Testimonials? Fake Too!
Right at the bottom of the Insta Profit Hack website, there's a man named David Legg who claims that Joseph Paul is the real deal. Well we now already know for ourselves Joseph isn't the real deal, but neither is David Legg!
As shown below the website owner has kindly displayed a picture of David Legg next to his testimonial:

However, a Google reverse image search quickly reveals that the image has just been pulled from a stock photo site as shown below: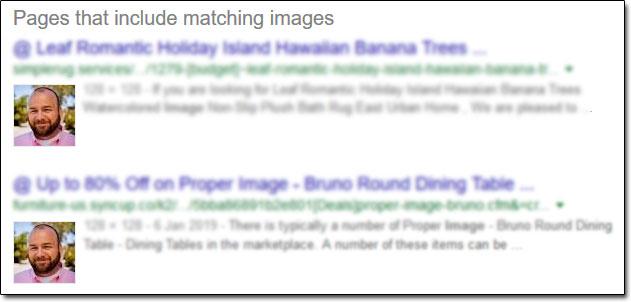 And that brings me onto…
Is Insta Profit Hack a Scam?
I know my answer is going to be a bit controversial here because yes you do indeed get some training provided to you via the Insta Profit Hack system, however, due to how misleading it is, in my opinion, I am going to say that yes, I do believe it to be a scam.
I mean it's quite clear to me that the creator of the whole thing has just set it up purely to make himself wealthy at the expense of the members. He doesn't really care about anyone's success & he's probably never had success through Instagram himself, hence why he doesn't show any proof or show his real name.
Plus if you do happen to buy into it (which I don't recommend) then the training you are provided with is extremely low quality & I know it'll likely just leave you feeling disappointed – even if you only spend the $7.
So take my advice & if you really want to learn how to make good money online through affiliate marketing on Instagram (or with a website) then join Wealthy Affiliate instead as not only is it free, but it's legitimate & proven – unlike the Insta Profit Hack system.
And also if you'd like to try some other ways of making money online then don't forget to check out my list of all the top picks I've put together here too.
But whatever you decide to do I just hope that my review of Insta profit Hack here has helped you save some of your hard-earned cash & if you of course you happen to have any comments or further questions then don't hesitate to leave them below. I'll get back to you as soon as possible.
A Better Alternative
The sad truth is that unfortunately most of the programs promising to help you make money online are scams. I can say that confidently after exposing over 500+ of them here on this blog.
But the good news is that even though most of them are indeed scams, there are actually some very good programs in amongst them - some programs that can truly help you to earn money.
And out of all of the legit programs I've seen, the one I would recommend the most to anybody looking to get started online is Commission Academy. In my own opinion, that's the best place to start.
At Commission Academy, you'll be provided with everything you need (including the training & tools) to begin earning real money by promoting products or services for companies like Amazon online.
The best part is that there's literally no limit on the amount you can earn with it & the process is pretty simple which means that it's absolutely perfect for people that don't have much experience.
Some wealthy affiliates even earn as much as 5-figures per month... Or more!


I mean don't get me wrong, that kind of money won't just fall into your lap without doing any work... But the harder you're willing to work at it, the more you stand to earn with it.
So if you're looking to get started but don't know which route you should go down or which program you should join (and don't want to waste money on bogus things that don't actually work), then I'd highly recommend checking out Commission Academy first. You can learn more about it here.