The Easy Insta Profits system has allegedly been put together by a guy named Mike Richards & through it, you're led to believe that you'll be able to earn as much as $1,300 per day all from Instagram with "just a few taps" of your phone.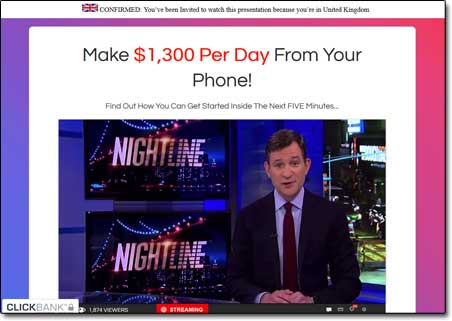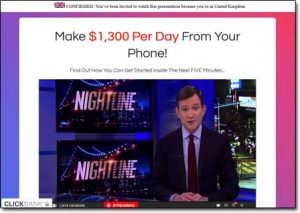 But obviously, that's an extremely bold claim & no doubt you're probably sceptical about the whole thing.
So what's the deal?
Is it actually legit?
Or will Easy Insta Profits scam you instead & leave you with less money rather than actually helping you make more?
Thankfully if you've been thinking about trying it out you've landed in exactly the right place to find out the answer to those questions as I've taken a closer look into it & in this honest Easy Insta Profits review I'll be uncovering the truth about how it all works. 🙂
What Is Easy Insta Profits?   |   How Does Easy Insta Profits Work?   |   The Extra Costs   |   Featured In The News   |   Is Easy Insta Profits a Scam?   |   A Better Alternative
What Is Easy Insta Profits?
Easy Insta Profits claims to be a revolutionary "done-for-you" system and it's creator Mike Richards claims that it will enable you to leverage the exact same method that the celebrities are using to generate millions from Instagram.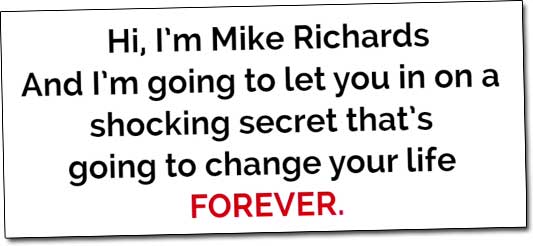 And as I say Mike stresses that everything is "done-for-you", so you're led to believe that you just need to make a few taps on your screen & that the money will begin rolling in on complete auto-pilot.

He states that this will allow you to properly live life and that you'll be able to travel… Buy fancy cars… Get a bigger house & basically do all of the things that you've ever dreamed of doing but previously couldn't.
However, I can tell you right from the off that in reality, the Easy Insta Profits system is far from a dream. It's actually nothing but a fake get-rich-quick scam & Mike Richards himself (who you're told has created it isn't even a real person).
That's revealed to you in very small text in the disclaimer at the bottom of the page as shown below:

Which means the true creator is hiding behind a false identity… And therefore he (or she) remains anonymous.
The reason they've chosen to remain anonymous is because like I said above the whole thing is bogus. The system isn't really set out to help you as it claims it is – instead it's just set out to make money from you & you'll soon see that for yourself when I show you how it all works below…
How Does Easy Insta Profits Work?
Okay so, in short, the system basically just flat-out doesn't work as promised, and rather than being set out to help you make money like it claims, it's just set out to make the creator wealthy at your expense instead.
In fact, the truth is there isn't actually any "system" at all…
If you bought into Easy Insta Profits for the initial fee of $37 you'd soon find out the hard way that all you really get access to is some very basic training on affiliate marketing, which is a method that involves you promoting products for commissions.

Now don't get me wrong affiliate marketing itself is a legit & actually very good way to make money online, but basically the training provided via Easy Insta Profits won't really help you at all because it's so rubbish.
In fact, the only reason they're giving you any training whatsoever is to try & stop you from getting a refund. You see by giving you training they can argue that they've provided you with something for your money (even though it's total junk).
The truth is that there are actually legitimate places like Commission Academy were you can learn how to make money with affiliate marketing, and you can indeed make money from Instagram with it… But like I say the Easy Insta Profits system itself is just trying to take advantage of you.
You Might Also Like:
The Extra Costs…
If you think that accessing Easy Insta Profits costs just $37 then think again. That initial fee is literally just the "entry fee" and if you paid it (which I don't recommend) you'd be presented with several upsells on the inside.
The creator (who we now know is a fake) claims that the upsells promoted to you are all necessary for your success, but in reality, they're not – they just consist of more bogus training & in total they could cost you hundreds of dollars.
Basically the upsells are just a way for the creator to squeeze even more money out of you. He (or she) continues to make more false promises to trick you into buying them but it's all just BS.
I've recently reviewed several other products sold through ClickBank (which is what Easy Insta Profits is sold through) such as the Writing To Wealth & Coin Code Club programs & they've all contained these pushy, annoying upsells.
The only positive is that generally, you have a good chance of getting your money back when you buy a product sold through ClickBank because usually if you contact them directly they're pretty good at sorting out any issues.

Easy Insta Profits News Features
You might now be wondering, how can Easy Insta Profits be a scam if it's been featured on the news like you're shown in the video on their website? Well, that's a good question… But the truth is it hasn't really been featured on the news.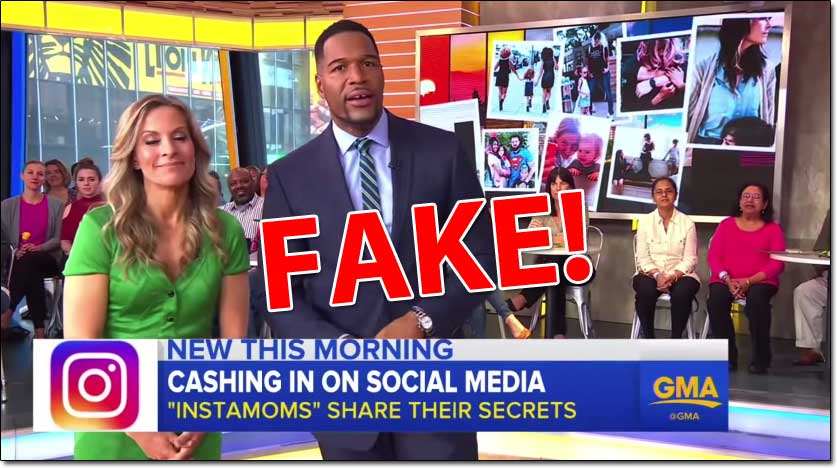 That's just what the creator(s) want you to believe & it's a common trick used by many get-rich-quick scams to try & gain your trust.
They know that if they can make you think that it's actually been featured on the news that you'll probably think it's legit & try it out. So what they do is take snippets from news broadcasts that talk about making money from home & they piece them together to make it look like the news anchors are actually talking about this specific system.
However, if you watch carefully you'll see that they never mention the Easy Insta Profits system at all – instead, they just talk about making money from social media in general, which as I mentioned earlier in this review is indeed possible.
There are plenty of legitimate programs out there, like Wealthy Affiliate, and that's the sort of thing that these news anchors are talking about. They're not talking about overly hyped-up scam systems like Easy Insta Profits.
And that brings me onto…
Is Easy Insta Profits a Scam?
The whole thing has been built on lies & the sole intention of it is to trick you into parting with your cash so that the creator can make money at your expense… Therefore I am going to say that yes, Easy Insta Profits IS a scam.
To be honest, I don't usually brand many things a scam, I always to try to see the good in them where possible but honestly, there is just no good with this program at all, the whole thing is total garbage.
If you really want to learn how to make money online then I'd suggest you check out a legitimate program like Commission Academy instead, but whatever you do stay well away from programs like Easy Insta Profits.
The good old saying "if it sounds too good to be true then it probably is" definitely applies with this system & for that reason I won't be recommending it to you.
Hopefully, though my review here has given you a good insight into how it all really works & hopefully you can see why I've come to the conclusion that I have. I also hope of course that my review has helped you save some money. ?
If you do still happen to have any further questions or comments though then don't hesitate to leave them below. I always do my best to respond as quickly as possible & I love hearing from my readers.
A Better Alternative
The sad truth is that unfortunately most of the programs promising to help you make money online are scams. I can say that confidently after exposing over 500+ of them here on this blog.
But the good news is that even though most of them are indeed scams, there are actually some very good programs in amongst them - some programs that can truly help you to earn money.
And out of all of the legit programs I've seen, the one I would recommend the most to anybody looking to get started online is Commission Academy. In my own opinion, that's the best place to start.
At Commission Academy, you'll be provided with everything you need (including the training & tools) to begin earning real money by promoting products or services for companies like Amazon online.
The best part is that there's literally no limit on the amount you can earn with it & the process is pretty simple which means that it's absolutely perfect for people that don't have much experience.
Some wealthy affiliates even earn as much as 5-figures per month... Or more!

I mean don't get me wrong, that kind of money won't just fall into your lap without doing any work... But the harder you're willing to work at it, the more you stand to earn with it.
So if you're looking to get started but don't know which route you should go down or which program you should join (and don't want to waste money on bogus things that don't actually work), then I'd highly recommend checking out Commission Academy first. You can learn more about it here.