Writing To Wealth is a brand new website that promises to be able to fix writers (or people interested in writing) up with high paying online jobs. You're led to believe that you can literally sign up and start earning the very same day just by giving up a few hours of your time.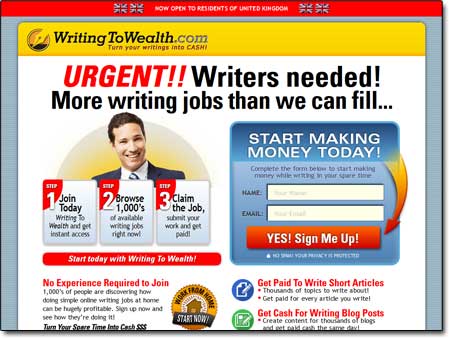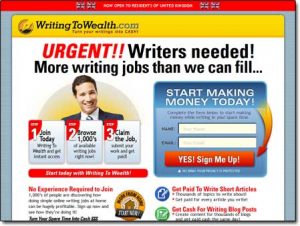 The creators even state that you don't even need to be all that great of a writer in order to make money through their platform…
But is it actually legit or is Writing To Wealth a scam that'll just end up costing you money rather than helping you make it?
Thankfully you've landed in the right place to find out because I've taken a closer look into it all & in this review I'll be uncovering everything you need to know – including of course whether or not you can really make any money with it.
What Is Writing To Wealth?   |   How Does Writing To Wealth Work?   |   A Better Way To Make Money Writing   |   Is Writing To Wealth a Scam?
What Is Writing To Wealth?
Writing To Wealth is basically just a directory for online writing jobs & at the time of writing this review, they claim that writers are urgently needed as they allegedly have more writing jobs than they can fill.

However the directory isn't free to access – oh no, instead Writing To Wealth is being sold through ClickBank & to access all of the jobs you'll need to pay around $104, which in my opinion is insanely expensive.
Especially since you can get access to all of the jobs they list elsewhere for free…
According to the affiliate page on the website, the whole thing has apparently been put together by "the people behind many #1 ClickBank offers"… And judging by the website's design, layout & marketing material, it looks like it's potentially been put together by the same people who launched the Take Surveys For Cash program.
Take Surveys For Cash was a website that promised to provide people with access to high-paying survey jobs in return for a fee but surprise surprise it never delivered on its promises. Instead, it just provided people with access to popular paid survey sites that could have easily been found for free.
From what I can see it looks like Writing To Wealth is merely a new play on Take Surveys For Cash… It's as if they've just switched it up from surveys to writing gigs in the hope of parting more people with their cash.
How Does Writing To Wealth Work?
Well on the Writing To Wealth website you're told that you can simply sign up & get immediate access to 1,000's of writing jobs. The creators claim that the jobs are updated daily (even on weekends & holidays), and that each one is guaranteed.
Apparently all you need to do is "claim the job" you want to complete & according to the website you can earn as much as $325 for each one you do…


There's said to be no limit on the amount you can complete either with the website stressing that you can earn as much as you want & work whenever you want – giving you the freedom to live a totally flexible lifestyle whilst still earning a handsome amount of money.
But don't you think it just all sounds too good to be true? I mean why are these "guaranteed" jobs willing to pay anybody (even people who aren't that great at writing) up to $325? And why isn't everybody doing it if it's really so easy?
Simple – because the whole thing is not as it seems. It's just another bogus money-making site.
Instead of being set out to help you make money like it claims, in reality, Writing To Wealth has just been set up to make its creator wealthy at your expense. That's the true intention of the program.
The reason I say that is because after you pay the initial fee of $34 all you get access to is a list of sites where you can apply for writing jobs…
These sites can be found elsewhere for free – with a quick Google search for example, and they include the likes of:
Notice that I put emphasis on the word "apply" above too – the reason for that is because there are no guaranteed jobs like the Writing To Wealth program claims. They state that you can just "claim" the jobs but in actual fact, you will have to apply & hope to be picked by the employer.
I mean sure, it's possible to get picked – but you must appreciate that as a newcomer with no feedback on these sites you will find it very difficult to do so. The only way you'll get noticed is by offering to complete the work for a really low price, meaning you'll be working long hours for little reward.
It's probably now easy to see that the Writing To Wealth program isn't anywhere near as great as it's made out to be.
What's worse is the fact that the initial $34 fee doesn't even get you full access to everything. Instead, if you want to access everything in the program you'll have to purchase 3 additional upsells. The first costs another $34, the second costs $24 & the third costs $12.
That adds up to a whopping $104 in total – and all you're getting in return for your money is access to a list of websites that you could have quite easily found elsewhere for free.
You Might Also Like:
There's a Better Way To Make Money Writing…
I'm not gonna lie, writing is a great way to make money online – and you can certainly earn money by writing for other people… But there's actually a better way you can earn money writing than by selling your work to others.
All you need to do is start a blog or a website & begin publishing your content there – it will then get listed within search engines (such as Google) & your blog or site will begin getting visitors. Once you've got visitors, you can then make money (and quite a lot of it too).
The best part is that thanks to programs like Commission Academy you can actually start your own blog or website for free, and that same program also gives you step-by-step training that shows you in detail how you actually begin making money from your content.
In short, the method is called affiliate marketing, but I won't go into it in too much detail here because like I say if you're interested Commission Academy is the best place to learn more about it… All I'll say is that it's the exact same way I personally make my own income online & in the long run it's definitely a much better way to make money than writing for others.
But anyway, back onto Writing To Wealth…
Is Writing To Wealth a Scam?
Going as far as to call it an outright scam would probably be pretty harsh – I mean don't get me wrong, the whole program is totally overhyped, however, in reality, you're paying for access to writing jobs & in return for your money you're getting access to writing jobs… So by technicality, they kinda deliver on their promise.
However, there's simply no way that you'll begin earning hundreds per day as a newcomer to the Writing To Wealth site & like I mentioned earlier in this review you can access all of the jobs inside of Writing To Wealth for free elsewhere. There's absolutely no reason to pay as much as $104 (or even just the $34) to join Writing To Wealth & if you do, you'll likely just find yourself very disappointed.
In my opinion, rather than being designed to help you make money like it claims it has, the whole thing has just been designed to take money from you to make the creator(s) wealthy at your expense instead.
If you really want to learn how to make money by writing then take my advice & try out Commission Academy instead which is a free program that gives you step-by-step training & all of the tools that you need to get started.
Overall though I'm going to conclude this review by saying that there's absolutely no way that I'll be recommending the Writing To Wealth program to you because I honestly don't believe you'll get any value from it at all. If you do still happen to have any further questions about it though or any comments then don't hesitate to leave them below & I'll get back to you as soon as possible.