BKA Content is a place where webmasters can go and purchase content for their websites such as blog posts, articles & reports etc… It's also a place where you can sign up as a writer & provide this type of content in return for cash.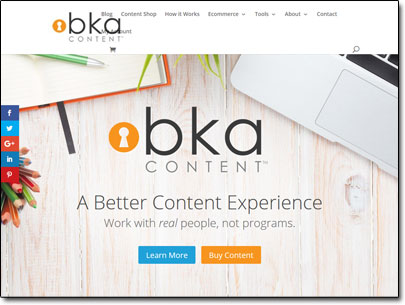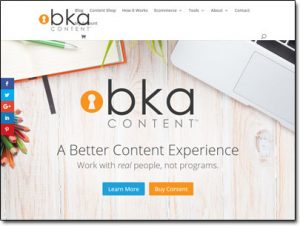 But if you're looking at becoming a writer for this company then there's one thing that's probably playing on your mind… Is it actually legit or is BKA Content a scam that'll just see you wasting your time & getting nothing in return?
I know I know – I've done my fair share of writing & I'm aware that some of the companies can be pretty shady, thankfully though you've landed in the right place because in this review of BKA Content I'll be uncovering everything there is that you need to know.
What Is BKA Content?   |   How Does BKA Content Work?   |   How Much Can You Earn?   |   Is BKA Content a Scam?   |   A Better Alternative
What Is BKA Content?
As I very briefly mentioned above BKA Content is a place where webmasters can get content for their websites & a place where writers can write for cash. The first thing I'll point out right from the off is that yes, BKA Content is indeed a legitimate company – it's not a scam.
In fact, I'd actually say that if you're looking to write articles as a freelance writer then BKA Content is probably one of the best websites you could work through. They've been around since 2010 & they're known for offering pretty good rates.
As a writer working for BKA Content you can expect to earn between 1.3 and 5 cents per word & they have no cap on the amount you can write so you could potentially see yourself earning as much as $12–$18 an hour or more which is pretty good indeed.
In terms of online "jobs", it's one of the best & highest paying legitimate sites I've come across to date. You can find the other alternative opportunities I've come across here.
However, it's worth pointing out that as a writer it would be wise to start a blog & focus on earning through your own content too which could potentially earn you much more in the long run. I've seen many talented writers out there working for sites like BKA Content helping other webmasters make money when actually they could have been making a lot of money for themselves with the content they were producing.
Most often it's because many of the writers (maybe you reading this post) don't know how to make money from their content without selling it, or don't even if know it's possible to do so. If that's you then you can see how to make money from a blog in my free guide here.
Anyway, that's just a heads up because I know if you're a writer it could definitely prove to be profitable for you, but moving back onto BKA Content…
How Does BKA Content Work?
It's worth pointing out that BKA Content doesn't always have positions available for new writers, but they do come by quite frequently so if you visit the site & you find there's none available you can still leave your details with them & they'll likely contact you once any open up.
The typical positions that they normally want filling include:
SEO Content Writers
Premium Content Writers
Web Content Writers
Product Description Writers
So when working for BKA Content you could see yourself writing eye-catching content that companies will be using to share on social media, writing informative product descriptions to help increase sales or writing keyword-based content to help companies gain better rankings in search engines… Among other things.
It's safe to say there's a lot of variety which makes the job a little less mundane (even when you're getting paid for it nobody really wants to be writing the same thing over & over again).
However, it's worth pointing out that not everybody will be eligible to work for BKA Content, in fact, they do actually have a fairly strict eligibility criteria in place so if you want the chance to work with them then you must:
Be a US citizen
Have Microsoft Word
Have access to the internet
Have a Gmail email address
Be able to write at least 2,000 words per week
Have a PayPal account
Have a firm grasp of English grammar, punctuation and spelling
Be at a college writing level
Be able to meet deadlines
Be honest, self-motivated and dependable
Sadly there's no ifs or buts either so if you don't meet any of those above requirements you won't be able to apply. It's a shame really (especially them only opening their opportunity to US citizens) but rules are rules.
If you do apply & find you are successful though then good news, there's a lot of benefits to working with BKA Content.
Providing you get the work completed in a timely manner (and have an internet connection of course) then you can work from virtually any location – that means you can also set your own schedule too.
On top of that you'll get paid for every article you write & you can simply browse through their extensive list of jobs & pick which ones you want to complete – there's no one telling you what to do or forcing you to write specific articles.
Plus they have the whole thing set up as a community so as a member you'll get access to their forum & social groups which will allow you connect with other BKA Writers. They even host a big BKA Content BBQ each year to give the writers a chance to get to know each other so it's clear that they really care about the people who are working for them which is good to see.
You Might Also Like:
How Much Can You Earn With BKA Content?
Honestly, as I mentioned at the start of this review the payments BKA Content offer are pretty darn good. They do differ depending on things like writing skill & speed of typing but even newer writers can earn a solid income through the site.
To give you an idea of what's possible BKA Content claim that most of their writers earn around $8–$14 per hour as they go through the learning process & that they $12–$18 an hour or more once they've gained experience with the platform. Plus there's no cap on the amount you can write – so the income potential is unlimited.
Every writer initially starts out at 1.3 cents per word but over time this can increase to 5 cents (and possibly above) based on the quality of the work being produced and the timely manner that it's being delivered in.
Is BKA Content a Scam?
BKA Content is definitely not a scam, it's actually a really good company & if you're a freelance writer based in the US looking for work then it could be a great opportunity for you to earn some extra money.
They have a large amount of work received through the site so you should never be left without anything to write & with the potential to write as much as you want you really can earn a good chunk of cash through this company.
And on top of all that I really like the fact that the company owners & team behind it make sure the writers are enjoying themselves at the same time as making money by bringing a whole community aspect to it all.
Therefore overall I'm going to be giving BKA Content a big thumbs up and if you're based in the US then I'd say it's definitely something worth trying out. Don't forget what I said at the start of this review if you're a writer it's also a good idea to start your own blog too – that way you can actually leverage your own content & make money from it yourself rather than selling it to others for them to make money from it.
Hopefully, my review gave you the insight you were looking for but if you do happen to have any further questions or comments about BKA Content then don't hesitate to leave them below.
A Better Alternative
The sad truth is that unfortunately most of the programs promising to help you make money online are scams. I can say that confidently after exposing over 500+ of them here on this blog.
But the good news is that even though most of them are indeed scams, there are actually some very good programs in amongst them - some programs that can truly help you to earn money.
And out of all of the legit programs I've seen, the one I would recommend the most to anybody looking to get started online is Commission Academy. In my own opinion, that's the best place to start.
At Commission Academy, you'll be provided with everything you need (including the training & tools) to begin earning real money by promoting products or services for companies like Amazon online.
The best part is that there's literally no limit on the amount you can earn with it & the process is pretty simple which means that it's absolutely perfect for people that don't have much experience.
Some wealthy affiliates even earn as much as 5-figures per month... Or more!

I mean don't get me wrong, that kind of money won't just fall into your lap without doing any work... But the harder you're willing to work at it, the more you stand to earn with it.
So if you're looking to get started but don't know which route you should go down or which program you should join (and don't want to waste money on bogus things that don't actually work), then I'd highly recommend checking out Commission Academy first. You can learn more about it here.