The Coin Code Club claims to have been put together by a crypto millionaire & through it, you're led to believe that you'll be able to find out how you too can generate your own fortune from crypto, all without spending a single dime.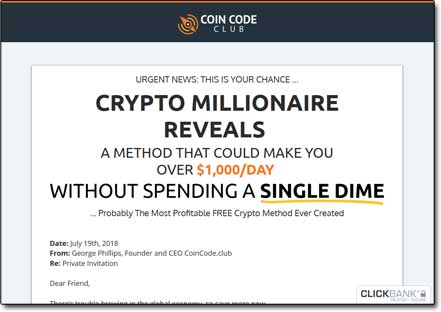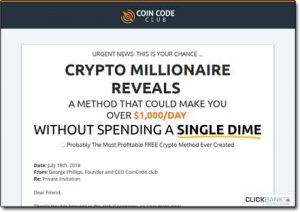 George Phillips, the guy who's supposedly founded the whole thing states that you'll be able to earn as much as $1,000 per day (or even more)…
But is it actually legit? Or is Coin Code Club a scam that'll just result in you losing money rather than actually making it?
Thankfully you've landed in the right place to find out as I've taken a closer look into how it works & in this review I'll be uncovering everything you need to know, including of course whether or not you can really make any money with it.
What Is Coin Code Club?   |   How Does Coin Code Club Work?   |   The Training   |   Is Coin Code Club a Scam?   |   A Better Alternative
What Is Coin Code Club?
As I briefly touched on above the Coin Code Club system has been put together by a guy named George Phillips (or at least so you're told) and George is allegedly a self-made crypto millionaire.
On the website for his system, he tells you about how he used to be stuck in the rat race & how he finally managed to break free after supposedly discovering a "secret" crypto money making method which was being used by all of the elite crypto millionaires.
He states that the method involves turning free cryptocurrency coins into huge profits, and he even claims that still to this day hardly anyone is using the method because the "elites" don't want it to be shared…
However, George apparently believes in "giving back" and he says that he's created the Coin Code Club to share the method with others & help them generate wealth just like he did.

So the Coin Code Club is supposed to give you access to exactly that – a "secret" method that will supposedly enable you to get free cryptocurrency coins & make huge profits as a result… Without any investment at all.
George calls it the "Ultimate Crypto Profits Shortcut"…
And naturally, it's likely caught your attention, after all, who wouldn't want to be able to generate huge profits without having to invest anything upfront? But don't rush into signing up just yet because sadly it's not quite what it seems…
The truth is that rather than help you make money like it claims it will the Coin Code Club system could end up losing you money instead as you'll soon see below when I explain how it all really works.
How Does Coin Code Club Work?
Time to get real here folks – do you really think a $17 product is going to help you to generate millions from the crypto space? Or do you really think it's going to give you access to a "secret" that only the elite traders know about?

No, of course, it's not. The truth is that all you're getting access to in return for your money is some generic training on making money by investing in cryptos, nothing new & nothing exciting.
In reality, George Phillips (the guy that's allegedly behind it all) isn't even a real person, it's just an alias that's being used to hide the true creator of the system… And the reason they've chosen to hide their true identity is simply that they know the whole things bogus.
You see they're not really set out to help you make money like they claim to be, they're just set out to make themselves rich & they'll be doing it at your expense by getting you to buy into this bogus program.
For every person they get to sign up they earn $17 – that's how they're really making their money. It's not by investing in cryptos using a "secret" method like they want you to believe… That's just part of the trick to get you to sign up.
And by the way, if you are thinking about signing up then don't think the price will end at just $17. This is a ClickBank product & I've reviewed several of them here on this blog before, they almost always come with several additional upsells inside.
This means that what initially starts out as a mere $17 will likely turn into hundreds (if not thousands) as you actually progress through.
The only good news about it being a ClickBank product is that you stand a good chance at getting your money back if you happen to have already invested. I mean don't get me wrong the creators of the Coin Code Club might ignore or refuse your refund request, but if you contact ClickBank directly then they should sort you out… They have a pretty good past reputation for issuing refunds anyway.
You Might Also Like:
So What Training Do You Actually Get?
Basically all ClickBank products are pretty much the same. They all consist of super hyped up sales pages promising amazing wealth but the training almost always fails to actually deliver on the promises.
The core training inside of Coin Code Club does exactly that. It's pretty basic training that just touches on leveraging something called Initial Coin Offerings (known as ICO's) to get free coins.
An Initial Coin Offering is something that happens when a new cryptocurrency launches into the market – it's a chance for investors to get in early on the currency in the hope that its value will increase in the future.
So the idea is that you'll get free or bonus coins by getting in early & then if these go up in value you'll stand to make money.
It might sound good in theory but in practice, it's a totally different ball game. To date, no other ICO has inflated as rapidly as Bitcoin has, and very, very few have even gone up any substantial amount at all.
So whilst yes, you would indeed stand to make a good profit if the coin actually rose in value… The chances of it happening are SUPER slim, and the chances of it happening "fast" are even slimmer.
It could take you 5-10 years before your free coins even raise a dollar.
Like I say the "theory" is there and admittedly it does sound great in theory but in practice, like with most things it's not that straight forward. These ClickBank type products just prey on the theory though as all they really want you to do is get you to hand over your cash… They don't really care whether it works out or not because in a few months they'll have probably shut the product down & launched a new one under a different name.
Is Coin Code Club a Scam?
I guess it depends on how you define scam. In my opinion, it's not really a scam, but at the same time, I won't be recommending it because it's overhyped & the content under-delivers. There is NO way that you'll earn millions or even thousands by going through the Coin Code Club program.
In fact, the truth is you'll probably end up spending more on the program than you'll ever manage to make back by following the training… So overall you could just end up at a loss from the whole thing.
And even if you were able to make money from it, cryptocurrency investing is not a sustainable way to profit because the market is way too volatile. I mean just look at Bitcoin, for example, it's up & down all of the time… Even the experts don't know which way it's going to go.
If you really want to make good money online then you shouldn't be looking into overly-hyped gimmicks like the Coin Code Club, instead, you just need to join a legitimate program like Commission Academy where you'll get the proper steps you need to begin your journey. That way you will be able to build much more of a sustainable, long-term income.
But anyway hopefully my review has given you a better insight into exactly how the Coin Code Club works & hopefully it has helped you make a better decision as to whether or not you really want to join. If you do still happen to have any further questions though then of course don't hesitate to leave them below & I will answer them as soon as I can.
A Better Alternative
The sad truth is that unfortunately most of the programs promising to help you make money online are scams. I can say that confidently after exposing over 500+ of them here on this blog.
But the good news is that even though most of them are indeed scams, there are actually some very good programs in amongst them - some programs that can truly help you to earn money.
And out of all of the legit programs I've seen, the one I would recommend the most to anybody looking to get started online is Commission Academy. In my own opinion, that's the best place to start.
At Commission Academy, you'll be provided with everything you need (including the training & tools) to begin earning real money by promoting products or services for companies like Amazon online.
The best part is that there's literally no limit on the amount you can earn with it & the process is pretty simple which means that it's absolutely perfect for people that don't have much experience.
Some wealthy affiliates even earn as much as 5-figures per month... Or more!


I mean don't get me wrong, that kind of money won't just fall into your lap without doing any work... But the harder you're willing to work at it, the more you stand to earn with it.
So if you're looking to get started but don't know which route you should go down or which program you should join (and don't want to waste money on bogus things that don't actually work), then I'd highly recommend checking out Commission Academy first. You can learn more about it here.