Yet another affiliate marketing money-making system has recently launched named Instant Guru & it claims to be the "ultimate automated platform for promoting WarriorPlus & JvZoo product launches".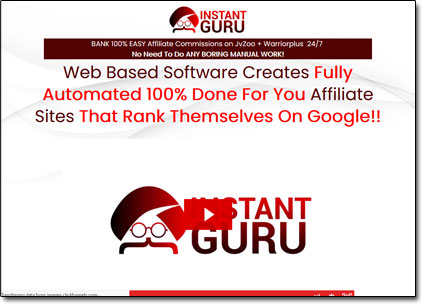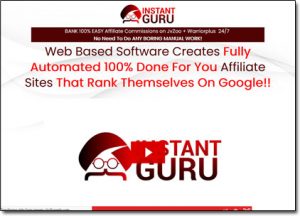 According to the system's founder Dan Green, Instant Guru will supposedly provide you with "done-for-you" websites that automatically generate reviews & attract traffic (aka visitors) from search engines.
So you're led to believe that you can simply choose a name for your website, upload a logo, hit a button & then begin generating a stream of passive affiliate commissions with no extra effort.
But is it Instant Guru actually legit? Or is it just yet another scam to avoid?
Well, the good news is that you've landed in exactly the right place to find out because I've taken a closer look into it & in this Instant Guru review I'll be revealing everything you need to know.
What Is Instant Guru?   |   Who Is Dan Green?   |   How Does Instant Guru Work?   |   The Red Flags   |   Is Instant Guru a Scam?   |   A Better Alternative
What Is Instant Guru?
The Instant Guru system sells itself as being a system that can provide you with a way to generate automated online income streams at just the simple push of a button.
You're led to believe that the system will create "done-for-you" websites that automatically populate themselves with content (product reviews) so that you can just sit back & earn.
All you need to do, according to Dan Green (the system's founder), is simply choose a name for your website, upload a logo & choose the niche.
The Instant Guru software will then allegedly create you a website & that website will begin populating itself with content automatically, in an attempt to attract visitors from search engines.
Then, once the visitors arrive at the pages the idea is that they'll click on your affiliate links & earn you commissions.

And if you're new to affiliate marketing or making money online, that might sound like a pretty legitimate deal. At a glance, it sounds feasible & it sounds like it could actually work.
But as an experienced online marketer, I can tell you with 100% certainty it won't work.
And whilst it sounds great on the surface, the reality is that the only thing the Instant Guru system will actually do is rob you of your cash & leave you with a feeling of instant regret.
I'll explain why in a moment but first, let's take a closer look into Dan Green, the man behind the whole thing.
Who Is Dan Green?
I'll admit that until I came across the Instant Guru system, I actually hadn't heard of Dan Green & that was the first red-flag for me.
I found it a little unusual that an experienced online marketer & super affiliate like myself hadn't previously heard of the guy that had supposedly created a "done-for-you" way of profiting.
So naturally, I did some diligence.
It turns out that Dan Green owns a company named Byte Marketer based out of England & his company basically focuses on creating products that allegedly enable people to generate automated income.
His other programs include:
EdUpay
Brand Marketer
fiverrpal
Instant Guru
Automation Empire

And as I say, each of these programs has a focus on generating automated profits.
But as to Dan's experience with marketing… Well, I couldn't really find any. His company websites mentioned that he graduated with a degree in Computer Science, but that's about it.
So it seems to me to be more likely that Dan is simply good at building software that sells the dream, as opposed to creating software that actually helps you to achieve the dream.
And he just sits back & profits as people get lured in by the hype.
How Does Instant Guru Work?
Instant Guru promises to provide you with a "done-for-you" website that automatically populates itself with content & to a degree, that claim does actually hold true.
The Instant Guru does create a "done-for-you" website (albeit that it appears to be built by a 12-year-old).
And it does auto-populate with content…
But the problem (aside from the website appearing to be built by a 12-year-old) is that the content it populates with is what's known as "spun content", which is essentially another word for stolen content.
The software essentially searches for websites in the same niche, pulls content from then & then switches the words around using a thesaurus in an attempt to disguise the fact that it's been stolen.
And this is VERY bad, for 2 reasons.
The first & most obvious reason it's bad is that it's hands-down illegal. A few years back somebody decided to take a piece of my content & use it for their own benefit, and I took legal action against them.
So if you decide to use the Instant Guru system, the same could (and will) likely happen to you.
Not good.
But the second reason it's bad (and the reason it's also pretty pointless) is that search engines don't want duplicated content. They have absolutely no interest in listing it within their results.
So the idea is that the "done-for-you" website will auto-populate with content, that content will get listed in the search results & then visitors will begin arriving at the website & making purchases.
But that simply won't happen, because the content won't get listed.
You could literally put 10,000 pages of content onto a website, but if it's duplicated (or worse, "spun") then the search engines won't have any interest in it & won't bother listing it.
After all, why should they, if they've already listed the original?
So whilst the method may sound fantastic in theory, it'll be quite the opposite in reality.
And that's likely why Dan's company, Byte Marketer, has such bad reviews: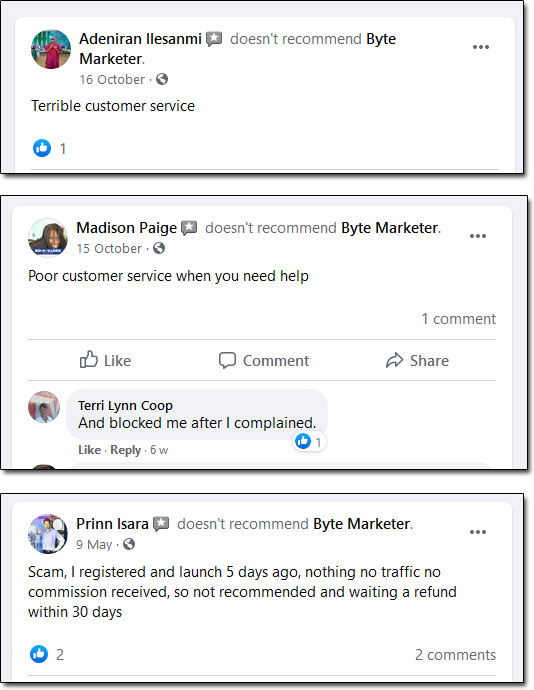 You Might Also Like:
The Red Flags
When it comes to red flags, I have to say I think the following (which is a screenshot taken from the homepage of the Instant Guru system) is probably one of the biggest red flags I've ever seen:

Let's just take a look at some of those claims…
"bank 100% easy affiliate commissions"

"no need to do any boring manual work"

"fully automated 100% done for you"
Come on… If any of that were true, then why are people still working at jobs they dislike? Why isn't the entire world using this Instant Guru system & earning from the comfort of their own homes?
The answer is because whilst it is possible to earn money online, it's not possible via the Instant Guru scam. Whoops, did I say scam? I mean system – sorry, my bad. 😉
Then, alongside that, there's also the fact that it costs money to use.
If it truly worked, then why does Dan Green (the founder) need to sell his system to others to make money? Why can't he just use his own system to generate an automated income & provide others with access to it for free?
Well, the answer is because quite obviously, it doesn't work.
Is Instant Guru a Scam?
I don't like the word "scam" and I tend to use it lightly, but in this instance, it's quite clear that Instant Guru system is a scam. There's absolutely no doubt about it.
I mean sure, it does indeed create a website & auto-populate with (stolen) content… But there's no way that this thing is going to actually result in you earning "automated affiliate commissions" as it promises.
The reality is that Dan Green, the founder, has built it with the sole intention of making himself wealthier at your expense. He knows fine well that his advertised claims are false… But he doesn't care.
He's selling you the system on lies & false hope… And in my opinion, that's a scam.
But as I mentioned earlier in this Instant Guru review, the truth is that you can actually legitimately earn money online, it's just that it takes work to do so.
So if you're still interested in learning how you can actually earn money online (legitimately) then I'd highly recommend that you take a look at Commission Academy before you leave.
It's a free-to-join program & through it, you'll learn how you can leverage something known as affiliate marketing to begin generating an income online, even if you're just a beginner.
But whatever you decide to do, I just hope that my honest review of the Instant Guru scam here has given you a good insight into how the whole thing works & hopefully, it's helped you to save some cash.
A Better Alternative
The sad truth is that unfortunately most of the programs promising to help you make money online are scams. I can say that confidently after exposing over 500+ of them here on this blog.
But the good news is that even though most of them are indeed scams, there are actually some very good programs in amongst them - some programs that can truly help you to earn money.
And out of all of the legit programs I've seen, the one I would recommend the most to anybody looking to get started online is Commission Academy. In my own opinion, that's the best place to start.
At Commission Academy, you'll be provided with everything you need (including the training & tools) to begin earning real money by promoting products or services for companies like Amazon online.
The best part is that there's literally no limit on the amount you can earn with it & the process is pretty simple which means that it's absolutely perfect for people that don't have much experience.
Some wealthy affiliates even earn as much as 5-figures per month... Or more!


I mean don't get me wrong, that kind of money won't just fall into your lap without doing any work... But the harder you're willing to work at it, the more you stand to earn with it.
So if you're looking to get started but don't know which route you should go down or which program you should join (and don't want to waste money on bogus things that don't actually work), then I'd highly recommend checking out Commission Academy first. You can learn more about it here.