If you're reading this article, then you are probably interested in the Invincible Marketer program.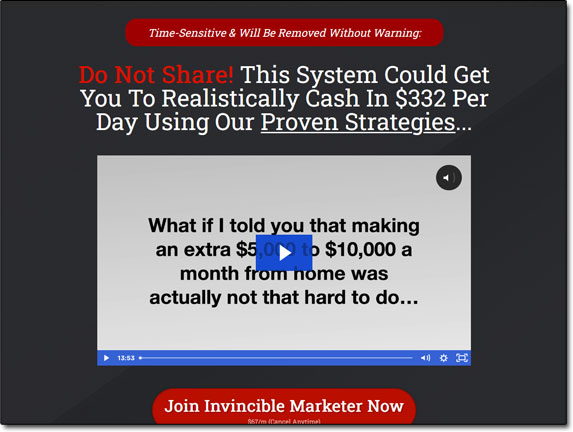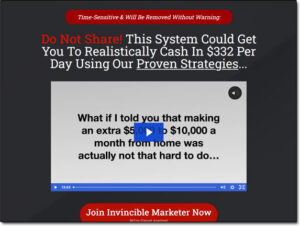 But what exactly is Invincible Marketer all about? Who is the mastermind behind this program? And most importantly, is it worth the investment?
In this Invincible Marketer review, we will dive into this program, exploring its features, benefits, pricing, and potential drawbacks.
By the end, you'll have a clear understanding of whether this program is the right fit for you.
So, let's dive in and uncover the truth behind the Invincible Marketer program.
What IsInvincible Marketer?
The Invincible Marketer is a comprehensive digital course that provides training on how to make money through affiliate marketing. This program aims to teach individuals the strategies and techniques required to succeed in the affiliate marketing industry.
The course covers various topics, such as finding profitable niches, building an audience, creating effective marketing campaigns, and generating passive income through affiliate partnerships.
With step-by-step video tutorials, downloadable resources, and interactive community support, Invincible Marketer offers a comprehensive learning experience for aspiring affiliate marketers.
By following the strategies taught in Invincible Marketer, individuals can learn how to create a sustainable online business and generate income from the comfort of their own homes.
Who Is Aaron Chen?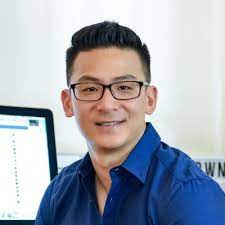 Aaron Chen, based in Kuala Lumpur, Malaysia, is the creator and expert trainer behind Invincible Marketer. With a corporate background spanning 15 years, Aaron has ventured into various online money-making ventures. He has tried his hand at MLMs, run a successful dropshipping business, sold t-shirts online, and even spent a significant amount on solo ads.
Throughout his journey, Aaron encountered numerous roadblocks and invested in low-quality courses, learning valuable lessons along the way. With his extensive experience and expertise, he designed Invincible Marketer as a comprehensive guide to help others build profitable online businesses and achieve tangible results.
As a successful entrepreneur, Aaron has achieved financial freedom through his online ventures and is now dedicated to helping others do the same. With years of experience in affiliate marketing and online business, he has established himself as a reputable figure in the industry.
Through Invincible Marketer, Aaron shares his expertise and provides a step-by-step blueprint for others to follow.
Who Is Invincible Marketer For?
The Invincible Marketer program is designed for individuals who are interested in building a successful online business. This program caters to both beginners who are just starting their journey in the online marketing world and experienced marketers who are looking to take their business to the next level.
For beginners, Invincible Marketer provides step-by-step training and guidance on how to start an online business from scratch. The program covers essential topics such as niche selection, creating a website, generating traffic, and converting leads into sales. It offers a solid foundation for those who are new to online marketing and want to learn the ropes from an experienced mentor.
Experienced marketers can also benefit from Invincible Marketer. The program offers advanced strategies and tactics to help them scale their businesses and increase their profitability. Whether it's optimizing sales funnels, implementing effective email marketing campaigns, or leveraging social media platforms, Invincible Marketer provides valuable insights to help experienced marketers stay ahead of the competition.
Invincible Marketer is also suitable for individuals who are looking for a flexible and location-independent way to earn income. The program teaches you how to create passive income streams and build a business that can generate revenue even while you sleep. This makes it an attractive option for digital nomads, stay-at-home parents, or anyone who wants to escape the traditional 9-to-5 grind and achieve financial freedom.
What Do You Get Inside the Invincible Marketer?
Inside Invincible Marketer, you will find a wealth of resources and training materials designed to help you succeed in the world of digital marketing. From comprehensive video tutorials to step-by-step guides, this program offers everything you need to start and grow your online business.
The Invincible Marketer program offers a comprehensive training experience divided into 17 engaging modules featuring a total of 63 insightful lessons. These modules are primarily presented through video tutorials, allowing students to delve deep into various topics related to affiliate marketing and online business.
While not every module covers every aspect perfectly, the program aims to provide valuable knowledge and actionable steps for students to follow.
Let's take a closer look at what you can expect to find inside Invincible Marketer.
Module Breakdown:
Session 1: This initial lesson includes a welcome video, a survey, and goal-setting exercises to help students clarify their objectives.
Lesson 1: Welcome!
Lesson 2: Survey Time
Lesson 3: The Strangest Secret
Lesson 4: Goal Cards
Lesson 5: 10 Values
Session 2: Focuses on mindset and introduces "must-have" tools for success in online marketing.
Lesson 1: Pyramid Of Success
Lesson 2: Subconscious Conditioning
Lesson 3: The Current Landscape
Lesson 4: Six-Figure Conversion Model
Lesson 5: Must-Have' Tools
Session 3: Dives into the nitty-gritty of affiliate marketing, teaching students how to choose the right products to promote and avoid bad ones.
Lesson 1: Review Goal Cards
Lesson 2: Financial Thermostat
Lesson 3: Affiliate Marketing Explained
Lesson 4: Good VS Bad Products
Lesson 5: Picking Good Products
Session 4: Reinforces the importance of setting realistic goals and emphasizes that online business is a long-term endeavour.
Lesson 1: Review Goal Cards
Lesson 2: The Long Game
Lesson 3: Gary V Video
Lesson 4: Recommended Products
Lesson 5: Asset Checklist
Session 5: Teaches students how to be resourceful and includes an interview with Dan Khan, who shares valuable tips on internet marketing and affiliate marketing.
Lesson 1: Ambition VS Actions
Lesson 2: Be Resourceful
Lesson 3: The Value Series
Lesson 4: The Customer Journey
Lesson 5: Campaign Blueprint
Lesson 6: Dan Khan Interview
Session 6: Explores mindset further, focusing on the "strangest secret," and provides explanations of domains, ClickFunnels, and ClickMagic domains.
Lesson 1: Let's Talk Metrics
Lesson 2: Gratitude and a 5-Minute Journal
Lesson 3: The Strangest Secret
Lesson 4: Understanding Domains
Lesson 5: Clickfunnels Domain
Lesson 6: Clickmagick Domain
Session 7: This session covers topics such as creating a capture page, email marketing strategies, and building an email list.
Lesson 1: Let's Journal!
Lesson 2: Don't Be Cheap
Lesson 3: Capture Page Overview
Lesson 4: Creating Your Capture Page
Lesson 5: 6-Figure Email Strategy
Lesson 6: Attach Your List
Session 8: This session continues the mindset discussion, addresses the "broke and poor" mindset, and delves into the crucial topic of generating traffic for online businesses.
Lesson 1: Let's Journal!
Lesson 2: Broke VS Poor Mindset
Lesson 3: Let's Talk Traffic!
Lesson 4: Tracking Time
Lesson 5: Clickmagick Setup
Session 9: Explores the importance of building delayed gratification and includes lessons on reviewing and building out value series.
Lesson 1: Focus On Building
Lesson 2: Delayed Gratification
Lesson 3: Value Series Review
Lesson 4: Value Series Build-Out
Session 10: Provides a lesson on morning routines and practical guidance on editing sales funnels, along with an interview with Melvin San Miguel.
Lesson 1: Real Talk
Lesson 2: Morning Routines
Lesson 3: Mastering Video
Lesson 4: Value Series Videos
Lesson 5: Edit Sales Funnel
Lesson 6: Melvin San Miguel Interview
Session 11: This session focuses on communication, setting up private email accounts, and integrating emails into an autoresponder.
Lesson 1: Behind The Scenes
Lesson 2: READ!
Lesson 3: Communication Strategy
Lesson 4: Set Up Your Private Email
Lesson 5: Email Creation Time!
Lesson 6: Integrate Your Email
Lesson 7: Add Emails To Autoresponder
Lesson 8: Conversion Pixels
Session 12: This session covers topics such as reviewing values, condensing time frames, funnel reviews, split testing, and getting traffic.
Lesson 1: 10 Values Review
Lesson 2: Condensing Timeframes
Lesson 3: Funnel Review
Lesson 4: Final Test!
Lesson 5: Split Testing
Lesson 6: Getting Traffic!
Session 13: This session addresses overcoming obstacles, taking action, and mastering unlimited traffic.
Lesson 1: How To Crush Obstacles
Lesson 2: Taking Action
Lesson 3: Unlimited Traffic Masterclass
Lesson 4: Master Your Traffic
Session 14: Explores commitment, building authority sites, and creating the first post.
Lesson 1: Your Commitment
Lesson 2: Audit Your Circle
Lesson 3: Your Authority Site
Lesson 4: Authority Site Build-up
Lesson 5: Create Your First Post
Lesson 6: Cultivating Your List
Lesson 7: Broadcasts and Segmentation
Session 15: This session discusses eliminating excuses and teaches students how to create and deliver bonuses.
Lesson 1: Self-Care
Lesson 2: Excuses!
Lesson 3: How To Convert More!
Lesson 4: Create Your Bonuses
Lesson 5: Bonus Page Creation
Lesson 6: Bonus Delivery
Session 16: This session focuses on overcoming the fear of failure.
Lesson 1: Status Check
Lesson 2: Fear Of Failure
Lesson 3: Manage New Customers
Lesson 4: Customer List Setup
Lesson 5: FB Tribe Building
Session 17: The last session covers attitude, time management, and what to do if you haven't made your first sale.
Lesson 1: Build Your Spider Web
Lesson 2: Attitude Is Everything!
Lesson 3: Where To Focus Your Time
Lesson 4: Aren't Making Sales?
One unique feature is the question and answer area at the bottom of each lesson. Also, each session includes homework assignments to encourage action.
This allows students to seek clarification on any concepts or topics covered in the training materials. Aaron Chen and other members of the community are readily available to provide answers and guidance, ensuring that students have a thorough understanding of the content.
It's important to note that each session offers unique insights and practical advice relevant to building a successful online business. While not every module may resonate equally with every student, the variety of topics covered ensures that there is valuable information for individuals at different stages of their online marketing journey.
The Invincible Marketer Facebook Community
One of the key components of this community is the Invincible Marketer student-only Facebook group. It provides a community for students to connect and seek guidance.
The Invincible Marketer Facebook community is an active and supportive environment, providing students with the resources and assistance they need to succeed in their affiliate marketing journey.
Whether it's networking with fellow students, seeking help from Aaron Chen, or receiving feedback on their work, students can rely on this community to enhance their learning experience.
Currently, the Facebook group has a membership of 1.5K members, allowing students to interact with each other and discuss their progress and challenges. Within this group, students have the opportunity to seek help and support from Aaron Chen himself as well as other expert marketers.
The Facebook group serves as a valuable platform for students to share strategies, exchange ideas, and collaborate on various aspects of affiliate marketing. It fosters a sense of community and enables students to learn from one another's experiences.
An additional benefit of the Facebook group is the opportunity for students to have their work reviewed by Aaron Chen himself. This personalized feedback from an experienced marketer can be invaluable in refining and improving one's strategies and campaigns.
Bonuses Included in the Program
The Invincible Marketer program not only provides comprehensive training in affiliate marketing but also offers three valuable bonuses for a limited time. These bonuses consist of mini-courses that cover different aspects of affiliate marketing, enhancing the overall value of the program.
Let's take a closer look at each of these bonuses:
Unlimited Traffic Masterclass
This mini-course focuses on the crucial aspect of driving traffic to your affiliate marketing campaigns. Without a steady stream of targeted traffic, it's challenging to generate sales and earn commissions.
The Unlimited Traffic Masterclass teaches various strategies and techniques for attracting high-quality traffic to your offers, ensuring your success in the affiliate marketing world.
Picking the right products to promote and effectively taking them to market is essential for success in affiliate marketing. This mini-course provides valuable insights and strategies for selecting profitable products, analyzing market demand, and effectively positioning your offerings.
By mastering the secrets of product profitability, you can maximize your earning potential as an affiliate marketer.
Building a strong brand and a loyal customer base is crucial for long-term success in affiliate marketing. This mini-course focuses on the art of branding and teaches you how to build a brand from scratch.
By implementing the strategies and techniques outlined in Tribe Building Secrets, you can establish a strong presence in your niche, attract a tribe of loyal followers, and drive consistent sales over time.
These bonuses provide additional value to the Invincible Marketer program, allowing you to further enhance your affiliate marketing skills and knowledge. They are designed to complement the core training materials, ensuring that you have a well-rounded understanding of the industry and the tools necessary for success.
What Will You Learn From The Invincible Marketer?
The core training in Invincible Marketer offers a comprehensive guide to building a profitable online business from scratch.
Aaron Chen, the creator of Invincible Marketer, has structured the training in a way that allows you to progress systematically.
It is recommended to start from the beginning and work your way through each session, completing the action steps along the way before moving on to the next.
Here are some of the key areas you will learn about in the Invincible Marketer training:
Picking the right niche: Discover how to identify profitable niches that align with your interests and expertise.
Choosing the right affiliate products: Learn the strategies for selecting affiliate products that have high demand and offer attractive commissions.
Understanding your target audience: Gain insights into understanding the needs and desires of your target audience to effectively market to them.
Creating a high-converting sales funnel: Learn the art of crafting a sales funnel that guides potential customers through the buying process, maximizing conversion rates.
Developing a success mindset: Discover the mindset and attitudes required for long-term success in the online marketing industry.
Writing compelling headlines and capture pages: Master the art of creating attention-grabbing headlines and captivating landing pages to attract and convert leads.
Building an email list: Learn the techniques for building a responsive email list and nurturing relationships with your subscribers.
Running profitable email marketing campaigns: Discover the strategies for crafting persuasive email campaigns that generate sales and revenue.
Driving traffic from various sources: Explore effective methods for driving targeted traffic from native ads, banner ads, social media platforms, and search engines.
Time management and productivity: Learn valuable time management techniques to boost productivity and ensure efficient use of your resources.
Building an authority website: Discover the steps involved in creating a successful authority website that establishes your expertise and attracts organic traffic.
Creating a successful YouTube channel: Learn the strategies for building and growing a YouTube channel to reach a wider audience and drive traffic to your offers.
Optimizing for maximum conversions: Discover the tactics for optimizing your marketing funnels, landing pages, and offers to maximize conversions and increase your revenue.
These are just some of the many topics covered in the Invincible Marketer program. Aaron Chen provides clear and easy-to-understand explanations, ensuring that even beginners can grasp and implement the concepts effectively.
How Much Does Invincible Marketer Cost?
The cost of Invincible Marketer is an important factor to consider when deciding whether or not to invest in this program. Currently, there is a special promotion where you can get access to the program for only $67 per month instead of the regular price of $197.
By taking advantage of this promotion, you will gain access to the step-by-step training, bonus content, and exclusive Facebook group. This monthly subscription gives you the flexibility to try out the program and see if it meets your needs.
However, if you are looking for a more long-term commitment, Invincible Marketer also offers a lifetime membership option. After purchasing the monthly subscription, you have the option to upgrade to a lifetime membership by paying a one-time fee of $430.
With the lifetime membership, you will have access to the Invincible Marketer course, updates, and the private group forever. This means you won't have to worry about any additional monthly recurring costs.
It's important to note that the lifetime membership is an exclusive offer and may not be available indefinitely. So, if you are considering investing in Invincible Marketer and want to secure a lifetime membership at a lower cost, it may be worth taking advantage of this opportunity.
If you're considering Invincible Marketer, you might also want to check out Video Authority Mastery. This additional program focuses on leveraging the power of YouTube to drive high-quality leads into your sales funnel. However, this is an optional upgrade and is priced at $497 for a one-time payment.
While there are plenty of bonuses and a supportive community within Invincible Marketer, it's worth noting that some crucial tools aren't included in the package. This means you'll have to outsource these tools separately, which could lead to additional costs.
In order to get the most out of the program, you'll need to invest in tools like ClickFunnels, a powerful funnel builder priced at $97 per month. Additionally, ClickMagick, a reliable link tracker, will cost you $37 per month. And don't forget about GetResponse, an essential autoresponder that will set you back $15 per month.
These tools are absolutely vital if you want to fully utilize the method taught in Invincible Marketer. So, keep in mind the extra expenses when considering the overall investment.
Pros and Cons of Invincible Marketer
Before making a decision, it's essential to weigh the pros and cons of Invincible Marketer to determine if it's the right investment for you.
Here are some key points to consider:
Pros of Invincible Marketer
Aaron Chen himself is a successful online marketer who has generated millions of dollars in sales. He has a track record of success and has helped many students achieve their financial goals through his program.
This gives students confidence that the strategies and techniques taught in Invincible Marketer have been tested and proven to work.
One of the standout features of Invincible Marketer is its focus on providing actionable steps for beginners.
The program breaks down complex marketing concepts into easy-to-follow strategies, making it accessible for those who are new to online marketing.
Supportive Community and Valuable Bonuses
When you join Invincible Marketer, you gain access to valuable bonuses and a supportive community. The bonuses include additional training materials, templates, and resources that can enhance your learning experience.
The community aspect allows you to connect with like-minded individuals, share ideas, and receive guidance from experts in the field.
Affordable Pricing Options
Invincible Marketer offers affordable pricing options, making it accessible to a wide range of individuals.
The program provides different tiers of membership, allowing you to choose the option that best suits your budget and needs.
30-Day Money-Back Guarantee
The program offers a 30-day money-back guarantee, which means you can try it risk-free. If you are not satisfied with the program within the first 30 days, you can request a full refund.
Cons of Invincible Marketer
Extensive Focus on Mindset
While Invincible Marketer's focus on mindset can be beneficial for beginners, it may not offer as much value to advanced users who are looking for more advanced marketing strategies.
The program places a significant emphasis on personal development and mindset, which may not align with the needs of experienced marketers.
As with any marketing program, it's important to stay up-to-date with the latest strategies and techniques.
Some users have reported that Invincible Marketer's strategies can be outdated, which may limit their effectiveness in a constantly evolving digital landscape.
While the core Invincible Marketer program may offer value, there are upsells within the membership that may require additional investment.
It's important to carefully consider these upsells and their relevance to your goals before committing to them.
Recurring Costs and Additional Tool Expenses
It's important to note that Invincible Marketer has a recurring cost as it offers monthly membership options.
Additionally, there may be additional expenses for tools and resources recommended within the program, which can add to the overall investment.
Narrow Focus on Traffic Generation
Invincible Marketer primarily focuses on traffic generation strategies, which may limit the scope of the program for those seeking a more comprehensive approach to online marketing.
While traffic generation is an essential aspect of marketing, a well-rounded program should cover other key areas as well.
Lack of Video Demonstration
Some individuals may find it easier to learn through video demonstrations. However, Invincible Marketer primarily relies on written content and audio recordings, which may not cater to all learning preferences.
Overall, Invincible Marketer provides actionable steps for beginners, valuable bonuses, and an affordable pricing structure. However, its focus on mindset may not appeal to advanced users; there may be additional costs for tools and resources, and the program primarily focuses on traffic generation.
It's important to consider these pros and cons in light of your own goals and preferences to make an informed decision.
You Might Also Like:
Is Invincible Marketer a Scam?
One of the most important questions to address when considering any investment opportunity is whether or not it's a scam.
In the case of Invincible Marketer, it is important to note that this program is not a scam but a legitimate training program developed by Aaron Chen, a well-known internet marketer with years of experience.
One of the key indicators that Invincible Marketer is not a scam is the fact that it offers a 30-day money-back guarantee. This means that if you are not satisfied with the program or feel that it hasn't delivered on its promises, you can request a full refund within the first 30 days of purchase.
Additionally, Aaron Chen is a reputable figure in the internet marketing industry. His track record and positive reviews from satisfied customers further support the legitimacy of Invincible Marketer.
It is also worth addressing the issue of upsells within the course. While it is true that Aaron Chen promotes a lot of upsells within Invincible Marketer, this is not necessarily a negative aspect.
Many legitimate online training programs include upsells as a way to provide additional value and enhance the learning experience. However, it is important for individuals to carefully consider whether these upsells align with their goals and budget before making any additional purchases.
Another issue that some people have raised is the Invincible Marketer program's heavy emphasis on mindset. While some may view the emphasis on mindset as excessive, it can be argued that it is a valuable aspect of the program that sets it apart from others in the industry.
When evaluating whether Invincible Marketer is a scam, it is essential to consider the overall value and effectiveness of the program. This ensures that participants have the necessary knowledge and skills to start their online marketing journey effectively.
While Invincible Marketer is not a scam, it is important to approach any investment opportunity with caution and do your own research.
It is always wise to thoroughly evaluate the program and consider whether it aligns with your goals and expectations before making a financial commitment.
If you are still unsure about Invincible Marketer, it is always a good idea to explore alternative options that may better align with your goals and preferences.
Is Invincible Marketer Worth The Cost?
When considering the features and benefits of Invincible Marketer, it's time to address the question that is on everyone's mind: is it worth the cost?
Investing in any program or training course can be a big decision, so it's important to carefully evaluate whether or not the investment will provide a return.
One of the main advantages of Invincible Marketer is the level of support and guidance provided. This level of one-on-one support can be invaluable, especially for individuals who are new to online marketing.
Another factor to consider is the cost of the program. Invincible Marketer offers different membership levels, ranging from a basic package to a more advanced level, with additional features and benefits.
The cost of each membership level varies, so individuals can choose the option that best suits their budget and needs.
While the program does require a financial investment, it's important to weigh the potential return on investment. If individuals are willing to put in the time and effort to implement the strategies taught in the program, there is a potential for significant financial rewards.
Ultimately, whether or not Invincible Marketer is worth the cost depends on the individual's goals, commitment, and willingness to take action.
It's important to approach the program with realistic expectations and understand that success may not happen overnight.
A Better Alternative
The sad truth is that unfortunately most of the programs promising to help you make money online are scams. I can say that confidently after exposing over 500+ of them here on this blog.
But the good news is that even though most of them are indeed scams, there are actually some very good programs in amongst them - some programs that can truly help you to earn money.
And out of all of the legit programs I've seen, the one I would recommend the most to anybody looking to get started online is Commission Academy. In my own opinion, that's the best place to start.
At Commission Academy, you'll be provided with everything you need (including the training & tools) to begin earning real money by promoting products or services for companies like Amazon online.
The best part is that there's literally no limit on the amount you can earn with it & the process is pretty simple which means that it's absolutely perfect for people that don't have much experience.
Some wealthy affiliates even earn as much as 5-figures per month... Or more!

I mean don't get me wrong, that kind of money won't just fall into your lap without doing any work... But the harder you're willing to work at it, the more you stand to earn with it.
So if you're looking to get started but don't know which route you should go down or which program you should join (and don't want to waste money on bogus things that don't actually work), then I'd highly recommend checking out Commission Academy first. You can learn more about it here.