In this review, I'll be taking a closer look at the Lottery Winner University program which has been put together by Richard Lustig, a 7-time lottery jackpot winner from Florida who claims he can help others master the art of winning the lottery.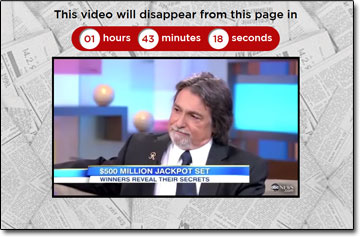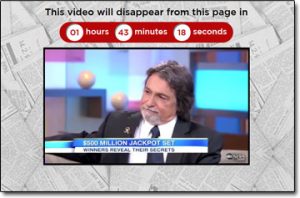 He says that luck has nothing to do with it & that winning the lottery (or winning anything for that matter) is down to statistical advantage, which he claims he is going to share with you throughout this program.
So is it legit – or is the Lottery Winner University a scam that's merely out to part people desperately dreaming of winning the lottery with their hard-earned cash? And if it's legit, how the heck does it all work?
Those are the exact things I'll be uncovering right here in this Lottery Winner University review, meaning if you've been thinking about signing up then you can rest assured that you've landed in the right place to find out everything you need to know about it before you do.
And don't worry – unlike many of the other reviewers online I'm not affiliated with this product which means you'll be reading an honest review, not just some biased nonsense that's been put together by an affiliate who's only really interested in getting you to sign up with the program so that they can earn themselves a commission at your expense.
What Is Lottery Winner University?   |   What Do You Get Inside?   |   How Much Does It Cost?   |   The Affiliate Program   |   Is Lottery Winner University a Scam?   |   A Better Alternative
What Is Lottery Winner University?
Put together by Richard Lustig, a 7-time lottery jackpot winner from Florida, the Lottery Winner University is a training program that claims to teach you how you can get a statistical advantage on winning the lottery.
Like me, you'll probably think that winning the lottery is down to pure luck (and to be honest, it is) – but despite that Richard Lustig claims that luck absolutely isn't involved & that you can actually have control over whether you win or not.
I mean don't get me wrong winning the lottery jackpot 7 times certainly puts some proof behind his claim, but it could also work the other way around – maybe he's just been extremely lucky & decided to profit from it even more by creating this program making out like he has a secret.
In my opinion, the latter is more likely, though whilst luck is definitely involved there is clearly some forms of statistical advantage that you can give yourself – such as purchasing more tickets for example…
So maybe Richard Lustig does have a secret after all? Let's see…
What Do You Get Inside The University?
The first thing I want to stress is that the product is the real deal in the sense that it has genuinely been put together by Richard Lustig himself, and it's not just some scam artist using his name to draw you in.
Inside of the product, you'll get access to a members area where you'll find written step-by-step methods along with videos that feature Richard himself explaining the methods he uses to gain his advantage.
Of course, I can't go into the specific methods here since the product is a paid-product & therefore I can't imagine Richard would be too happy about me openly giving his secrets away to the public.
On top of the training that teaches you how to win the lottery itself, you'll also get training that teaches you how to win on scratchcards (or scratch-off tickets as I believe them to be known in the USA).
The problem with this is that in my opinion, it could lead to a bit of a slippery slope – I mean it's like fruit machines in pubs, for example, once you think you have the upper hand it's easy to become addicted.
The same could happen here if you were to buy into this university – you could potentially find yourself becoming addicted to buying scratchcards & spending fortunes on the lottery in the belief that you've got an advantage.
How Much Does It Cost?
The entry-fee into the program is $49, and this is a recurring monthly payment so if you want to continue accessing the program then you'll need to pay this amount every single month.
The program does come with a 60-day money-back guarantee but it's worth pointing out that this guarantee only covers the first $49 payment & no subsequent ones or any of the upsells found inside.
Which yes, brings me onto the upsells – the website leads you into believing the program only costs $49 but after buying-in, you'll quickly find out there is a handful of upsells inside which could see you spending a few hundred dollars on top of your initial purchase. These upsells each claim to give you "even more" secrets to for obtaining a statistical advantage.
The good news is that the program is retailed through ClickBank which is renowned for being a fairly good merchant when it comes to buying digital products. Whilst there are some borderline scams listed within the network, generally, they make sure each program does come with at least "something" for your money, and they are also usually good at honouring refunds (but note what I mentioned above).
Lottery Winner University Affiliate Program
As I just mentioned the program is sold through ClickBank and ClickBank give people the opportunity to promote the products within their marketplace & earn commissions on each of the sales made.
So you can actually make money by promoting the Lottery Winner University as an affiliate – all you need to do is create an affiliate account at ClickBank (which is free), grab your unique tracking link & refer people to the website.
The Lottery Winner University affiliate program is actually quite lucrative as they claim to payout whopping 90% commissions – and these are paid on both the front-end purchases & upsells, meaning you could see yourself earning in excess of $250 per referral.
You can learn more about affiliate marketing & how to make money as an affiliate at Commission Academy, which is a free training program that walks you through the entire process & gives you everything you need to get started.
You Might Also Like:
Is Lottery Winner University a Scam?
Well, it's not a scam as you are provided with the training that you're promised, but ultimately you know as well as I do that in reality there's no statistical advantage to winning the lottery other than buying more tickets.
Sure you can pick numbers which have been drawn the most & what not but this doesn't provide you with any guarantee that they'll be drawn again – it really is just complete pot luck (despite what Richard says).
So, in my opinion, you'd be better off keeping the monthly fee of $49 in your pocket – or if you really want to up your chances of winning the lottery, spend that $49 on more tickets each month LOL.
Of course, that's a joke, don't really do that – I don't endorse gambling & stuff like that will end up seeing you sliding down a slippery slope so just keep a hold of your cash & enjoy what you've got rather than trying to win more.
In fact better yet, rather than trying to win more – why not learn how to make more? Despite what you might think it is indeed possible to legitimately make money online & you can find out how here.
A Better Alternative
The sad truth is that unfortunately most of the programs promising to help you make money online are scams. I can say that confidently after exposing over 500+ of them here on this blog.
But the good news is that even though most of them are indeed scams, there are actually some very good programs in amongst them - some programs that can truly help you to earn money.
And out of all of the legit programs I've seen, the one I would recommend the most to anybody looking to get started online is Commission Academy. In my own opinion, that's the best place to start.
At Commission Academy, you'll be provided with everything you need (including the training & tools) to begin earning real money by promoting products or services for companies like Amazon online.
The best part is that there's literally no limit on the amount you can earn with it & the process is pretty simple which means that it's absolutely perfect for people that don't have much experience.
Some wealthy affiliates even earn as much as 5-figures per month... Or more!

I mean don't get me wrong, that kind of money won't just fall into your lap without doing any work... But the harder you're willing to work at it, the more you stand to earn with it.
So if you're looking to get started but don't know which route you should go down or which program you should join (and don't want to waste money on bogus things that don't actually work), then I'd highly recommend checking out Commission Academy first. You can learn more about it here.