Mindset 24 Global is a relatively new network marketing company that claims alongside helping you to change your mindset it can also help you completely change your life financially too.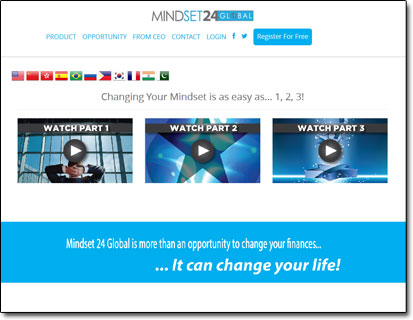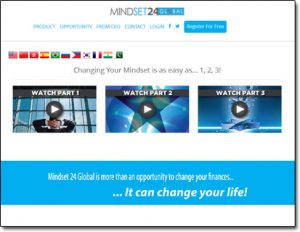 You're led to believe that the company is a game-changer & that the compensation plan will enable you to finally see yourself earning a good income online…
But is it actually legit, or is Mindset 24 Global a scam?
That's exactly what I'll be looking into in this review, so if you've come across this company & have been thinking about signing up then stick around to find out everything you need to know about them before you do.
What Is Mindset 24 Global?   |   How Does Mindset 24 Global Work?   |   The Products   |   Is Mindset 24 Global a Scam?   |   A Better Alternative
What Is Mindset 24 Global?
Mindset 24 Global is a company that claims it can literally change your entire life. It promises to provide you with top-notch training that will enable you to completely alter your mindset & an alleged game-changing opportunity that will see you achieving financial success too.
As I briefly mentioned at the start of this review Mindset 24 Global is what's known as a network marketing company, or direct sales company – whatever term you wish to call it (they're both the same thing) & ultimately this means making money with it will involve you promoting it & getting people to buy into it just like you did.
I personally don't care too much for this type of business model because people often think that you're just pushing some sort of pyramid scheme on them, and also because you're limited to what products you can promote (since you can only promote the ones inside of Mindset 24 Global itself).
I know it's not really relevant to the review, but In my opinion affiliate marketing is a much better business than the network marketing model because with affiliate marketing you don't need to pay anything to get started and you can promote literally any products you like.. If that's something that interests you instead of network marketing then you can learn how to get started here.
However, if you're specifically interested in Mindset 24 Global the question you're probably wondering is can you really make money with it? So let's take a look…
How Does Mindset 24 Global Work?
Okay so as the name suggests Mindset 24 Global sells products that relate to altering & improving your mindset. Several of the products have even been put together by famous names, such as Kevin Harrington from the Shark Tank, Jay Sargeant, Dr. Michael Beckwith & Sensei Ken Hayashi…

So it's safe to say the products will likely contain some quality content & I'm sure that they'll be fairly well sought after by people who are looking to shift to a better way of thinking… But rather than looking at the products themselves, in this review, I'm going to be delving into the attached business opportunity instead.
All I want to point out here though is that yes, there are legitimate products involved so it's not a pyramid scheme or scam. It appears to be a legitimate network marketing company as far as I'm concerned.
Well, it will be legitimate providing they have the proper balance of retail customers at least. Obviously, if everybody is only buying in solely to promote the opportunity itself then it could be a questionable opportunity… but there's no way of telling that without seeing their actual financial records which currently aren't public.
Anyway, so how's it all work?
Well, basically you can join Mindset 24 Global for free and begin building your time right away. This means you can start promoting Mindset 24 Global to others & trying to get other people on board…
Now as a free member you won't actually earn any money if other people sign up, but the people will remain positioned under you so that if you later decide to upgrade you'll still be able to earn from their efforts in typical network marketing fashion.
This is something that I actually find pretty cool because it gives you the chance to get a feel for the company before you go ahead & commit yourself. In fact, this is something I really like a lot since most other network marketing companies force you into spending hundreds (if not thousands like AWOL Academy does) before you can even get started.
But like I say as a free member you cannot make any money – if you want to do that you must upgrade to become what they call an "Active Agent" which will cost you a fee of $50 per year.
Then once you've paid the money to become an "Active Agent" you'll be able to earn money & you'll be able to do this through this different means which are Coded Bonuses, Coded Matches & Level 7 Profit Sharing Pools.
The compensation plan is pretty complex so I won't explain it all here (since it's already all explained in the PDF available on their website) but I will touch on it to give you a rough idea as to how it works…
Coded Bonuses – Basically when you refer people to Mindset 24 Global they either get coded to you or somebody in your upline. If they get coded to you then you earn a commission, if they get coded to somebody else then they get the commission instead. Your 2nd, 4th, 6th & then every 3rd sales after that will be passed to your upline.
Coded Matches – If someone who is coded to you earns a Coded Bonus then you will get a 100% matching bonus paid to you (as long as you're qualified on the product they sold – more on that in a moment).
Level 7 Profit Sharing Pools – 20% of every $1 commission goes into what they call their profit-sharing pools & you can qualify to earn from this by making certain amounts of the sales of the products (and by buying them yourself).
But whilst it might seem like you can make good money here with Mindset 24 Global, there is a bit of a catch…
The catch comes with the products…
You Might Also Like:
Mindset 24 Global Products
You already know what the products are – they're mindset training related products (videos, guides etc) & like I say I am not going to delve into the individual details too much here, but what you do need to know is that they're sold in packages.
The packages look like this:
Series 1 package – $100 (coded bonus commission pays $25)
Series 2 package – $400 (coded bonus commission pays $100)
Series 3 package – $1,000 (coded bonus commission pays $250)
Series 4 package – $2,000 (coded bonus commission pays $500)
Now, remember I said there was a catch with the opportunity above? Well, there is – the catch is that if you want to be able to earn any commissions on the sales of the products then you'll need to personally purchase them yourself.
So on top of the $50 yearly fee that you'll have to pay to become an active agent, you'll also have to spend up to $2,000 on the products (even if you don't want them) just so that you can get started.
If you don't purchase them then the commissions you should earn will simply be passed up to the next person above you that's qualified on them instead.
Obviously though if you're good at recruiting then this will turn around & ultimately work in your favour because you could get commissions passed up from the people below you… But if you're not, you could end up spending a lot more money with Mindset 24 Global than you ever manage to make back.
Which brings me onto…
Is Mindset 24 Global a Scam?
Well, it's not a scam since it does sell legitimate products & it does provide you with the opportunity to actually earn money through a network marketing style business opportunity… However, due to the fact that you actually have to purchase the products before you can earn commissions by reselling them I'd say that it's a very risky program to start with.
If you're excellent at recruiting people into business opportunities & you have lot's of people ready to sign up to it then you could stand a chance at making some good money with it – but if you don't, then you could likely end up spending more than you'll ever make back.
That's why I personally don't really like network marketing opportunities – because generally the people who join them never really find any great deal of success, despite the compensation plans promising the world.
I think when it comes to Mindset 24 Global the success will be reserved for the expert network marketers who get in at the top. I don't think the average Joe will do too well with this program… For that reason, despite it being technically legit I won't be recommending it. Instead, I'd suggest you check out affiliate marketing as I mentioned at the start of this review because that provides a much "safer" way to make money online. You can find out more about it & discover how to get started in my Wealthy Affiliate review.
Anyway, I hope you found the review useful & hopefully it gave you the insight that you were looking for into this company. If you do happen to have any further comments or questions about it then don't hesitate to leave them below.
A Better Alternative
The sad truth is that unfortunately most of the programs promising to help you make money online are scams. I can say that confidently after exposing over 500+ of them here on this blog.
But the good news is that even though most of them are indeed scams, there are actually some very good programs in amongst them - some programs that can truly help you to earn money.
And out of all of the legit programs I've seen, the one I would recommend the most to anybody looking to get started online is Commission Academy. In my own opinion, that's the best place to start.
At Commission Academy, you'll be provided with everything you need (including the training & tools) to begin earning real money by promoting products or services for companies like Amazon online.
The best part is that there's literally no limit on the amount you can earn with it & the process is pretty simple which means that it's absolutely perfect for people that don't have much experience.
Some wealthy affiliates even earn as much as 5-figures per month... Or more!

I mean don't get me wrong, that kind of money won't just fall into your lap without doing any work... But the harder you're willing to work at it, the more you stand to earn with it.
So if you're looking to get started but don't know which route you should go down or which program you should join (and don't want to waste money on bogus things that don't actually work), then I'd highly recommend checking out Commission Academy first. You can learn more about it here.