MobiSave is a cashback app for Android & iPhone devices that claims it can help you save money on your purchases, but is it actually legit or is MobiSave a scam? That's a question a lot of people are apparently wondering.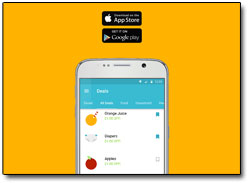 Well, I've decided to do the digging & in this MobiSave review I'll be uncovering everything you need to know about the app and thankfully no, it's not a scam but there are some important things you'll find out about it (such as whether or not it's actually worth your time).
So without further ado let's dive straight in & see what it's all about…
What Is MobiSave?   |   How Does MobiSave Pay You?   |   Where Can You Get Cashback?   |   MobiSave Complaints   |   Is MobiSave Legit?   |   A Better Alternative
What Is MobiSave?
As I very briefly touched on above MobiSave is a cashback app that's available for Android & iPhone devices. It's pretty similar to the Ibotta app so if that's something you're familiar with you'll probably have an idea as to how this app works.
If you're not familiar with Ibotta then let me explain…
Basically to save money through MobiSave all you need to do is either carry out your shopping online directly through their app or alternatively choose one of the offers they show you, shop in-store & then take a photo of the receipt from your purchase.
So as an example MobiSave might show you an offer at Walmart, then if you visit the store & take advantage of the offer you will be awarded points through the MobiSave app when you upload the receipt (after it's been verified).
It's pretty cool because the points you earn on your purchases can later be redeemed into cash so if you are spending anyway then you may as well use something like this to save yourself some money.
However of course you are restricted by the retailers/offers that are available within the app… And locations too.
How Does MobiSave Pay You?
In terms of payments MobiSave is pretty good as they pay you directly through PayPal so providing you have a PayPal account then you will be good to go with this app & you can start seeing savings immediately.
The other good thing about MobiSave is that the payments are generally very quick. Quite a lot of cashback sites or apps are renowned for taking a long time to process the purchases & as a result it can often be a while before you see your savings hit your bank account.
MobiSave on the other hand claim to pay your savings to you within just minutes of your purchase being verified which is pretty nice.
On top of that MobiSave don't have a minimum cashout limit or minimum amount of points needed to withdraw. Some cashback sites have minimum withdrawal limits which are usually around $10 to $20. This means you will have to buy quite a few things to actually get the savings sent to you but MobiSave don't have a limit so they will just send you the money regardless of how small it is.
Where Can You Get Cashback With MobiSave?
To be honest the places that you can get cashback through MobiSave is ever-changing so if I was to list them all here then by tomorrow the list would likely be outdated, however I will tell you that MobiSave is more geared towards grocery savings.
Don't get me wrong there are often some other types of offers & things that you can take advantage of through MobiSave however from what I have seen it generally seems to mostly consist of grocery offers at Walmart and things.
Also whereas some cashback sites will give you cashback for ANY item bought at a particular store, MobiSave is more about specific brand or offers. So rather than having the freedom to buy anything you want from a shop & earn cashback, generally through MobiSave you'll be tied to purchasing a specific brand, product or deal.
MobiSave Complaints…
Okay so obviously there are quite a lot of good things about MobiSave & there are a lot more people than just me who have good things to say about it, but I want to make you aware that there are also a lot of complaints about MobiSave.
And when I say a lot I mean a LOT.
In the Android app store for example at the time of writing this review there are 3,486 reviews for MobiSave, 1,448 are positive but a whopping 984 of them are negative. Overall the app currently has 3.3 stars and you can see that from the image below:

So you might be wondering, what bad things are people saying about MobiSave?
Well for a start a lot of people are complaining that they are struggling to find any of the brands or products listed inside MobiSave at the stores near them. This seems to be one of the biggest complaints.
Also, many people are saying that MobiSave has now updated the app & that it no longer works in the way that I mentioned. I cannot confirm this yet because maybe the new version has only been released to random people for trials but anyway they are basically saying that now instead of selecting offers you have to find special tickets on items in the stores. If you buy the item with the ticket on then you can purchase it & earn money through MobiSave but the tickets change at random & people say they are hard to find.
So whilst MobiSave is legitimate it does seem that in my opinion the Ibotta app is potentially the better 1 of the two… But both are free so I guess there's no harm in trying either of them & seeing which one works best for you.
You Might Also Like:
Is MobiSave Legit?
For those of you that have skipped right down here to see the verdict then yes I can confirm that MobiSave is indeed legit, it's not a scam at all – however I don't think I'll be recommending it because judging from other people's reviews in the app stores it seems like it is just too hard to make money with.
The reason for that is because apparently the app has recently update so now rather than finding offers through the app you have to go in stores & try to find MobiSave stickers on random products to get cashback. People are saying that it's just too hard to get cashback savings through the app now.
So overall I will say that yes MobiSave is legit, and it's free so you could try it out without any harm but I wouldn't really get your hopes about saving a great deal of money through it because it just doesn't seem all that great. It's a shame really because it was looking promising too since they didn't have any minimum cashout limits & honoured savings really quick… But it is what it is.
Anyway that's that, hopefully this review gave you the insight you were looking for. If you do happen to have any further questions or comments don't hesitate to leave them below.
A Better Alternative
The sad truth is that unfortunately most of the programs promising to help you make money online are scams. I can say that confidently after exposing over 500+ of them here on this blog.
But the good news is that even though most of them are indeed scams, there are actually some very good programs in amongst them - some programs that can truly help you to earn money.
And out of all of the legit programs I've seen, the one I would recommend the most to anybody looking to get started online is Commission Academy. In my own opinion, that's the best place to start.
At Commission Academy, you'll be provided with everything you need (including the training & tools) to begin earning real money by promoting products or services for companies like Amazon online.
The best part is that there's literally no limit on the amount you can earn with it & the process is pretty simple which means that it's absolutely perfect for people that don't have much experience.
Some wealthy affiliates even earn as much as 5-figures per month... Or more!

I mean don't get me wrong, that kind of money won't just fall into your lap without doing any work... But the harder you're willing to work at it, the more you stand to earn with it.
So if you're looking to get started but don't know which route you should go down or which program you should join (and don't want to waste money on bogus things that don't actually work), then I'd highly recommend checking out Commission Academy first. You can learn more about it here.