Mommy Jobs Online is a website that claims to be able to provide you with legitimate pre-screened work from home job positions & it can apparently even help you to get started the very same day…
Whilst it's a company cleared targeted at wanna-be stay at home moms realistically it's open to everyone, but is it actually legit like it makes o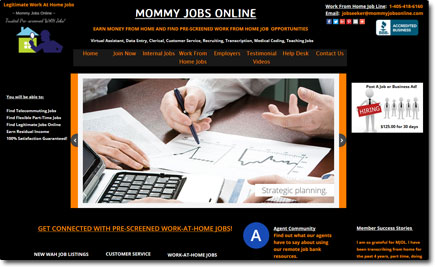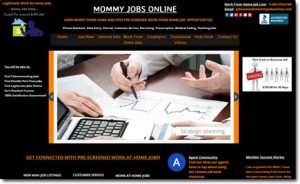 ut or is Mommy Jobs Online a scam that's after your cash?
I've taken a closer into it & in this Mommy Jobs Online review, I'm sharing what I've found.
What Is Mommy Jobs Online?   |   What Types of Jobs Does It Offer?   |   Is Mommy Jobs Online a Scam?   |   A Better Alternative
What Is Mommy Jobs Online?
Mommy Jobs Online claims to give you access to an online directory containing all the latest & greatest work from home positions that they have been pre-screened by members of their team, so essentially they're claiming that it's a "scam free zone" & that all the opportunities offered via the site are legitimate.
Whilst some of the jobs on there are indeed legitimate as they claim I would still approach the site with caution because a couple I've personally come across have been questionable to say the least.
One of those questionable "jobs" is the Shasmi Beauty position offered via their site which actually isn't a job at all, it's an opportunity to sign up as a distributor for a network marketing company (similar to Motives Cosmetics) that could see you spending a lot of money with no guarantee of you earning any back in return.
The website also claims to be accredited by the Better Business Bureau, which it is, however if you take a look at their profile on the BBB website you'll see that the website has had quite a few complaints as outlined below:

One of the complaints was written by a lady who claimed that she had spent $200 to get access to the Mommy Jobs Online members area only to find out that hardly any of the positions were available & that after submitting applications to over a dozen companies she didn't even get a call back from any of them.
And another lady claimed she spent $85 to get access to the jobs board but that she also found herself in a similar situation to the lady above, which I think you'll agree certainly doesn't make the whole thing sound too promising.
In both cases Mommy Jobs Online didn't appear to refund the customers as you can see below:

So Is Mommy Jobs Online Legit?
Well yes & no, Mommy Jobs Online is basically a paid membership site – they charge wanna-be stay at home moms a fee to access their jobs board where these moms are supposedly able to access legitimate high-paying work from home positions.
Whilst they do seem to list some legitimate positions in their members area the problem seems to be that there are very few & that as a result the majority of people who purchase the membership struggle to find any work through the site meaning they're left out of pocket.
To be honest you should never have to pay money to access a jobs board & it's usually a huge red flag when a company asks you to do so, however I cannot say that alone means the company is a scam.
But generally legit websites would charge the fees directly to the companies advertising the positions, not to the members themselves that are searching for the positions because if you're searching for them then chances are you're already a bit tight for cash as it is.
Basically what I'm saying is whilst the fact they are charging a fee doesn't in itself mean it's a scam, it does mean that you should be extra wary & do extra due diligence to see if it's actually legit.
It seems to me that ultimately Mommy Jobs Online is just a low quality website & that sadly the people behind it are more interested in taking peoples cash than they are with providing them with actual work from positions.
What Type of Jobs Does Mommy Jobs Online Offer?
The jobs offered via the site are things like data-entry, article writing, email processing & virtual job recruiting – yes these are real positions however generally they are very low paying & extremely mundane.
If you were fortunate enough to actually find a position that was still available via Mommy Jobs Online then I'd expect that you'd probably still find yourself disappointed because it would be unlikely to pay anything great & you'll probably see yourself working hours on end carrying out repetitive tasks.
Also you have to be very careful because as I mentioned earlier in this review some of the jobs offered via the site are very questionable – for example some of them like the email marketing "jobs" are not jobs at all they are business opportunities that will see you forking out even more money before you can actually make any back.
You'd be better off looking through this free list of ways to make money online I've personally put together here.
Is Mommy Jobs Online a Scam?
To be honest I'm going to say that yes Mommy Jobs Online is kind of a scam, because it appears to me that they're taking advantage of people by charging them hefty fees to access what's pretty much nothing more than a defunct jobs board.
Yes they do list some legitimate jobs in their members area but firstly not all of them are actually legitimate, secondly the majority of them are unavailable & thirdly they are all positions you can find elsewhere for free.
Basically the website just gets you very hyped up about the opportunity of potentially earning money from home & staying at home with your children to part you with your cash but then after that the members area & jobs board really under delivers.
I can almost guarantee that if you hand your cash over the Mommy Jobs Online website you will only end up finding yourself disappointed at the so-called "jobs" that you receive in return – therefore I won't be recommending it.
A Better Alternative
The sad truth is that unfortunately most of the programs promising to help you make money online are scams. I can say that confidently after exposing over 500+ of them here on this blog.
But the good news is that even though most of them are indeed scams, there are actually some very good programs in amongst them - some programs that can truly help you to earn money.
And out of all of the legit programs I've seen, the one I would recommend the most to anybody looking to get started online is Commission Academy. In my own opinion, that's the best place to start.
At Commission Academy, you'll be provided with everything you need (including the training & tools) to begin earning real money by promoting products or services for companies like Amazon online.
The best part is that there's literally no limit on the amount you can earn with it & the process is pretty simple which means that it's absolutely perfect for people that don't have much experience.
Some wealthy affiliates even earn as much as 5-figures per month... Or more!

I mean don't get me wrong, that kind of money won't just fall into your lap without doing any work... But the harder you're willing to work at it, the more you stand to earn with it.
So if you're looking to get started but don't know which route you should go down or which program you should join (and don't want to waste money on bogus things that don't actually work), then I'd highly recommend checking out Commission Academy first. You can learn more about it here.