My 10K Model claims to be an easy automated system that can allegedly generate you $1,000 instant commissions with little to no work & Michael Mansell the guy behind it all states that it's a "no brainer source of income".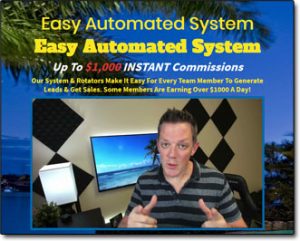 You're pretty much led to believe that you can simply sign up & start making money.
But is it actually legit or is My 10K Model a scam that'll just see you spending cash rather than actually making it?
Thankfully you've landed in exactly the right place to find out because I've done the digging & in this My 10K Model review, I'll be uncovering everything there is to know about this system including how it all works & whether you can really make any money with it. 🙂
What Is My 10K Model?   |   How Does My 10K Model Work?   |   Can You Make Money With It?   |   Is My 10K Model a Scam?   |   A Better Alternative
What Is My 10K Model?
My 10K Model is a system that claims it can help you easily generate wealth online & it pretty much leads you into believing that you can simply just sign up & start making money entirely on autopilot… But in reality, that's not the case.
The truth is that My 10K Model isn't an automated system at all – it's just a sales funnel that's been put together by a guy named Michael Mansell & its real intention is to get you to buy into something called Easy 1 Up.
The reason Michael wants you to buy into that is because he's affiliated with it which means if you sign up via his website (My 10K Model) then he'll earn a commission at your expense when you invest…
The problem though is that in my opinion Easy 1 Up is a Ponzi scheme.
It involves members signing up, investing in packages costing up to $1,000 & then recruiting other people to do exactly the same. There's no real products (or no real focus on them anyway) & commissions are paid out over multiple levels…
The whole thing's pretty sketchy, to say the least, and that's why I didn't recommend it in my review. But obviously, I don't expect you to just take my word for that, so instead let me walk you through what's really going on here…
How Does My 10K Model Work?
So as I mentioned above the My 10K Model system is entirely based around Easy 1 Up which Michael Mansell is affiliated with. He's basically created the My 10K Model system so that he can earn more money…
Let me explain how…
Initially, when you'll come across the My 10K Model system you'll be shown a video presented by Michael in which he tells you how the system will help you generate lot's of cash really easy – then to proceed further & find out more you're required to enter your name, email & phone number…
It's after entering those details that you get to find out what's really going on – because on the next page you're taken too Michael presents another video in which he instructs you to join Easy 1 Up.
Now in order to join Easy 1 Up you need to purchase at least one of their "products", which are priced as follows:
Elevation – $25
Elevation Elite – $100
Vertex – $250
Vertex Elite – $500
Vertex Pro "Connect" – $1,000
You do actually get provided with some "training" when you purchase the products, but I'm not even going to bother touching on what you get because honestly, the focus is pretty much entirely on recruiting.
In my opinion, the stuff you get when you purchase them has just been thrown in purely to try & keep the FTC of their back (because they won't want to get closed down for lack of product like Digital Altitude recently did).
But anyway yeah, Michael instructs you to purchase one of those packages – and pushes you into purchasing the higher-priced $500 or $1,000 ones by telling you that if you purchase those you'll get access to his "team rotator".

His team rotator basically sends new Easy 1 Up signups to random members of his team – so essentially you're led to believe that if you get on his rotator you'll just be able to earn cash without doing anything…
In reality, though things won't work out quite like that. Sure, team rotators sound the part – but in practice, they're not so great. The more people that sign up, the bigger his team gets & the less signups you get sent…
So don't get tricked into relying on some sort of "rotator"…
Then if you do happen to buy a package (which I don't recommend), that's when you find out that the way you make money is by sending other people to the My 10K Model system & getting them to invest like you did.
This time though when they enter their email & phone number – YOU will be the one responsible for contacting & following up with them, encouraging them to join… So you'll need to be pretty darn good at selling.
And do you really want to be suckering people into a system that'll likely just see them losing money? I sure hope not.
But when you do start bringing in members what you'll find is that you actually pass your second member up to the person above you & this is how Michael is making his money from the My 10K Model system…
Not only is he getting paid a commission when you invest, but he's also getting the second person you manage to recruit passed up to him so he's earning money at both your expense AND your efforts.
You Might Also Like:
Can You Make Money With My 10K Model?
It might seem like I've slammed the My 10K Model system pretty hard – the truth is though you can actually make money it… However you should know that the whole thing involves a lot of risk & the likelihood is that as a newbie you'll probably end up losing money.
Don't get me wrong though it's not the My 10K Model system that's really the problem here – it's Easy 1 Up that's the issue. I appreciate Michael has put something together to help him & his team make more money, it's just a shame it's based around something that strongly resembles a Ponzi scheme.
So yeah – you can make money with it, but there are some things you should know…
Firstly it won't be anywhere near as easy as you're led to believe it will be. If you really want to find success with Michael's program then you'll need to be prepared to work long hours recruiting people & convincing them to invest.
Secondly, you can only earn commissions on the products you personally own, so unless you buy in at the $1,000 level you're going to be losing out on money & someone else is going to be earning from your efforts instead.
For example, if you only bought in at the $25 level & you recruited somebody who bought in at the $1,000 level, you'd only get paid the $25 commission & the rest would get passed up to the next person qualified at that level above you (which will likely be Michael).
What I will so though is that whilst I'm personally against the business model of Easy 1 Up, I think that if you did decide to sign up to it you would be in a much better position to make money by signing up through the My 10K Model system.
The reason for that is because Michael has bundled some of his own additional training in with the program which will give you more help in terms of learning how to recruit people into Easy 1 Up.
Like I say I'm not specifically against Michael's program, I'm personally against Easy 1 Up…
Is My 10K Model a Scam?
Well no, it's not a scam by any means – if you signed up to it you would receive the potential to earn money by recruiting others into the program – it's just that I'm not a big fan of this sort of business model.
Plus you have to understand that finding success with the My 10K Model program won't be as easy as it's made out to be & you could end up spending more money than you ever manage to make.
Therefore overall I'm not be going to be recommending this program to you because I just feel it's too risky & there are plenty of other programs out there such as Commission Academy for example where you can get started without having to invest crazy amounts like $1,000 upfront.
Hopefully, you can see why I've come to that conclusion, and hopefully, my review here provided you with the insight you were looking for into this program. If you do happen to have any further questions or comments though then don't hesitate to leave them below. 🙂
A Better Alternative
The sad truth is that unfortunately most of the programs promising to help you make money online are scams. I can say that confidently after exposing over 500+ of them here on this blog.
But the good news is that even though most of them are indeed scams, there are actually some very good programs in amongst them - some programs that can truly help you to earn money.
And out of all of the legit programs I've seen, the one I would recommend the most to anybody looking to get started online is Commission Academy. In my own opinion, that's the best place to start.
At Commission Academy, you'll be provided with everything you need (including the training & tools) to begin earning real money by promoting products or services for companies like Amazon online.
The best part is that there's literally no limit on the amount you can earn with it & the process is pretty simple which means that it's absolutely perfect for people that don't have much experience.
Some wealthy affiliates even earn as much as 5-figures per month... Or more!

I mean don't get me wrong, that kind of money won't just fall into your lap without doing any work... But the harder you're willing to work at it, the more you stand to earn with it.
So if you're looking to get started but don't know which route you should go down or which program you should join (and don't want to waste money on bogus things that don't actually work), then I'd highly recommend checking out Commission Academy first. You can learn more about it here.