Easy 1 Up is a website that claims to be all about empowering online entrepreneurs & according to their "how it works" page the site can allegedly enable you to earn "big money fast", even if you have no previous experience at making money online…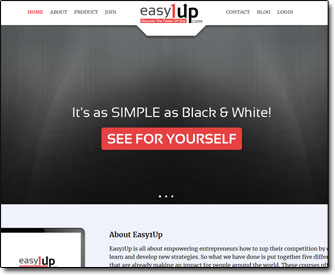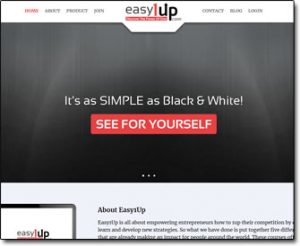 The site also goes on to state that as a member it will be like having your own personal ATM, which sounds pretty darn suspicious… So what's the deal, is it actually legit or will Easy 1 Up scam you & just result in you losing money rather than making it?
Thankfully you've landed in exactly the right place because I've taken a closer look at it & in this Easy 1 Up review I'll be uncovering everything you need to know including how it all works & whether or not you can really make money with it.
What Is Easy 1 Up?   |   How Does Easy 1 Up Work?   |   The Compensation Plan   |   Is Easy 1 Up a Scam?   |   A Better Alternative
What Is Easy 1 Up?
Essentially Easy 1 Up is a money-making opportunity that claims it can enable you to get rich quick simply by leveraging a "revolutionary" compensation plan which they call the Reverse 1 Up comp plan.
And right from the off I'll point out that the good old saying "if it sounds too good to be true then it probably is" definitely applies with this program because instead of making money you'll much more likely just end up losing it.
You see in reality the Easy 1 Up program is just a typical cash-gifting Ponzi scheme which means the whole thing is focused around recruiting & the only money coming into the company is from new members signing up.
I mean don't get me wrong they do technically have products, but if you take one look at the way the products are marketed you'll soon realize the whole thing is geared primarily around commissions, not product value.
The products are just there as an attempt to cover up what's really going on to keep the FTC off their back (so they don't end up getting shut down by them like Digital Altitude recently did)…
And it's so easy to see that is because literally every affiliate I've come across that's promoting Easy 1 Up is promoting is based on how much money you can make, not based on how the products will help you.
But anyway let me dive in & show you how it all works then you'll be able to see for yourself what's really going on with this program (and why you likely won't want to get involved with it)…
How Does Easy 1 Up Work?
So as mentioned at the start of this review Easy 1 Up claim to provide entrepreneurs with "killer digital products" that they can use to kick-start their business & see success online. They lead you into believing that you can sign up, promote these products & earn commissions as a result…
Which you kind of can do, but the true emphasis is blatantly NOT on the value of the products.
Instead Easy 1 Up is a scheme that promises to provide you with an opportunity to earn lot's of money – but in order to get started with it you're firstly required to buy one of their products.
Yes that's right – you can't promote the opportunity as an affiliate without purchasing a product, a major red flag.
Then once you've purchased a product & got inside you're left to discover that the way you actually make money with it is simply by recruiting others in & getting them to invest in a product just like you did.
BUT you can only earn commissions on the products you've personally purchased… So if you invest at the $25 level & someone you refer buys in at the $1,000 level then you won't earn a dime above $25.
This is a tactic that's used purely to pressure you into spending more money.
Sadly though if you do happen to invest you'll be left to find out the hard way that making money with the Easy 1 Up program is much more difficult then you were led to believe it would be.
You'll be required to heavily promote it online & unless you're already a marketing or recruiting expert the truth is you'll probably just end up losing your money rather than actually making money.
What Is The Easy 1 Up Compensation Plan?
On top of the direct recruitment scheme offered out via Easy 1 Up they also offer a multi-level style compensation plan, which they call the Reverse 1 Up comp plan. They claim this is will enable you to "earn big money and fast"…

So firstly, to get an understanding of the comp plan you will need to know about the "products" offered which are as follows:
Elevation – $25 – teaches network marketing basics
Elevation Elite – $100 – teaches free marketing methods
Vertex – $250 – more advanced marketing methods / mindset training
Vertex Elite – $500 – online money-making methods & more traffic training
Vertex Pro "Connect" – $1,000 – more marketing techniques
Okay now as mentioned in the previous section of this review in order to get access to the Easy 1 Up opportunity you MUST purchase at least any one of the products listed above. There's also a 10% admin fee payable on the products too, so if you bought Vertex Elite then you'd have to pay an additional $50 on top which goes to the creator of the website.
The rest of the money goes directly to the person that referred you, so again in the case of the Vertex Elite product, if the member who referred you also owned that product (or higher) he/she would be paid $500 directly from your purchase.
And it's worth pointing out that you're encouraged to start out with the highest package possible because if you do, then the others below it will be included for free. So expect to be pushed into spending $1,000+ in order to get started.
As mentioned earlier in this review as well, you'll only be able to earn commissions on sales of the products you've personally purchased. So if you only own Elevation, you'll only be able to earn $25 commissions.
All the tactics are geared towards getting you to spend more money.
So as I said there's also a multi-level compensation plan involved. This basically means that the second person you refer will be passed up & locked to the person that referred you – then similarly the 2nd person referred by anyone you got to join gets passed up & locked to you.
Essentially this means you don't earn anything for your 2nd sale, but you do get the opportunity to earn from the 2nd sales made by the people that you've recruited into the opportunity… Providing they go on to actually make any sales that is.
It sounds good in theory, but most people who join never manage to get the ball rolling.
Which brings me onto…
You Might Also Like:
Is Easy 1 Up a Scam?
Well it's not a scam as such since there is the potential to make money & there is technically products… But due to the fact that it involves making direct member to member payments & a multi-level recruitment program the whole thing just screams out cash-gifting Ponzi scheme.
Now I'll admit that whilst some people can indeed make money through these things (those who are experts in recruiting) ultimately they're setup for one reason & one reason only – which is to make the creator wealthy at the expense of others.
The truth is the program in my opinion at least doesn't provide you with any real value & if you end up joining then you'll likely just find yourself disappointed as you realize making money with it's nowhere near as easy as it's made out to be.
Therefore overall I'm not going to be recommending this program to you because I believe it's simply too risky & there's just no need to join something like this when there's other programs out there like Commission Academy for example which have a proven track record of helping people provide success (with involving such risk).
But anyway that's all I have left to say on the matter, I just hope my review here has given you a good insight into how Easy 1 Up really works. If you do happen to have any further questions or comments though then don't hesitate to leave them below.
A Better Alternative
The sad truth is that unfortunately most of the programs promising to help you make money online are scams. I can say that confidently after exposing over 500+ of them here on this blog.
But the good news is that even though most of them are indeed scams, there are actually some very good programs in amongst them - some programs that can truly help you to earn money.
And out of all of the legit programs I've seen, the one I would recommend the most to anybody looking to get started online is Commission Academy. In my own opinion, that's the best place to start.
At Commission Academy, you'll be provided with everything you need (including the training & tools) to begin earning real money by promoting products or services for companies like Amazon online.
The best part is that there's literally no limit on the amount you can earn with it & the process is pretty simple which means that it's absolutely perfect for people that don't have much experience.
Some wealthy affiliates even earn as much as 5-figures per month... Or more!

I mean don't get me wrong, that kind of money won't just fall into your lap without doing any work... But the harder you're willing to work at it, the more you stand to earn with it.
So if you're looking to get started but don't know which route you should go down or which program you should join (and don't want to waste money on bogus things that don't actually work), then I'd highly recommend checking out Commission Academy first. You can learn more about it here.