The My Hidden Pages website (found at MyHiddenPages.com) promises to provide you with an easy way to make a full-time income from home. You're led to believe that you can simply sign up & start making money right away just by copying some "done-for-you" websites.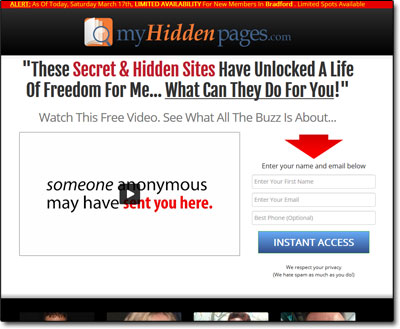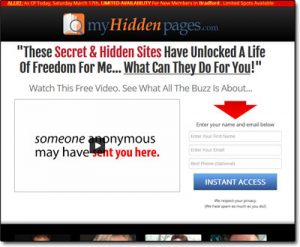 The creator claims that the sites he'll provide you with have unlocked a life of freedom for him & that they can do the same for you…
But is it all actually legit or is My Hidden Pages a scam that'll just see you spending money rather than making it?
Thankfully you've landed in the right place to find out because I've taken a closer look into it & in this review, I'll be uncovering everything there is that you need to know, including how it all works & whether or not you can really make any money with it.
What Is My Hidden Pages?   |   How Does My Hidden Pages Work?   |   Is My Hidden Pages a Scam?   |   A Better Alternative
The My Hidden Pages website promises to provide you with some "done-for-you" websites and it claims that by simply copying & deploying these you'll be able to generate yourself substantial wealth online…
And if that already doesn't sound good enough on it's you're also led to believe that the sites will generate an income for you on absolute auto-pilot, meaning that once they're launched you shouldn't have to lift a finger…
The creator basically wants you to believe that you can just sit back & watch the money roll in – but sadly in reality that isn't going to happen.
The My Hidden Pages system is actually just a get-rich-quick scam, and I'm sorry to be the one to burst the bubble but it's not going to help you make any money at all… The only thing it will do is take money from you.
How can I be so sure about that? Easy – I've seen the exact same system before launched under a different name. It was previously called My Secret Sites & they've clearly just changed the name in an attempt to try & escape the negative reviews so that they can continue scamming people.
The website still looks almost identical – and it operates in exactly the same way as when I last exposed it too.
But I don't just expect you to take my word for that, I appreciate that you might have been really hoping that this system would actually work for you so instead I'll show you what's really going on so that you can see for yourself.
As I briefly touched on towards the start of this review the My Hidden Pages website claims that it will simply provide you with some "done-for-you" money-making websites that you can deploy to begin earning some cash on autopilot…
And yes, if you do buy into the program they do actually provide you with these websites but the truth is they won't make you a single penny. The reason for that is because you can't just make money by using copied websites or copied content…
If you could then everybody would be doing it but sadly, in reality, it's not as easy as that.
I mean yes you can make money from a website, but in order to do so, the website & content needs to be original. This way if the content is original then search engines will list it within their results, people will click on it & visitors will come to your site… then you can make money from advertising (or various other methods).
If you're just using copied content then the search engines won't be interested in listing it since they'll already be listing the original content – they know that listing duplicates in their results will annoy their users so they simply just don't do it.
There's no ifs or buts, copied content won't get you anywhere when it comes to making money online. ?
The creator of the My Hidden Pages system is just trying to make the whole thing seem really easy to trick you into signing up. That's because he's not really interested in your success, he just wants to make money at your expense.
You see in order to get access to the My Hidden Pages system you first have to pay a $97 fee. This gets you access to the "secret sites" and provides you with some training videos that show you how to set everything up…
The spending doesn't end here though because My Hidden Pages will also recommend a web hosting company to you as well. The companies they recommend change but they claim the one they recommend is "the best company" – it's not, it's just the one that's paying them the highest commission for referring you… So expect it to be the most expensive company.
All in all, you could see yourself spending hundreds of dollars before you even get to deploy your so-called "profitable websites", and then when you finally do you'll be left to find out the hard way that they're not quite as profitable as promised.
In my opinion yes it is. The whole thing is extremely misleading & it leads you into believing that you'll be able to make money quickly & easily online but in reality that couldn't be further from the truth.
The only reason this system has been set up is to make the creator wealthy at your expense – it's clear to me that the person behind it has absolutely no real interest in your success & just wants to make a quick buck.
If you really want to learn how to set up profitable websites without having to pay insane fees to get started then I suggest you check out a legitimate company like Commission Academy instead. It's there that you'll learn all the proper methods to succeed online.
But overall it's safe to say I'm not going to be personally recommending the My Hidden Pages system – I strongly believe that if you buy into it you will just find yourself disappointed since it doesn't provide any real level of value.
If you do happen to have any further questions or comments about it though then don't hesitate to leave them below.
A Better Alternative
The sad truth is that unfortunately most of the programs promising to help you make money online are scams. I can say that confidently after exposing over 500+ of them here on this blog.
But the good news is that even though most of them are indeed scams, there are actually some very good programs in amongst them - some programs that can truly help you to earn money.
And out of all of the legit programs I've seen, the one I would recommend the most to anybody looking to get started online is Commission Academy. In my own opinion, that's the best place to start.
At Commission Academy, you'll be provided with everything you need (including the training & tools) to begin earning real money by promoting products or services for companies like Amazon online.
The best part is that there's literally no limit on the amount you can earn with it & the process is pretty simple which means that it's absolutely perfect for people that don't have much experience.
Some wealthy affiliates even earn as much as 5-figures per month... Or more!

I mean don't get me wrong, that kind of money won't just fall into your lap without doing any work... But the harder you're willing to work at it, the more you stand to earn with it.
So if you're looking to get started but don't know which route you should go down or which program you should join (and don't want to waste money on bogus things that don't actually work), then I'd highly recommend checking out Commission Academy first. You can learn more about it here.