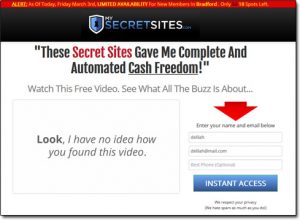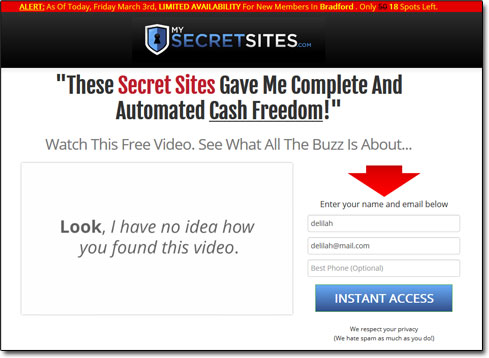 Product Name: My Secret Sites
Product Owner: Rocky Lin (unverifiable identity)
Cost: $97 ($77 if you try and exit)
My Score: 0/100
Quick Summary: It's a system that's packed with nothing but false promises & bold income claims that are not achievable through the teachings of this system alone. The only people making money from this system are the owners & the affiliates who are promoting it earning commissions at your expense.

Read on for my full review…
What is the My Secret Sites system?
It's something that claims to provide you with a "done-for-you income system" and you're led to believe that you can simply sign up, duplicate their profitable websites & start seeing the same profits for yourself.
Unfortunately in reality things don't work out quite like that.
I really wish internet business was that easy because it would certainly make my life a whole lot easier, but the truth is that it's not & this system is just preying on newcomers with little experience who think that they can buy this stuff & start seeing profits with little to no work.
Duplicating a website is certainly do-able, but duplicating the profits isn't.
Anybody can copy a website but the hard part is getting the visitors & if you don't have visitors then you're not going to make any money.
The big problem with the My Secret Sites system is that you're given very unrealistic expectations & then you're led to believe that you can instantly profiting but that's no the case – after you've purchased the system all you'll be provided with is a bunch of vague training telling you how to setup a website and start getting visitors.

The information provided by the My Secret Sites system is also information that you can get for free elsewhere – such as right here in this blog post I wrote.
Don't fall for it…
It's clear that the creators of this system are only interested in taking your money because there is absolutely no contact details listed on their website for you to get in touch with them & reach out for help.

Any genuine product that had real interests in your success would offer some sort of support center or forum where you could get help.
There isn't even any details listed as to which company (or person) actually runs this system which is always a huge red flag.
And on top of that the system uses rush tactics such as fake "limited spaces" counters to try and rush you into signing up. The reason they do this is to try & prevent you taking time to look around for reviews, and I think it's probably quite obvious why they don't want you to see the reviews about this system.
Ultimately it looks like they just want to take your money and run.
Something I hadn't seen before…
When I was investigating the website for this system I noticed they seemed to offer a very strange pricing structure which made me a laugh a little bit.

On the discount page you're told that the regular price for the system is $67 but you can save $20 and get it for $79, LOL.
It looks to me like they're just inventing prices & that they have messed up in the process, but the important thing is that if they can't even be bothered to make sure their website is correct then how does that reflect on their training? Clearly it's not going to be up to a very high quality standard.
After further investigating it seems like the normal price for this product is actually $97, but if you try and exit at any point you are given access to this $20 discount.
Don't get sucked in though because even at $79 (or $67 for that matter) it's still overpriced and it's still information that you can get elsewhere.
I've wrote several guides that will give you the same (and more) help as the My Secret Sites system for free:
Those are just a handful of the tutorials that I've wrote but you get the idea, if you use the search bar on this website you can get a lot more training than that which is provided by the My Secret Sites system but by getting it here you'll be getting it at no-cost.
My final verdict on the My Secret Sites system
I'm sick and tired of seeing systems like this because they set false expectations for people & give the concept of making money online a bad reputation.
It's certainly possible to make money online, and it's certainly possible to make a lot of money online but you simply cannot do it without any work by "copying websites" as the My Secret Sites system claims you can.
The funny part is though that the creators of this system aren't even making money the way they are claiming they are – they are making money at your expense by getting you to buy into their duff program. It's like the pot calling the kettle black.
My advice would be for you to avoid this system & to look for something genuine instead that provides you with realistic income claims & achievable goals.
You should always be wary whenever something promises you that you'll make money without doing anything at all because I assure you that there's always be at least some sort of work required to get your business off the ground whether it's building websites or getting visitors.
So on that note I hope you appreciated my insight into this system & I hope I was able to help prevent you from parting with your hard earned cash. If you have any experience with the My Secret Sites system then feel free to leave a comment below as it will help others who are also looking into it.
And of course if you have any questions about this system or making money online in general then be sure to use the comments section to ask those too because I'm always more than happy to help you get started on the right track.