A few days ago I was taking a look into a money-making program named Multiple Streams Machine which instructed members to take out a prepaid card named the Netspend card.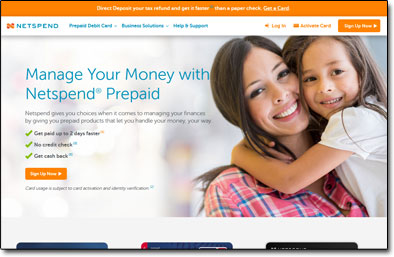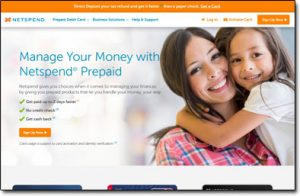 Apparently, if people took out the Netspend card then referred others to do the same, they could earn thousands of dollars per month – according to the Multiple Streams Machine program at least.
But is it actually legit? Or is Netspend a scam?
Well, in short, I can tell you that the card itself is actually legitimate, and so is the Netspend refer a friend for $20 program – but the well-hidden fees may make you think twice about joining.
You'll see what I mean as I explain how it all works in this Netspend review…
What Is NetSpend?   |   The Refer a Friend Program Explained   |   NetSpend Card Fees   |   Is NetSpend a Scam?   |   A Better Alternative
What Exactly Is Netspend?
Basically Netspend is a prepaid card that (as the name suggests) is primarily designed for enabling people to spend money online without having to worry about scammers potentially clearing out all of their cash.
You see with a prepaid card you simply load it up with cash, and you can only spend the cash that's on it… Once it's gone, it's gone – until you then go & load it up again of course.
So let's say you had a bank account that had tens of thousands in, you may be worried about using the attached card to make purchases online since any fraudsters could clear out the whole lot if they happened to get your details.
And that's where the Netspend card comes in.
Instead of using the card attached to your primary bank account to shop online, you can put a smaller amount onto a Netspend card and use that instead, to protect the rest of your cash.
If somebody then gets your Netspend card details they can only clear out the amount that you've deposited onto it – which admittedly still isn't great, but it's certainly better than them clearing out everything you have.
Plus on top of that, they also offer a refer a friend program through which people can earn money by referring friends to Netspend & as a result the company has been getting promoted pretty heavily.

But are people just saying good things about Netspend because their earning money through the Netspend refer a friend program?
Or is Netspend really a good company?
Let's take a closer look to find out…
The Netspend Refer a Friend Program
The Netspend refer a friend program is actually quite well hidden on the Netspend website, which is unusual – but after a bit of digging, I was able to find out all of the details about it.
So the first thing you need to know is that in order to participate in the refer a friend program you must actually be an active customer of Netspend, meaning you must have an active card.
To get an active card you'll need to apply, then once approved you'll need to deposit at least $40.
Then, once an active customer you'll be eligible to refer new people.
In order to actually earn money from the people that you refer though, they must also go through the same activation process – and you won't earn a penny until they complete it.
The good news though is that as soon as they deposit the $40, you'll get paid $20.
It's safe to say that it's a pretty nice commission for sure, but the question that you have to ask is why are Netspend paying such high commissions?
What are they gaining from it? And how are they making their money?
Which brings me onto…
The Netspend Card Fees
Turns out that the Netspend refer a friend program isn't the only thing that's well hidden on the Netspend website, as the fees associated with the cards appear to be pretty well hidden too.
And in my opinion, it's kinda easy to see why.
Here's a rundown of the primary fees associated with the Netspend prepaid card: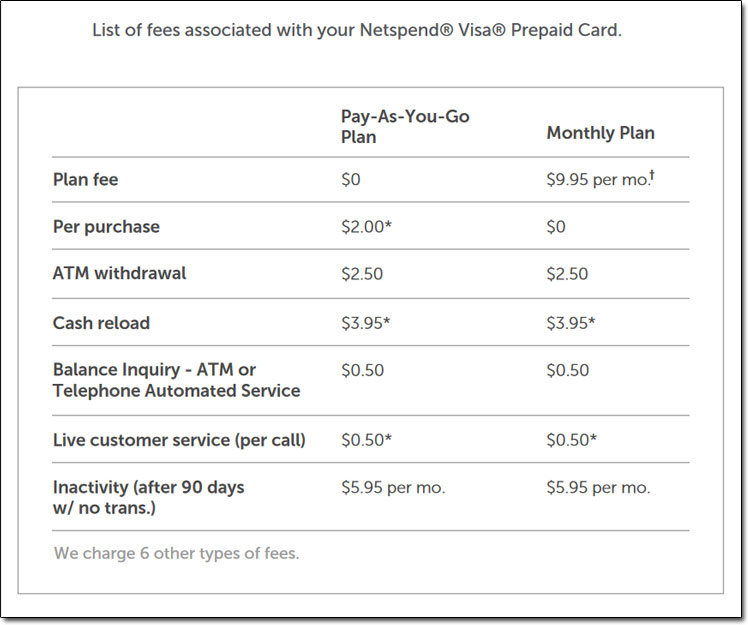 So whilst the idea of having a Netspend may seem handy since it can help you to spend online whilst protecting the rest of your cash, it's also annoying in the sense that you're having to actually pay money, to spend your own money.
And I think you'll agree with me when I say that it's not cheap.
$2.00 per purchase?
That's a lot.
$3.95 every time you want to put some more money onto the card?
I think it's now quite easy to see how they're able to pay out whopping commissions of $20 per friend referred… They must be making an absolute fortune from those hefty fees.
I mean, let's just compare it against the fees of another popular mainstream prepaid card:

It's commonplace that most other prepaid cards just either charge a one-off application fee or add fees to ATM withdrawals – rather than add fees to pretty much everything like Netspend.
And that brings me onto…
Is Netspend a Scam? My Final Thoughts
Well, Netspend certainly isn't a scam – it's a legitimate prepaid card that you can deposit money onto & use to spend just like a normal debit card… However, it may not be the best choice.
In my opinion, it seems that Netspend is simply just getting promoted more heavily because of their attractive refer a friend program.
So the people saying great things about Netspend may not necessarily be saying them because they're actually true – they may just be saying them because they're hoping to make a chunky $20 commission.
And that certainly applies to the Multiple Streams Machine program.
They basically only included Netspend in their program in order to earn commissions. They just tell people to sign up for the card, then get others to sign up for the card, which almost makes it a pyramid scheme.
So if you've been told to sign up to Netspend by somebody then all I would do is advise you to do your research first.
Don't just dive in head-first & sign up, instead, check for alternatives.
And if you're signing up to it purely to promote it, just know that you don't need to be forced into paying $40 just to unlock the opportunity to earn commissions. There are many other programs that you can join for free.
In fact, as an affiliate, you can promote literally almost anything you want, which is why it's one of my top-recommended ways for making money.
If you'd like to learn more about promoting things as an affiliate & how you can earn money from it then before you leave I'd highly recommend you check out the Wealthy Affiliate training program.
But whatever you decide to do I just hope that this review of Netspend has given you a good insight into why it may not necessarily be as great as it seems – and hopefully it's helped you decide if it's really the right choice for you. 🙂
A Better Alternative
The sad truth is that unfortunately most of the programs promising to help you make money online are scams. I can say that confidently after exposing over 500+ of them here on this blog.
But the good news is that even though most of them are indeed scams, there are actually some very good programs in amongst them - some programs that can truly help you to earn money.
And out of all of the legit programs I've seen, the one I would recommend the most to anybody looking to get started online is Commission Academy. In my own opinion, that's the best place to start.
At Commission Academy, you'll be provided with everything you need (including the training & tools) to begin earning real money by promoting products or services for companies like Amazon online.
The best part is that there's literally no limit on the amount you can earn with it & the process is pretty simple which means that it's absolutely perfect for people that don't have much experience.
Some wealthy affiliates even earn as much as 5-figures per month... Or more!

I mean don't get me wrong, that kind of money won't just fall into your lap without doing any work... But the harder you're willing to work at it, the more you stand to earn with it.
So if you're looking to get started but don't know which route you should go down or which program you should join (and don't want to waste money on bogus things that don't actually work), then I'd highly recommend checking out Commission Academy first. You can learn more about it here.