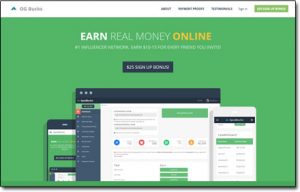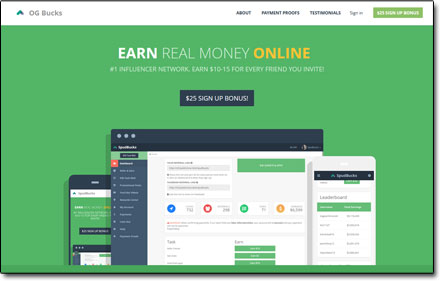 Have you stumbled across the newly launched OG Bucks influencer network which promises to pay you as much as $500 per day just for sharing links online & inviting friends to create free accounts?
Are you now wondering if it's really legit & if it actually pays, or if it's just a scam to avoid?
Well the good news is that you've landed in exactly the right place because in this OG Bucks review I'm going to be uncovering everything there is to know about OG Bucks including why you should avoid it & how to protect yourself if you've already signed up.
First though before I dive into the review I'll point out that if you'd prefer to just head straight to something legitimate instead which actually works then you can check out my number 1 recommendation below:
Go here to see my no.1 recommendation for making money online
(This 100% free training shares my exact strategy for making 5-figures per month)
Click Here To See My #1 Recommendation For Making Money
Or simply keep on reading for my full review of OG Bucks…
What Exactly Is OG Bucks?
OG Bucks calls itself the "#1 influencer network" and it basically promises to provide an easy way for people to earn lots of money online by simply sharing links & getting people to sign up for free.
You're told that all you need to do is sign up, copy your link, share it & that you'll then get paid between $10 to $15 for every person that also then happens to create a free OG Bucks account after going through your link.

Sounds easy, right?
And the people behind OG Bucks even claim that most people are making as much as $500 per day through their website…
But if everybody is signing up to OG Bucks for free & then just getting other people to sign up for free then how an earth can OG Bucks afford to pay out so much money? Where is the money coming from?
And if OG Bucks really pays then why on earth isn't everybody using it? Why are people still working at jobs they dislike if they can just sign up to OG Bucks & easily earn $500 per day by simply sharing links online?
The answer is because in reality OG Bucks is nothing but a scam.
None of the members who join OG Bucks will ever get paid & the reason I can say that so confidently is because I've actually already exposed this scam several times before under various different names.
The people behind it simply keep on changing its name in an attempt to escape the reviews which expose the truth about it (like this one) so that they can continue tricking people into signing up & profiting at their expense.
Some of its most recent other names include Clout Bonus & Swipe 2 Earn… The name may change but the scam remains exactly the same.
And in this instance the scam behind OG Bucks is actually pretty darn dangerous as you'll soon see for yourself when I explain in finer detail how it all really works below…
How Does OG Bucks Work?
Basically OG Bucks is a fake money-making opportunity which has been launched to trick people into handing over their data as in reality the truth is that OG Bucks is something known as a data-harvesting scam.
This means that nobody who joins OG Bucks will ever get paid, but it also means that those who join will be putting their accounts at risk (and will also potentially be luring others into the scam by sharing links with them).
You see the people behind OG Bucks are basically preying on the fact that most people use the same credentials (username/email/password) for every single website that they visit online.
So when you sign up to OG Bucks, the people behind it will then attempt to break into any accounts that they can find associated with your details – which could include Facebook accounts, PayPal accounts & even banking accounts.
Here's a comment from a user who reported that exact occurrence here on this website: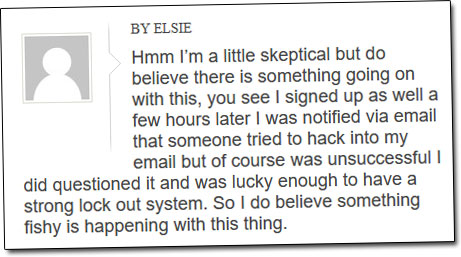 Plus even if they're unsuccessful at compromising your accounts it's still not necessarily good news as your data will simply be sold on to shady third party marketing companies that'll bombard you with spam (and potentially more scams).
Which means in short, OG Bucks is definitely worth avoiding – and if you've already signed up using the same details that you happen to use elsewhere then you should definitely go & change them ASAP.
So as an example if you signed up to OG Bucks using the same details that you use to sign into Facebook then you should head on over to Facebook & change them there to prevent the people behind OG Bucks gaining access to your account.
And also if you've already shared the link to OG Bucks with other people then I'd strongly recommend sharing this OG Bucks review with them to make them aware of what's really going on so that they too can protect their own accounts.
But My Balance Shows I'm Making Money?
The reason that the OG Bucks scam & other associated scams like it have caught so many people out is because the people behind them have gone to long lengths to try to make them seem legit.
And one of the things they've done is set it up in such a way that your account balance increases accordingly with every friend that you invite which is done in an effort to make you think that it's actually working.
This means that many people see their account balance increasing & think that they're actually making money but they're not, the money isn't real… It's just a trick to encourage you to keep referring more people.
Unfortunately when you finally accrue enough to request a withdrawal you'll just be left to find out that hard way that OG Bucks doesn't really pay & that it's all been nothing more than a mere waste of time.
This is also the reason that OG Bucks have such a ridiculously high withdrawal limit – because they want to trick you into referring as many people as you can before you're able to discover that it doesn't really pay.
These comments left by people who've previously been caught out by this same scam prove exactly that:

Which brings me onto…
My Verdict – Is OG Bucks a Scam?
OG Bucks is definitely a scam, there's no doubt about & as I mentioned towards the beginning of this review it's actually a pretty dangerous scam because the people behind it are set out to steal your data in an effort to comprise your online accounts.
And even if they don't manage to break into your accounts they'll still end up selling your data onto shady third-party marketing companies which will then simply bombard you with spam or potentially lure you into further scams.
OG Bucks make their opportunity sound great but unfortunately nobody that joins will ever find themselves getting paid & so it therefore comes without saying that you should steer well clear of the OG Bucks website. Don't sign up & certainly don't share it.
Instead if you really want to earn money online legitimately I would recommend you stick with a proven method from my top picks page right here.
Or alternatively you could even learn about the same way that I personally make most of my own money online which is through something called affiliate marketing (and it's one of my all-time top recommendations).
The reason I like affiliate marketing so much is because thanks to programs like Wealthy Affiliate it's easy to get started with & there are also no limits on the amount you can earn meaning the harder you work, the more you stand to make.
But whatever you decide to do I just sincerely hope that my review of OG Bucks here has helped you to see how it really works & most importantly I hope it's helped to prevent you from getting caught out by it.
If you do still happen to have any further questions or comments though then of course don't hesitate to leave them below. 🙂