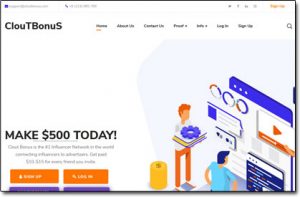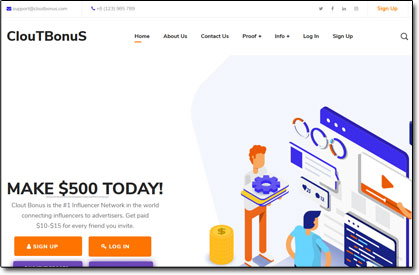 Clout Bonus claims to be the #1 influencer network in the world & it promises to provide you with access to an easy way to earn as much as $500 per day online by simply sharing links on social media.
You're led to believe that the Clout Bonus website connects advertisers with influencers & that you can earn $10 to $15 for every friend you invite… But does Clout Bonus really pay or is it just a scam to avoid?
I'm really glad that you asked the question before signing up because I can immediately tell you here in this Clout Bonus review that the whole thing is NOT what it seems & nobody who joins will ever get paid.
I'll explain more on that in a moment (and explain how it really works) but first before I do I'll point out that if you'd prefer to just head straight to something legitimate then you can check out my top recommendation below:
Go here to see my no.1 recommendation for making money online
(This 100% free training shares my exact strategy for making 5-figures per month)
Click Here To See My #1 Recommendation For Making Money
Or simply keep on reading for my full review of Clout Bonus…
What Exactly Is Clout Bonus?
So as I briefly touched on above Clout Bonus calls itself the "#1 influencer network" and it claims to provide the opportunity for people to easily earn lots of money online by simply sharing links on social media.
As a newcomer to Clout Bonus you're led to believe that you simply need to sign up & share links & that you'll then earn between $10 to $15 for every friend that you get to sign up to Clout Bonus just like you did.

So basically you sign up to Clout Bonus for free, then you get others to sign up to Clout Bonus for free, then you get paid…
But wait a minute, how's that work?
How on earth can Clout Bonus afford to pay you between $10 to $15 for every friend you invite if everybody is joining for free? If nobody is spending money, how is Clout Bonus making money?
Well Clout Bonus state this in their FAQ:
Money generated from ad-spend revenue and sponsorship products is used to pay our members.
However what you might have noticed is that there are NO adverts whatsoever on the Clout Bonus website, so blatantly that statement is a lie… And unfortunately I can tell you that the whole Clout Bonus opportunity is make-believe too.
Nobody who joins Clout Bonus will ever actually get paid, instead they'll just be putting themselves at risk of getting scammed.
And the reason I can say that so confidently is because I've actually exposed this exact same scam several times before. It's previously been called Clout Bucks, Clout Share & Paid4Clout…
2 days ago I also exposed another version of it under the name of Swipe 2 Earn as well…
The people behind it simply keep on changing the name of it in an attempt to escape the negative reviews that expose the truth about it (like this one here) so that they can continue tricking people into signing up.
So how does it really work and what happens if you do sign up (which I don't recommend doing)?
Keep reading to find out as I explain in finer detail what's actually going on behind the scenes over at Clout Bonus…
How Does Clout Bonus Work?
Clout Bonus want you to believe that you'll be able to sign up for free & earn money by referring others but that's simply not true… In reality the whole thing is just something known as a data-harvesting scam.
The promise of being able to earn money is a fake one & it's just designed to lure you into signing up (so that they can get your data) & then they tell you that you'll earn money by promoting it (so that they can get other people's data).
The problem is that nobody who joins Clout Bonus will ever get paid as there isn't really any money coming into the company.
This means that even though your account balance appears to increase as you refer new members, you'll never actually be able to withdraw your earnings.

You see all the people behind Clout Bonus want is data, because they're basically preying on the fact that most people who create accounts on websites use the same username/password/email combination on every site they visit.
So if you sign up to Clout Bonus (which I don't recommend doing) the people behind it will then begin trying to find other accounts associated with the details that you entered & attempt to break into them.
This could include Facebook accounts, Twitter accounts, PayPal accounts & even bank accounts…
And even if they're unsuccessful at getting into your accounts the problems don't end there as they'll then simply sell your details onto shady third-party marketing companies who'll likely bombard you with spam.
Basically the whole thing is bad news.
But what's the worst (in my opinion) about the Clout Bonus scam is that they're actually tricking the members themselves into promoting the scam to others because the members think that they're earning money.
So by referring others, you would actually simply be recruiting other people into Clout Bonus' scam… Which is why it's obviously super important that you don't share the Clout Bonus site (and instead share this review exposing it).
But What If You've Already Signed Up?
If you've already signed up to Clout Bonus prior to arriving at this review then unfortunately you can't remove your details from Clout Bonus, however what you should do is change your credentials ASAP if you happen to use the same ones elsewhere.
So as an example if you signed up to Clout Bonus using the same username, email or password that you use to sign into Facebook then you should head to Facebook and change those ASAP to prevent anybody behind Clout Bonus trying to hijack your account.
Plus if you happened to have signed up & already begun promoting the opportunity to others then I would also highly advise that you share this Clout Bonus review with them so that they too can protect their accounts.
And just in case you're still considering trying it out…
Here's The Proof That It's Not Real
First thing's first, there's the fact that as I mentioned towards the start of this review I've already exposed this scam several times before when it was launched under different names like Clout Bucks, Clout Share & Paid4Clout.
Then there's the fact that the "testimonials" mentioned getting started around a year ago however a quick lookup on the domain name shows that the website has only been in existence for little over a month as shown below: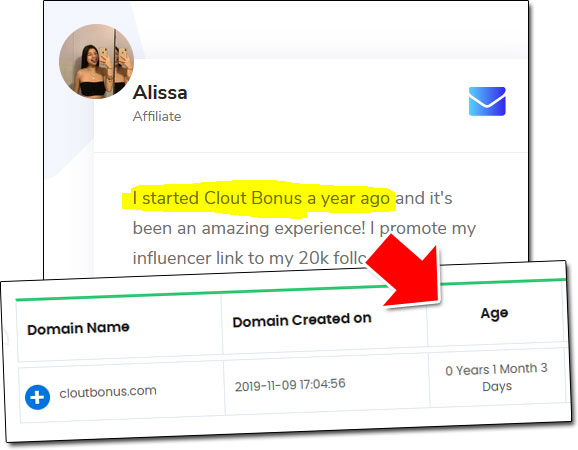 And that also highlights that the claimed "$68 million paid" is a lie too because there's simply no way that they could start up, earn & payout so much money in such a short period of time.
Basically the whole website has just been built up on a complete pack of lies which brings me onto…
My Verdict – Is Clout Bonus a Scam?
Yes, absolutely – Clout Bonus is definitely a scam. The entire website has been setup with the sole intention of deceiving people & nobody who joins will ever get paid, instead they'll just be putting their data at risk.
It's a classic case of "if it sounds too good to be true, then it probably is"… Because think about it, if Clout Bonus really worked then nobody would be left working a job… Everybody would just be earning $500 per day by sharing links instead.
The truth is that yes, it is possible to earn money by sharing links, and you can actually earn good money doing it… But the Clout Bonus website is just set out to trick you, not to really help you make money.
Instead if you want to properly learn how to make money by sharing links & promoting things online then I recommend you check out a legitimate program like Wealthy Affiliate which will show you how to get started.
It's at Wealthy Affiliate that you'll learn about something called affiliate marketing which is actually the same way that I personally make most of my own money online & it's one of my top recommended methods.
You can check out my other legit recommendations here too.
But whatever you decide to do I just sincerely hope that my honest review of Clout Bonus here has given you a good insight into how it really works & most importantly I hope it's enabled you to avoid it.
If you still happen to have any further questions or comments though then of course don't hesitate to leave them below. 🙂