CloutBucks is a newly launched website that promises to provide its visitors with a way to be able to make hundreds of dollars per day through social media, and it even claims that they can earn a whopping $500 the very same day they get started…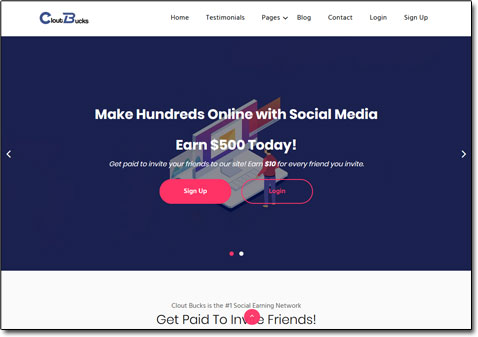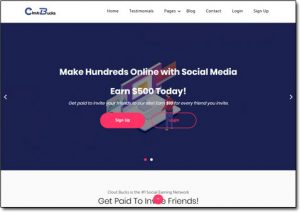 But that's a pretty bold claim to make, especially since they claim that pretty much "anybody & everybody" can do it, even with no experience… So what's the truth about it? Is it really legit & can you actually make money with it, or is CloutBucks a scam that should be avoided?
Well thankfully you've landed in exactly the right place to find out as I myself have personally taken a closer look into the whole thing & in this honest CloutBucks review I'll be uncovering the REAL truth about how it all works as well as outlining whether or not you can really earn anything with it like they claim you can.
What Is CloutBucks?   |   How Does CloutBucks Work?   |   Proof It's Fake   |   Is CloutBucks a Scam?   |   A Better Alternative
What Is CloutBucks?
Clout is a word that seems to be gaining ever increasing popularity lately, and that's because it's being used to refer to the "influence" of social media followers with large followings… Such as the likes of Kim Kardashian & other famous celebs…

But it's not just the celebs that have "clout" these days, oh no, there are actually in fact many "average Joes" who have large followings on platforms such as Instagram, Facebook & Twitter…
The problem though is that many of these average Joes with clout don't know how to monetize their follower base, and that's where CloutBucks comes in – because CloutBucks claims to be a website that will help you make money from your followers.

And CloutBucks claims that they make the whole thing super easy & super lucrative, because according to their website all you need to do is sign up for free & then get others to sign up for free via your link as well.
If they sign up through your link, you're told you'll earn $10 (allegedly).
But wait a minute…
If you sign up for free, and the people you refer sign up for free, then how are CloutBucks able to pay you $10? Where is the money coming from that they're supposedly paying out to their members?
I smell a rat, don't you?
And the reason I smell a rat is because CloutBucks is actually an extremely dangerous scam.
I can say that so confidently right from the off because CloutBucks is actually nothing new – it's just a re-hashed version of a scam that I've already exposed on this blog several times before, under various different names.
Previous names of the scam included Kids Have Money, Money Rewards & InfluEarn. The creator (or should I say "scammer") behind it simply keeps changing the name in an attempt to escape the negative reviews so that he can continue parting more & more people with their hard earned cash.
But I appreciate that you probably don't just want to take my word for it when I say that… After all I appreciate the promise of $10 per referral can sound too good to turn down so easily… So instead keep on reading & I'll show you exactly how it really works (and why it's so dangerous) so that you can see first-hand for yourself what's actually going on.
How Does CloutBucks Work?
Whilst it is seemingly innocent on the surface, the CloutBucks scam is very cunning & it is actually one of the most dangerous scams that I have ever exposed in the history of this blog.
The reason for that is because rather than just attempting to take a bit of money from you or waste your time, the CloutBucks scam is actually part of a massive data-harvesting operation in which the scammers are attempting to steal your personal data, and potentially even your identity, along with your money.
But on top of that, they then also attempt to trick you into luring others into the scam (such as your family & close friends) as well…
And the way they do it is actually quite simple…
They have basically created a fake website (CloutBucks) in which they promise to offer you money for signing up & getting others to join… And on the surface it seems legit, because as you refer others your account balance increases accordingly…
This means that it seems like you're actually making money (and potentially lots of it), however the problem comes around withdrawal time, because once you've hit enough to be able to request a withdrawal, that's when you'll find out it's totally fake.
CloutBucks does not pay any of its members because there isn't really any money – and that's why they've set their withdrawal limit so darn high. On legitimate Get-Paid-To websites the withdrawal limit is usually $10 or less (because they typically pay so little).
So what's the point of their website then? Why are they getting people to sign up & encouraging them to get others to sign up by pretending to pay them money? What are they actually getting out of it?
Well like I mentioned a little bit above, data is what they're getting.
When you sign up to CloutBucks you're asked for your full name, email, username & password… And they're basically hoping that you simply enter the same details on that page as the ones you use on other websites.
It's a fact that most people use the same username/email/password combination on every website they visit…
So as people are signing up to CloutBucks, the people behind the scam will be trying to find accounts associated with their details – such as PayPal accounts, banking accounts & even social media accounts.
Then if they're successful at getting in they'll use the accounts to either further promote their scams, to use your identity, or to steal money from you in one way or another…
Which means that if you have already signed up to the CloutBucks scam & you do indeed happen to use the same credentials elsewhere then you should definitely go ahead & change your details ASAP.
Plus if you've referred others into the scam as well then you should definitely share this CloutBucks review with them to make them aware that they too could also end up becoming a victim, otherwise it could potentially end up being you taking the blame (since you gave them the link).
You Might Also Like:
Proof That It's Nothing But a Fraud
You wouldn't believe it, but even though I write these reviews outing scams like CloutBucks & showing you how they really work, I still get people ending up going to try them out anyway "just in case" they actually do work…
So for that reason & in an attempt to protect as many people as possible from falling victim to this thing I want to give you some real hard proof that the whole thing is a total fake that's been built up purely on a ton of lies.
Firstly, let's take a look at the statistics shown on the CloutBucks website (highlighted below):


According to their stats they've got over 185k members & have been in business for 10 years… But that's a little strange because as shown below according to a WHOIS search their website was only registered on the 23rd of March (just over a week ago):

Needless to say the other stats are also fake too – such as the so-called "63k followers" which is really just 131: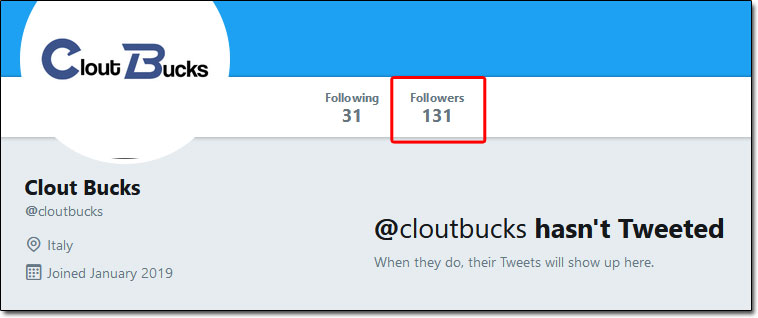 And whilst we're on the topic of CloutBucks on Twitter, check out all the worrying stuff people are saying about it on there: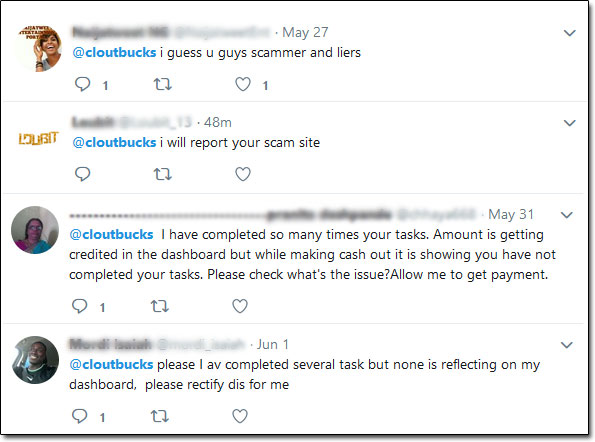 So yeah, with all that in mind it should now be pretty obvious that CloutBucks clearly doesn't work as promised, and frankly you should never trust a website that publishes such outright lies anyway.
However don't fret too much because…
There's a Better Way To Make Money
Whilst CloutBucks itself isn't legit, there are still plenty of ways to legitimately make good money online… However even though there are some sites that work in a similar way to CloutBucks (known as Get-Paid-To websites) I still don't really recommend them.
The reason I don't recommend the legit Get-Paid-To websites either is because in general they often pay very little in return for the tasks completed, and that's because the tasks are simply so easy to do.
There is no way these types of websites have to pay their members large amounts because there are SO many people all over the world willing to complete the tasks for ridiculously small money.
That's why you'll never be able to see yourself earning much more than $1 per day from these types of sites…
But what you can do to make better money is forget about these types of Get-Paid-To websites altogether and instead take a look into something called affiliate marketing, which is the same way I make most of my own money online.
Affiliate marketing simply involves you connecting people with the products that they're looking for online & then getting paid commissions in return – and thanks to places like Commission Academy it's really easy to get started with.
Plus with affiliate marketing you could see yourself earning not just $10 or $100 commissions, but even commissions into the $1000's… Per sale!
The sky really is the limit when it comes to affiliate marketing & that's why it's my all-time number 1 recommendation for making good money online. In my opinion it's the best method & like I just mentioned you can even get started with it for free at Wealthy Affiliate.
But anyway back onto CloutBucks, I think it's time for…
Is CloutBucks a Scam?
In my opinion yes there's no doubt about it – CloutBucks is definitely a scam website & it's a very dangerous one at that. It doesn't really pay any of its members and instead it just tricks you into signing up & referring others by pretending to pay you, but in reality they're just trying to steal your data & using you to lure others in.
So if you haven't already signed up to CloutBucks then good, I would advise staying well clear of it & checking out affiliate marketing instead (which is legit)… But if you have already signed up I would strongly recommend you change your username/passwords if you use the same ones you registered at CloutBucks with elsewhere.
Also if you have referred anybody into CloutBucks or shared the link online already then you should definitely my review of CloutBucks which exposes it & will let people know how to keep their data safe.
But as well if you're still looking for a legit way to make good money online then be sure to check out my top picks page here. It's there that you'll find several of the best methods & websites that I've come across over the years.
Whatever you decide to do though I just sincerely hope that my review here has given you a good insight into how the CloutBucks scam really works & most importantly I hope it has helped you to avoid it.
If of course you happen to have any further questions or comments about it then don't hesitate to leave them below & as always I'll do my best to respond back to you as quickly as I can. 🙂
A Better Alternative
The sad truth is that unfortunately most of the programs promising to help you make money online are scams. I can say that confidently after exposing over 500+ of them here on this blog.
But the good news is that even though most of them are indeed scams, there are actually some very good programs in amongst them - some programs that can truly help you to earn money.
And out of all of the legit programs I've seen, the one I would recommend the most to anybody looking to get started online is Commission Academy. In my own opinion, that's the best place to start.
At Commission Academy, you'll be provided with everything you need (including the training & tools) to begin earning real money by promoting products or services for companies like Amazon online.
The best part is that there's literally no limit on the amount you can earn with it & the process is pretty simple which means that it's absolutely perfect for people that don't have much experience.
Some wealthy affiliates even earn as much as 5-figures per month... Or more!

I mean don't get me wrong, that kind of money won't just fall into your lap without doing any work... But the harder you're willing to work at it, the more you stand to earn with it.
So if you're looking to get started but don't know which route you should go down or which program you should join (and don't want to waste money on bogus things that don't actually work), then I'd highly recommend checking out Commission Academy first. You can learn more about it here.