Kids Have Money (found at kidshavemoney.com) is a newly launched website that promises to provide its members with a way to easily earn hundreds of dollars per day through social media by simply sharing links with friends…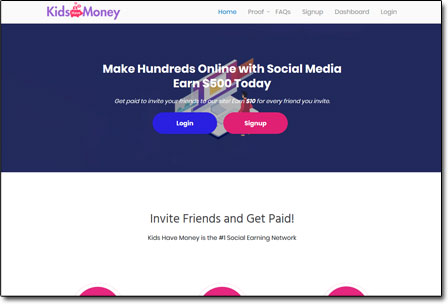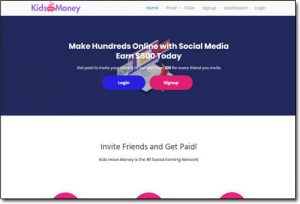 The site makes the bold claim of calling itself the "#1 social earning network" and even states that members can allegedly earn $500 the very same day they get started… But is it really legit? Or is Kids Have Money a scam to avoid?
Thankfully if you've come across the site you & are looking to find out more you can rest assured you've landed in exactly the right place as I've personally taken a closer look into it & in this honest review I'll be uncovering the REAL truth about how it all works, as well as why it's so dangerous & what you need to do if you happen to have already signed up.
What Is Kids Have Money?   |   How Does Kids Have Money Work?   |   Fake Payment Proof   |   A Better Way To Make Money   |   Is Kids Have Money a Scam?
What Is Kids Have Money?
As I briefly touched on above Kids Have Money claims to be the "#1 social earning network" & it promises to provide its members with an easy way to earn lots of money online by simply sharing links on social media or completing what they call "small tasks"…
Now there are indeed already some legitimate websites that provide people with the ability to earn money by completing small tasks (such as paid survey websites) but generally these types of sites only pay out very little.
What sets the Kids Have Money website apart from the rest is its bold claim of being able to provide you with a way to earn hundreds per day, and up to $500 the very same day that you get started…

But no doubt you'll agree with me when I say that the claim sounds WAY too good to be true… And you know what they say about stuff that sounds too good to be true? It usually is! And ask you can imagine that bold income claim has raised a lot of suspicion…
Is Kids Have Money legit? Do they really pay that much money? And where is all of the money coming from?
Plus if it really works as promised then why isn't everybody doing it? Why are people still working at jobs they dislike if they can just sign up to Kids Have Money & share a link on social media to earn hundreds of dollars per day?
The answer is because as you can likely guess, Kids Have Money is fake. It's nothing but a scam & none of the members will ever get paid… And I can say that so confidently because I've seen this same scam before.
Kids Earn Cash & Kids Get Money are just 2 of the names it's previously launched under, and now it's back again a third time with its name changed in an attempt to escape the negative reviews & continue scamming people.
But I know what you're probably thinking… How can a website that's free to join scam you? Well the truth is that the Kids Have Money scam is actually a very dangerous scam indeed & if you've already signed up then you must continue reading this review to see how to protect yourself from becoming a victim as I explain how it all works in greater detail below…
How Does Kids Have Money Work?
Kids Have Money essentially portrays itself as being a legitimate get-paid-to website through which you can sign up & then refer friends to earn money, but in reality it's actually nothing but a dangerous data-harvesting scam… And nobody gets paid.
The reason Kids Have Money claims to offer such larger payouts than other sites is because it's fake – and the promise of being able to earn money is just a trick to lure you into the scam, so that they can get your data & so that they can get you to lure others in too.
You see essentially the people behind the Kids Have Money scam are just hoping that the details you use to sign up to their site happen to be the same details that you use to sign up to other websites, because it's a fact that most people use the same credentials for all of the sites they visit.
So the people behind Kids Have Money will then try to find accounts associated with the details that people provide – such as social media accounts, PayPal accounts & bank accounts – then they'll try to break into them & use them for financial gain.
Which means if you've already signed up to Kids Have Money & you did so with details you use elsewhere, then you should change those details ASAP… And you should also share this post with anyone else who could be affected by the scam.
But the most cunning part about the Kids Have Money scam is that they then actually trick the members into doing the dirty work for them & promoting the scam by pretending to offer them money.
So when people are "referring others" into Kids Have Money for commissions, all they're actually doing is luring other people into the scam…
But What About The "Payment Proof"?
One of the reasons so many people have been tricked into joining Kids Have Cash is because of the so-called "payment proof" that they've listed on their website – but just like the rest of the website, this is also fake too.
As you can see from the screenshot below the "members" in their member testimonials are merely paid actors hired from the website Fiverr: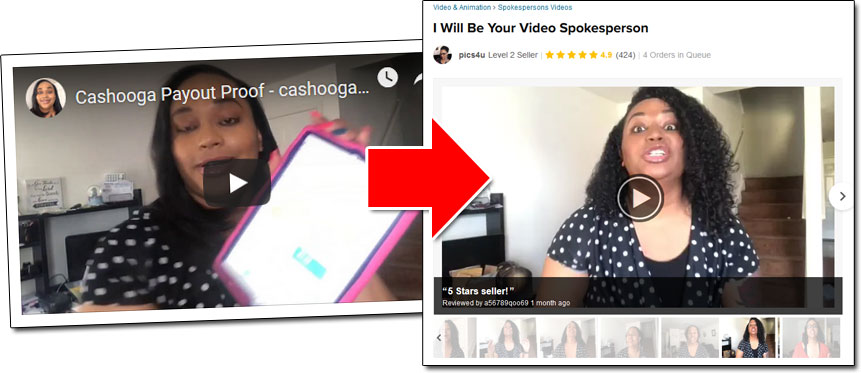 And you can also see that the name in the title of the video references the Cashooga scam, so clearly the 2 scams are linked (and it doesn't surprise me because the Cashooga website is almost identical to Kids Have Money).
And the table on the payment proof page that supposedly shows "pending" and "paid" payments is also fake as well, because each time you refresh the webpage the data in the table changes completely…

But There's a Better Way To Make Money
The good news is that whilst Kids Have Money might not work, there are still plenty of alternative legitimate ways that you can make money online – and some of them can even enable you to make as much as $100 per day.
What I'll point out here though is that ultimately the amount you'll be able to earn is proportional to the amount of work that you put in – so you're not going to find yourself getting rich by doing something super easy (and if something promises you can it's likely just trying to scam you).
So whilst you can indeed complete things like paid surveys for money, I wouldn't really recommend it because although they're easy you probably won't be able to see yourself earning much more than $1 or $2 per day.
Instead if you really want to earn good money you need to get involved with something like affiliate marketing instead, which is where you basically promote 3rd party products or services online in return for commissions.
So as an example you could sign up as an Amazon affiliate (for free) which would give you the ability to promote any of the products found on their website. You simply get a unique link to their products which you can share, and then if someone clicks it & buys something – you get paid (as shown below):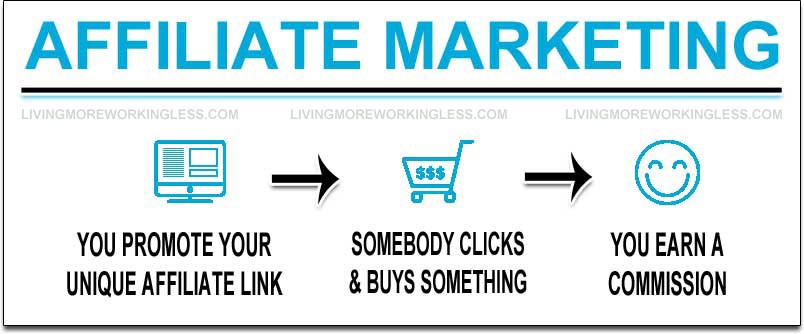 Affiliate marketing has always been one of my top recommendations for making money online & if it's something that interests you then you'll be glad to hear that you can actually get started for free with it over at Wealthy Affiliate.
Or alternatively you can also check out my free guide on starting a money-making affiliate blog here.
But anyway, back onto the Kids Have Money scam, I think it's about time for…
Is Kids Have Money a Scam?
Yup it sure is, there's absolutely no doubt about it – Kids Have Money is definitely a scam & there is no way any of the members will be getting paid. It's just a re-hashed version of the Kids Earn Cash & Kids Get Money scams that previously launched in the past.
Like I said earlier in this review the whole thing is just a ploy to trick you into signing up so that creators can use the details you provide them to try & attempt to break into any other accounts that are associated with your details… And then they also trick you into luring others into the scam as well by promising you money which never actually ends up getting paid out.
As soon as it comes near withdrawal time the people behind Kids Have Money will just claim that you made fraudulent clicks or something similar & they'll basically just deny your withdrawal request, which is why they've set the minimum withdrawal limit so high (so that it takes you a while before you discover it's a scam).
But like I also mentioned above in this review there are plenty of other legitimate ways to earn money online so there's no need to get caught up in the whole Kids Have Money thing in the first place, instead you should just avoid it.
And if you want to go straight to my top recommendation for making money online then be sure to check out Wealthy Affiliate. You can get started there for free & you'll discover the steps to building a highly successful & thriving online business.
Whatever you decide to do though I just hope that my review here has given you a good insight into how this thing really works & more importantly I hope it has helped you to avoid falling victim to it. If of course you still happen to have any further questions or comments though then don't hesitate to leave them below & as always I'll respond as soon as I can. 🙂