The Kids Get Money website (found at KidsGetMoney.co) promises to provide its visitors with a way to earn up to $500 per day online just by simply sharing links on social media & they even claim to offer their new members a whopping $25 bonus just for signing up…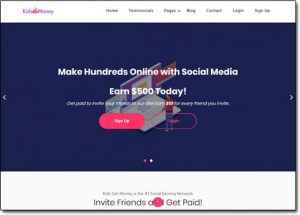 But does the site work as promised & does it really pay? Or is KidsGetMoney.co a scam that'll just see you wasting your time in return for nothing at the end of it? Thankfully you've landed in the right place to find out…
I've personally taken a closer look into it & in this honest Kids Get Money review I'll be uncovering the truth about how it all works as well as outlining whether or not you'll really be able to earn anything through their site. So keep on reading to find out more! 🙂
What Is KidsGetMoney?   |   How Does KidsGetMoney Work?   |   A REAL Way To Earn Money Online   |   Is KidsGetMoney a Scam?
What Is KidsGetMoney.co?
I can tell you right from the off exactly what KidsGetMoney.co is, and I can tell you that it's not good. It's a website that portrays itself as being a legitimate site to earn money from but in actual fact, it's nothing but a dangerous data harvesting site.
The reason I can say that so confidently right from the off is that this scam was HUGE last year & I exposed several extremely similar websites such as 1 Dollar Tasks & Teens Earn Cash.
All of these sites promised ridiculously high levels of earnings for very simple tasks (such as simply sharing the site with other people) but in reality, there was no money at all, the owners were actually just collecting people's data.
So what do they do with the data once they've got it? Well, you'll find that out in a moment but first I'd like to say that if you haven't already signed up to Kids Get Money yet then don't, and if you have – well you definitely must keep reading to see how to protect yourself.
How Does KidsGetMoney.co Work?
The concept behind the site is pretty simple – they claim to be an advertising revenue sharing site, meaning they promise to share the revenue that's generated from the adverts on the site with the members of the site…
And they claim that the more people that view the site the larger the revenue will grow, so they promise to pay members a whopping $10 for each new member that they refer – as well as offering a huge $25 bonus just for signing up.

But red flag number 1 is that there isn't actually any advertising on the site…
The reason for that though is because they're not really making their money from advertising revenue – they're making their money by selling the personal data they collect AND by hacking into financial accounts associated with the data they collect.
They're basically hoping that you'll sign up to the site using the same username & password that you do for other sites, so if you register they'll then try & get into any other accounts associated with your details – like a PayPal account for example.
And on top of that, they're leveraging the members themselves to participate in the scam without them even knowing it…
Most people who are using KidsGetMoney.co think they're just sharing a great opportunity with people & earning some cash at the same time but they're not – the members are actually the ones suckering their friends/family into the scam too.
So if you have shared the KidsGetMoney.co website already you might want to go back and delete your posts!
But Admittedly It's Very Convincing…
If you're new to making money online then the Kids Get Money website could certainly seem pretty convincing – especially since when you refer people your balance does seem to actually increase with each member that signs up…
It seems like you really are making money – but come withdrawal time you'll be left to find out the hard way that it has all just been a big con.
And that's why they set the withdrawal limit so high at $125, because they want you to bring as many people into the platform as possible before you get the opportunity to withdraw (which is when you'll realize it's fake).
Most legitimate Get-Paid-To sites have withdrawal limits of around $10, some even lower…
And I've never seen any legitimate site offer such ridiculously high earnings for such a simple task because there's simply no need to. The internet is huge & there are many people who would be willing to do these easy tasks for little money so there's absolutely no reason to offer silly amounts like $10 per referral – and there's no way a free site like this could financially afford to pay $10 per referral.
Like I say though that's all just part of the ploy of tricking you into actually referring people… If they promised you just $0.10 or even $1 you probably wouldn't waste your time doing it – but $10 per referral seems like a nice earner.
It'll Disappear Soon & Change Its Name
The common trait with these phishing scam sites like Kids Get Money is that they launch for about a week or two under one name & then they change their name & redirect their visitors shortly after in an attempt to escape the negative reviews so that they can continue tricking people into signing up.
For example, right now it's called Kids Get Money but previously it was called Kids Paid Money (found at KidsPaidMoney.com) but now that old domain redirects to this one. Just like how the Two Dollar Click scam changed to Three Dollar Click & so on…
So if you happen to come across a site like this again in the future promising a lot of money for little work then be wary that it's also probably a scam too & that you should definitely do you research before joining.
You Might Also Like:
A Real Way To Actually Make Good Money
If you're looking to make good money online then these types of paid survey sites or Get-Paid-To sites will never cut it because the legitimate ones only pay very small amounts in return for the tasks you do… So you need something else instead…
But what else is there out there that you can make good money from? Well, the best thing, in my opinion, is something called affiliate marketing which is where you connect people with the products they're looking for and get paid commissions in return if the people you connect happen to make a purchase.
It's a very powerful way to make good money online & it's the same way I personally make money myself. You can check out a visual rundown of how it actually works by looking at the image below: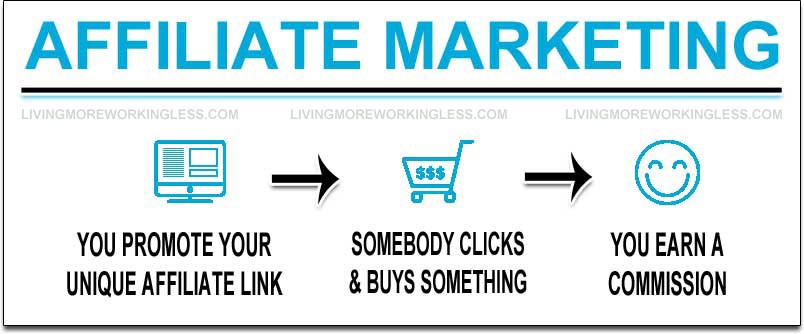 The good news is that this method does actually pay you & the better news is that you can actually get started for free with it over at Wealthy Affiliate so it's 100% worth checking out before you go.
But anyway back onto Kids Get Money…
Is KidsGetMoney.co a Scam?
Yes, there's absolutely no doubt about it – KidsGetMoney.co is most certainly a scam & it's a very dangerous one at that. I mean sure it might not request money from you in the sense of payment but it is set out to steal your data & it is also set out to trick you into wasting your time by bringing other people into the scam as well.
So not only is the Kids Get Money site scamming you, but it's also using you to scam other people… Not good!
For that reason it's safe to say that I won't be recommending it & also if you have already signed up to it prior to landing on this review then I highly recommend you change your passwords if you happen to use the same one on any other websites as the creators of KidsGetMoney might try to break into your accounts.
And like I mentioned in the previous section of this review if you really want to make good money online then stick with a proven program like Wealthy Affiliate or check out all these other methods for making money instead.
Either way though whatever you decide to do I just hope that my honest Kids Get Money review here has given you a good insight into how it all works & hopefully you can now see why you shouldn't waste your time with it. If you do still happen to have any further questions or comments though then don't hesitate to leave them below & I'll get back to you as soon as possible. 🙂