Three Dollar Click is a website that claims to do exactly as the name suggests, and that is to pay you three dollars every time you click on an advertisement displayed through their website.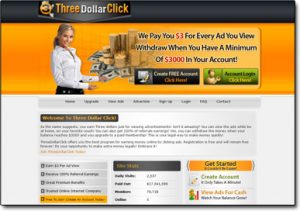 According to them, all you need to do is sign up for free & start clicking on ads – from the moment you do that you'll be able to begin earning money, or so they say… But what's the deal?
Is it actually legit or is Three Dollar Click a scam?
Thankfully if you've been thinking about joining then you can rest assured that you've landed in the right place to find out everything you need to know. I'll be outlining exactly what Three Dollar Click is, how it actually works, if there's any payment proof & whether or not it's a big fat scam.
What Is Three Dollar Click?   |   Taking a Reality Check   |   The Truth   |   Is Three Dollar Click a Scam?   |   A Better Alternative
What Is Three Dollar Click?
Three Dollar Click is a phoney website that is pretending to be a legitimate PTC website & it's been designed to make the creator wealthy at your expense. By the way, PTC stands for Paid-To-Click & as you can probably guess these websites pay you in return for clicking on ads.
There are indeed some legitimate PTC sites out there, I've reviewed some of them right here on this blog – however, generally, PTC sites will only pay you a few cents for every ad you click on… Sometimes they don't even pay that, so when I see a site claiming to pay $3 per click I already knew it was going to be a scam.
I mean if this website was really paying you $3 per click that would probably mean it would be the highest paying website of its type that I've ever come across online, and it would mean that if you clicked on just 100 ads per day you would be earning over $100,000 per year… LOL.
I think you'll agree that's a crazy income just for clicking on ads & if it was real then everybody would be doing it. It's certainly possible to make a full-time income online but it's definitely not possible to do it through this PTC type of thing.
Let's Take a Reality Check…
The Three Dollar Click website is preying on people who are new to making money online in the hope that it can trick them into signing up & clicking on ads, however, the claims by the website are completely unrealistic.
On legitimate PTC websites, advertisers buy advertising slots, usually, these slots are sold very cheaply because they know that the majority know the people viewing their ads are not really interested in them, they are only viewing them so that they can click on them & earn a little bit of money through the opportunity.
In this instance Three Dollar Click claim to be paying $3 per click, so for them to be able to do this they would have to be charging advertisers over $3 per click (and quite a bit over that too because remember they would need to make a percentage for themselves too).
I can tell you from my years of online marketing experience that there is no way ANY advertiser would pay over $3 to get you to click on their ads, especially knowing that the chances are you won't be interested in them… And especially when they could use other platforms (like Facebook advertising or Google advertising) and advertise to people who are actually interested for much much less…
Well, in hindsight maybe one or two advertisers would do it… if they were drunk LOL, but certainly no one in their right mind would and there's no way Three Dollar Click could make a real business out of this.
Also, I managed to find the advertisers page on Three Dollar Click – from that page I could see that they are charging advertisers $5 per 1000 clicks on a text-link or $10 per 25,000 views on a banner ad. The math really doesn't add up here, it's blatantly a scam… Take a look:

The Truth About Three Dollar Click…
Honestly, Three Dollar Click is a scam, but it's nothing new, it's actually just another program in a long line of similar scams. There was actually another program launched just a couple of weeks ago named Two Dollar Click, it was exactly the same thing but under a different name.
You see these scams launch, then people like myself expose them & as a result people stop signing up to them because of the negative reviews. Unfortunately though this only temporarily stops the scammers because as I mentioned above they simply change the name & launch it again.
Personally, I believe this scam to be associated with several other scams I've reviewed on this blog such as 1 Dollar Tasks, PayTime & DollarZip. Sadly I don't have any solid proof of that but they are all very, very similar (and of course all scams).
Basically, these scams are set up purely to make the creators rich at your expense. They promise the world & make it seem like you can make money really easily, but they only do that to get you to click on their ads or to complete their offers as this will earn them money. They claim to pass some of this money onto you which you can withdraw once you reach a certain limit but they set these limits extremely high on purpose & once you reach them you'll find out that it's been nothing but a big scam.
They'll just ignore your withdrawal request, but by this point, it's already too late because in order to reach the withdrawal limit you'll have already had to complete lot's of tasks so the creator will have already made a lot of money from you. These are what's known as "churn and burn" scams – they work well for a few weeks or months, then when people find out they can't withdraw it collapses & they relaunch it under a new name.
In this particular instance, the withdrawal limit is set at a whopping $3,000 which is INSANE for this type of website. Usually, the withdrawal limits on PTC websites are set at around $1, the highest one I've seen is $10, so when you see a crazy high withdraw limit you should immediately begin questioning what's going on.
By the way, you can find legitimate PTC websites on my list of ways to make money online page (and of course you can find other ways to make money online on that page too, such as alternatives to PTC sites).
You Might Also Like:
Is Three Dollar Click a Scam?
Honestly, this program is a flat-out scam. It's just a rehashed version of another scam named Two Dollar Click, they've changed the name to escape the negative reviews but it's clear they're operating in exactly the same way.
After digging through the site it appears that they're even charging for memberships, so whilst the site initially claims to be free to join in reality it's not. In fact, some of the memberships cost up to $999.
That is a LOT of money to put into something like this, especially when the likelihood is that you won't earn a single penny back. The sad thing is that this program will likely part a lot of people with their cash because whilst $999 is a lot of money, people will probably sign up to this membership on the basis that they will be soon earning $3 per click (which just completely isn't true).
My advice is for you to completely stay away from this program, it's just a hoax that's been put together to trick people who are new to making money online & potentially don't know how it works. If you're looking to get started then instead of joining Three Dollar Click I recommend that you just check out my free guide to making money online instead. I hope it helps you.
Oh, by the way – if you have already signed up to Three Dollar Click prior to finding this review I highly recommend that you don't open any emails from them. It's likely that they will send you various emails to push you into more of their scams too (such as the other sites I mentioned above). Just delete them, that's the best thing to do.
A Better Alternative
The sad truth is that unfortunately most of the programs promising to help you make money online are scams. I can say that confidently after exposing over 500+ of them here on this blog.
But the good news is that even though most of them are indeed scams, there are actually some very good programs in amongst them - some programs that can truly help you to earn money.
And out of all of the legit programs I've seen, the one I would recommend the most to anybody looking to get started online is Commission Academy. In my own opinion, that's the best place to start.
At Commission Academy, you'll be provided with everything you need (including the training & tools) to begin earning real money by promoting products or services for companies like Amazon online.
The best part is that there's literally no limit on the amount you can earn with it & the process is pretty simple which means that it's absolutely perfect for people that don't have much experience.
Some wealthy affiliates even earn as much as 5-figures per month... Or more!

I mean don't get me wrong, that kind of money won't just fall into your lap without doing any work... But the harder you're willing to work at it, the more you stand to earn with it.
So if you're looking to get started but don't know which route you should go down or which program you should join (and don't want to waste money on bogus things that don't actually work), then I'd highly recommend checking out Commission Academy first. You can learn more about it here.