Kids Earn Cash (found at KidsEarnCash.com) claims to be the number 1 influencer platform & it promises to provide kids with a way to earn large amounts of cash by simply completing small tasks & sharing the site on social media…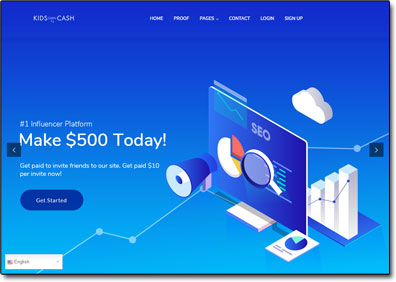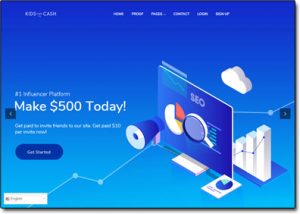 And the website even displays a video in which one user boasts about how he's allegedly made $1 million through the site… But is it actually legit? Or is Kids Earn Cash a scam that'll just end up costing you instead?
Thankfully you've happened to land in the right place to find out as I've personally taken a closer look into it & in this honest Kids Earn Cash review I'll be uncovering the REAL truth about how it works & why the whole thing is VERY dangerous.
What Is Kids Earn Cash?   |   How Does Kids Earn Cash Work?   |   The Truth   |   Payment Proof   |   Is Kids Earn Cash a Scam?   |   A Better Alternative
What Is Kids Earn Cash?
Kids Earn Cash claims to be a money-making platform that's been specifically designed for social media influencers & as the name suggests whilst registration is open to anyone, primarily it's been marketed to kids…
And the reason they're targeting kids is because the whole thing is NOT what it seems & they're hoping that kids will be less aware of the dangers involved resulting in them signing up & trying it out.
So on that note I want to point out that if you've already signed up then you MUST read this review to find out how to keep yourself safe from the dangers, and if you haven't then I would strongly advise that you don't.
The reason I say that is because ultimately the Kids Earn Cash website is what's known as a data-harvesting scam, so the whole thing has just been designed to collect as much data as possible & the worst part is that they're leveraging the users to help them do it (without them actually knowing).
So when they say that you can earn $10 for bringing in new members, in reality there is no $10 – no money will ever get paid to you & instead they're just using you to lure other people into it.
But it's what's happening with your data that's the big problem.
You'll see what I mean below when I explain exactly how it all works…
How Does Kids Earn Cash Work?
In short Kids Earn Cash portrays itself as a legitimate Get-Paid-To website through which you're told you can complete offers & refer others to earn money – however they've massively bumped up their rewards.
A typical legitimate Get-Paid-To website will not earn you much more than a couple of dollars per day. The reason for this is that because the tasks are so easy there's so many people willing to complete them which means there's simply no need for them to pay any sorts of big money.
The Kids Earn Cash website however promises to pay you hundreds of dollars per day, which is simply not possible.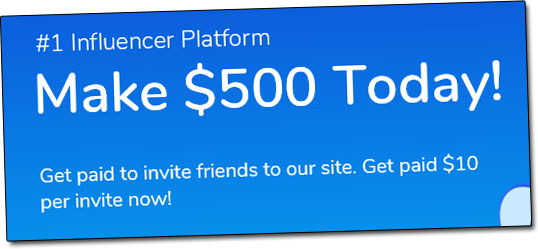 They also claim that the revenue they use to pay you comes from advertising on their website (as it does with a legitimate Get-Paid-To website) – however there isn't any advertising actually on their site.
The truth is that there is NO money whatsoever coming into Kids Earn Cash and there is also no money getting paid out either.
The "proof" page is entirely fabricated – it's just a simulation and none of those are genuine payouts, and the video on the homepage of the $1 million payout is presented by an actor from the website Fiverr.
I mean don't get me wrong here, it certainly appears like you are making money – as when you complete the tasks or successfully refer somebody your account balance will indeed go up accordingly, however when it comes to withdrawal time none of the money will ever get paid out.
And that's why they've set such ridiculously high withdrawal limits, because they want you to bring in as many people as you can before you manage to find out that the whole thing's actually a scam.
So What's Really Going On Then?
Well like I mentioned at the beginning of this review the truth is the Kids Earn Cash website is actually what's known as a data-harvesting scam & I can say confidently because I've exposed this scam several times before.
The creators of it keep changing the names in an attempt to escape the negative reviews that surface (like mine here) so that they can continue suckering people into the whole thing. Just a week or two ago I seen the exact same site going under the name of Kids Get Money.
Now that old Kids Get Money domain is redirecting users through to Kids Earn Cash – likely because my review started helping people to steer clear of it.
The guys behind it all are basically doing two things:
They know that you're interested in making money money so they're selling your details on to other firms who'll then bombard you with communications (and scams) related to making money.
More dangerously though they're hoping that the username/password combinations you use to sign up to their websites are the same combinations you used to sign up to other sites.
The reason they're hoping you've used the same username/password combinations is because their goal is to find any accounts associated with your username/email/address etc & break into them.
This could include things like PayPal accounts, bank accounts, Facebook accounts etc.
So the important thing here is that if you have indeed already signed up to Kids Earn Cash & you did so with a username or password that you use elsewhere then you should definitely change your details with urgency.
On top of that if you have already reached out to people & recruited them in to Kids Earn Cash in an attempt to earn some money then you should also reach out to them & share this article with them too.
And of course if you haven't already signed up to Kids Earn Cash, then don't.
You Might Also Like:
Kids Earn Cash PROOF
The Kids Earn Cash website might show you fake proof in an attempt to make you believe that it does work, but I'm going to show you REAL proof that hands-down proves it doesn't work…
Firstly, let's take a look at the stats:


They claim to have 75,000 members & have paid out $27.3 million – however according to the WHOIS search (shown below) the website was actually only registered a mere 9 days ago: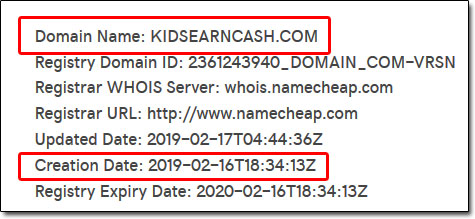 And remember the YouTube video from the homepage in which the guy claims he made $1 million? Well that was published on the 23rd of February, 7 days after the site launched… Yet the guy in the video "proving" it works claims he's been doing it for 3 months… Impossible!

But yeah I think you probably get the idea already which brings me onto…
Is Kids Earn Cash a Scam?
Yes, there's absolutely no doubt about it – Kids Earn Cash is definitely a scam & it's a very dangerous one at that. Like I mentioned previously in this review if you have already signed up then you MUST change your username/password combinations if you happen to use the same ones anywhere else.
On top of that you should also contact anybody you've recruited into Kids Earn Cash & share this post with them to highlight them of the potential dangers as well because if they get scammed it could come back to you.
And obviously if you haven't already signed up to Kids Earn Cash then don't because it's nothing other than a waste of time. There is NO way that you will find yourself earning anything through their site (and actually getting paid).
There are many legitimate ways to make money online that you can try instead.
But basically it all comes down to the good old saying that if sounds too good to be true, then it probably is… And one thing you should always ask is "where is the money coming from"… If it's not obvious or kept secret then it's likely a scam.
Hopefully though my review of Kids Earn Cash here has helped you dodge it & hopefully it's given you a good insight into how it really works so that you can avoid this kind of thing in the future. If you do happen to have any further questions or comments about it though then don't hesitate to leave them below & as always I'll respond back as soon as possible.
A Better Alternative
The sad truth is that unfortunately most of the programs promising to help you make money online are scams. I can say that confidently after exposing over 500+ of them here on this blog.
But the good news is that even though most of them are indeed scams, there are actually some very good programs in amongst them - some programs that can truly help you to earn money.
And out of all of the legit programs I've seen, the one I would recommend the most to anybody looking to get started online is Commission Academy. In my own opinion, that's the best place to start.
At Commission Academy, you'll be provided with everything you need (including the training & tools) to begin earning real money by promoting products or services for companies like Amazon online.
The best part is that there's literally no limit on the amount you can earn with it & the process is pretty simple which means that it's absolutely perfect for people that don't have much experience.
Some wealthy affiliates even earn as much as 5-figures per month... Or more!


I mean don't get me wrong, that kind of money won't just fall into your lap without doing any work... But the harder you're willing to work at it, the more you stand to earn with it.
So if you're looking to get started but don't know which route you should go down or which program you should join (and don't want to waste money on bogus things that don't actually work), then I'd highly recommend checking out Commission Academy first. You can learn more about it here.