Cashooga is a relatively new website that promises to provide its members with an easy to way to earn hundreds of dollars per day from social media and on top of that it also promises to provide its new members with a whopping welcome bonus of $25 just for signing up…
But there are a lot of people that are sceptical about this new site & with the bold claims it makes they have very good reason to be… So what's the truth about it? Is it really legit & can you actually make money with it? Or is Cashooga a scam to watch out for?
Well the good news is that you've landed in exactly the right place to find out as I myself have personally taken a closer look into Cashooga and in this honest review I'll be uncovering the REAL truth about it, including how it all works & whether or not you can really make any money with it (and get paid). 🙂
What Exactly Is Cashooga?
Cashooga is a relatively new website that promises to provide one of the easiest ways to earn lots of money online. You're led to believe that it's as simple as signing up & then inviting others – and that you'll be getting paid for every person that you invite.
The website claims that all you need to do is create a free account, grab your sharing link & then post it online. They state that you'll allegedly be paid a whopping $1 for every person that clicks on the link, and $5 for everybody that also creates a free account just like you did.
On top of that they even claim to have tasks inside which you can complete to earn extra money, and they claim to pay between $10 and $50 per completed task… So with all this income you may think you've come across a golden opportunity, especially since the whole thing sounds so easy…

However whilst I hate to be the one to burst the bubble, what I can actually tell you is that Cashooga is actually nothing but a big fat scam & none of the members participating in it will ever get paid. They're just wasting their time.
The reason I can say that so confidently is because I've seen this exact same scam many times before. The people behind it just keep changing its name & appearance a little bit in an attempt to escape the negative reviews so that they can continue tricking people into joining it.
Some of the previous names I've seen it launched under include RooLoot, Viral Bucks & Kids Earn Cash. If you check out the reviews I wrote of those scams then you'll see that Cashooga is almost identical.
But I know what you're probably thinking, if it's free, then how can they possibly scam you? Well the truth is that Cashooga is actually one of the most dangerous scams I've seen to date & if you keep on reading you'll see why as I explain how it all works below…
You'll also see what you need to do if you've already signed up in order to protect yourself from becoming a victim…
How Does Cashooga Work?
Well basically Cashooga is what's known as a data-harvesting scam, which essentially means that they're just out to try & gather as much user data as they can & in order to do this they're promising a "great income opportunity"…
Sadly though the income opportunity is totally fake, it's just a trick to get you to sign up so that they can get your data (the data you enter during sign-up). The worst part though is that they then trick you into referring others to the site as well, so you'll basically be doing their dirty work for them.
But what do they do with all of the data they gather?
Well the reason the Cashooga scam is so dangerous is because they're basically hoping that the data you use to sign up to Cashooga is the same data that you use to sign up to other websites (as most people use the same username/email/password combinations for all of the sites they visit).
So after signing up to Cashooga the creators will at some point try to break into any accounts associated with your details – which could be Facebook accounts, PayPal accounts & even bank accounts.
They'll then do their best to steal money from you, or make fraudulent use of your ID to steal other peoples money… And if they're not successful in doing that then they'll simply sell your data onto 3rd party companies.
This means that at best you'll find yourself being subjected to a whole load of spam, but at worst it could see them breaking into your financial accounts & taking everything you have, or breaking into your social media accounts & pretending to be you.
So it comes without saying that if you have indeed signed up to Cashooga with the same username/email/password details that you use elsewhere then you should go change your details immediately.
And if you have already referred others into the Cashooga scam then you should make sure you share this post with them to make them aware of it as well so that they too can keep their accounts safe (otherwise you could be liable as you referred them).
If It Sounds Too Good To Be True…
You know how the saying goes, "if it sounds too good to be true, it probably is", and it's safe to say that Cashooga sounds WAY too good to be true. After all if it was really that easy to earn so much money then everybody would be doing it, nobody would be left working a job.
The truth is that there are actually some legitimate get-paid-to websites which pay you for doing things like referring others & completing tasks, but because these things are so easy to do they generally only pay out very little amounts.
It doesn't make sense for them to pay out big money because there are so many people willing to do them for much less – such as those in really desperate situations who need every extra dollar they can get.
This means that through legitimate get-paid-to websites you'll rarely see yourself earning over $1 per day at most… So if a site is promising a much higher amount for easy tasks (like Cashooga) it is likely a scam.
However don't get me wrong, not every opportunity online pays peanuts. There are actually many ways to make a full-time income online, but in order to do so you must be prepared to put in the work required to make it happen, because you are just going to make that kind of money with ease.
If you are interested in learning how to build a good income online though then I highly recommend you check out Wealthy Affiliate as it's there that you'll be able to get access to free training on how to get started…
And on top of that you can also check out my own guide on how I make money here.
But anyway, back onto the whole Cashooga scam…
Here's PROOF That It's Totally Fake
Whilst I really hope that after reading this review so far you're no longer interested in trying Cashooga, I know that sadly there are still probably some people here thinking about trying it out, "just in case"… As the promise of easy-money can often be very tempting, even if you know it might not be legit.
So rather than let you go away & do that & end up getting scammed, I want to show you some solid proof that it doesn't work as promised.
And the first bit of proof relates to the statistics shown on the Cashooga website which I've highlighted below: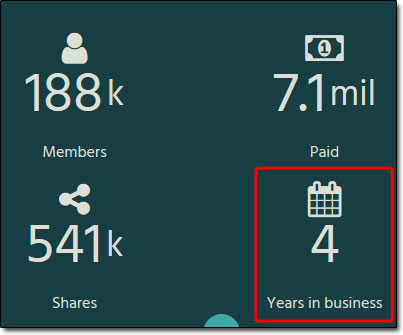 On their website they claim to have been in business for 4 years & to have paid out 7.1 million dollars to their members, however a quick lookup on the domain proves that to be totally fake because as shown below the domain is just 36 days old:

On top of that, Cashooga lists its headquarters as being located at "49 Rathbon Way, London, W1T 1JU, United Kingdom" but a quick search on Google shows that the address has just been made up.
Plus it also reveals that the address is associated with other scams, like RooLoot & UrbansurMoney.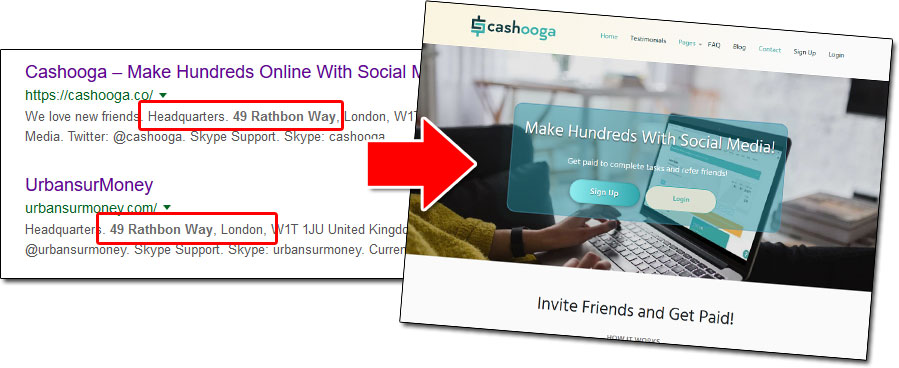 But the proof it's fake doesn't end there – oh no, it actually gets better, because take a look at this: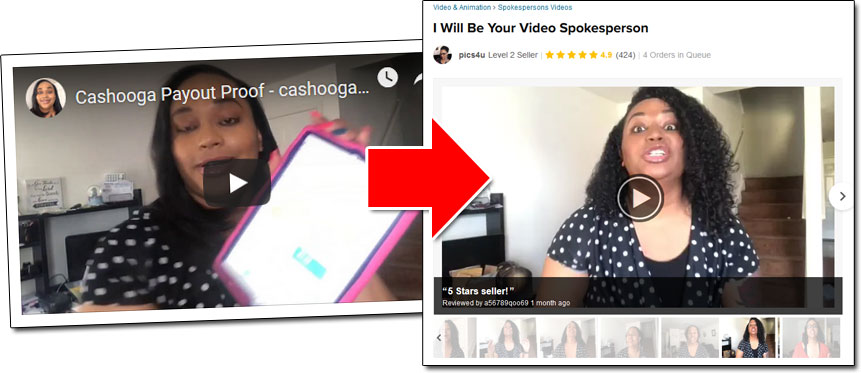 Cashooga has a section on its website where it shows videos from so-called "members" who claim to have made loads of money from the website, but coincidently one of the "members" is a paid actor on the Fiverr website.
So it's quite clear that the creators of Cashooga have hired this girl to "pretend" to have made money through their site so that they can sucker others in… And if it truly worked then there would be no way on earth that they'd need to do this.
This alone hands-down proves that it's nothing but a tricky scam & that it should be avoided at all costs, which brings me nicely onto…
My Verdict – Is Cashooga a Scam?
Yes, there's absolutely no doubt about it – Cashooga is a scam website & it's a very dangerous one at that. Not only does it attempt to trick you into handing over your details but it then also attempts to trick you into promoting the scam to others & doing the creators' dirty work for them.
It therefore comes without saying that Cashooga should be avoided completely because it's nothing but bad news & nothing good will come of being a member – you will just find yourself wasting your time as none of the members end up getting paid.
But like I said earlier in this Cashooga there are still many alternative legitimate ways that you can earn online so all is not lost as if you're still looking to make money then you can just try one of them instead.
Or if you'd like you could just go and check out the way I personally make money online. I mean sure, it does take quite a bit of work to do what I do, but the income potential from it is completely unlimited…
And best of all you can start doing the same thing I do for free over at Wealthy Affiliate.
But anyway whatever you decide to do I just hope that my Cashooga review here has given you a good insight into how it really works & hopefully you can see why it should be completely avoided. If you do still happen to have any further questions or comments about it though then don't hesitate to leave them below & as always I'll do my best to get back to you as soon as I can. 🙂