The brand new Money Rewards website (found at moneyrewards.co) promises to provide its visitors with a really easy way to earn lots of money online by simply completing "small tasks" and referring friends…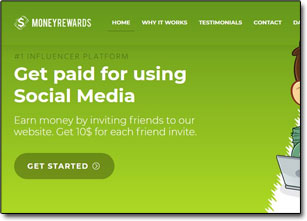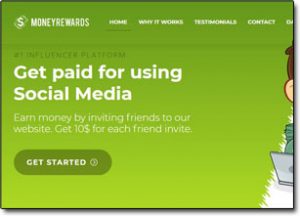 But many people seem to be very sceptical about it due to the high amounts that it promises to pay… So what's the truth about it? Is it actually legit & can you really make money with it? Or is Money Rewards a scam to avoid?
Well the good news is that you've landed in exactly the right place to find out as I myself have personally checked it out & in this honest review I'll be uncovering everything you need to know, including the hidden dangers & what you need to do if you've already joined. 🙂
What Is Money Rewards?   |   How Does Money Rewards Work?   |   A Better Way To Make Money   |   Is Money Rewards a Scam?
What Is Money Rewards?
Money Rewards claims to be the "#1 influencer platform" and it promises to provide its members with a way to easily earn money by either completing what they call "small tasks" or by referring friends through social media…
And whilst there are indeed some legitimate websites that pay people for doing this, what separates Money Rewards from those is that Money Rewards claims to pay extremely large amounts in return for the tasks…
For example if you were to create a free account with Money Rewards & then refer others, they claim that they would pay you a whopping $10+ for every single person that created a free account through your link…

But wait a minute, if everybody is just creating free accounts then how can Money Rewards afford to pay out all of this money?
How are they actually earning their money? And how can they afford to pay so much more than other legitimate get-paid-to websites (which usually only pay out as much as $1 or $2 per day to members, if that)?
Well the truth is that as you probably already suspected, Money Rewards is actually nothing but a scam – and I can say that so confidently because I've seen this exact same scam several times already under various different names.
Some of those names include;
…the list goes on.
Basically these websites launch & promise to provide people with a great income opportunity but they're just totally fake. Nobody ever gets paid & the only people who actually earn money from it are the scammers behind it.
But I know what you're probably thinking now… If it's free, then how can it be a scam? Well the truth is that the Money Rewards scam is actually a pretty darn dangerous & cunning scam, so if you've already signed up then keep on reading to see what you need to do to protect yourself…
How Does Money Rewards Work?
Well the "concept" is that you simply sign up & then share the site with friends in order to earn money – but in reality the whole thing is just a trick that's been designed so that the creators can steal a ton of user-data.
They're basically hoping that the people who sign up to their Money Rewards website sign up using the same details that they use elsewhere, as it's a fact that most people use the same username/email/password combinations for all of the websites they visit online.
And the reason they want that data is simple – it's because they'll then attempt to break into any accounts associated with your details that they can use for financial gain, such as social media accounts, PayPal accounts & even bank accounts.
But what's worse is that they're then tricking people into actually promoting the scam for them – so people are sharing their Money Rewards referral links thinking that they are earning money when in actual fact they're just luring other people into the scam.
Which means if you've already signed up to Money Rewards and you happened to do so using the same details that you use elsewhere then the first thing you should do is go change your username & passwords… And the second thing you should do is share this post with your friends/family to protect them from falling victim as well.
But My Account Balance Increases??
The people behind the Money Rewards scam have gone to a great extent to make it seem believable, and one of the reasons many people have been getting duped by this scam is because they've seen their account balance increase accordingly as new referrals join through their link, making them believe that it's actually working…
However even though the account balance increases, it doesn't mean that you're actually making money. The numbers are just being faked to trick you & you'll be left to discover that the hard way when it comes to withdrawal time, which is why they've set the withdrawal limit so high.
Most legitimate get-paid-to websites have super low withdrawal limits of just $10 or less, whereas Money Rewards have set a ridiculously high withdrawal limit of over $500… And they've done that so that you're forced into referring a good number of people before you're able to discover it's a scam.
So don't get tricked into thinking that you're making money through Money Rewards, because you're not – nobody is, that's the con.
You Might Also Like:
There's a Better Way To Make Money…
I've mentioned a number of times throughout this review that there are indeed legitimate get-paid-to websites through which you can earn money by completing tasks & referring friends, but truthfully even the legitimate ones suck.
The reason I say that is because they pay out very little, and that's because the tasks are so darn easy. There's no way these types of sites need to pay out large amounts because anybody can complete the tasks, and there are so many people willing to do it for so little money.
But the good news is that if you're still looking for a way to make money, there is a much better way called affiliate marketing.
I mean sure affiliate marketing takes more work, but the good thing about it is that the income is unlimited so you could make a full-time income from it if you wish, and you can even get started with it for free at Wealthy Affiliate.
So rather than mess about with sites that pay you for completing tasks and stuff (like paid surveys) I'd recommend you just stick with affiliate marketing instead, as that way you'll be able to get rewarded better for your time.
Update – Money Rewards Disappeared?
Whilst writing this review on Money Rewards I have just noticed that their website has gone offline & it has been replaced with a message saying that they are undergoing some maintenance as shown below: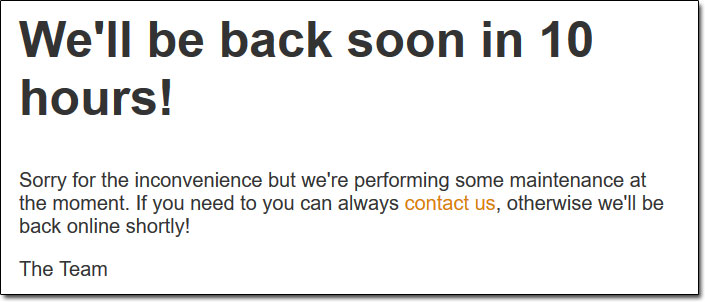 Now on the surface this might not seem too alarming, all websites undergo maintenance from time to time, however Money Rewards have provided a "Contact Us" link and the email address they've linked to doesn't exist…
So has Money Rewards shut down already? As I mentioned at the start of this review these sites have a habit of simply launching, scamming people, shutting down & launching under a new name so it wouldn't surprise me.
Either way the whole thing was fake anyway so the closure of it would be welcomed by me, because even if it was still online nobody would actually be getting paid, it would just mean more people would be getting scammed.
Is Money Rewards a Scam?
Yes there's no doubt about it – Money Rewards is 100% a scam and it's a very dangerous one at that. The fact that it's already launched under several different names in the past alone should make you want to steer well clear of it.
The whole thing is just fake & like I mentioned throughout this review it has just been setup to trick you into handing over your details & then luring others into it so that they can get their details as well.
That means if you've already signed up & you did so using the same details you use elsewhere then you should definitely go & change those details if you haven't done so already to protect your accounts from becoming compromised.
It actually wouldn't surprise me if this Money Rewards scam was linked with the Instagram blue tick scam as that would explain how the scammers are getting hold of Instagram account with blue ticks. That's just a theory of course, but it certainly seems plausible.
Anyway, if you're still looking for legitimate alternatives for making money then before you leave be sure to check out my top picks page as it's there that I've listed all the best & easiest methods that I've personally come across.
And if you're just looking to go straight to my top recommendation for making money then be sure to check out Wealthy Affiliate.
But whatever you decide to do I just hope that my review here has given you a good insight into how the whole thing works & most importantly I hope it has helped you to avoid becoming a victim of the Money Rewards scam. If of course though you do still happen to have any further questions or comments then don't hesitate to leave them below & I'll get back to you as soon as I can. 🙂