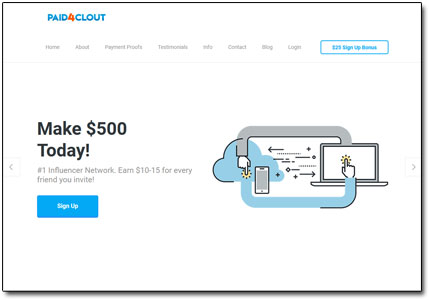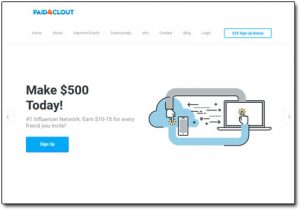 Paid4Clout claims to be the number #1 influencer network & promises to pay its members a whopping $10-$15 for every friend they refer giving them the opportunity to allegedly earn $500 per day…
But are their claims really true? Can you really make money so easily with Paid4Clout? And do they actually pay?
Or is Paid4Clout a scam that you should avoid?
Well unfortunately I can tell you right from the off that Paid4Clout is indeed a scam (and a very dangerous one at that) because I've actually seen the exact same thing launched before under the name of CloutPay…
But what if you've already signed up? How can you protect yourself from the hidden dangers associated with Paid4Clout? Well keep reading & that is exactly what you will learn in this review
What Is Paid4Clout?   |   How Does Paid4Clout Work?   |   The Red Flags   |   Is Paid4Clout a Scam?   |   A Better Alternative
What Is Paid4Clout?
Paid4Clout is a website that's taken social media by storm recently & the reason for that is because they're promising to pay their members $10 to $15 for each new member that they get to sign up… As well as $1 for every single click…
Members are told that all they need to do to earn is sign up & share their link on social media.


Sounds simple right? And with Paid4Clout claiming that members can earn up to $500 per day it's easy to see why a lot of people have begun sharing the links on social media as Paid4Clout instruct them to do…
But it also sounds too good to be true, right?
And that's because it is!
The truth is that none of the people who join Paid4Clout & share the links will ever get paid. Instead all they're doing is exposing themselves to a very dangerous scam & luring their friends/family into it as well.
How do I know that? Simple – because I previously already exposed Paid4Clout back when it was called CloutPay. The creators have simply changed the name in an attempt to escape the negative reviews but that scam remains exactly the same.
Of course though I don't expect you to just take my word for it when I say that, after all I appreciate that you might have been really hoping it was going to work for you… So instead keep on reading & I'll show you exactly how it all really works below. 🙂
How Does Paid4Clout Work?
So as I mentioned in the previous section the idea is that you simply sign up, share your link & earn money with ease… However all of that's just "made up" & nobody who joins Paid4Clout will ever get paid.
Why?
Because Paid4Clout is actually just a dangerous data-harvesting scam. This means that basically all Paid4Cout are really interested in getting as much data as possible from as many people as they can.
What better way to do this than to create a fake money-making opportunity? When you sign up, they get your details – then they also trick you into recruiting others so that they can get their details too.
It's a cunning scam & because it's free many people don't suspect a thing… What could be the harm in joining a "free" website, right?
Well the harm is that once they've got your details they will then potentially attempt to break into any accounts that you have associated with those details. They're basically hoping you signed up to Paid4Clout with the same username/email/password combination that you use at other places.
It's a fact that most people use the exact same username/password for every single site they visit…
So as Paid4Clout get people to sign up they'll also have people in the background frantically trying to find any accounts associated with the usernames/emails that they can break into.
This could include social media accounts, PayPal accounts, bank accounts etc…
And this means that if you've already signed up to Paid4Clout and you do indeed use the same details that you joined with elsewhere (such as Facebook) then you should head on over & change those details ASAP.
If however you signed up to Paid4Clout using a different username, email or password combination then you can rest worry free. However if you already referred others then you should definitely share this Paid4Clout review with them so that they too can learn how to protect themselves.
And just in case you're still thinking about trying it out "just in case"…
You Might Also Like:
The Red-Flags That Prove It's Fake
Firstly there's the obvious fact that the whole thing just sounds WAY too good to be true – and as the saying goes if something sounds too good to be true then it usually is.
You see yes, it is indeed possible to make good money online however the internet is not magical & good money is not just going to fall into your lap so easily. If it did then everybody would be doing it, nobody would be working a job.
But aside from that there's actually several other things that prove the Paid4Clout opportunity is completely fake such as…
1. Lies About Its Age
The Paid4Clout website repeatedly stresses that it is an aged website, but it's all lies. They claim that they are the #1 influencer network and that they have "been around for a while now" – however I ran a WHOIS search on the domain & their website has only been active for 8 days.
Take a look:

2. Fake Statistics
Following on from the previous point the Paid4Clout website claims that it has over 300,000 members & that it has paid out over $44 million in earnings – but since it has only been active for a mere 8 days that is frankly next to impossible.
3. Non-Verifiable Payment Proof
The Paid4Clout website features a page entitled "Payment Proof" however there is literally no "proof" whatsoever on the page because they have blurred out all of the names of the alleged users claiming it works so that you cannot check they're real.
The truth is that the images they have put on the payment proof page are just photoshopped images. Nobody is really getting paid any money by Paid4Clout, it's just another trick to try to get you to join.
4. Keeps Changing Its Name
A common trait of online scams is that they keep changing their names in an attempt to escape the negative reviews that surface about so that they can continue tricking people into signing up – and that's exactly what Paid4Clout has done.
Previously Paid4Clout has gone under several different names such as;
Which brings me onto…
Is Paid4Clout a Scam?
Yep it sure is. Paid4Clout is just a phony website that's been setup to trick people into handing over their data & then to trick them into luring others to the website as well so that they will do the same.
Nobody who joins Paid4Clout will actually ever get paid any money – instead when it comes to withdrawal time Paid4Clout will just claim that there has been some "click fraud" & as a result your earnings will be voided.
And that's why their withdrawal limit is so high – they want you to bring as many people into it as possible before you're able to discover that it's actually a scam which doesn't pay its members.
All they're really interested in is getting your data so that they can attempt to break into your accounts. It's quite obvious from Twitter feeds that they've been using hacked Twitter profiles to further promote their scam as well which is why it's taken off so quickly.
Basically it should just be avoided, and like I mentioned earlier in this review if you've already signed up to it using the same details that you happen to use elsewhere then you should definitely go & change your details to prevent Paid4Clout from getting into your accounts.
But also if you're still looking to make money then I want to let you know that there are actually still legitimate ways that you can do so. Sure Paid4Clout might be a scam but it is still definitely possible to earn money online…
And one of the best places to get started if you really want to generate a good income is Commission Academy. It's there that you'll learn about the same method I personally use to make money online & you can even get started with them for free.
But whatever you decide to do I just hope that you found my review of Paid4Clout here useful & hopefully my review helped you dodge it. Don't hesitate to leave a comment below though if you happen to have anything else to add. 🙂
A Better Alternative
The sad truth is that unfortunately most of the programs promising to help you make money online are scams. I can say that confidently after exposing over 500+ of them here on this blog.
But the good news is that even though most of them are indeed scams, there are actually some very good programs in amongst them - some programs that can truly help you to earn money.
And out of all of the legit programs I've seen, the one I would recommend the most to anybody looking to get started online is Commission Academy. In my own opinion, that's the best place to start.
At Commission Academy, you'll be provided with everything you need (including the training & tools) to begin earning real money by promoting products or services for companies like Amazon online.
The best part is that there's literally no limit on the amount you can earn with it & the process is pretty simple which means that it's absolutely perfect for people that don't have much experience.
Some wealthy affiliates even earn as much as 5-figures per month... Or more!


I mean don't get me wrong, that kind of money won't just fall into your lap without doing any work... But the harder you're willing to work at it, the more you stand to earn with it.
So if you're looking to get started but don't know which route you should go down or which program you should join (and don't want to waste money on bogus things that don't actually work), then I'd highly recommend checking out Commission Academy first. You can learn more about it here.