MVPBucks (found at MVPBucks.com) is a website that's hot on social media lately…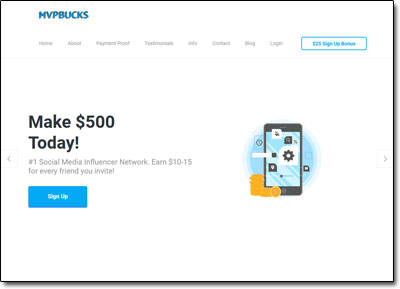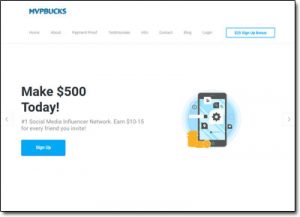 Everybody seems to be promoting it & claiming that if you join you can easily make hundreds of dollars per day by referring others…
But can you? Or is MVPBucks a scam that you should just avoid?
Well you've landed in exactly the right place to find out as I've personally taken a closer look into it & in this honest review I'll be uncovering the dangerous truth about how it really works, as well as outlining why none of the members will ever get paid.
What Is MVPBucks?   |   How Does MVPBucks Work?   |   Is MVPBucks a Scam?   |   What About The Payment Proof?   |   The Bottom Line   |   A Better Alternative
What Is MVPBucks?
MVPBucks is a newly launched website that's primarily targeting people under the age of 25 & promising to provide them with a way to easily earn lots of money by simply sharing links on social media.
The MVPBucks website claims that it is the "#1 social media influencer network" and that members can allegedly earn between $10 & $15 for every friend that they invite, giving them the potential to earn $500+ per day.

But no doubt you'll agree with me when I say that the whole thing simply sounds WAY too good to be true.
Could you really earn so much money so easily?
And if you could, then why isn't everybody doing it? Why are people still working jobs if they can simply share links on social media to earn likely over 5x what they are currently earning at their jobs?
The answer is because it IS too good to be true. The MVPBucks website is actually a scam & a very dangerous one at that. I know that for certain because I've exposed the same thing before back when it was called CloutPay.
The people behind it simply keep changing its name in an attempt to escape the negative reviews (like this one I'm writing here) so that they can continue tricking people into signing up to it.
But I know what you're probably thinking – if it's free then how can it be a scam, and how can it be dangerous?
Keep on reading because that's exactly what I'm going to explain next…
How Does MVPBucks Work?
The concept is that members sign up to MVPBucks, share their links on social media & then get paid commissions for every person that ends up signing up as a result of clicking through their links.
It sounds easy & naturally that's why a lot of people are trying it out.
After all who doesn't love the idea of easy money?
If only it were true though… Sadly it's not. Yes the internet is great & yes it provides people with many ways to make good money, however it's not magical and it will never see people earning LOTS of money with ease.
Of course though if you're prepared to put in the work there are indeed ways to make a full-time income online.
But MVPBucks is not interested in helping you truly make money like it claims it is. Instead all the people behind the MVPBucks website are interested in is getting you to sign up & recruit others so that they can steal your data.
The whole "earnings" thing is totally fake. That's just done to make you think you're making money to encourage you to sign up & recruit others but I can tell you with 100% certainty that nobody will ever get paid.
They're basically just hoping that you sign up to their website with the same details that you use on other websites so that they can break into your accounts & use them to either steal your money or further promote their scam.
It's a fact that most people use the same email/username/password combinations on almost every website they visit & that's what the scammers behind MVPBucks are preying on. Don't fall for it.
And if you have already fallen for it, then be sure to change your details immediately if you happen to use them elsewhere.
On top of that, if you've already referred anybody to MVPBucks or shared it on social media then you should also this post on social media too in order to help them protect their accounts as well.
Even if you haven't, I would still recommend sharing this post all the same as the MVPBucks scam is targeting LOTS of people and it could be your friends or family who find themselves targeted next so it's important they know the truth.
Is MVPBucks a Scam?
Yes – there's absolutely no doubt about it, MVPBucks is definitely a scam. The whole thing is just a phony & nobody who joins the website will ever find themselves actually getting paid, they're just wasting their time.
Sadly though because it is "free" many people are getting caught out because they do not really see how it could possibly be a scam – but as mentioned in the previous section of this review it's actually a very cunning & dangerous scam indeed.
It's also very effective because already it looks like thousands of people are actively sharing it, not knowing that they are luring others into a scam that is actually set out to steal their data & break into their accounts.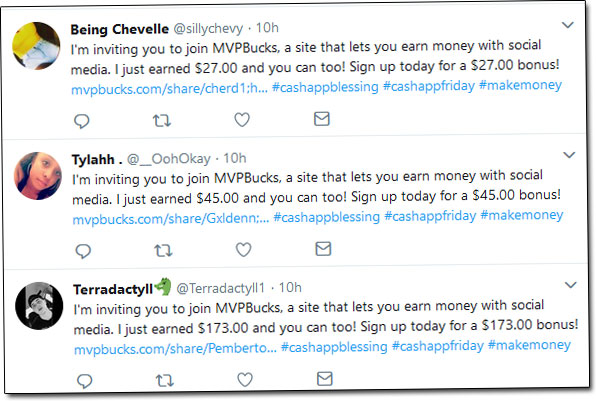 Plus the people behind MVPBucks have gone to extreme lengths in order to make their website appear to be legitimate. Not only they have uploaded "payment proof" (which I'll discuss in a moment) but they've also set their system up to make it appear like people are actually earning.
If you share your link & somebody signs up via it, money is credited into your account inside of MVPBucks so it looks like it is working… However it isn't actually "money" as such, instead their system is just set to fake the numbers.
So your account balance may increase but when it comes to withdrawal time you'll just be left to discover the hard way that they don't actually pay… And that's why they've set their withdrawal limit so ridiculously high.
Most legitimate get-paid-to websites set their withdrawal limits at $10 or less (because legitimate ones pay such little money since the tasks are so easy).
The fact that MVPBucks have such a high withdrawal limit is a huge red-flag on it's own.
But that aside, let's talk about the payment proof – because that is tricking a lot of people too…
You Might Also Like:
What About The Payment Proof?
Just like its predecessors (CloutPay, WorkingMob, Cashooga etc) the MVPBucks website contains a page called "payment proof" on which several screenshots & videos from so-called members are listed boasting their earnings.
So even if you have some scepticism about the MVPBucks site these pieces of "proof" will likely nudge you towards signing up to try it out – but don't!
Because also just like its predecessors all of the so-called "proof" is fake.
The Instagram screenshots are photoshopped (which is why they've hidden the account holders name so that you can't check them out) and the videos consist of paid actors hired from the website Fiverr.
Take a look at the image below for proof of that: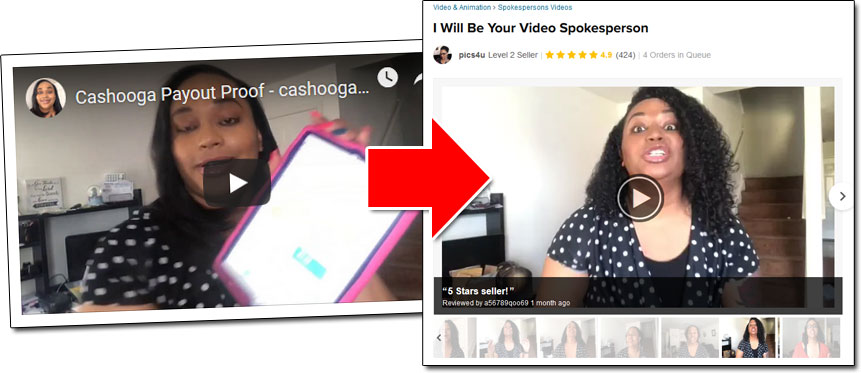 All of the videos have been uploaded to an account named "mvpbucksofficial" as well, so that once again you can't verify them.
And if the proof can't be properly verified, then it isn't proof at all – it's just another claim – and in this particular instance it's just another lie. Despite this "payment proof" there is still nobody getting paid from MVPBucks.
Which brings me nicely onto my next point…
The Bottom Line
There is absolutely no way that I will be recommending MVPBucks because it is something that's simply set out to waste your time, steal your details & then trick you into luring others to it so that it can do the same to them as well.
There isn't and never will be anybody getting paid from MVPBucks, the entire site is a complete phony & that's made obvious by the fact that (as shown below) the website claims to be the "#1 influencer network" yet has only been active for a mere 7 days:

You should stay far, far away from MVPBucks – and from anything else that makes the promise of easy riches with little to no work. Yes it's possible to earn money online but no so much money so easily.
That's the type of claim associated with a get-rich-quick scam.
And if you have indeed already signed up to MVPBucks then as mentioned previously in this review I would strongly advise that you change your login details on any other sites where you happen to use the same ones you registered to MVPBucks with.
If you don't it's possible that the creators will attempt to find accounts associated with your name or email address & then try to break into them to either try to steal money from you or to further promote their scam.
A Better Alternative
The sad truth is that unfortunately most of the programs promising to help you make money online are scams. I can say that confidently after exposing over 500+ of them here on this blog.
But the good news is that even though most of them are indeed scams, there are actually some very good programs in amongst them - some programs that can truly help you to earn money.
And out of all of the legit programs I've seen, the one I would recommend the most to anybody looking to get started online is Commission Academy. In my own opinion, that's the best place to start.
At Commission Academy, you'll be provided with everything you need (including the training & tools) to begin earning real money by promoting products or services for companies like Amazon online.
The best part is that there's literally no limit on the amount you can earn with it & the process is pretty simple which means that it's absolutely perfect for people that don't have much experience.
Some wealthy affiliates even earn as much as 5-figures per month... Or more!

I mean don't get me wrong, that kind of money won't just fall into your lap without doing any work... But the harder you're willing to work at it, the more you stand to earn with it.
So if you're looking to get started but don't know which route you should go down or which program you should join (and don't want to waste money on bogus things that don't actually work), then I'd highly recommend checking out Commission Academy first. You can learn more about it here.