Have you come across the new WorkingMob data entry website that claims it can enable you to earn hundreds of dollars from home by completing small tasks online?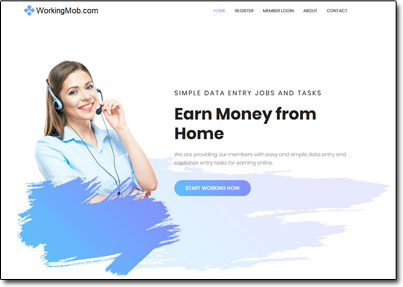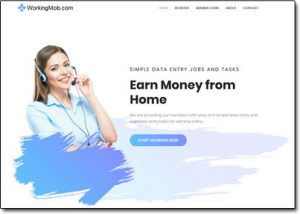 Are you concerned about it's legitimacy because it simply sounds too good to be true?
Well the good news is that you've come to the right place because in this WorkingMob review I am going to be uncovering the real truth about it, as well as outlining 3 legitimate alternatives that pay more money.
What Is WorkingMob?   |   How Does WorkingMob Work?   |   Is WorkingMob Legit?   |   The Truth About WorkingMob   |   3 Alternatives That Pay More Money
What Is WorkingMob?
WorkingMob claims to be a data-entry website through which you can sign up to earn money from home by entering data… However unlike most data-entry websites which pay very little, WorkingMob claims that through their website you'll be able to earn as much as $500 per day.
And frankly I think you'll agree that's a LOT of money…
So the question is why are WorkingMob willing to pay you up to $500 per day just for entering data? A task that many people would still complete for them even if they were offering much less money?
It just doesn't add up.
In my opinion it sounds way too good to be true – and you know what they say about things that sound too good to be true… They usually are.
But the bold claims don't end there either because on top of that WorkingMob also claim that they will pay you a whopping 50% of the earnings accrued by anybody that you happen to refer as well.
So if you share your link & somebody signs up via it then earns money – WorkingMob will pay you 50% of their earnings on top of the earnings you're already making…
Now given that they claim members can easily earn $500 per day, if they were paying you 50% of the earnings of your referrals then that would mean you would only need to refer a mere 10 people to earn $2,500 per day without doing anything…
That's $75,000 per month…
Starting to sound suspicious? That's because it is. I can tell you with 100% confidence that the claims made by WorkingMob are completely untrue & the reason I can say that is because it's actually just a re-hashed version of the CloutPay scam that I exposed on this blog last week.
They've simply changed the name & the website in the hope of conning more people but the scam remains exactly the same.
Keep on reading & I'll show you exactly how it all really works below (as well as what to do if you've already signed up)…
How Does WorkingMob Work?
The idea in theory is that you sign up to WorkingMob & then get provided with data to enter. They claim that for every line of data you enter you will earn $1, but in reality that is not really how the whole thing works.
Instead the whole "data-entry" thing is merely just a cover up for what's really going on…
They're covering up the fact that they're running a data-harvesting scam, and that the WorkingMob website is just a trick to encourage people to sign up & recruit others so that they can steal their details.
Sadly none of the money "earned" will ever get paid out to the members. All of the money "earned" is just faked to build excitement to encourage the members to recruit more & more people to the website.
So whilst the money might appear to be building up inside of your WorkingMob account, really all you're seeing is faked numbers & then when it comes to withdrawal time you'll be left to find out the hard way that they never pay up.
And that's why they've set such a ridiculously high withdrawal limit – so that you'll have to recruit as many people as possible before you're able to find out that the whole thing is actually just a con.
Which brings me onto my next point…
Is WorkingMob Legit?
The simple answer to that question is no – WorkingMob is not legit in the slightest… But of course I do appreciate the fact that the promise of being able to earn up to $500 per day can be hard to turn down lightly, so let me share some solid proof with you that highlights it's definitely a scam…
1. Fake Statistics
At the time of writing this review WorkingMob claims to have 216,536+ members & to have paid out over $6 million in earnings, however there's simply no way this is true as the website was only launched in October of 2018 as shown below: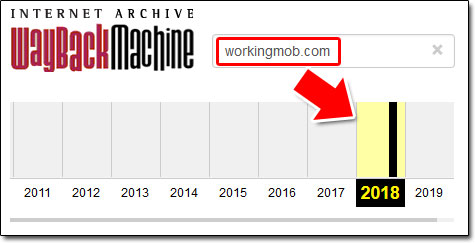 2. No Contact Details
The website states in several places that you can contact WorkingMob however there isn't actually any real way of doing so. All of the contact forms are phonies & none of them really send any information through to anybody. On top of that there is absolutely no information as to who is supposedly running the show, meaning the website could disappear at any moment without trace.
3. The Earning Claims Don't Add Up
In one breath the creators of WorkingMob claim that you will earn $1 per line of data-entry, yet in the next breath they claim that for 1,000 lines you will only actually earn $100-$500 per day (when it should be $1,000 per day) as shown below:

The reason they don't add up is because they're made up. The creator of the WorkingMob website is just plucking random figures out of the air in the hope that you will simply sign up to "try it out".
Take my advice & don't bother.
You Might Also Like:
The Dangerous Truth About WorkingMob
Yes WorkingMob is fake & it is bad enough in itself that the website doesn't actually pay any of its users, however behind all of that there is actually something much more dangerous going on which you must me made aware of.
But what is it I hear you ask?
It is the fact that WorkingMob is actually the front for an extremely dangerous data-harvesting scam which has been launched with the primary intention of collecting users data so that they can attempt to break into their accounts.
The scammers behind WorkingMob are preying on the fact that most people sign up to different websites using the same credentials. So they are hoping that when you sign up to WorkingMob you will do so with the same username/email/password that you use elsewhere.
This means that after joining WorkingJob your accounts (such as PayPal & social media accounts etc) could be at risk of being broken into – if you have indeed joined with the same credentials.
And if you have done that then I would strongly advise changing your passwords ASAP to prevent yourself from falling victim.
But what's worse is that not only are the people behind WorkingMob tricking you into handing over your data, they're also tricking you into then getting your friends & family to sign up by pretending to pay you so that they can steal their data too.
It's what I call a "viral data-harvesting scam", and if you have indeed shared WorkingMob with anybody already then I highly recommend you share this WorkingMob review with them too so that they can discover the truth & learn how to protect themselves.
3 Legit Alternatives That Pay More Money
WorkingMob is a dangerous scam & should be avoided, however that does not mean you cannot earn good money online. There are actually several legitimate alternatives that you can try instead – 3 of which I will list below:
1. Affiliate Marketing
In my opinion affiliate marketing is one of the greatest ways to earn online ever because not only are the earnings uncapped but it is actually surprisingly easier to get started with thanks to platforms like Commission Academy.
I myself have been able to earn over $10,000 per month from affiliate marketing which has been completely life-changing for me, and I know that there are many others out there who are even earning much more.
But how does it work?
Well it's actually quite simple – affiliate marketing basically consists of you connecting people with the products that they're looking for online & then getting paid commissions by the sellers in return.
Commissions vary but they can often be over $100 per sale, which is how many people have found themselves earning hundreds & even thousands of dollars per day through affiliate marketing.
If you'd like to learn more about it or get started with it then be sure to check out Wealthy Affiliate which is free to join.
2. Legitimate Get-Paid-To Websites
You won't be able to earn as much as affiliate marketing with this, but basically Get-Paid-To websites pay you money in return for completing small tasks – such as filling in surveys, entering data or scanning receipts.
The WorkingMob website pretends to be a Get-Paid-To website but it is just a scam, however there are indeed many legitimate Get-Paid-To websites that actually pay their members & you can find a list of them here.
It's worth pointing out though that you won't be able to earn $500 per day doing this like WorkingMob promises (because that's just a lie to trick you into signing up). Instead you'll probably earn maybe $1-$5 per day at most.
3. Create Gigs on Fiverr
Fiverr is a pretty cool website through which you can sell services for money, and you can sell pretty much almost anything you can think of… Such as graphic design, writing articles, recording a video or even just reading & recording a voice-over for someone.
There's a lot of members on Fiverr so it can be quite competitive but if you do good work & offer a service that's in high demand then you can quite easily earn relatively decent money through their site.
Interested in checking it out? Find my guide on making money with Fiverr here.