CloutPay is a new website that promises to pay its members up to $500 per day just for sharing links online…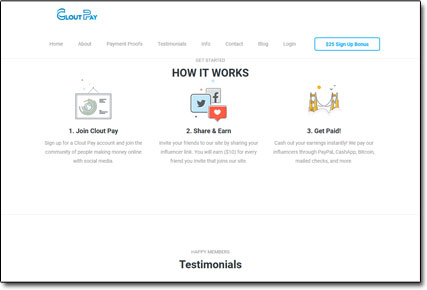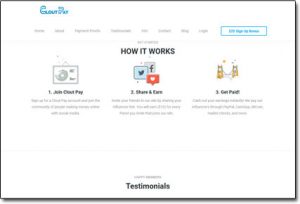 It claims to be the number 1 influencer network & it even offers new members the opportunity to grab a $25 welcome bonus just for signing up…
But can it really be true? Can you really earn so much money so easily?
Well many people certainly appear to be trying it as the CloutPay.co links have been appearing all over social media – but has anyone actually been paid & is there any real payment proof or is CloutPay a scam that you should just avoid?
Sadly the answer to that question is no – nobody has been paid from CloutPay and the reason for that is because it is indeed a scam. It's actually a very dangerous scam too (which means if you've already signed up you should definitely continue reading this review to find out how to protect yourself).
What Is CloutPay?   |   How Does CloutPay Work?   |   Payment Proof   |   Is CloutPay a Scam?   |   How To Protect Yourself   |   The Bottom Line   |   A Better Alternative
What Is CloutPay?
CloutPay claims to be the #1 influencer network & it promises to provide it's visitors with an easy way to earn money from social media, offering them between $10 & $15 for every friend referred via their link.
You're led to believe that you can simply sign up, share your link & profit…
And according to the calculator on their homepage you're also led to believe that with just a mere 1,000 followers you'll be able to make $230 per day (as shown below):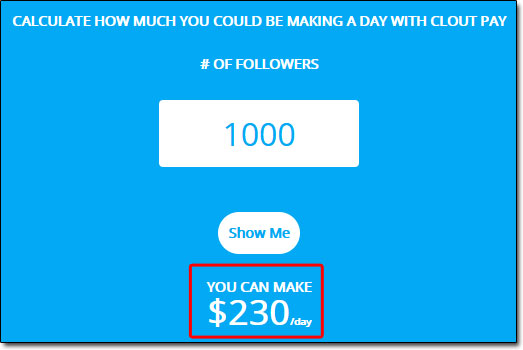 But I think you'll agree, that's an awful lot of money for such a simple task.
It sounds WAY too good to be true… And you know what they say about stuff that sounds too good to be true – it usually is.
Nevertheless though CloutPay continue to attempt to gain your trust by telling you that they have over 300,000 members & that they have paid out over $44 million to date. They even claim that they've been covered by high profile publications like Forbes & Fox news…
The problem though? None of that's true.
I ran a search on both Forbes & Fox for CloutPay.co – it returned nothing.
And regarding the 300,000 members & $44 million payout, well that'd be pretty difficult to achieve considering the website was only launched a mere 30 days ago from the time of writing this review.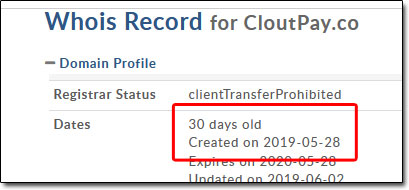 How Does CloutPay Work?
According to the CloutPay website, CloutPay claims to generate revenue through ad-spend & sponsors & they claim that it's a portion of this revenue that gets paid out to the members who are doing their promoting.
They go on to state that by referring people to their website you are generating them traffic which in turn increases the amount that their sponsors are willing to pay them for advertising placements…
And this almost sounds legit, except for the fact that there are NO sponsored advertisements on the CloutPay website whatsoever.
Whoops… Looks like they messed up with their lies.
The real truth is that there is no money – it's all fake.
Yes, you can sign-up for free & yes your account balance will appear to increase accordingly as you refer other members, but it's all just a trick to spur you on to keep sharing your link in the hope of receiving a big payout.
The problem though is that they never pay out, because the numbers are faked – and that's why they've set their withdrawal limits so ridiculously high.
Legitimate Get-Paid-To websites that pay you for small tasks do exist, however they generally only pay out extremely small amounts (such as $1 or less per day) and as a result they typically have really low withdrawal limits.
CloutPay have just set theirs really high so that you'll have to recruit a large number of people before you're able to discover it's a scam, and by that point it's too late you've already wasted your time.
But that brings me onto my next point…
CloutPay Payment Proof
The scammers behind CloutPay have gone to the extent of creating a page entitled "Payment Proofs" on which they'd listed about a dozen screenshots from so-called members who are boasting about their earnings.
Each screenshot boasts hundreds of dollars in withdrawals…
Coincidently though none of them are verifiable. In each screenshot they've chosen to hide the identity of the accounts & I can tell you with 100% certainty that they are all fake.
How can I say that for sure?
Simple, because CloutPay was previously launched under the name of ViralPay & I discovered that at the time on their payment proof page they were using an actor that had been hired from Fiverr (shown below):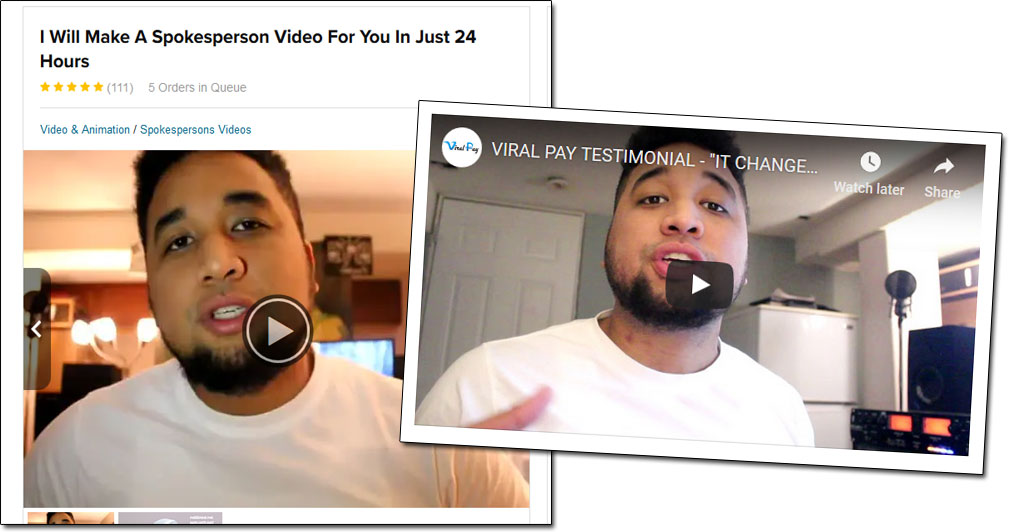 If the company truly paid members as they promise they do then there'd be absolutely no need for them to hire a paid actor to pretend to have been making money from it… That's a trick associated with a scam.
What's worse though is that the people behind CloutPay are in the business of stealing account details (as you'll soon see that's how the whole scam works). This means they have access to thousands of social media accounts & they've been publishing their fake proof there too.
So people come across CloutPay, feel sceptical, check social media to see what people are saying & hear good things so they sign up…
However the good things that are being said are all part of the scam… That's the scammers posting via those accounts, not the real people.
You'll see what I'm talking about in the next section – and if you have already signed up you will definitely want to keep on reading to find out how you can protect your details so that you too don't become a victim like those others.
Is CloutPay a Scam?
There is absolutely no doubt about it – CloutPay is definitely a scam & there will be nobody getting paid as a result of joining or promoting. The whole thing is just a con that will see you wasting your time & getting nothing in return.
The reason I can say that so confidently is because I've already seen the exact same scam launch various different names, some of which include the following:
The person (or people) behind it just keep changing the name every so often in an attempt to escape the negative reviews so that they can continue tricking people into signing up… And each time their scam gets more advanced.
But I know what you're probably thinking – what are they getting out of it?
Well the answer here is your details, and that's why it's so dangerous. The creators of the CloutPay scam are basically hoping that the people who sign up to it do so using the same details that they use elsewhere, and then they'll attempt to break into your accounts.
These could include bank accounts, PayPal accounts, social media accounts etc…
But what's worse is the fact that not only are they tricking people into signing up under false pretences, but they're then also tricking them into suckering others into the scam by pretending to pay them money.
So if you have already signed up to CloutPay & you have done so using the same details that you happen to use elsewhere then you should change those details immediately to prevent the scammers from getting access.
And if you have referred others then you should share this CloutPay review with them to help them keep their accounts safe too.
Now remember in the previous section of this review when I mentioned about people saying good things about CloutPay on social media? Well the truth is they're not – those accounts saying good things are simply accounts that the people behind the CloutPay scam have hacked into.
How To Protect Yourself From CloutPay
If you haven't done so already then the best way to protect yourself from CloutPay is to simply not sign up in the first place. There are plenty of alternative legitimate ways that you can make money – you don't need CloutPay.
If however you have signed up & you did so using the same details that you happen to use anywhere else then you should proceed to change them immediately to prevent the CloutPay scammers from accessing your accounts.
This includes not only your financial accounts but your social media accounts too.
And as mentioned in the previous section if you have shared CloutPay with anybody already then you should also share this CloutPay review with them so that they can learn about the steps to protect themselves as well.
If you don't and they get scammed, it could be classed as your fault for referring them, and you definitely don't want that. 🙂
The Bottom Line
Given what I've said about in this review I think you'll probably have a good idea as to where I stand with CloutPay – I absolutely don't recommend it & I advise that you should steer clear well clear of it because it's bad news.
On the surface it might seem like there is no risk but in actual fact the whole thing is very dangerous.
Sadly though I know that shortly CloutPay will disappear & it will be once again launching under another new name in an attempt to trick even more people into signing up… So always remember to do your due diligence if something seems too good to be true.
A Better Alternative
The sad truth is that unfortunately most of the programs promising to help you make money online are scams. I can say that confidently after exposing over 500+ of them here on this blog.
But the good news is that even though most of them are indeed scams, there are actually some very good programs in amongst them - some programs that can truly help you to earn money.
And out of all of the legit programs I've seen, the one I would recommend the most to anybody looking to get started online is Commission Academy. In my own opinion, that's the best place to start.
At Commission Academy, you'll be provided with everything you need (including the training & tools) to begin earning real money by promoting products or services for companies like Amazon online.
The best part is that there's literally no limit on the amount you can earn with it & the process is pretty simple which means that it's absolutely perfect for people that don't have much experience.
Some wealthy affiliates even earn as much as 5-figures per month... Or more!


I mean don't get me wrong, that kind of money won't just fall into your lap without doing any work... But the harder you're willing to work at it, the more you stand to earn with it.
So if you're looking to get started but don't know which route you should go down or which program you should join (and don't want to waste money on bogus things that don't actually work), then I'd highly recommend checking out Commission Academy first. You can learn more about it here.