The Referral Pay website (found at ReferralPay.co) claims that you can "start using your influence" and earn hundreds of dollars per day online by simply sharing links on social media & completing small tasks that apparently only take a few minutes of your time…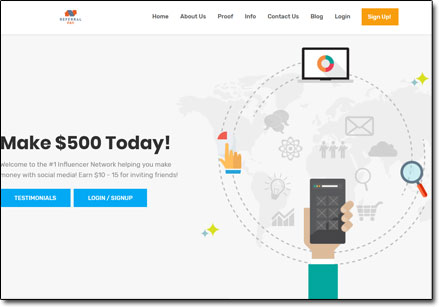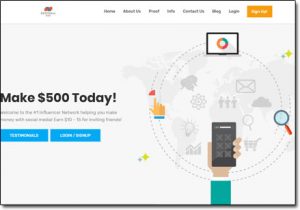 You're led to believe that you'll be paid $10 to $15 for every friend that joins via your link & that you'll easily earn $500+ per day – but that just sound WAY too good to be true right? So what's the deal… Is it really legit or is Referral Pay a scam to avoid?
Well I think you probably already know the answer to that question (I hope!) but regardless rest assured that you've landed in the right place as I myself have personally taken a closer look into it & in this Referral Pay review I'll be uncovering the REAL truth about how it all works (and whether or not you'll actually get paid).
What Is Referral Pay?   |   How Does Referral Pay Work?   |   Payment Proof   |   Is Referral Pay a Scam?   |   A Better Alternative
What Is Referral Pay?
Referral Pay calls itself the "#1 Influencer Network" and it essentially claims that it can enable you to use your social media influence to generate hundreds of dollars per day online with ease, all by just simply sharing a link.
According to them all you need to do is sign up for free, grab your referral link & then get others to sign up via your link. They claim that once the people you refer create their free accounts, you'll be paid $10 to $15…

But hold on a moment…
If you're creating a free account & they're creating a free account, then how on earth can Referral Pay afford to pay you $10 to $15 per referral? Where the heck is all that money supposed to be coming from?
Well Referral Pay claim that the money comes from advertisements on their website, and they claim that the more people that view their website the more they earn… So the more they can pay out.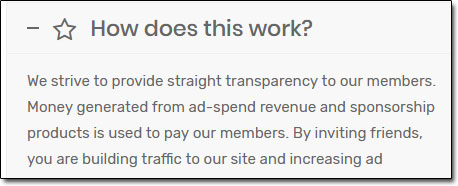 This might sound all fair & well, however there's one big flaw… There are no ads on their website, LOL.
And even if there was advertisements on their website, I can tell you as an online marketing expert that there is simply NO WAY they could generate enough revenue from them to be able to afford to pay $10 to $15 per free account created.
Which means yes, as you've probably guessed the whole thing is a complete scam… But the good news is that because the scam is simply SO obvious I don't think there'll be anybody signing up to Referral Pay in a hurry.
I mean it's just a flat-out classic case of "too good to be true"… And you know what they say about stuff that sounds too good to be true? It usually is.
Don't get me wrong though, the internet certainly provides many great ways to legitimately earn money however it's not magical & it's not going to see you earning lots of money with little to no work.
If you want to make the big money (like the hundreds of dollars per day promised by Referral Pay) then you must be prepared to put in some serious amounts of work to make it happen, and you need to utilize a genuine method like affiliate marketing too.
But I know what you're probably thinking… If Referral Pay is free to join then how does it possibly scam its members? What are the people behind it getting out of it? Well keep reading & you'll find out below as I explain how it all really works…
How Does Referral Pay Work?
So the idea is that you're supposed to be able to sign up & then refer others in order to earn commissions… And admittedly they've gone to quite some extent to try to make this side of things look legit.
You see upon signing up you're provided with a link, and if you do indeed refer somebody via that link then your balance inside of Referral Pay appears to increase accordingly inline with what they've promised.
It looks like you've made $10 to $15 for the referral – and that might encourage you to refer some more people…
However the problem is that the statistics are totally fake, and there isn't really any money. That's why they've set up a ridiculously high withdrawal limit, so that you'll have to recruit a whole bunch of people before you're able to discover it's a scam.
When you submit your withdrawal request you'll simply be left to find out the hard way that they don't really pay.
But I hope it doesn't get to that stage, because by signing up to Referral Pay you will have already fallen victim to their scam (even without you knowing it) and let me tell you that it is a very dangerous scam indeed.
The reason it's so dangerous is because it's what's known as a data-harvesting scam, and they're trying to get your data so that they cal use it for illicit purposes – such as defrauding you or potentially stealing your identity.
You see when you sign up to Referral Pay you're asked for details like a username, email & password – and basically the scammers behind it are just hoping that you use the same details that you use on other websites.
It's a fact that most people use the same username/email/password combination for most of the websites they visit online, and that's what they're preying on.
So once they have your details they will begin attempting to find any other accounts (such as PayPal, Facebook & bank accounts) that are associated with them – which means if you have already joined with the same details you use elsewhere then you should change them ASAP.
But the scam is even more cunning, because it then tricks you into luring other people into the scam by sharing your referral link…
So if you have already begun sharing your link & drawing others into the Referral Pay scam then you should definitely share this review with them so that they too become aware of how it really works (and learn how to keep their accounts safe).
You Might Also Like:
But What About The Payment Proofs?
The people behind Referral Pay have even gone to the extent of photoshopping payment proofs & adding them to their website in an attempt to make it seem legit but as you can probably imagine those are just as fake as the rest of the website too.
But the fakery doesn't end there…
The website also claims that it has over 225,000 members, that it has paid out 68 million dollars in commissions & that it has been shred 500 million times (as shown below) but those are all lies as well:

According to a domain WHOIS search, the website was setup just 15 days ago – so there's no way any of those statements could be true.

Now it is likely that only children will end up getting suckered into this thing, as no adults would ever believe that it could be real I am sure – and the small upside of that is that hopefully children won't have much money to steal.
But of course stealing is stealing all the same, and I would prefer that nobody got caught out by Referral Pay so I would really appreciate it if you could share this review that exposes it to make people aware.
And now that I've said enough about it, I think it's time for…
Is Referral Pay a Scam?
Yes there's absolutely no doubt about it – Referral Pay is definitely a scam and I can say that so confidently because I've actually exposed the exact same website several times before on this blog when it was launched under different names.
Some of its previous names include Clout Bucks, Kids Have Money & Do Weekly Job. The creator just keeps changing its name in an attempt to escape the negative reviews so that he can continue scamming people out of their hard earned cash.
The good news though is that whilst Referral Pay should be avoided, there are still plenty of other legitimate ways that you can make good money online.
And one of the best methods I've come across for making online (which is the same way I personally make most of my own income) is something called affiliate marketing, which you can get started with for free at Wealthy Affiliate.
So if you're still looking to make money some money legitimately then I suggest you check out those recommendations, but whatever you decide to do I just sincerely hope that my review here prevented you from getting caught out by the Referral Pay scam.
And of course if you do happen to have any further questions or comments then don't hesitate to leave them below & as always I'll do my best to respond back to you in the quickest time I possibly can.
A Better Alternative
The sad truth is that unfortunately most of the programs promising to help you make money online are scams. I can say that confidently after exposing over 500+ of them here on this blog.
But the good news is that even though most of them are indeed scams, there are actually some very good programs in amongst them - some programs that can truly help you to earn money.
And out of all of the legit programs I've seen, the one I would recommend the most to anybody looking to get started online is Commission Academy. In my own opinion, that's the best place to start.
At Commission Academy, you'll be provided with everything you need (including the training & tools) to begin earning real money by promoting products or services for companies like Amazon online.
The best part is that there's literally no limit on the amount you can earn with it & the process is pretty simple which means that it's absolutely perfect for people that don't have much experience.
Some wealthy affiliates even earn as much as 5-figures per month... Or more!

I mean don't get me wrong, that kind of money won't just fall into your lap without doing any work... But the harder you're willing to work at it, the more you stand to earn with it.
So if you're looking to get started but don't know which route you should go down or which program you should join (and don't want to waste money on bogus things that don't actually work), then I'd highly recommend checking out Commission Academy first. You can learn more about it here.